The fitness cost of mis-splicing is the main determinant of alternative splicing patterns
Received: 3 April 2017
Accepted: 9 October 2017
Published: 30 October 2017
Abstract
Background
Most eukaryotic genes are subject to alternative splicing (AS), which may contribute to the production of protein variants or to the regulation of gene expression via nonsense-mediated messenger RNA (mRNA) decay (NMD). However, a fraction of splice variants might correspond to spurious transcripts and the question of the relative proportion of splicing errors to functional splice variants remains highly debated.
Results
We propose a test to quantify the fraction of AS events corresponding to errors. This test is based on the fact that the fitness cost of splicing errors increases with the number of introns in a gene and with expression level. We analyzed the transcriptome of the intron-rich eukaryote Paramecium tetraurelia. We show that in both normal and in NMD-deficient cells, AS rates strongly decrease with increasing expression level and with increasing number of introns. This relationship is observed for AS events that are detectable by NMD as well as for those that are not, which invalidates the hypothesis of a link with the regulation of gene expression. Our results show that in genes with a median expression level, 92–98% of observed splice variants correspond to errors. We observed the same patterns in human transcriptomes and we further show that AS rates correlate with the fitness cost of splicing errors.
Conclusions
These observations indicate that genes under weaker selective pressure accumulate more maladaptive substitutions and are more prone to splicing errors. Thus, to a large extent, patterns of gene expression variants simply reflect the balance between selection, mutation, and drift.
Keywords
Alternative splicingRandom genetic driftSelectionist/neutralist debate
Background
The maturation of a primary transcript by the spliceosome can lead to the production of diverse transcripts, via the use of different splice sites and/or intron retention (IR). Alternative splicing (AS) is widespread in eukaryotes and it has been postulated that it might considerably expand the functional repertoire of eukaryotic genomes [1–3]. Many case studies have shown that some AS events are functional, i.e. that they play a physiological role, beneficial for the fitness of the organism (for review, see [4]). However, like any biological machinery, the spliceosome is not 100% accurate and the splicing of primary transcripts occasionally leads to the production of spurious messenger RNAs (mRNAs). These erroneous transcripts represent a waste of resources and may lead to the production of toxic protein variants and hence are expected to be deleterious for the fitness of organisms. Indeed, several quality control mechanisms exist in eukaryotic cells to mitigate the negative impact of erroneous transcripts [5]. In particular, the nonsense-mediated decay (NMD) machinery is able to recognize and degrade cytoplasmic transcripts containing premature termination codons (PTCs) [6]. However, these quality-control processes themselves are not 100% efficient. Hence, any transcriptome necessarily includes a fraction of variants that correspond to splicing errors and their frequency relative to functional AS events remains open for debate.
In a large majority of cases, splice variants contain PTCs (i.e. encode truncated proteins) and only a very small fraction (<0.6%) of annotated AS events lead to the production of a detectable amount of protein [7]. The subset of AS variants that are detected in proteomic studies shows clear signs of protein functionality: 96% of them maintain the reading frame [8]; they rarely disrupt protein domains [7, 9]; and they are highly conserved, from mammals to bony fish [7]. This contrasts with the bulk of AS events detected within transcriptomes: 58% of them induce frameshifts [10] and 70% disrupt protein domains [7]. Moreover, comparative transcriptomic analyses revealed that only 1–3% of exon-skipping events detected by RNA-sequencing (RNA-seq) are conserved beyond mammals [11, 12] and alternative splice sites show no sign of selective constraint [10]. The subset of exon-skipping events that are strongly tissue-specific and that preserve the reading frame is generally more conserved, which clearly suggests that this subset includes some functional events [11–14]. However, these cases represent only a small fraction of all AS events [11–14]. These observations indicate that only a small minority of AS events are involved in the production of functional protein variants (for review, see [15]). This led some authors to conclude that the vast majority of AS events correspond to splicing errors [10, 16–18] (we will hereafter refer to this hypothesis as the "noisy splicing" model).
However, this interpretation is contested by other authors who argue that AS might play another important role, not linked to the production of functional protein variants, but to the regulation of gene expression. Indeed, the maturation of primary transcripts into PTC-containing splice variants, which then get degraded by NMD, can be used as a way to regulate the amount of mRNA available for protein production (this post-transcriptional regulation pathway is termed AS-NMD, for AS coupled with NMD; for review, see [19, 20]). AS-NMD notably plays an important role in the regulation of genes involved in the splicing process itself, presumably to maintain the homeostasis of splicing factors via auto-regulatory loops [21, 22]. Interestingly, although the regulation of splicing factors by AS-NMD is well conserved across animals, the AS events that trigger NMD in these genes often involve different splice sites [23]. The rapid evolution of AS events in mammals is therefore not necessarily in contradiction with the hypothesis that many of them play an important regulatory role. The comparison of transcriptomes in normal vs NMD-deficient cells revealed that a large fraction of genes produce splice variants (in a broad sense, i.e. including cases of IR) that are targeted by NMD [18, 24–27]. This pattern is widespread in eukaryotes and is not restricted to genes encoding splicing factors. Importantly, patterns of AS vary among tissues and during cell differentiation [28–30]. This led several authors to propose that AS-NMD might play a critical role in broadly regulating expression of a large percentage of genes [28–33].
Beyond a few case studies that provided clear evidence of genes regulated by AS-NMD, we still lack a global picture of the relative prevalence of functional AS compared to splicing errors. We propose here a test to quantify the fraction of splice variants corresponding to errors, i.e. having a negative impact on the fitness of organisms. The basis of this test is that the strength of splice signals is expected to reflect a balance between selection (which favors alleles that are optimal for splicing efficiency) and mutation and random genetic drift (which can lead to the fixation of non-optimal alleles) [34]. This selection-mutation-drift equilibrium therefore predicts a higher splicing accuracy at introns where errors are more deleterious for the fitness of organisms. Hence, if AS events predominantly correspond to splicing errors, one should expect a negative correlation between the rate of AS events and their cost in terms of resource allocation (metabolic cost, mobilization of cellular machineries). The noisy splicing model therefore makes several specific predictions regarding the AS rate according to whether splice variants are detectable by NMD and according to the expression level, length, and number of introns of genes.
We first implemented this test in the ciliate
Paramecium tetraurelia
. The intron density in this organism (2.3 introns per gene on average) is similar to that observed in many other unicellular eukaryotes, and some animals, such as drosophila [
35
]. One major advantage of this organism is that its introns are very short (25.1 bp on average, with 99.9% of them in the range of 20–35 bp; Fig.
1a
), i.e. much shorter than RNA-seq sequence reads, which greatly simplifies the detection and classification of AS events. In particular, cases of IR can be identified directly by detecting sequence reads spanning the entire intron and its flanking exon boundaries (Fig.
1c
). Moreover, given its high number of genes (~40,000), this genome allows the analysis of a large dataset of introns (>90,000 introns). Finally, this organism already proved to be a good model to reveal important general features of splicing control in eukaryotes [
36
]. Here we present a comprehensive characterization of AS in the transcriptomes of normal and NMD-deficient paramecia to test the AS-NMD and noisy splicing models. We then ran the same test using previously published human transcriptome datasets and we quantified the fitness cost of mis-splicing in humans by analyzing polymorphism data. Our analyses reveal that the vast majority of splice variants correspond to errors.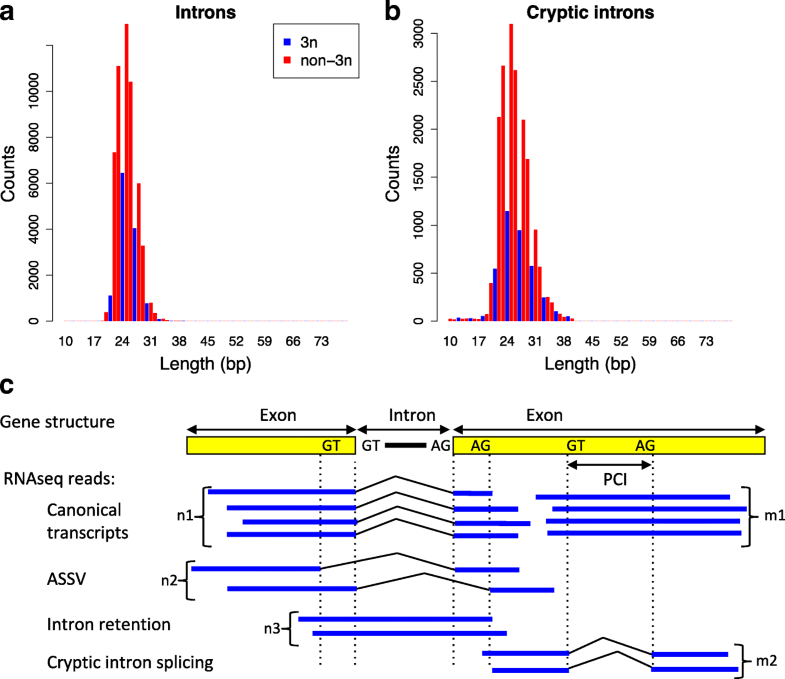 Conclusions
The efficiency of excision of introns by the spliceosome is affected by different signals, located within introns and flanking exons (splice sites, branch point, polypyrimidine tract, splicing enhancers, or silencers). Besides the two splice sites that are critical for the splicing reaction (almost always GT for the donor and AG for the acceptor), all other signals tolerate some sequence flexibility. The probability for a mutation affecting a splicing signal to reach fixation depends on its fitness impact (i.e. the selection coefficient, s) and on the power of random genetic drift (i.e. the effective population size, N e ) [34]. There is therefore necessarily a limit to the point up to which selection can optimize the strength of splice signals: if the splicing error rate is already low, any mutation that further improves splicing efficiency will necessarily have a weak fitness impact and hence will be subject to random drift (the so-called drift barrier effect [41]). This drift barrier therefore determines a basal splicing error rate, which depends on the mutation rate, on N e , and on the fitness cost of splicing errors (s).
For a given error rate, errors are expected to be more costly (in terms of metabolic resources and mobilization of cellular machineries) in highly expressed genes. Hence the fitness cost of mis-splicing is expected to increase with increasing expression level. Indeed, this is precisely what we observed in humans: the strength of selection against deleterious mutations at splice sites is strongly correlated to gene expression level (Fig. 6b). Since the risk of producing erroneous transcripts increases with the number of introns, this implies that all else being equal, there should be a stronger selective pressure against mis-splicing in intron-rich genes. The mutation-selection-drift theory therefore predicts that introns from weakly expressed/intron-poor genes should accumulate more non-optimal substitutions in their splice signals and therefore should show a higher splicing error rate. The relationships that we observe between AS rate, expression level, and intron number are perfectly consistent with these predictions, both in human (Fig. 5) and in paramecia (Fig. 3).
There are two possible ways to limit the deleterious impact of erroneous splicing: (1) improve the strength of splicing signals to increase intrinsic splicing efficiency and avoid the use of cryptic signals (error prevention); or (2) ensure that transcripts are degraded by NMD in case of splicing error (error mitigation). We observed that both strategies are used: there is a deficit of introns and cryptic introns that cannot trigger NMD in case of splicing error; and the rare introns that are not NMD-visible show stronger splicing signals (Additional file 1: Text S3, Additional file 1: Figure S10). The analysis of AS rate in NMD-deficient cells shows that NMD-invisible introns have a much higher intrinsic splicing accuracy than NMD-visible ones. This difference demonstrates that the biophysical limits of splicing accuracy have not been reached and that it would be possible to further improve splicing accuracy of NMD-visible introns by genetic engineering. However, the mutation-selection-drift theory predicts that once the basal splicing error rate has been reached, by error prevention or by error mitigation, then selection cannot further improve splicing efficiency. Thus, this model predicts that the steady state level of erroneous transcripts (after quality control by NMD) should be the same for NMD-visible and NMD-invisible introns. And this is precisely what we observed: in WT cells, NMD-visible and NMD-invisible AS events show similar rates (Fig. 2).
The fitness cost of splicing errors depends on the frequency of transcripts subject to at least one erroneous splicing event. Owing to the short length of RNA-seq sequence reads, it is not possible to directly quantify AS rates per transcript. However, given that AS rates (per intron) are similar in human and in paramecia (Table 1) and that human genes contain on average 3–4 times more introns than paramecia, this implies that the frequency of transcripts subject to at least one erroneous splicing event must be much higher in human than in paramecia. This is consistent with the drift-barrier hypothesis, which predicts that humans should have a higher splicing error rate (per gene), owing to their larger mutational targets (more introns) and to their smaller effective population size [41, 42].
There is clear evidence that some AS events are functional [4]. Notably, we observed that AS-NMD probably plays an important role in the regulation of genes encoding splicing factors in paramecia (Additional file 1: Text S3), as previously shown in other eukaryotes [21, 22]. However, AS-NMD cannot explain the strong relationship between AS rate and expression level that is observed for NMD-invisible splicing variants (Fig. 4, Additional file 1: Figure S7). It has been recently shown that the retention of introns in nuclear transcripts (the so-called "detained" introns) might also contribute to the regulation of gene expression, independently of NMD [43]. If weakly expressed genes were more prone to use this regulatory pathway, this might explain the relationship observed between expression level and IR rate. However, this model does not explain the relationship between IR rate and intron number (Figs. 3d and 5a) and, most importantly, cannot explain the relationship between expression level and other classes of AS events (ASSV or cryptic intron splicing; Figs. 3 and 5). The most parsimonious explanation is that the excess of AS in weakly expressed/intron-poor genes results from the accumulation of maladaptive substitutions, driven by random genetic drift in genes where the selective pressure is weaker. Our observations indicate that for median genes, the vast majority of observed splice variants correspond to errors, in contradiction with the panglossian view of a widespread role of AS-NMD in fine-tuning the expression of genes. Of course, this does not negate the importance of AS-NMD in the regulation of some genes. However, our results highlight the necessity of a careful consideration of non-adaptive hypotheses before concluding about the functionality of AS events.
Declarations
Acknowledgements
We thank Linda Sperling for helpful comments and for sharing her analyses of the distribution of splice signals within paramecium CDSs. We thank Olivier Arnaiz for his precious help in analyzing RNA-seq data. We thank Ulrich Braunschweig for kindly providing data on intron retention rates and expression levels of human genes. This work was performed using the computing facilities of the CC LBBE/PRABI.
Funding
This work was supported by the Agence Nationale de la Recherche (ANR-12-BSV6-0017-04 INFERNO), and by the France Génomique national infrastructure, funded as part of the "Investissements d'Avenir" program managed by the ANR (ANR-10-INBS-09). It received support under the program "Investissements d'Avenir" launched by the French government and implemented by the ANR with the references ANR-10-LABX-54 MEMOLIFE and ANR-11-IDEX-0001-02 PSL Research University.
Availability of data and material
Illumina read sequences generated in this study have been submitted to the European Nucleotide Archive (ENA) (https://www.ebi.ac.uk/ena) under accession number PRJEB15532 [51]. All datasets (human, paramecia) are available at http://doi.org/10.5281/zenodo.321639 [52].
Authors' contributions
EM and LD designed the study. EM and BS designed the experiments (paramecia). BS performed the experiments. BS and CB prepared the sequencing libraries. AP, JLP, and LD performed the bioinformatics analyses of paramecia transcriptomes. AN and LD performed the bioinformatics analyses of human transcriptomes. VR and LD analyzed human polymorphism data. LD wrote the manuscript, with the help of EM, BS, AN, and AP. All authors read and approved the final manuscript.
Ethics approval and consent to participate
Not applicable.
Consent for publication
Not applicable.
Competing interests
The authors declare that they have no competing interests.
Publisher's Note
Springer Nature remains neutral with regard to jurisdictional claims in published maps and institutional affiliations.
Open AccessThis article is distributed under the terms of the Creative Commons Attribution 4.0 International License (http://creativecommons.org/licenses/by/4.0/), which permits unrestricted use, distribution, and reproduction in any medium, provided you give appropriate credit to the original author(s) and the source, provide a link to the Creative Commons license, and indicate if changes were made. The Creative Commons Public Domain Dedication waiver (http://creativecommons.org/publicdomain/zero/1.0/) applies to the data made available in this article, unless otherwise stated.
Authors' Affiliations
(1)
Institut de Biologie de l'Ecole Normale Supérieure (IBENS), CNRS, Inserm, Ecole Normale Supérieure, PSL Research University, Paris, France
(2)
(Epi)genomics of Animal Development Unit, Department of Developmental and Stem Cell Biology, Institut Pasteur, Paris, France
(3)
Université de Lyon, Université Claude Bernard, CNRS, Laboratoire de Biométrie et Biologie Evolutive UMR 5558, Villeurbanne, France
(4)
CeMM Research Center for Molecular Medicine of the Austrian Academy of Sciences, Vienna, Austria
(5)
General Bioinformatics, Reading Enterprise Centre, The University of Reading, Reading, UK