DESMAN: a new tool for de novo extraction of strains from metagenomes
Received: 12 July 2017
Accepted: 25 August 2017
Published: 21 September 2017
Abstract
We introduce DESMAN for De novo Extraction of Strains from Metagenomes. Large multi-sample metagenomes are being generated but strain variation results in fragmentary co-assemblies. Current algorithms can bin contigs into metagenome-assembled genomes but are unable to resolve strain-level variation. DESMAN identifies variants in core genes and uses co-occurrence across samples to link variants into haplotypes and abundance profiles. These are then searched for against non-core genes to determine the accessory genome of each strain. We validated DESMAN on a complex 50-species 210-genome 96-sample synthetic mock data set and then applied it to the Tara Oceans microbiome.
Keywords
MetagenomesStrainNiche
Background
Metagenomics, the direct sequencing of DNA extracted from an environment, offers a unique opportunity to study whole microbial communities in situ. The majority of contemporary metagenomics studies use shotgun sequencing, where DNA is fragmented prior to sequencing with short reads, of the order of hundreds of base pairs (bps). To realise the potential of metagenomics fully, methods capable of resolving both the species and the strains present in this data are needed. Reference-based solutions for strain identification have been developed [1, 2] but for the vast majority of microbial species, comprehensive strain-level databases do not exist. This situation is unlikely to change, particularly given the great diversity of microbes that are elusive to standard cultivation techniques [3]. This motivates de novo strategies capable of resolving novel variation at high resolution directly from metagenomic data.
It is not usually possible simply to assemble metagenomic reads into individual genomes that provide strain-level resolution. This is because in the presence of repeats (identical regions that exceed the read length), assemblies become uncertain and fragment into multiple contigs [4]. Metagenomes contain many conserved regions between strains. These act effectively as inter-genome repeats, and hence produce highly fragmented assemblies. This is particularly true when multiple samples are co-assembled together. It is possible to bin these contigs into partitions that derive from the same species using sequence composition [5, 6] and more powerfully, the varying coverage of individual co-assembled contigs over multiple samples [7–10]. However, the resulting genome bins, or metagenome-assembled genomes (MAGs), represent aggregates of multiple similar strains. These strains will vary both in the precise sequence of shared genes, when that variation is below the resolution of the assembler, but also in gene complement, because not all genes and hence, contigs will be present in all strains.
Modified experimental approaches can be used to simplify the challenge of metagenomics assembly by reducing individual sample complexity, for example through enrichment cultures that preferentially grow organisms adapted to particular growth conditions [11] or with potentially less bias by selecting small subsets of cells using flow cytometry and sequencing with low-input DNA techniques [12]. The latter has been coupled with the sequencing of a standard whole-community metagenomics sample in a novel binning pipeline, MetaSort [13], which exploits the assembly graph to map the flow cytometry sample sequences onto those from the community metagenome and to extract genomes. However, for the majority of studies that do not perform enrichment or flow cytometry, improved bioinformatics algorithms will be required to resolve strain variation from metagenome data sets.
A number of methods exist that map reads against reference genes or genomes to resolve strain-level variation de novo [14–16]. The most straightforward approach is to take the consensus single-nucleotide polymorphisms (SNPs) in individual samples to be the haplotypes [16, 17]. This cannot, however, resolve mixtures and will entirely miss strains that are not dominant at least somewhere. These shortcomings can be addressed by using the frequency of the variants across multiple samples to resolve de novo strain-level variation and abundances. This is the approach taken in the Lineage algorithm of O'Brien et al. [14] and ConStrains [15]. However, no method has yet been developed that works from assembled contigs, avoiding the need for any reference genomes, and, hence, is applicable to microbial populations that lack cultured representatives. Here, we show that it is possible to combine this principle with contig-binning algorithms and resolve the strain-level variation in MAGs, both in terms of nucleotide variation on core genes and variation in gene complement.
We denote our strategy DESMAN for De novo Extraction of Strains from Metagenomes. We assume that a co-assembly has been performed and the contigs binned into MAGs. Any binning algorithm could be used for this, but here we applied CONCOCT [9]. We also assume that reads have been mapped back onto these contigs as part of this process. To resolve strain variation within a MAG or group of MAGs deriving from a single species, we first identify core genes that are present in all strains as a single copy. In the absence of any reference genomes, these will simply be those genes known to be core for all bacteria and archaea (single-copy core genes or SCGs), e.g. the 36 clusters of orthologous groups of proteins (COGs) identified in [9]. If reference genomes from the same species or related taxa are available, then these can be used to identify further genes that will satisfy the criteria of being present in all strains in a single copy, in which case we denote these as single-copy core species genes (SCSGs). Using the read mappings, we calculate the base frequencies at each position on the SCSGs or SCGs. Next, we determine variant positions using a likelihood ratio test applied to the frequencies of each base summed across samples. We then use the base frequencies across samples on these variant positions to resolve the number of strains present, their abundance and their unique sequence or haplotype at each variant position for each core gene.
The second component of
DESMAN
is to use this information to determine which accessory genes are present in which strain. From the analysis of core genes, we know how many strains are present and their relative abundances across samples. The signature of relative frequencies across samples associated with each strain will also be observed on the non-core gene variants but, crucially, not all strains will possess these genes and potentially they may be in multiple copies. The relative strain frequencies have to be adjusted, therefore, to reflect these copy numbers. For instance, if a gene is present in just a single copy in one strain, it can have no variants. In addition, the total coverage associated with a gene will also depend on which strains possess that gene being a simple sum of the individual strain coverages. Here, we do not address the multi-copy problem, just gene presence or absence in a strain. We infer these given the observed variant base frequencies and gene coverages across samples whilst keeping the strain signatures fixed at those computed from the SCSGs and SCGs. This also provides a strategy for inferring non-core gene haplotypes on strains. Taken together, these two steps provide a procedure for resolving both strain haplotypes on the core genome and their gene complements entirely de novo from short-read metagenome data. We recommend applying this strategy to genes, but crucially genes called on the assembled contigs. If contig assignments are preferred, the same methodology could be applied directly to the contigs themselves, or a consensus assignment of genes on a contig used to determine its presence or absence in a given strain. The
DESMAN
pipeline is summarised in Fig.
1
.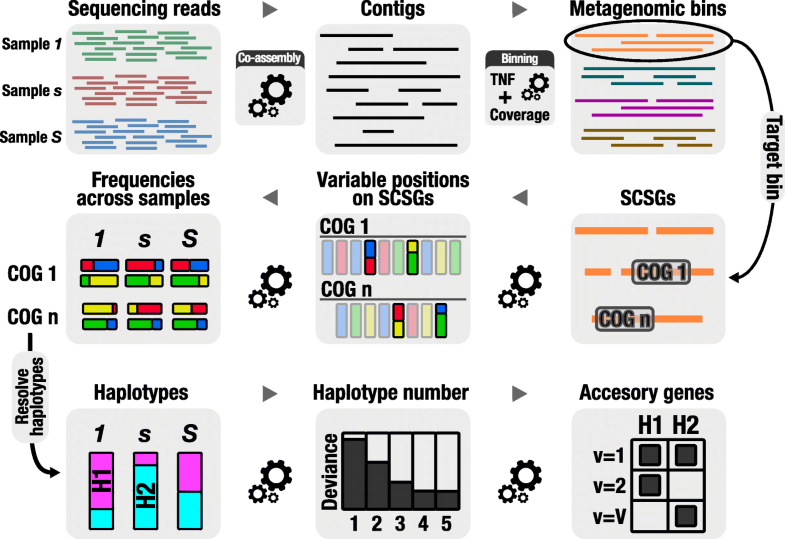 The advantage of using base frequencies across samples to resolve strains, rather than existing haplotype resolution algorithms that link variants using reads [18], is that it enables us to resolve variation that is less divergent than the reciprocal of the read length and to link strains across contigs. The intuition behind frequency-based strain inference is similar to that of contig binning. The frequencies of variants associated with a strain fluctuate across samples with the abundance of that strain. However, in this case it is necessary to consider that multiple strains may share the same nucleotide at a given variant position. To solve this problem, we develop a full Bayesian model, fitted by a Markov chain Monte Carlo (MCMC) Gibbs sampler, to learn the strain frequencies, their haplotypes and also sequencing error rates. To improve convergence, we initialise the Gibbs sampler using non-negative matrix factorisation (NMF), or more properly non-negative tensor factorisation (NTF), a method from machine learning that is equivalent to the maximum likelihood solution [19]. Our approach is like the Lineage algorithm developed by O'Brien et al. [14], except that they have a simpler noise model but a more complex prior for the strain haplotypes derived from an underlying phylogenetic tree. Both approaches differ from the heuristic strategy for strain inference used in ConStrains [15]. The full Bayesian approach allows not just a single estimate of the strain haplotypes, but also an estimate of the uncertainty in the predictions through comparison of replicate MCMC runs.
To illustrate the efficacy of the DESMAN pipeline, we first apply it to the problem of resolving Escherichia coli strains in metagenomic data sets. E. coli has a highly variable genome [20], and while some strains of E. coli occur as harmless commensals in the human gut, others can be harmful pathogens. We used a synthetic data set of 64 samples generated from an in silico community comprising five E. coli strains and 15 other strains commonly found in human gut samples (see Additional file 1: Table S1). Strains in this data set were present in each sample with varying abundances determined by 16S rRNA community profiles obtained from the Human Microbiome Project (HMP) [21]. The reads themselves simulated a typical HiSeq 2500 run. We then applied DESMAN to 53 real faecal metagenome samples from the 2011 Shiga-toxin-producing E. coli (STEC) O104:H4 outbreak [22] and validated our ability to resolve the outbreak strain correctly. The results from these analyses were encouraging but the real potential of DESMAN is to resolve strains for environmental populations without any cultured representatives. To validate the effectiveness of DESMAN on more complex communities when only the 36 SCGs are used for haplotype inference, we applied it to an in silico synthetic community of 100 species and 210 strains with 96 samples. Having demonstrated that the results are reliable even in this case, we ran DESMAN on the 32 most abundant MAGs from a collection of 957 non-redundant MAGs reconstructed by Delmont et al. from the Tara Oceans project metagenomes [23].
Discussion
We have demonstrated for both in silico and real data sets the ability of DESMAN to infer and reconstruct microbial strains correctly from metagenomic data de novo using subtle nucleotide variations in mapping results.
Overall we did observe better results on the simple 20 genome mock, rather than the more realistic 210-genome in silico complex synthetic community but much of this is probably attributable to failures of the species binning and mapping algorithms rather than the haplotype inference per se. The most pertinent conclusion from the complex mock analysis is that just 36 universal SCGs are sufficient to resolve even closely related haplotypes for MAGs using as few as just ten SNVs. It is not necessary to use a larger collection of species-specific COGs as we did in the E. coli analyses. This is an important finding, as this strategy can be applied to all microbes, even those with no cultured isolates and, hence, no information on the pangenome. This was demonstrated by the Tara Oceans analysis. There we were able to elucidate biologically relevant patterns of strain diversification across a range of novel organisms, revealing geographical partitioning of strains and differences in relative rates of genome divergence with genome length. We discuss the biological implication of these results further below.
DESMAN was substantially more effective at reconstructing the five haplotypes of E. coli in our simple mock data set than Lineage [14]. The average SNV accuracy of the Lineage-predicted haplotypes was just 76.32% compared to 99.58% accuracy for DESMAN. For the more complex mock, the results were much closer between the two algorithms. There was an improvement associated with DESMAN but not dramatic. The reason for this is probably the difference in variant number. In the simple mock, 6,044 variants were identified for E. coli of which 1,000 were used for haplotype deconvolution. In contrast, in the complex mock using just the 36 SCGs, the most variants observed across the 25 MAGs was 303. The two haplotype inference algorithms are fundamentally similar despite Lineage being originally applied only after mapping to reference genomes. Lineage aims to exploit an additional level of information that is not used in DESMAN through the simultaneous construction of a phylogenetic tree between strains but DESMAN has a fully conjugate Gibbs sampler and a novel method based on NTF for initialisation. We hypothesise that these computational improvements give DESMAN an advantage on complex data sets, which may converge more slowly or be more sensitive to initial conditions but that on easier problems with smaller variant number, the inference accuracy is comparable. It would be worthwhile to extend DESMAN to include phylogenetic information, or conversely, introduce some of our improvements into the Lineage algorithm. This would further improve our collective ability to resolve complex pangenomes de novo from metagenomic assemblies. We were unable to run the ConStrains algorithm on our data, which in itself illustrates the advantage of a strategy in which we separate the steps of mapping, variant calling and haplotype inference. Although we suspect the partially heuristic and non-probabilistic approach utilised in ConStrains would have been unable to compete with the fully Bayesian algorithm employed in DESMAN.
The underlying haplotype inference model in DESMAN could be improved. Position-dependent error rates may be relevant given that particular sequence motifs are associated with high error rates on Illumina sequencers [26]. More fundamentally, we could develop models that do not assume independence across variant positions by combining information from the co-occurrence of variants in the same read with the modelling of strain abundances across multiple samples. This could be particularly relevant as single-molecule long read sequencers such as Nanopore become more commonly used [27]. In addition, it would have been preferable to have a more principled method for determining the number of strains present, rather than just examining the posterior mean deviance. This could be achieved through Bayesian non-parametrics, such as a Dirichlet process prior for the strain frequencies, allowing a potentially infinite number of strains to be present, with only a finite but flexible number actually observed [28]. Alternatively, a variational Bayesian approach could be utilised to obtain a lower bound on the marginal likelihood and this would be used to distinguish between models [29].
To the best of our knowledge, this is the first study to demonstrate that coverage across multiple samples can be used to infer gene counts across strains within a pangenome. We focussed on gene complement here but the underlying algorithm could be equally well applied to contigs just by calculating coverages and variants across a whole contig rather than on individual genes. We adopted the gene-centred approached because we can be confident that individual genes have been assembled correctly. This allowed us to resolve strain diversity and gene complement in entirely uncultured species. This revealed multiple biologically meaningful patterns across taxa within the Tara Oceans microbiome. We observed strain diversification in the vast majority of MAGs and the majority of these haplotypes (57.5%) were significantly correlated with geographic region, suggestive of local adaptation. The number of haplotypes in a MAG negatively correlated with metabolic complexity, indicating that the greatest strain diversity occurs in streamlined small genomes. This is not simply due to small genomes having lower GC content, since we observed that within a genome, non-variant positions were more likely to be AT. Instead, we believe that it reflects the importance of streamlining as a process for generating diversity in the plankton microbiome [30]. More intriguing is our observation that amongst highly streamlined organisms (genome length <1 Mbp), the rate of change in the overall genome, as measured by divergence in 5% gene clusters relative to changes in nucleotide difference on the core genes, is nearly three times greater than that for organisms with genomes greater than 1 Mbp. This suggests a difference in the way strain diversification and niche partitioning impacts the genome as genome length varies. For organisms with large genomes and complex metabolisms, niche differentiation requires less change in the genome with changes in gene expression level, for instance, driving ecological differences. For small genome organisms, strain generation and adaptation to new niches require larger genomic changes. This can be considered only a preliminary result that will require confirmation through isolate sequencing but it illustrates the power of DESMAN to generate novel hypotheses from metagenome data.
Conclusion
We have demonstrated over a range of synthetic and real data sets that DESMAN is capable of accurate de novo resolution of strains from multi-sample metagenome data. We have also contributed to the growing realisation that intra-species strain diversity is endemic across many environments, underlining the need for such a tool.
The DESMAN pipeline is open-source software, and is available via the URL https://github.com/chrisquince/DESMAN.
Methods
The DESMAN (De novo Extraction of Strains from MetAgeNomes) pipeline is a strategy for resolving both strain haplotypes and variations in gene content directly from short-read shotgun metagenome data. Our proposed approach comprises commonly employed steps of an assembly-based metagenomic binning workflow (such as co-assembly of data, annotation of resulting contigs, mapping short reads to the assembly and identification of genome bins), followed by preparing genome bins that match to the target organism for strain extraction using the novel DESMAN algorithm described below.
Declarations
Acknowledgments
We thank three anonymous reviewers for comments on an initial draft of this manuscript that resulted in an improved publication.
Funding
CQ is funded through a Medical Research Council fellowship (MR/M50161X/1) as part of the Cloud Infrastructure for Microbial Bioinformatics (CLIMB) consortium (MR/L015080/1). GC was supported by a European Research Council Starting Grant (3C-BIOTECH 261330). AME was supported by a Frank R. Lillie Research Innovation Award.
Authors' contributions
CQ wrote the DESMAN code, developed the statistics, performed the analyses and wrote the first draft of the manuscript. TD assisted with the Tara Oceans analysis and figure generation. GC assisted with the biological interpretation of the results. SR helped develop the Gibbs sampler. JA and AD helped develop the analysis pipeline. ME provided the original motivation for the algorithm, contributed to the code base and generated figures. All authors read, contributed to and approved the final manuscript.
Ethics approval and consent to participate
No ethical approval was necessary for this study.
Competing interests
The authors declare that they have no competing interests.
Publisher's Note
Springer Nature remains neutral with regard to jurisdictional claims in published maps and institutional affiliations.
Open Access This article is distributed under the terms of the Creative Commons Attribution 4.0 International License (http://creativecommons.org/licenses/by/4.0/), which permits unrestricted use, distribution, and reproduction in any medium, provided you give appropriate credit to the original author(s) and the source, provide a link to the Creative Commons license, and indicate if changes were made. The Creative Commons Public Domain Dedication waiver (http://creativecommons.org/publicdomain/zero/1.0/) applies to the data made available in this article, unless otherwise stated.
Authors' Affiliations
(1)
Warwick Medical School, University of Warwick, Coventry, UK
(2)
Department of Medicine, University of Chicago, Chicago, USA
(3)
KTH Royal Institute of Technology, Science for Life Laboratory, School of Biotechnology, Division of Gene Technology, Stockholm, Sweden
(4)
The ithree Institute, University of Technology Sydney, Sydney, Australia
(5)
University of Glasgow, Glasgow, UK
(6)
Microbial Ecophysiology Laboratory, School of Natural Sciences and Ryan Institute, National University of Ireland, Galway, Ireland
(7)
Marine Biological Laboratory, Josephine Bay Paul Center for Comparative Molecular Biology and Evolution, Woods Hole, USA