Differentiated demographic histories and local adaptations between Sherpas and Tibetans
Received: 27 December 2016
Accepted: 22 May 2017
Published: 15 June 2017
Abstract
Background
The genetic relationships reported by recent studies between Sherpas and Tibetans are controversial. To gain insights into the population history and the genetic basis of high-altitude adaptation of the two groups, we analyzed genome-wide data in 111 Sherpas (Tibet and Nepal) and 177 Tibetans (Tibet and Qinghai), together with available data from present-day human populations.
Results
Sherpas and Tibetans show considerable genetic differences and can be distinguished as two distinct groups, even though the divergence between them (~3200–11,300 years ago) is much later than that between Han Chinese and either of the two groups (~6200–16,000 years ago). Sub-population structures exist in both Sherpas and Tibetans, corresponding to geographical or linguistic groups. Differentiation of genetic variants between Sherpas and Tibetans associated with adaptation to either high-altitude or ultraviolet radiation were identified and validated by genotyping additional Sherpa and Tibetan samples.
Conclusions
Our analyses indicate that both Sherpas and Tibetans are admixed populations, but the findings do not support the previous hypothesis that Tibetans derive their ancestry from Sherpas and Han Chinese. Compared to Tibetans, Sherpas show higher levels of South Asian ancestry, while Tibetans show higher levels of East Asian and Central Asian/Siberian ancestry. We propose a new model to elucidate the differentiated demographic histories and local adaptations of Sherpas and Tibetans.
Keywords
SherpaTibetanNext-generation sequencingHigh-altitude adaptationPopulation historyGene flow
Background
Living in the Qinghai-Tibet Plateau with an average elevation of over 4500 m, the Sherpas and Tibetans were some of the most mysterious populations until Tenzing Norgay, a Sherpa, conquered Mount Everest in the middle of the 20th century and attracted the attention of anthropologists, archaeologists, and geneticists. Both highlander groups seem to cope well with the tremendously hypoxic environment and possess a distinctive set of adaptive physiological traits, including unelevated hemoglobin concentrations even up to 4000 m, which is clearly associated with oxygen delivery [1–5]. Many genetic studies have attributed these adaptive traits to variants in EPAS1 (MIM 603349) and EGLN1 (MIM 606425), two key genes in the hypoxia inducible factor (HIF) pathway that detect and react to oxygen supply changes [1, 6–9]. The adaptation to high altitude suggests these groups have occupied the region for a long time. Archaeological evidence suggests the first people arrived at the Tibetan plateau as early as 30,000 years ago [10]. By collecting 6109 Tibetan samples and conducting phylogeographic analyses using paternal, maternal, and genome-wide autosomal markers, Qi et al. revealed the presence of both Upper Paleolithic (40–10 thousand years ago [ka]) colonization and Neolithic (10–4 ka) expansion of modern humans on the Tibetan plateau [11], while Yi et al. suggested the divergence period between the highlanders and the Han Chinese, a lowland population, was only 2750 years [6]. In a recent study, we provided compelling evidence of the co-existence of Paleolithic and Neolithic ancestries in the modern Tibetan gene pool through whole-genome sequencing, and thus indicated a genetic continuity between pre-historical highland-foragers and present-day Tibetans and Sherpas [12].
However, the Neolithic population history and the genetic relationships between Sherpas and Tibetans remain controversial. It is mostly conceded that Sherpas were originally Tibetans who migrated from eastern Tibet to the Everest region of Nepal 500 years ago according to their similarity in Tibeto-Burman languages, adherence to Tibetan Buddhism sects, oral legends, and other traditions [13, 14]. The absence of a written history of the Sherpa people makes their origins much more legendary [13–15]. Recent genetic evidence has led to conflicting conclusions when elucidating the genetic relationships of the two highlander populations. Based on autosomal genomes, Jeong et al. posited that modern Tibetans were a mixture of ancestral populations related to the Sherpa and Han Chinese, and consequently their genetic adaptations to high altitudes were likely inherited from the ancestral Sherpa [16]. Conversely, two recent studies based on mtDNA and Y-chromosomal data reported that the Sherpa people are a recently derived sub-lineage of Tibetans, dated to less than 1500 years ago, suggesting that Sherpas likely acquired high-altitude adaptive features during their ancestors' long stay on the Tibetan Plateau prior to their most recent migration towards Nepal [17, 18]. These contrasting views may have resulted from different genetic material, investigative methods, or interpretations, which indicates the complex genetic admixture origins of the Sherpa and Tibetan people.
Additionally, much less is known about geographic and cultural roles in shaping the population substructures within both Tibetans and Sherpas. Since Tibetans reside in different regions surrounding high transverse valleys, complex terrain may have hindered communication between subgroups. Moreover, gene flow in different Tibetan ethnic groups is entirely unexplored despite there being three cultural regions of historical Tibet [19] (Ü-Tsang, Kham, and Amdo Tibet). On the other hand, the Sherpa people primarily reside in the Khumbu region of Nepal with smaller groups in Dingjie County and Zhangmu Town [18], along the Sino-Nepalese border in the Tibet Autonomous Region of China. Furthermore, Khumbu Sherpas consider themselves as distinct from both other Sherpas and non-Sherpa peoples [13–15], suggesting a more complex history of Sherpa populations. Whether the genetic makeup of Khumbu Sherpas is distinct from Sherpas residing in Tibet and whether genetic contact between Sherpa subgroups occurred remain to be elucidated.
Existing archaeological and genetic data are insufficient to directly resolve the complex relationship between and within the two highlander populations. Therefore, we used whole-genome deep sequencing and genome-wide genotyping data from Sherpas, Tibetans, and the Han Chinese (Fig.
1
; Additional file
1
: Table S1) to revisit and address four major unresolved issues regarding their prehistory, especially the Neolithic history of Sherpas and Tibetans, and their hypoxic adaptation: (i) whether they are two genetically different ethnic groups; (ii) whether population substructures exist in either of the two groups; (iii) how long they have diverged from their ancestral group and when the two separated groups started to re-contact by population admixture; and (iv) whether the two groups share major high-altitude adaptation mechanisms. The careful and systematic analysis of these newly sequenced genomes, together with available genotyping data, can provide further insight into the genetic origins of Sherpas and Tibetans and uncover their different adaptive mechanisms.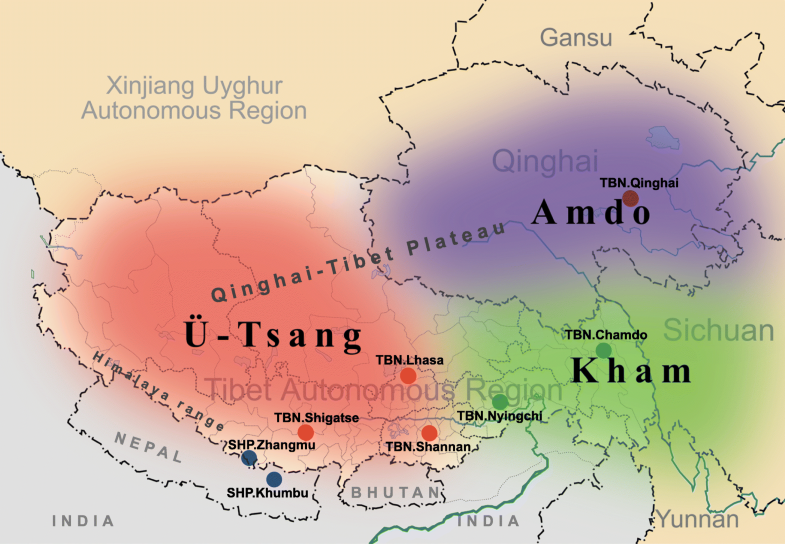 Discussion
Despite extensive studies, some questions remain unresolved on the genetic origins, relationships, and adaptive mechanisms of the Sherpa and Tibetan people. A recent study suggested that modern Tibetans are descendants of an admixture of Han Chinese and ancestral Sherpas who began to split from East Asians as early as ~40,000 years ago [16]. However, different conclusions were given by other studies based on mtDNA and Y-chromosome data [17, 18]. Here, we propose that the Sherpas split from Tibetans more recently following the divergence of ancestral populations of Tibetans and Han Chinese. The controversy could result from different interpretations of the ancestry patterns observed in Sherpas and Tibetans, although the ADMIXTURE results (K = 4 and K = 5) are similar between our study and Jeong et al. (Fig. 1 in Jeong et al. and Additional file 1: Figures S17 and S18 in our analysis). According to Jeong et al., unsupervised ADMIXTURE infers Tibetans as a mixture of two genetic components: one is highly enriched in the Sherpa population (but rare in lowland populations), which was referred to as the "high-altitude component", and the other is enriched in low-altitude East Asians, which was referred to as the "low-altitude component". However, it is challenging to determine whether clustering patterns among groups resulted from recent admixture between distinct ancestral populations or shared ancestry prior to the population divergence [49, 50]. On the contrary, we suggest the high-altitude component shared between the Tibetans and Sherpas was more likely from the shared ancestry prior to their divergence. Moreover, a much larger number of full sequence data obtained from our study, including 33 Tibetan, 5 Sherpa, and 38 Han Chinese genomes which were not available to previous studies, enabled us to make a more sophisticated estimation of evolutionary genetic parameters such as divergence time. By using MSMC analysis, we show that Sherpas (both Chinese Sherpas and Nepalese Sherpas) split from Tibetans much more recently (~7000 years ago), following the divergence event between Tibetans and the Han Chinese (~9000 years ago) (Fig. 5; Additional file 1: Figure S34). The previous study estimated that Sherpas began to diverge from the Han Chinese and Dai ~40,000 years [16], which could be biased due to limited sequence data (only two sequences were available) and the analysis relying on PSMC being based on single genomes. Additional uncertainties could have resulted from a long history of isolation which Nepalese Sherpas have experienced (Additional file 1: Figure S21).
The role of geography and culture in migration and population structure is a central topic in human evolutionary genetics. We show that population substructures exist within Ü-Tsang, Kham, and Amdo Tibetans, possibly attributing to the differentiation of culture in historical Tibet and the natural barriers from complex terrain surrounding high transverse valleys in the Qinghai-Tibet Plateau, which hindered communication between subgroups. Our observations of substantial East Asian genetic influence on Tibetans and the presence of gene flow from Tibetans to Sherpas support the direction of gene flow from East Asia into Tibet and Nepal [51–54]. Although the natural barrier of the Himalayas (low-oxygen environment [55]) effectively limited gene flow from South Asia, the observed genetic component (Fig. 3) and admixture signals from South Himalayan populations in Sherpas (Additional file 1: Figure S26) indicated bi-directional gene flow. Furthermore, gene flow from South Asians was selectively permeable and highlanders who adapted well to high altitudes could relatively easily pass the Himalayas and dwell in highlander regions. Sherpas, therefore, were the genetic carriers who transferred the South Asian ancestry from south of the Himalayas to the north. In our estimation, Sherpas show 3.5% (0.3 ± 1.2% for SHP.Khumbu and 6.2 ± 5.0% for SHP.Zhangmu) South Asian ancestry, with proportions ranging from 0 to 20% across individuals. This estimation is consistent with results from mtDNA investigations [18, 56], in which proportions were reported to be between 0.34 and 2.53% in Nepalese Sherpa and 8 and 17% in Chinese Sherpa.
In this study, we reveal complex population structures of Tibetans and Sherpas which further indicate the complicated history of two groups. However, since the current study enrolled only two Sherpa subgroups, Zhangmu Sherpa and Khumbu Sherpa, with a limited sample size (Fig. 1 and Table 1), we believe that the complete landscape of genetic diversity in Sherpas requires further investigation by increasing the number of Sherpa subgroups and increasing sample sizes.
Conclusions
Sherpas and Tibetans show sufficient genetic difference and can be distinguished as two distinct groups; on the other hand, their divergence time (~3200–11,300 years ago) is much more recent than that of their common ancestors and Han Chinese (~6200–16,000 years). The two highlander groups harbor shared and differentiated genetic variants associated with adaptation to either high-altitude or UV radiation. Our analysis indicates that Tibetan highlanders share a common genetic origin but experienced a complex history of population divergence, a long period of isolation, local adaptation, and recent gene flow, which jointly shaped the genetic landscape of human genetic diversity on the plateau.
Declarations
Acknowledgments
The authors are grateful to Dr. Anna Di Rienzo for providing Nepalese Sherpa sample data.
Funding
This work was funded by the Strategic Priority Research Program (grant XDB13040100 to SX) and Key Research Program of Frontier Sciences (grant QYZDJ-SSW-SYS009 to SX) of the Chinese Academy of Sciences (CAS), the National Natural Science Foundation of China (NSFC; grant 91331204 and 31711530221 to SX, grant 31501011 to YL, and grants 31260252 and 31460286 to LK), the National Science Fund for Distinguished Young Scholars (grant 31525014 to SX), the Program of Shanghai Academic Research Leader (grant 16XD1404700 to SX), Science and Technology Commission of Shanghai Municipality (STCSM; grant 14YF1406800 to YL) and STCSM grant 16YF1413900 (to HL).
Authors' contributions
SX conceived and designed the study and supervised the project. LK, LL, LM, ZZ, LJ, SL, BS, and YY contributed to sample collection. YL managed laboratory work and contributed to data analysis. SX and LK contributed reagents and materials. CZ, QF, XW, HL, JL, ZN, KY, LD, YZ, and YW performed data analysis. SX and CZ wrote the main paper and CZ prepared the Additional data files. All authors have read and approved the manuscript.
Competing interests
The authors declare that they have competing interest.
Ethics approval and consent to participate
All procedures were in accordance with the ethical standards of the Responsible Committee on Human Experimentation and the Helsinki Declaration of 1975, as revised in 2000. All samples were collected with informed consent and approved by the Biomedical Research Ethics Committee of the Shanghai Institutes for Biological Sciences (number ER-SIBS-261408).
Publisher's Note
Springer Nature remains neutral with regard to jurisdictional claims in published maps and institutional affiliations.
Open AccessThis article is distributed under the terms of the Creative Commons Attribution 4.0 International License (http://creativecommons.org/licenses/by/4.0/), which permits unrestricted use, distribution, and reproduction in any medium, provided you give appropriate credit to the original author(s) and the source, provide a link to the Creative Commons license, and indicate if changes were made. The Creative Commons Public Domain Dedication waiver (http://creativecommons.org/publicdomain/zero/1.0/) applies to the data made available in this article, unless otherwise stated.
Authors' Affiliations
(1)
Chinese Academy of Sciences (CAS) Key Laboratory of Computational Biology, Max Planck Independent Research Group on Population Genomics, CAS-MPG Partner Institute for Computational Biology (PICB), Shanghai Institutes for Biological Sciences, CAS, Shanghai, China
(2)
University of Chinese Academy of Sciences, Beijing, China
(3)
School of Life Science and Technology, ShanghaiTech University, Shanghai, China
(4)
Key Laboratory for Molecular Genetic Mechanisms and Intervention Research on High Altitude Disease of Tibet Autonomous Region, School of Medicine, Xizang Minzu University, Xianyang, China
(5)
State Key Laboratory of Genetic Engineering and Ministry of Education (MOE) Key Laboratory of Contemporary Anthropology, School of Life Sciences, Fudan University, Shanghai, China
(6)
State Key Laboratory of Genetic Resources and Evolution, Kunming Institute of Zoology, Chinese Academy of Sciences, Kunming, China
(7)
Collaborative Innovation Center of Genetics and Development, Shanghai, China