Epigenetic aging signatures in mice livers are slowed by dwarfism, calorie restriction and rapamycin treatment
Received: 4 January 2017
Accepted: 1 March 2017
Published: 28 March 2017
Abstract
Background
Global but predictable changes impact the DNA methylome as we age, acting as a type of molecular clock. This clock can be hastened by conditions that decrease lifespan, raising the question of whether it can also be slowed, for example, by conditions that increase lifespan. Mice are particularly appealing organisms for studies of mammalian aging; however, epigenetic clocks have thus far been formulated only in humans.
Results
We first examined whether mice and humans experience similar patterns of change in the methylome with age. We found moderate conservation of CpG sites for which methylation is altered with age, with both species showing an increase in methylome disorder during aging. Based on this analysis, we formulated an epigenetic-aging model in mice using the liver methylomes of 107 mice from 0.2 to 26.0 months old. To examine whether epigenetic aging signatures are slowed by longevity-promoting interventions, we analyzed 28 additional methylomes from mice subjected to lifespan-extending conditions, including Prop1df/df dwarfism, calorie restriction or dietary rapamycin. We found that mice treated with these lifespan-extending interventions were significantly younger in epigenetic age than their untreated, wild-type age-matched controls.
Conclusions
This study shows that lifespan-extending conditions can slow molecular changes associated with an epigenetic clock in mice livers.
Keywords
DNA methylationEpigenomicsAgingEpigenetic aging
Background
In humans, numerous CpG sites have DNA methylation states that correlate with age. These associations have been used to formulate models, called epigenetic clocks, that make quantitative predictions of age based on selected sets of CpG sites [1–3]. These models are derived from the methylation profile of many individuals measured using oligonucleotide arrays, such as the Illumina 450 K platform, which determines the methylation value at >450,000 CpG sites genome-wide. Although the age predictions of these molecular models are generally very accurate across the human population, for particular individuals the prediction can be markedly different from the actual chronological age. For example, an advanced molecular age relative to chronological age has been associated with a number of diseases, such as obesity, viral infection and Down syndrome [4–6]. Furthermore, a recent retrospective analysis of longitudinal cohort studies showed that a molecular age advancement of 5 years corresponded to a 21% increased risk of mortality overall [7]. Thus, predictions of "epigenetic age" may be an indication of an individual's biological state of aging.
Beyond these examples of advanced epigenetic aging, a complementary but unanswered question is whether epigenetic clocks can also be slowed. Epigenetic aging studies in humans have not thus far been well suited to address questions of slowed aging, given the lack of well-documented interventions that enhance health or lifespan and the difficulty of controlling for confounding factors. However, rodents are particularly appealing experimental organisms in studies of mammalian aging, because they are genetically tractable and can be subjected to potential lifespan-extending interventions. The earliest described such intervention, calorie restriction, was shown to extend rodent lifespan by as much as 2-fold [8]. These findings have since been replicated in numerous mouse strains [9]. Another well-studied lifespan-extending condition is a single-point mutation in the Prop1 gene that results in dwarfism and lifespan extension up to 1.5-fold [10]. These effects are likely due to reduced somatotropic signaling [11]. A more recently described treatment, dietary rapamycin, has been reported to increase the lifespan of genetically heterogeneous mice by 1.2-fold [12].
Despite these known lifespan-extending interventions, an epigenetic clock has not yet been formulated for mice. Nonetheless, mouse methylation signatures can now be analyzed genome-wide using either reduced representation bisulfite sequencing (RRBS) or whole genome bisulfite sequencing (WGBS) [13]. Using such data, previous studies have suggested that mice might experience patterns of epigenetic aging similar to those documented in humans [14–16]. For instance, CpG methylation sites distinguish young versus old mouse hematopoietic stem cells [17], and CpG methylations altered in murine acute myeloid leukemia are also found to change with age [18]. These findings suggest that an epigenetic measure of age is plausible for mice.
Here, we ask if conditions that extend mouse lifespan – Prop1df/df dwarfism, calorie restriction and dietary rapamycin – also affect a mouse epigenetic clock. While such a link seems plausible, an alternative possibility is that these lifespan-extending conditions might operate independently of the changes that underlie an epigenetic clock, which would then proceed at a normal rate despite intervention. To distinguish between these possibilities, we first assess whether there are similarities between mouse and human epigenetic aging. We then formulate epigenetic readouts of age to score the effect of lifespan-extending interventions.
Results
Age-related methylation changes share common behavior in mouse and human
First, we assessed the similarities of age-related methylome changes between mice and humans. For this purpose, we obtained publicly available mouse methylation data from Reizel et al. [19] consisting of RRBS from livers of 102 male or female C57BL/6 mice ranging in age from 0.2 to 7.1 months. These data were filtered to identify sites that were reliably measured with sufficient sequencing depth in most mice (see "Methods"), yielding 36,094 CpG sites total, of which 27,612 CpG sites were conserved in humans.
Next, we obtained publicly available methylation data from 164 human livers that were generated using 450 K Illumina methylation arrays [
4
,
20
]. We identified 2634 CpG sites that were assayed in the human Illumina arrays that were orthologous to those from the set of filtered sites from mouse RRBS (Fig.
1a
). From this orthologous-profiled space, we identified 88 age-associated sites in mice (for which the methylation status had a significant association with age) and 176 age-associated sites in humans (Fig.
1a
, likelihood ratio test at 1% false discovery rate (FDR), see "
Methods
"). Among these, we saw slight but significant overlap between sites that were age-associated in mice versus sites that were age-associated in humans (Fig.
1a
) (
p
 < 0.01 by hypergeometric test). Notably, the age-associated sites in both species showed similar under/over-enrichments in various genomic annotations, including regions marked by histones (H3K27me3, bivalent and H3K9ac), although different genomic regions were associated with statistical significance in mice and humans, with only H3K27ac regions significantly under-enriched in both species (Additional file
1
: Figure S1)
.
Thus, age-associated CpG sites in the orthologous-profiled space appear to be slightly conserved with respect to various genomic regions affected.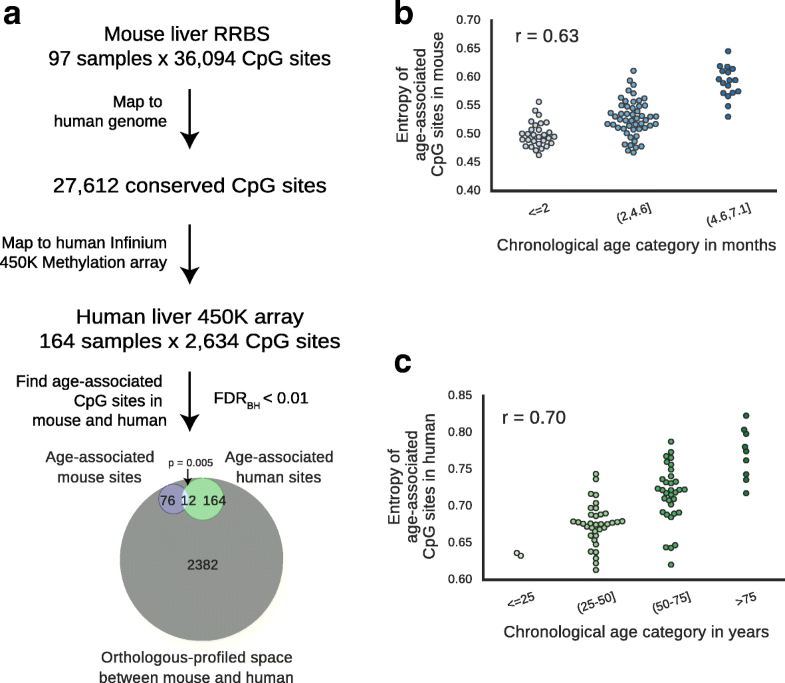 Previous methylation studies of whole blood in humans have documented increasing entropy with age [1, 5]. Increasing entropy indicates that, during aging, the state of each CpG becomes less uniform across the cell population [1]. We asked if this trend of increasing disorder of age-associated CpG sites in the methylome also exists in mice and human livers, regardless of whether a particular site was sampled in both species. We saw that, in both mice and humans, the age-associated regions of the methylome tended toward higher disorder (Fig. 1b, c). This finding suggests that a trend toward disorder over time is a conserved property of aging in mammals.
Development of an epigenetic clock in mice
Motivated by the shared patterns affecting the aging epigenome in mice and humans, we next formulated an epigenetic clock for mice. Toward this goal, we created a consolidated mouse liver methylome dataset combining two previous studies [19, 21] with data newly generated in this study (Additional file 2: Datasets used summary). This consolidated dataset consisted of 107 liver methylomes of mice aged 0.2 to 26.0 months old (Additional file 1: Figure S2A), covering 7628 CpG sites that were detected in nearly all samples ("Methods"). Normalization with ComBat [22, 23] was performed to estimate and remove effects resulting from the different sequencing technologies (RRBS and WGBS) and mouse strains (Ames, C57BL/6 and UM-HET3) in this integrated dataset ("Methods"). To train a predictive model of mouse age that can be used as an epigenetic clock, we applied ElasticNet [24], a statistical regression framework used previously to formulate epigenetic clocks in humans [1, 2]. This training process selected a subset of 148 CpG sites for an epigenetic clock in mice livers (Additional file 3). These sites were predominantly located in intronic and intergenic regions and, in particular, were significantly under-represented in promoters and over-represented in enhancers (Additional file 1: Figure S2B, p < 0.01 and p < 10-5 by Fisher's exact test, respectively).
We pursued two different strategies to assess predictive performance. First, we performed 4-fold cross validation, in which the 107 mice used for training were arbitrarily divided into four sets of comparable sizes. Each of these sets was withheld, in turn, from model training and instead used to test the performance of the trained model. In this cross-validation scenario, we found that the ages of the test sets were accurately predicted with a correlation ranging from 83% to 92% (average r = 0.91; Fig.
2a
). Second, we tested the performance of the model when predicting age from the liver methylomes of 50 mice that had not been used for model training or cross validation (spanning three mouse strains and two ages, 2 and 22 months; Additional file
2
: Datasets used summary). Predicted epigenetic ages were well correlated with chronological ages (Fig.
2b
) and did not show any strain-specific effects: 2-month-old Ames wild-type, UM-HET3 and C57BL/6 mice had roughly the same epigenetic age; the same was true for 22-month-old Ames wild-type and untreated UM-HET3 mice, with an average prediction error of 4.2 months (Additional file
1
: Figure S2C, Additional file
4
: Wild type mice predictions & Wild type stats).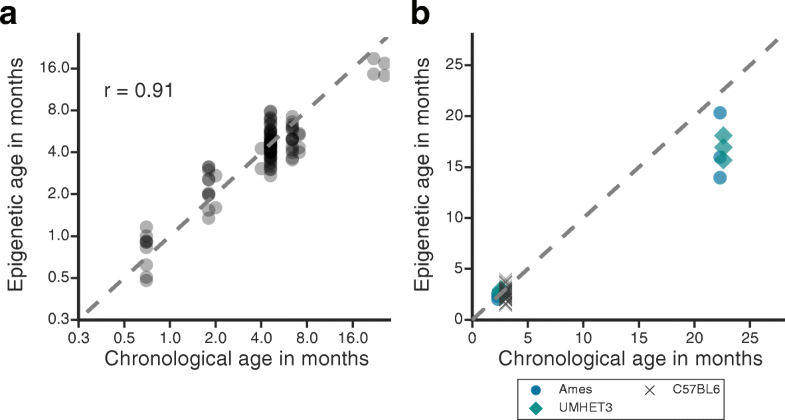 Lifespan extension slows epigenetic aging
We then assessed the behavior of these 148 CpG sites in the WGBS data generated from mice subjected to various lifespan-extending conditions. This analysis included methylomes from Prop1
df/df
dwarf mice at 2- or 22-months-old [
10
], with four in each group; four calorie-restricted mice at 22-months-old; four rapamycin-treated mice at 22-months-old [
12
], and the control mice of the same genetic background described above. First, we used principal component analysis (PCA) using these CpG sites (Additional file
1
: Figure S3A). The first principal component of these features (PC1) correlated strongly with age, and PC1 values of mice subjected to lifespan-extending treatments were always lower than PC1 values of age-matched controls (Fig.
3a
,
b
; Additional file
1
: Figure S3A; Additional file
5
). Next, we applied the epigenetic-aging model to these mice ("
Methods
"; Additional file 2: Datasets used summary; Additional file
4
: Long-lived mice predictions). We found that the predicted epigenetic ages of these long-lived mice were significantly less than those of age-matched control mice (Fig.
3c
). Reinforcing this observation, such differences were also detected by an ANOVA statistical analysis between the lifespan-extending conditions versus control mice aged to 22 months (
p
< 10
−4
; "
Methods
"; Additional file
4
: Treatment vs wild type stats). In particular, an average reduction of 10.1 months was seen when comparing the epigenetic ages of 22-month-old dwarf mice to 22-month-old wild types (
p
< 0.01 by t-test, Fig.
3d
). Similar reductions in epigenetic ages were observed in calorie-restricted mice versus their age-matched controls, corresponding to a 9.4-month decrease on average (
p
< 10
−4
, Fig.
3d
). Rapamycin treatment had a smaller, but significant effect on epigenetic ages, corresponding to a 6.0-month decrease on average in rapamycin-treated mice compared to age-matched controls (
p
< 0.05, Fig.
3d
). Finally, 2-month-old dwarf mice also had reduced epigenetic ages compared to 2-month-old wild-type mice, by 1.5 months on average (
p
< 10
−3
, Fig.
3d
). These results are consistent with the smaller magnitudes of age-associated PC1 of long-lived mice, relative to their age-matched controls.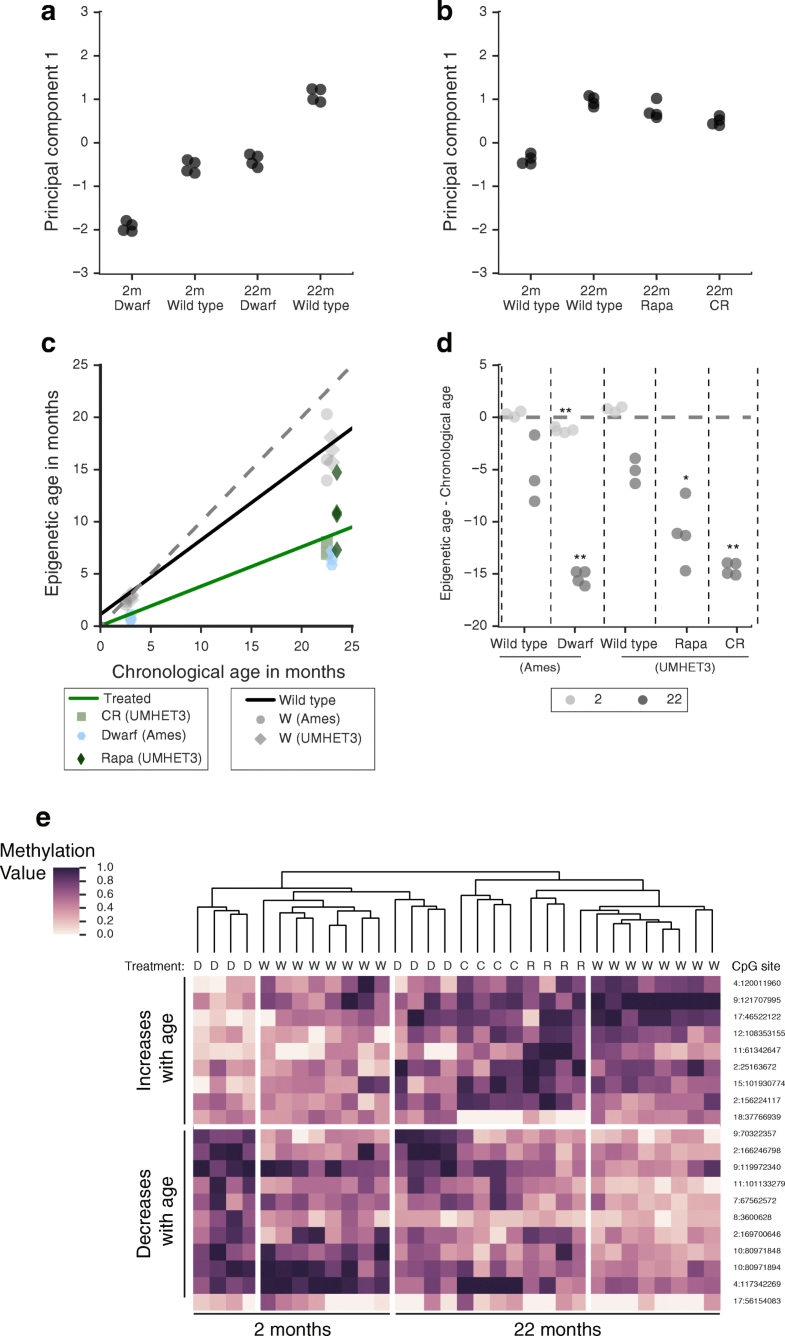 We then assessed the change in methylation with age of the 148 CpG sites used to formulate this epigenetic clock. Among these CpG sites, we found that 76 gained methylation with age and 72 lost methylation with age. These sites clustered the mice according to age and treatment rather than by genetic background (Fig. 3e; Additional file 1: Figure S3B). Among CpG sites whose methylation decreased with age, we saw that long-lived mice generally had higher methylation values than their age-matched controls, which may have contributed toward the observed decreases in epigenetic age (Fig. 3e). Thus, whether examined individually (Fig. 3e) or summarized along a single dimension (Fig. 3a, b), changes in methylation due to aging are generally less extreme in mice exposed to pro-longevity conditions, leading to younger epigenetic ages (Fig. 3c, d).
Discussion
Previous studies in humans have shown that epigenetic clocks can be accelerated by conditions associated with decreased lifespan [4–6]. However, it was unclear if these epigenetic clocks could be slowed by conditions that increase lifespan. Here, we have found that lifespan-extending interventions can indeed slow an epigenetic clock in mice livers. Previous studies of these longevity-promoting interventions have shown that these interventions not only extend lifespan [9, 10, 25], but also improve tissue and physical functioning with age [26–29]. Interestingly, rapamycin had a smaller effect than the other treatments considered here, possibly due to metabolic differences, such as increased insulin resistance under rapamycin treatment [30]. Nonetheless, our findings suggest that epigenetic clocks, measured from DNA methylation, can be slowed by lifespan-extending conditions.
Notably, we found that dwarf mice had a decreased epigenetic age at our earliest time point, when just 2 months old (Fig. 3c,d). This finding suggests that age-related changes in the methylome occur during both development and aging [31–34]. Prominent changes in the DNA methylome have been observed during development in mice and continue gradually throughout adulthood [33]. In humans, epigenetic clocks are accurate in both adolescents and adults [2]. Thus, the decrease in epigenetic age of young dwarf mice is consistent with their apparent developmental delay [11].
Comparing this epigenetic clock to those in humans, we observed a prediction error of 4.2 months (~16% relative to the average mouse lifespan), whereas that for human clocks was 3.7 years [1, 2] (~5% relative to the average human lifespan). This difference in accuracy is likely due to two major technical differences. The first is that there are fewer samples available in mice than there are for humans. Second, the methylation profiles from mice represent a random sampling of genomic regions (RRBS and WGBS), whereas those from humans derive from microarrays, in which a consistent set of sites is reproducibly measured. However, when comparing age-related methylation changes between mice and humans, we found that the age-associated methylome exhibits increased disorder in both species (Fig. 1b, c). These results suggest that, regardless of the specific regions impacted, the increased disorder of the age-associated methylome is a common feature of mammalian aging. This increased disorder of the age-associated methylome may contribute to our ability to formulate epigenetic clocks in both species [1–3, 35].
Finally, since this mouse clock was developed using liver methylomes, in future studies it will be very interesting to examine whether these clocks are similar across various tissues. Intriguingly, previous studies in humans have found that obesity is specifically associated with epigenetic age advancement in the liver but not in other tissues such as blood [4]. Furthermore, rapamycin treatment has been shown to accelerate cataract formation in eyes and increase testicular degeneration, but delays age-related phenotypes in other tissues [29]. A key question will be whether these same tissue-specific effects are reflected in epigenetic aging rates, in which some tissues may reflect slowed aging while others reflect accelerated aging.
Conclusions
We have formulated an epigenetic-aging model in mice and used it to find evidence that lifespan-extending conditions slow an epigenetic clock in mice livers. To further understand whether lifespan-extending conditions promote more youthful epigenetic signatures globally, it will be of interest to study different tissues, as well as profile mice exposed to other lifespan-extending conditions, such as methionine restriction or other mutations in somatotropic signaling pathways [26]. Ultimately, such studies will help elucidate the relationship between the slowed epigenetic clock and healthy aging.
Abbreviations
CpG:

Cytosine-phosphate-guanine
FDR:

False Discovery Rate
GEO:

Gene expression omnibus
OR:

Odds ratio
PC:

Principal component
PCA:

Principal component analysis
RRBS:

Reduced representation bisulfite sequencing
SRA:

Sequence reads archive
TSS:

Transcription start site
UTR:

Untranslated region
WGBS:

Whole genome bisulfite sequencing
Declarations
Acknowledgements
We thank Richard A. Miller for providing tissue for the UM-HET3 mice and providing critical reading in the development of this manuscript.
Funding
This work is supported by the National Institutes of Health: P50 GM085764 and GCIR-06673-B awarded to TI, AG034206 and AG038509 awarded to HMBB, P01 AG031862 awarded to PDA, DP5 OD017937 awarded to HC and T32 GM008666 awarded to TW.
Availability of data and material
Accession numbers for publicly available mice bisulfite datasets: [GEO: GSE52266, GSE60012, GSE67507] and [SRA344045].
Accession numbers for human methylome datasets: [GEO: GSE61258 and GSE48325].
Accession numbers for long-lived and control mice bisulfite datasets: [GEO: GSE89275].
Scripts for analysis can be found at: https://doi.org/10.5281/zenodo.291961
Source data for these scripts can be found at: https://doi.org/10.5281/zenodo.291983
Authors' contributions
TW and BT gathered publicly available data, performed bisulfite sequencing alignment and performed statistical analysis. NAR provided annotation files and performed bisulfite-sequencing alignment. AMG provided analysis framework for human methylome data. TW, MKY, TI, JFK, HC, PDA and HMBB designed the experiment and wrote the manuscript. All authors read and approved the final manuscript.
Competing interests
The authors declare that they have no competing interests.
Consent for publication
Not applicable
Ethics approval
All protocols for mice were approved by the institutional animal care and use committees of both University of North Dakota School of Medicine (Ames mice) and University of Michigan (UM-HET3 mice).
Publisher's Note
Springer Nature remains neutral with regard to jurisdictional claims in published maps and institutional affiliations.
Open AccessThis article is distributed under the terms of the Creative Commons Attribution 4.0 International License (http://creativecommons.org/licenses/by/4.0/), which permits unrestricted use, distribution, and reproduction in any medium, provided you give appropriate credit to the original author(s) and the source, provide a link to the Creative Commons license, and indicate if changes were made. The Creative Commons Public Domain Dedication waiver (http://creativecommons.org/publicdomain/zero/1.0/) applies to the data made available in this article, unless otherwise stated.
Authors' Affiliations
(1)
Department of Medicine, University of California San Diego, La Jolla, USA
(2)
Beatson Institute for Cancer Research and University of Glasgow, Glasgow, UK
(3)
Department of Biomedical Sciences, School of Medicine and Health Sciences, University of North Dakota, Grand Forks, USA
(4)
Sanford Burnham Prebys Medical Discovery Institute, La Jolla, USA
(5)
Bioinformatics and Systems Biology Program, University of California San Diego, La Jolla, USA