Gut microbial degradation of organophosphate insecticides-induces glucose intolerance via gluconeogenesis
Received: 10 October 2016
Accepted: 14 December 2016
Published: 24 January 2017
Abstract
Background
Organophosphates are the most frequently and largely applied insecticide in the world due to their biodegradable nature. Gut microbes were shown to degrade organophosphates and cause intestinal dysfunction. The diabetogenic nature of organophosphates was recently reported but the underlying molecular mechanism is unclear. We aimed to understand the role of gut microbiota in organophosphate-induced hyperglycemia and to unravel the molecular mechanism behind this process.
Results
Here we demonstrate a high prevalence of diabetes among people directly exposed to organophosphates in rural India (n = 3080). Correlation and linear regression analysis reveal a strong association between plasma organophosphate residues and HbA1c but no association with acetylcholine esterase was noticed. Chronic treatment of mice with organophosphate for 180 days confirms the induction of glucose intolerance with no significant change in acetylcholine esterase. Further fecal transplantation and culture transplantation experiments confirm the involvement of gut microbiota in organophosphate-induced glucose intolerance. Intestinal metatranscriptomic and host metabolomic analyses reveal that gut microbial organophosphate degradation produces short chain fatty acids like acetic acid, which induces gluconeogenesis and thereby accounts for glucose intolerance. Plasma organophosphate residues are positively correlated with fecal esterase activity and acetate level of human diabetes.
Conclusion
Collectively, our results implicate gluconeogenesis as the key mechanism behind organophosphate-induced hyperglycemia, mediated by the organophosphate-degrading potential of gut microbiota. This study reveals the gut microbiome-mediated diabetogenic nature of organophosphates and hence that the usage of these insecticides should be reconsidered.
Keywords
Organophosphates
Gut microbiota
Diabetes
Glucose intolerance
Acetic acid
Gluconeogenesis
Fecal transplantation
Metatranscriptomics
Metabolomics
Background
Organophosphates (OPs) are esters, amides, or thiol derivatives of phosphoric acid synthesized first in the early 19th century. The history of the development of OPs is amalgamated with wars [1]. They are used as pesticides in agricultural fields, as chemical weapons in war fields, as plasticizers, oil additives, and lubricants in industries. Due to the advent of "Silent Spring" [2] and other environmental movements, organochlorine pesticides like DDT were banned and that place was strongly grasped by OPs in the 1970s [3]. Eventually, OP has become a largely used insecticide in the world, accounting for more than 40% of the pesticide market. Often less than 0.1% of pesticides sprayed are estimated to reach the target organism [4], while the remainder is deposited on plant surfaces or tissues, soil, water, and air and ultimately reaches off-target organisms including humans. The existence of OP residues in different media including air, soil, water bodies, vegetables, blood, urine, and tissues of humans and other animals were detected worldwide [5, 6].
In 1962, Carson designated OPs as one of the most poisonous chemicals of the world [2]. OPs inhibit acetylcholine esterase (AChE) [7], which in turn induces synapses of nervous and muscular systems leading to agitation, hypersalivation, convulsion, respiratory failure, and eventually death of insects and mammals. However, various animal [8–10] and human studies [11–14] have uncovered the association between OP exposure and diabetic prevalence. OP-metabolizing microbes have been identified in soil and other environments [15] and intestinal bacteria were proven to degrade OP [16]. Exposure to chronic OPs induces gut microbial dysbiosis [17] and intestinal dysfunctions [18]. Trillions of microbes constituting the gut microbiota represent a vast and rare repository of diet [19, 20] and xenobiotics metabolizing machinery [21, 22]. Alterations in ecology and physiology of gut microbiota affects the host metabolism and thereby determines the transition between health and disease [23] including diabetes [24, 25]. For instance, gut microbiota was proven to mediate the glucose intolerance induced by non-caloric artificial sweeteners [26]. Thus, the present study is designed to explore the effect of chronic OP exposure on glucose homeostasis and to identify the role of gut microbiota in OP-induced hyperglycemia.
Discussion
In the last few decades, the epidemic of diabetes intensified concurrently with increased consumption of synthetic chemicals including OPs [30]. We detected a probable link between direct exposure to OPs and self-reported diabetic status in a rural population (Fig. 1a). Previous reports also showcased OPs with increased odds of diabetes in a dose-dependent manner [12, 14]. As periodical health camps are conducted by our University and Government in the study villages, most of them are aware of their diabetic status. In concurrence with previous reports [14, 15], we noticed that diabetes was highly prevalent among the rural people directly exposed to OPs (Fig. 1a and Additional file 1: Figure S1B), who are majorly agricultural workers involving huge physical work. A prevalence of nearly 50% of non-genetic diabetics in both groups suggests that genetic risk may not be the causative factor for increased prevalence of diabetes among the directly OP exposed group (Additional file 1: Figure S1C).
To further validate the self-reported diabetes and OP exposure, blood samples were collected. Though 10% of self-reported diabetic people had normal glucose levels, they were classed as diabetic since they were taking hypoglycemic medication (Additional file 2: Table S4). On validation of self-reported diabetes, we found 19% of self-reported non-diabetics were newly diagnosed as diabetic (Additional file 2: Table S4), which adds to the burden of diabetic prevalence in this community. The major mode of action of OP is inhibition of AChE but we found no significant changes in plasma AChE activity with either OP exposure or HbA1c. The people with elevated AChE levels were evenly distributed between the diabetic and non-diabetic individuals and no correlation was found with plasma OP residues (Fig. 1b, Additional file 1: Figure S2A, and Additional file 2: Table S4). Any changes in AChE activity, neuronal markers, or prevalence of neuronal diseases were not described in the previous epidemiological studies which report the association between OP exposure and diabetic incidence [12–15]. The OP residues detected in the people not directly exposed (Fig. 1c–e, Additional file 2: Table S4) indicates the draining of the OPs from farm to the public via air, water, and eatables. Though people are majorly exposed to OPs via food, the OPs in the small intestine enter the blood stream and re-enter the large intestine through bile excretion. The linear trend between OP residues and HbA1c shows the direct or indirect role of OPs in the diabetic epidemic in the past few centuries. Except MAL, all the other OPs showed a significant correlation and regression with HbA1c values. MAL was categorized under WHO Class III (slightly hazardous) while the rest of them are under Classes I, IIa, and IIb (extremely, highly, and moderately hazardous, respectively) (Additional file 2: Table S1).
To check the diabetogenic nature of OPs, animals treated with 10× TMDI dose of OPs for a chronic time period resulted in significant glucose intolerance (Fig. 2a and c) and oxidative stress (Fig. 2d and Additional file 1: Figure S8) leading to hepatic damage (Additional file 1: Figures S7F and S8E) with no change in AChE activity (Fig. 2b). TMDI calculation does not include the vegetables with no MRL value, drinking water, air, soft drinks, snacks, and other consumables. Hence, we provided the animals with 10× TMDI dose, which is 47.2 times (Additional file 1: Figure S7A) higher than the acceptable daily intake (FAO/WHO, 1996). In the absence of AChE inhibition during chronic exposure, the mechanism of OP-induced glucose dyshomeostasis is not clearly defined [8, 9].
The biodegradable nature of OPs made them an acceptable alternative to persistent organochlorines [3]. Recent studies showcased the role of gut microbiome in the action of drugs and other chemicals [31]. Fecal transplantation from MCP-fed animals induced glucose intolerance (Fig. 3a and Additional file 1: Figure S8B) and this phenotype was reproduced in animals fed with fecal cultures grown in the presence of other OPs except MAL (Fig. 3b and Additional file 1: Figure S9B). This is in concordance with previous reports that MAL induces a gradual increase in blood glucose followed by decrease in blood glucose that can even reach hypoglycemia [32]. Chronic OP exposure activates the expression of OP metabolizing genes of the gut microbiome (Fig. 2b) and subsequent OP degradation produces acetic acid. These OP degrading enzymes are well characterized enzymes and employed as potential players in OP remediation projects [16]. Though the fecal cultures grown in the presence of OPs and their supernatants could induce glucose intolerance, the microbial cell suspension was not able to induce the same (Fig. 4c). A similar trend was observed in esterase activity (Fig. 4d) and this indicates that byproducts of OP degradation are able to induce glucose intolerance but the modified microbiome with degrading potential lacks this property. Though the microbes in cellular suspension have OP metabolizing potential, they do not have the substrate OPs to produce acetate and hence glucose intolerance was not induced. While in the case of whole culture and supernatant, the by-products of OP metabolization, including acetate, were present, which acts as a substrate for gluconeogenesis and thereby glucose intolerance was induced.
Metabolomic analysis clearly showcased the induction of GNG (Fig. 5a and b). Intestinal GNG was shown to induce benefits in glucose control since it initiates a neutrally mediated suppression of hepatic glucose production [33]. However, when hepatic GNG is strongly altered, e.g. when bile salts are released in the portal blood, hepatic GNG dominates the regulatory action of intestinal GNG [34]. Hence, due to the maximal activation of hepatic GNG, the protective effect of intestinal GNG is not predominant in the effects of OP. Though the liver is the primary site of GNG, this pathway is also induced in the intestine and kidneys during specific conditions. Intestinal GNG is a central signal in glucose and energy homeostasis [33]. We observed no significant change in the expression levels of glucogenic amino acids, which indicates GNG is not induced by a substrate effect putatively initiated by these amino acids as substrates (Additional file 1: Figure S8). Glycogenolysis is another potential pathway by which glucose is produced from liver glycogen using GPase. OPs such as MPAR, MAL, and acephate were reported to induce glycogenolysis and decrease liver glycogen content in animal experiments at acute and subchronic exposure [8]. However, in our study no significant change in liver glycogen level was observed. This indicates that the mechanism behind OP-induced glucose dyshomeostasis may vary between acute and chronic toxicity. A pentose phosphate pathway is yet another metabolic network that regulates glucose homeostasis but no significant changes were observed in the level of metabolites linked to this pathway in our analysis (Additional file 2: Table S16) and this is inconsistent with the previous reports. SCFA are produced during microbial degradation of OPs [16]. Among the SCFA, only butyrate rather than other SCFAs is completely utilized in the intestine [35], which is not produced by the degradation of any OPs [16]. Microbiota are proven to regulate intestinal absorption and metabolism of fatty acids. While regarding other SCFAs, especially acetate, only a small fraction is utilized in the intestine and the remaining reaches the liver via the periportal vein [36] and hepatic GNG is activated. A linear regression between OP residues and fecal esterase activity indicates the induction of the expression of OP degrading genes in OP environment and this is evidenced by the increased fecal acetate observed in the diabetic samples. Thus, the association between human diabetes and fecal esterase activity and fecal acetate with plasma OP residues signs the probable prevalence of gut-microbiota mediated OP-induced hyperglycemia in humans (Fig. 6).
Conclusion
In summary, our study showcased a probable association between plasma OP residues and diabetes with no significant changes in plasma AChE. OPs are metabolized by the gut microbiome to acetic acid, which is utilized as the substrate for GNG and accounts for glucose intolerance (Fig.
7
). Today the words of Carson [
2
], "As the tide of chemicals born of the industrial age arisen to engulf our environment, a drastic change has come about in the nature of the most serious health problem," became invincible truth. Our study revealed that gut microbiome-mediated metabolism of OPs could be a key risk factor for diabetes and thereby calls for the reconsideration of OP usage all over the world. The observance of correlation of OP residues with HbA
1c
and fecal parameters suggests the establishment of environmental chemicals and gut microbiota as diagnostic markers and therapeutic targets for metabolic diseases. In fact, OPs were once considered as a better alternative to the persistent organochlorines but today it appears that detailed experiments on the toxicity of these non-persistent pesticides is needed. Hence, rather than searching for other chemical alternatives, promotion and development of traditional self-sustainable, nature-based agricultural practices would be the right approach to feed this world.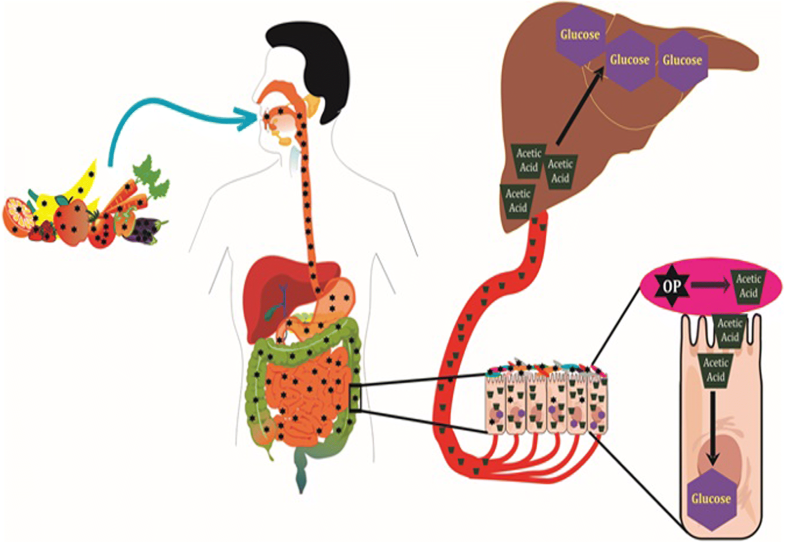 Abbreviations
AChE:

acetylcholine esterase
CHL:

chlorpyrifos
G6Pase:

glucose-6 phosphatase
GNG:

gluconeogenesis
MAL:

malathion
MCP:

monocrotophos
MPAR:

methyl parathion
MRL:

maximum residue limit
NaAc:

sodium acetate
OP:

organophosphates
SCFA:

short chain fatty acids
TMDI:

theoretical maximum daily intake
Declarations
Acknowledgements
The authors extend their deep sense of gratitude to all volunteers who participated in the study. The authors acknowledge Prof. T. Pradeep, Indian Institute of Technology, Chennai, India for providing access to the GC/MS facility. The authors acknowledge Prof. Oliver Fiehn, Director, West Coast Metabolomics Centre, University of California, UcDavis, USA for providing metabolomics service under NIH Grant funding NIH U24 DKDK097154. The first author expresses his gratitude to Prof. A. Munirajan, Madras University, India for his support and encouragement. The Centre for Cellular and Molecular Platforms, India is acknowledged for next generation sequencing service.
Funding
This study was funded by DBT-IPLS, −RGYI, UGC-UPE, −CAS, −CEGS, −NRCBS, SERB, and DST-PURSE (Govt. of India). GV is supported by CSIR and UGC (Government of India) through Senior Research Fellowship and Fellowship for Meritorious Students, respectively. ARL is supported by a BHF Intermediate Research Fellowship FS/11/67/28954 and the NIHR Cardiovascular Biomedical Research Unit, Royal Brompton Hospital, UK.
Availability of data and materials
The RNA-seq data generated in this study have been deposited in NCBI's Gene Expression Omnibus and are accessible through GEO Series accession number GSE90843. All the raw data from all experiments including human studies were provided in the supplementary tables.
Authors' contributions
Conceived and designed the experiments: GV, KS, GM, MP. Performed the experiments: GV, MD, DDV. Involved in sample collection: GV, MD, AP, DDV, LJT, AJF, VD, SSMP, BR, YJC, SA, GD, KS, BM, NK, VV, RK, MK, BJ, AA, EP, RKR, SR. Analyzed the data: GV, TR. Contributed reagents/materials/analysis tools: JR, KV, SR. Wrote the paper: GV. Revised the paper: TR, KS, GM, JR, ARL, SR. All authors read and approved the final manuscript.
Competing interests
The authors declare that they have no competing interests.
Ethics approval
All protocols of human and animal studies were approved by the internal research and review board, ethical clearance, biosafety, and animal welfare committee of Madurai Kamaraj University. In human samples, the participants were explained the objective of the study and informed consent was obtained separately during blood and fecal sample collection from all participants. All experimental methods comply with the Helsinki Declaration.
Open AccessThis article is distributed under the terms of the Creative Commons Attribution 4.0 International License (http://creativecommons.org/licenses/by/4.0/), which permits unrestricted use, distribution, and reproduction in any medium, provided you give appropriate credit to the original author(s) and the source, provide a link to the Creative Commons license, and indicate if changes were made. The Creative Commons Public Domain Dedication waiver (http://creativecommons.org/publicdomain/zero/1.0/) applies to the data made available in this article, unless otherwise stated.
Authors' Affiliations
(1)
Department of Molecular Biology, Centre for Excellence in Genomic Sciences, School of Biological Sciences, Madurai Kamaraj University, Madurai, India
(2)
Center for Molecular and Translational Medicine, Research Science Center, Georgia State University, Atlanta, USA
(3)
KMCH Research Foundation, Kovai Medical Centre and Hospital, Coimbatore, India
(4)
Institut National de la Santé et de la Recherche Médicale, U1213, Lyon, France
(5)
Department of Genetics, Centre for Excellence in Genomic Sciences, School of Biological Sciences, Madurai Kamaraj University, Madurai, India
(6)
Department of Immunology, Centre for Excellence in Genomic Sciences, School of Biological Sciences, Madurai Kamaraj University, Madurai, India
(7)
Deparment of Zoology, Madras Christian College, Chennai, India
(8)
Department of Biochemistry, Centre for Excellence in Genomic Sciences, School of Biological Sciences, Madurai Kamaraj University, Madurai, India
(9)
Department of Microbial Technology, Centre for Excellence in Genomic Sciences, School of Biological Sciences, Madurai Kamaraj University, Madurai, India
(10)
Laboratory of Gene Regulation and Development, Program in Cellular Regulation and Development, National Institute of Child Health and Human Development, NIH, Bethesda, USA
(11)
Institute of Diabetes & Endocrinology, Alpha Hospital and Research Centre, Madurai, India
(12)
NIHR Cardiovascular Biomedical Research Unit, Royal Brompton Hospital and Imperial College, London, UK