Single-cell epigenomic variability reveals functional cancer heterogeneity
Received: 8 July 2016
Accepted: 12 December 2016
Published: 24 January 2017
Abstract
Background
Cell-to-cell heterogeneity is a major driver of cancer evolution, progression, and emergence of drug resistance. Epigenomic variation at the single-cell level can rapidly create cancer heterogeneity but is difficult to detect and assess functionally.
Results
We develop a strategy to bridge the gap between measurement and function in single-cell epigenomics. Using single-cell chromatin accessibility and RNA-seq data in K562 leukemic cells, we identify the cell surface marker CD24 as co-varying with chromatin accessibility changes linked to GATA transcription factors in single cells. Fluorescence-activated cell sorting of CD24 high versus low cells prospectively isolated GATA1 and GATA2 high versus low cells. GATA high versus low cells express differential gene regulatory networks, differential sensitivity to the drug imatinib mesylate, and differential self-renewal capacity. Lineage tracing experiments show that GATA/CD24hi cells have the capability to rapidly reconstitute the heterogeneity within the entire starting population, suggesting that GATA expression levels drive a phenotypically relevant source of epigenomic plasticity.
Conclusion
Single-cell chromatin accessibility can guide prospective characterization of cancer heterogeneity. Epigenomic subpopulations in cancer impact drug sensitivity and the clonal dynamics of cancer evolution.
Keywords
Open chromatinGene expression noiseCancer stem cells
Background
Epigenetic aberrations are a key driver of cancer pathogenesis. Altered chromatin states can activate oncogenes and silence tumor suppressor genes, leading to uncontrolled growth and metastasis. In contrast to genetic mutations, epigenetic changes are dynamic and potentially reversible, leading to heterogeneity during development, within tumors, or in response to environmental stimuli, drugs, or diseases [1–4]. Epigenomic variability can arise as cell-to-cell differences in the patterning of DNA methylation, histone modifications, or expression of protein coding genes or noncoding RNAs. This epigenomic variation at the single-cell level can create heterogeneity in cancer. However, the functional relevance of this variation is difficult to assess, often due to a lack of methods capable of quantifying it.
Methods for profiling the epigenomic landscape include bisulfite sequencing for analyzing DNA methylation, DNase-seq and MNase-seq [5–7] for accessibility or nucleosome positioning information, and chromatin immunoprecipitation followed by sequencing (ChIP-seq) for binding sites of individual factors or modified nucleosomes [8, 9]. These methods have proven invaluable for identifying the epigenomic features dictating cell states within large cellular populations but are generally unable to detect single-cell epigenomic cell-to-cell variability. Methods for measuring single-cell gene expression have begun to provide genome-wide measures of cell-to-cell differences; however, these methods provide only an indirect readout of genome-wide epigenomic variance [10, 11]. Recently, single-cell methods for measuring DNA methylation [12, 13], histone modifications [14], and chromatin accessibility have been developed to directly quantify epigenomic variation within cellular populations [15–17]; nevertheless, the functional relevance of this observed epigenomic variability remains to be elucidated.
ATAC-seq measures regions of open chromatin using the Tn5-transposase, which preferentially inserts sequencing adapters into accessible chromatin [
16
]. As applied to single cells [
18
,
19
], this method quantifies cell-to-cell variation in regions of chromatin accessibility. Single cell (sc)ATAC-seq has been used to identify specific transcription factors associated with cell-to-cell regulatory variability, such as GATA1 and GATA2 in K562 cells [
19
]. While this signal of increased regulatory variation provides a rich platform for hypotheses regarding a potential functional role of GATA factor variation, further experiments are required to identify the phenotypic consequences of this epigenomic variability. Data generated from single-cell techniques like scRNA-seq, scDNA-seq, and scATAC-seq are purely descriptive and require downstream functional validation to link observed heterogeneity to functional subpopulations, such as those with metastatic capabilities or stem cell-like properties that might inform possible treatment strategies. Because most techniques for genomic analysis destroy the cell, it is difficult to combine single-cell approaches with functional cellular assays unless single cells can be identified and sorted using cell surface markers. However, cell surface markers for partitioning cellular populations based on epigenomic state are often unknown. Here we combine scATAC-seq and RNA-seq to identify a potential co-varying surrogate for cell surface markers (Fig.
1a
) that enable prospective isolation of relevant subpopulations, allowing downstream functional dissection of the importance of these single-cell observations.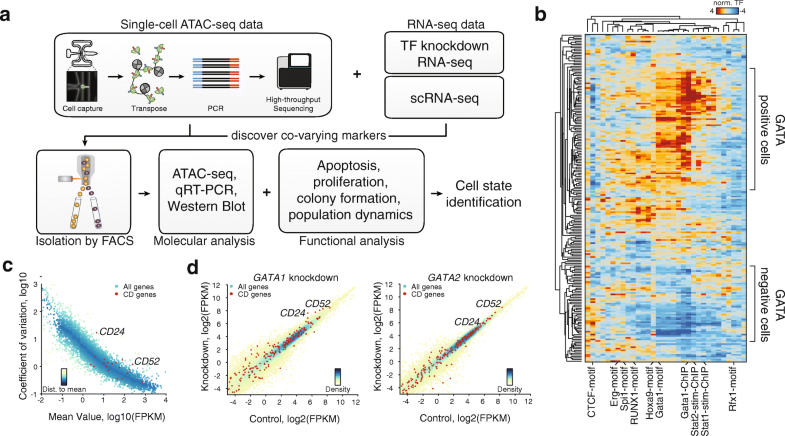 Conclusions
We demonstrate an integrative strategy to prospectively isolate epigenomic subpopulations of cells defined by single-cell chromatin activity. Data mining of available knockdown as well as scRNA-seq data allow correlation of cell surface marker expression with transcription factor variability. scRNA-seq data are generally sparse, making gene–gene correlations, especially of often lowly expressed transcription factors, a particularly difficult task. Our approach, described above, circumvents these issues by looking at functional co-variation using bulk transcription factor knockdowns. This strategy nominates co-varying cell surface markers, which can then be used to identify functional distinct subgroups in cancer cells. A similar approach has been described to resolve heterogeneity within stem cell populations, combining RNA-seq with flow cytometry data [54]. With new genetic perturbation tools like CRISPR [55, 56] and CRISPRi [57], we anticipate this strategy to become more generally applicable and a common tool for single-cell epigenomics. In addition, we anticipate that new high-throughput single-cell genomics methods will be invaluable for efficiently discovering co-varying cell surface markers. Specifically, high-throughput scRNA-seq profiling has been shown to uncover gene-expression networks [58, 59]. Currently, low throughput epigenomics methods preclude identification of the individual regulatory elements within cell populations; however, we anticipate that high-throughput epigenomic methods may enable de novo identification of hidden epigenomic states. This strategy should be broadly applicable to many cancer types and disease states to unravel molecular drivers of epigenomic state and to improve therapeutic targeting.
Methods
Cell culture and reagents
K562 (ATCC) chronic myeloid leukemia cells were maintained in Iscove's modified Dulbecco's medium (IMDM) containing 10% fetal bovine serum (HyClone, Thermo Scientific) and 1% penicillin streptomycin (Pen/Strep). Cells were maintained at 37 °C and 5% CO2 at recommended density and were treated and harvested at mid-log phase for all experiments.
Drug treatments
K562 cells were treated with 1 μM imatinib mesylate (Gleevec, Cayman Chemicals, Ann Arbor, MI, USA) or DMSO control for 24 h.
FACS and flow cytometric analysis
In a 1.5 mL tube, cells were washed with ice cold phosphate-buffered saline (PBS). For (CD) cell surface markers, cells were stained with PE-CD24 (#555428, BD Biosciences), or APC-CD44 (#559942, BD Biosciences) or APC-CD52 (Clone HI186, BioLegend) in PBS containing 2 mM EDTA and 0.5% bovine serum albumin (BSA) on ice in the dark for 30 min. For subsequent intracellular staining, cells were fixed in 1% paraformaldehyde (PFA) for 10 min followed by permeabilization using 0.5% TritonX100 in PBS for 10 min at room temperature. Cells were stained with primary antibodies rabbit anti-GATA1 (1:400, Cell Signaling, D52H6), mouse anti-GATA2 (1:100, Abnova, H00002624-M01), rabbit anti phospho c-JUN II (Ser63, Cell Signaling), or mouse or rabbit IgG as isotype control in PBS containing 0.5% TritonX100, 2 mM EDTA and 0.5% BSA (Sigma) for 1 h at room temperature. After washing with staining buffer, cells were labeled with Alexa-conjugated donkey anti-mouse or anti-rabbit Alexa 488 or Alexa 647 antibodies (life technologies) at a dilution of 1:500 for 30 min at room temperature. Finally, cells were washed and sorted for CD24 or analyzed using the BD FACSAriaII.
Flow cytometric analysis and statistics were performed using FlowJo V.10.0.8.
ATAC-seq
K562 cells were stained and sorted for CD24 as described above. ATAC of 5 × 104 cells was performed as previously described [20], changing the lysis and ATAC conditions slightly. Lysis was performed in 100 μl cold buffer (10 mM Tris-HCl, pH 7.4, 10 mM NaCl, 3 mM MgCl2 + 0.1% IGEPAL CA-630 + 0.1% Tween 20), transposition was performed in 50 μl buffer containing 25 μL 2× TD buffer (Illumina #FC-121-1030), 2.5 μL Tn5 transposase (Illumina #FC-121-1030), 22.5 μL nuclease free H2O, 0.5 μL Tween-20 (0.1% final), followed by the recommended library preparation protocol. The resulting libraries were quantified and sequencing data were generated on an Illumina HiSeq 4000 that was purchased with funds from NIH under award number S10OD018220.
Data processing
All ATAC-seq libraries were sequenced using paired-end, dual-index sequencing using 76 × 8 × 8 × 76 cycle reads on a NextSeq. Adapter sequences were trimmed from FASTQs using custom python scripts to enable mapping fragments smaller than 50 bp. Paired-end reads were aligned to hg19 using BOWTIE2 (http://bowtie-bio.sourceforge.net/bowtie2/index.shtml) with the parameter --very-sensitive. Duplicates were removed and library size was estimated using PICARD tools (http://picard.sourceforge.net). Reads were subsequently filtered for alignment quality of > Q30 and were required to be properly paired. Reads mapping to the mitochondria or chromosome Y were removed and not considered. We used MACS2 (http://pypi.python.org/pypi/MACS2) to call all reported ATAC-seq peaks. MACS2 was used with the following parameters (--nomodel --shift 0). Peaks were filtered using the consensus excludable ENCODE blacklist (http://hgdownload.cse.ucsc.edu/goldenPath/hg19/encodeDCC/wgEncodeMapability/) and a custom blacklist designed to remove high-signal-causing repeats and mitochondrial homologues. Using the filtered peak set, peak summits were extended ±250 bps. The top 50,000 non-overlapping 500-bp summits, which we refer to as accessibility peaks, were used for all downstream analysis.
Peaks from all samples were merged and normalized. For differentially accessible peaks a cutoff of 1.5-fold change and p value <0.01 between CD24hi and CD24lo were used. For ATAC-seq peak–ChIPseq and DNAse-seq correlation analysis we used the LOLA bioconductor package with all K562 peaks from these ATAC-seq experiments as background set. For enrichment of GATA2-bound motifs in ATAC-seq peaks, ChIP-seq dataset GSM935373 was intersected with ATAC-seq peaks.
GO term analysis was performed using GREAT (http://great.stanford.edu) [37].
K562 CD24 sorted ATAC-seq data from day 0 and day 5 have been deposited in the Gene Expression Omnibus (GEO) with accession GSE76224.
Quantitative RT-PCR
Total RNA was isolated with an RNeasy isolation kit (Qiagen) and cDNA was synthesized using the Superscript III First Strand synthesis kit according to the manufacturer's instructions (Invitrogen). qRT-PCR reactions were performed in a Roche Lightcycler 480 using 2× Brilliant II SYBR QRT-PCR Master Mix from Agilent according to standard protocols. All primers were separated by at least one intron on the genomic DNA to exclude amplification of genomic DNA. PCR reactions were checked by including no-RT controls, by omission of templates, and by examining melting curves. Standard curves were generated for each gene. Relative quantification of gene expression was determined by comparison of threshold values. All samples were analyzed in duplicate in two different dilutions. All results were normalized to actin. All experiments were performed in biological triplicates.
Primer sequences were (5′–3′ forward, reverse): actin, CCGGCTTCGCGGGCGACG, TCCCGGCCAGCCAGGTCC; GATA1, TGCTCTGGTGTCCTCCACAC, TGGGAGAGGAATAGGCTGCT; GATA2, AGCGTCTCCAGCCTCATCTTCCGCG, CGAGTCTTGCTGCGCCTGCTT.
Proliferation measurements
K562 cells were sorted for CD24 and cultured in the presence of 1 μM imatinib mesylate or DMSO for 24 h before proliferation analysis. EdU (10 μM) was added directly to the media for 4 h before cells were harvested. After that, cells were fixed and stained according to the manufacturer's protocol (Click-iT EdU kit #C10340, Invitrogen). Briefly, cells were fixed with 3.7% formaldehyde for 15 min and permeabilized using 0.5% Triton X-100 in PBS for 20 min at room temperature. Incorporation of EdU was observed by incubating fixed cells with 2% BSA in PBS for 30 min and Alexa fluor 647 for a further 30 min under Cu(I)-catalyzed click reaction conditions, as described by the manufacturer. Cells were washed with PBS and counterstained with DAPI in PBS right before flow cytometric analysis using the BD FACSAriaII.
Experiments were performed in triplicate; the standard 10,000 cells per gate were recorded and analyzed.
Apoptosis measurements
K562 cells were sorted for CD24 and cultured in the presence of 1 μM imatinib mesylate or DMSO for 24 h before proliferation analysis. Cells were washed with cold PBS containing 0.5% BSA and then resuspended in Annexin V Binding Buffer (BioLegend, #422201). Cells were then incubated for 15 min with 5 μl of FITC annexin V (BioLegend, #640906) and 10 μl of 1 mg/ml PI solution (BioLegend, #421301) at room temperature in the dark. Apoptosis was measured by flow cytometry using the BD FACSAriaII.
Experiments were performed in triplicate; the standard 10,000 cells per gate were recorded and analyzed.
Colony formation assay
K562 cells were sorted for CD24. Immediately after sorting, 500 cells in 0.5 ml medium were added to 3 ml methylcellulose-based media (HSC002, R&D Systems). Using a 10 ml syringe and a 16 gauge needle, 1 ml of this mixture was added to a 35-mm dish, which was then placed in a 15-cm dish filled with water to maintain the humidity necessary for colony formation. After 10 days, colonies were counted on a grid using a light microscope. After that, methylcellulose was dissolved in media to make a single-cell suspension. Cells were washed and stained as described above for flow cytometric analysis of CD24 expression using the BD FACSAriaII. Experiments were performed in triplicate.
Cell tracing experiments (CFSE staining)
K562 cells were sorted for CD24. Immediately after sorting, 200,000 cells of the high- and low-sorted population were stained with 5 μM CFSE (Cell Trace Proliferation Kit, Life Technologies) according to the manufacturer's protocol. Cell proliferation (CFSE dilution) and CD24 surface expression were analyzed every 24 h for 8 days using the BD FACSAriaII.
Experiments were performed in triplicate; the standard 10,000 cells per gate were recorded and analyzed.
Abbreviations
ATAC-seq:

Assay for transposase-accessible chromatin with high-throughput sequencing
BSA:

Bovine serum albumin
CFC:

Colony formation assay
CFSE:

Carboxyfluorescein succinimidyl ester
ChIP:

Chromatin immunoprecipitation
CML:

Chronic myeloid leukemia
EdU:

5-ethynyl-2′-deoxyuridine
FACS:

Fluorescence-activated cell sorting
GO:

Gene Ontology
PBS:

Phosphate-buffered saline
PI:

Propidium iodide
qRT-PCR:

Quantitative reverse transcription polymerase chain reaction
sc:

Single-cell
scATAC-seq:

Single-cell assay for transposase-accessible chromatin with high-throughput sequencing
scRNA-seq:

Single-cell RNA sequencing
Declarations
Acknowledgements
We thank the Seung Kim lab for generous assistance with cell sorting. Supported by NIH grants P50-HG007735 (H.Y.C., W.J.G.) and R35-CA209919 (H.Y.C.). N.C.S. was supported by a long-term fellowship of the Human Frontier Science Program (LT000211/2014).
Funding
HYC was funded by NIH# P50-HG007735 and R35-CA209919. WJG was funded by NIH#P50-HG007735 and U19AI057266 as well as the Human Frontier Science Program, the Rita Allen Foundation, and the Baxter Foundation. NS was funded by the Human Frontier Science Program #LT000211/2014.
Availability of data and material
Sequencing data are stored and openly available at the GEO (Gene Expression Omnibus; https://www.ncbi.nlm.nih.gov/geo/) under accession GSE76224.
Authors' contributions
UML, WJG, and HYC designed the experiments and wrote the manuscript. UML designed and performed all experiments. JDB analyzed the RNA-seq and scRNA-seq data and helped write the manuscript. JDB and BW performed the initial K562 scATAC-seq experiments and analysis. AK and JDB optimized the K562 specific ATAC-seq protocol. YS and NS helped with the ATAC-seq analysis. All authors read and approved the final manuscript.
Competing interests
Stanford University has filed a provisional patent application on the methods described, and J.D.B., H.Y.C. and W.J.G. are named as inventors. The other authors declare that they have no competing interests.
Ethics approval and consent to participate
Not applicable
Open AccessThis article is distributed under the terms of the Creative Commons Attribution 4.0 International License (http://creativecommons.org/licenses/by/4.0/), which permits unrestricted use, distribution, and reproduction in any medium, provided you give appropriate credit to the original author(s) and the source, provide a link to the Creative Commons license, and indicate if changes were made. The Creative Commons Public Domain Dedication waiver (http://creativecommons.org/publicdomain/zero/1.0/) applies to the data made available in this article, unless otherwise stated.
Authors' Affiliations
(1)
Center for Personal Dynamic Regulomes, Stanford University School of Medicine, Stanford, USA
(2)
Department of Genetics, Stanford University School of Medicine, Stanford, USA
(3)
Department of Applied Physics, Stanford University, Stanford, USA
(4)
Broad Institute of MIT and Harvard, Cambridge, USA
(5)
Harvard Society of Fellows, Harvard University, Cambridge, USA