The Oxford Nanopore MinION: delivery of nanopore sequencing to the genomics community
Published: 25 November 2016
The Erratum to this article has been published in Genome Biology 2016 17:256
Abstract
Nanopore DNA strand sequencing has emerged as a competitive, portable technology. Reads exceeding 150 kilobases have been achieved, as have in-field detection and analysis of clinical pathogens. We summarize key technical features of the Oxford Nanopore MinION, the dominant platform currently available. We then discuss pioneering applications executed by the genomics community.
Keywords
International Space StationRead AccuracyRolling Circle AmplificationNext Generation Sequencing PlatformHierarchical Dirichlet Process
Introduction
Nanopore sequencing was pioneered by David Deamer at the University of California Santa Cruz, and by George Church and Daniel Branton (both at Harvard University). Beginning in the early 1990s, academic laboratories reached a series of milestones towards developing a functional nanopore sequencing platform (reviewed in [1, 2]). These milestones included the translocation of individual nucleic acid strands in single file order [3], processive enzymatic control of DNA at single-nucleotide precision [4], and the achievement of single-nucleotide resolution [5, 6].
Several companies have proposed nanopore-based sequencing strategies. These involve either: the excision of monomers from the DNA strand and their funneling, one-by-one, through a nanopore (NanoTag sequencing (Genia), Bayley Sequencing (Oxford Nanopore)); or strand sequencing wherein intact DNA is ratcheted through the nanopore base-by-base (Oxford Nanopore MinION). To date, only MinION-based strand sequencing has been successfully employed by independent genomics laboratories. Where possible, this review focuses on peer-reviewed research performed using the MinION [1, 7–38].
DNA strand sequencing using the Oxford Nanopore MinION
Oxford Nanopore Technologies (ONT) licensed core nanopore sequencing patents in 2007, and began a strand sequencing effort in 2010 [2]. At the Advances in Genome Biology and Technology (AGBT) 2012 conference, Clive Brown (Chief Technical Officer of ONT) unveiled the MinION nanopore DNA sequencer, which was subsequently released to early-access users in April 2014 through the MinION Access Program (MAP).
The MinION is a 90-g portable device. At its core is a flow cell bearing up to 2048 individually addressable nanopores that can be controlled in groups of 512 by an application-specific integrated circuit (ASIC). Prior to sequencing, adapters are ligated to both ends of genomic DNA or cDNA fragments (Fig.
1
). These adapters facilitate strand capture and loading of a processive enzyme at the 5′-end of one strand. The enzyme is required to ensure unidirectional single-nucleotide displacement along the strand at a millisecond time scale. The adapters also concentrate DNA substrates at the membrane surface proximal to the nanopore, boosting the DNA capture rate by several thousand-fold. In addition, the hairpin adapter permits contiguous sequencing of both strands of a duplex molecule by covalently attaching one strand to the other. Upon capture of a DNA molecule in the nanopore, the enzyme processes along one strand (the 'template read'). After the enzyme passes through the hairpin, this process repeats for the complementary strand (the 'complement read').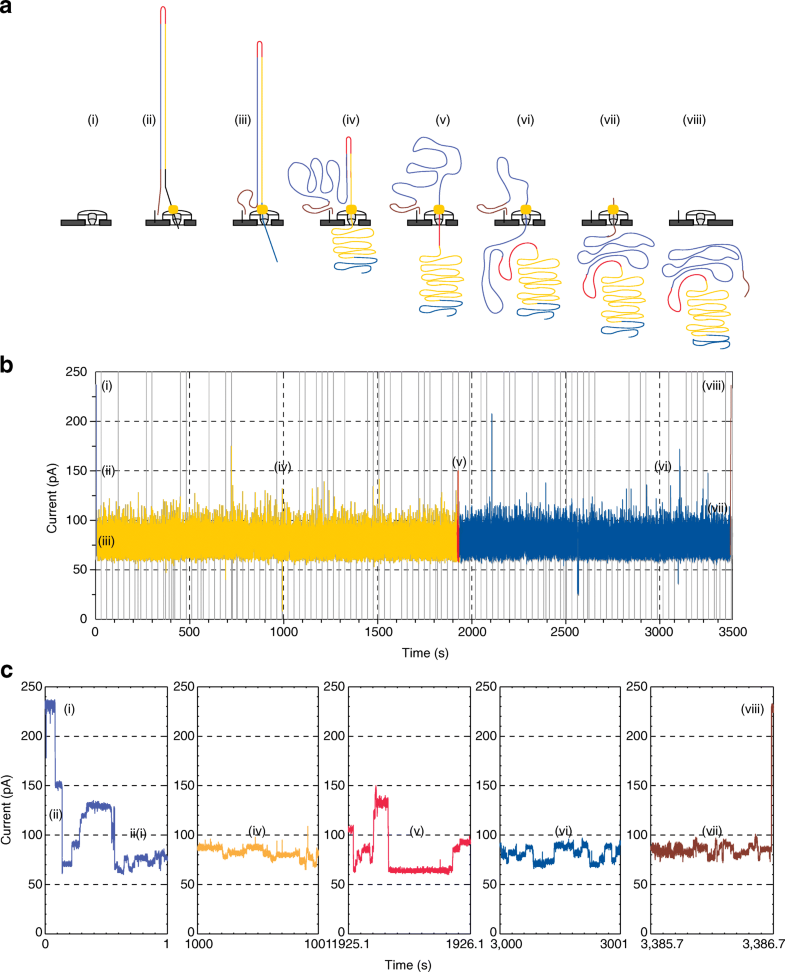 As the DNA passes through the pore, the sensor detects changes in ionic current caused by differences in the shifting nucleotide sequences occupying the pore. These ionic current changes are segmented as discrete events that have an associated duration, mean amplitude, and variance. This sequence of events is then interpreted computationally as a sequence of 3–6 nucleotide long kmers ('words') using graphical models. The information from template and complement reads is combined to produce a high-quality '2D read', using a pairwise alignment of the event sequences.
An alternate library preparation method does not use the hairpin to connect the strands of a duplex molecule. Rather, the nanopore reads only one strand, which yields template reads. This allows for higher throughput from a flow cell, but the accuracy for these '1D reads' is slightly lower than that of a '2D read'.
Benefits of MinION compared to other next generation sequencing platforms
Current applications of the MinION
Outlook
PromethION
The MinION allows individual laboratories to perform sequencing and subsequent biological analyses, but there is a part of the research community that is interested in high-throughput sequencing and genomics. Realizing this need, ONT has developed a bench-top instrument, PromethION, that is projected to provide high-throughput and is modular in design. Briefly, it will contain 48 flow cells that could be run individually or in parallel. The PromethION flow cells contain 3000 channels each, and are projected to produce up to 6 Tb of sequencing data each day. This equates to about 200 human genomes per day at 30× coverage.
Read accuracy
Single read accuracy is 92% for the current MinION device [44], which is often sufficient for applications such as the identification of pathogens or mRNA (cDNA) splice variants. However, some medical applications, such as the detection of individual nucleotide substitutions or base adducts in a single mitochondrial genome, would require read accuracies exceeding 99.99%. Given prior experience, it is reasonable that ONT will continue to improve their chemistry and base-calling software. Nevertheless, it is probable that Q40 nanopore sequencing will entail a single strand re-read strategy [2].
As is true for all sequencing platforms, MinION's base-call accuracy is improved using consensus-based methods. For example, for an E. coli strain where single reads averaged ~80% accuracy, consensus accuracy improved to 99.5% at 30× coverage [50]. The remaining 0.5% error appears to be non-random. This improvement is in part due to the inability of the present MinION platform to resolve homopolymers longer than the nanopore reading head (six nucleotides), and to the absence of training in the detection of base modifications. It is plausible that resolving these two issues will push nanopore consensus accuracy to ≥99.99%.
Read length
With the advent of single-molecule sequencing technologies (PacBio and MinION), the average read lengths increased from 250 nucleotides to 10 kb. More recently, reads of more than 150 kb have routinely been achieved with the MinION (Akeson, unpublished findings), and this is expected to improve in the next few months. Achieving long reads will allow progress in understanding highly complex and repetitive regions in genomes that are otherwise hard to resolve.
Direct RNA sequencing
Sequencing of direct RNA with nanopore technology is an active area of development at ONT and in academic research groups. Single-molecule detection of tRNA has been previously demonstrated in single-channel and solid-state nanopores [63, 64]. Nanopore sensing can also detect nucleotide modifications in both DNA [39–42] and tRNA [65]. Direct RNA sequencing will reveal insights in RNA biology that presently can get lost due to issues with reverse transcription and PCR amplification.
Single-molecule protein sensing
At present, mass spectrometry is the preferred technique for performing a comprehensive proteomics analysis [66], but there are limitations to the sensitivity, accuracy, and resolution of any one analytical technique [66]. In 2013, Nivala et al. [67] demonstrated enzyme-mediated translocation of proteins through a single-channel nanopore. Their study showed that sequence-specific features of the proteins could be detected. They then engineered five protein constructs bearing different mutations and rearrangements, and demonstrated that these constructs could be discriminated with accuracies ranging from 86 to 99%. Protein sequencing will allow studies of complex interactions among cells in different tissues [68].
Conclusions
Nanopore DNA strand sequencing is now an established technology. In the short interval since the ONT MinION was first released, performance has improved rapidly, and the technology now routinely achieves read lengths of 50 kb and more and single-strand read accuracies of better than 92%. Improvement in read lengths, base-call accuracies, base modification detection, and throughput is likely to continue. Owing to its portability, the MinION nanopore sequencer has proven utility at the point-of-care in challenging field environments. Further miniaturization of the platform (SmidgION) and associated library preparation tools (Zumbador, VolTRAX) promise an age of ubiquitous sequencing. Parallel applications, including direct RNA sequencing, are on the horizon.
Abbreviations
5-hmC:

5-hydroxymethylcytosine
5-mC:

5-methylcytosine
C:

Cytosine
dsDNA:

Double-stranded DNA
HMM:

Hidden Markov model
ISS:

International Space Station
MAP:

MinION Access Program
NGS:

Next generation sequencing
ONT:

Oxford Nanopore Technologies
rRNA:

Ribosomal RNA
SNV:

Single nucleotide variant
Declarations
Acknowledgements
The authors thank the National Human Genome Research Institute of the US National Institutes of Health for funding their research under award numbers HG006321 (MA), HG007827 (MA), and U54HG007990 (BP). The authors also thank Ariah Mackie for proofreading the manuscript.
Author contributions
All authors contributed to the writing, editing, and completion of the manuscript. All authors read and approved the final manuscript.
Competing interests
MA is a member of the Technology Advisory Board of Oxford Nanopore Technologies, Oxford, UK, for which he receives compensation, including stock options of unknown value that may exceed $10,000. He is an inventor on the following nanopore-sequencing-related US patents owned at least in part by the University of California: 6,015,714; 6,267,872; 6,465,193; 6,746,594; 6,936,433; 7,060,507; 7,189,503; 7,238,485; 7,625,706; 7,947,454; 8,500,982; 8,673,556; and 8,679,747. The other authors declare that they have no competing interests,
Open AccessThis article is distributed under the terms of the Creative Commons Attribution 4.0 International License (http://creativecommons.org/licenses/by/4.0/), which permits unrestricted use, distribution, and reproduction in any medium, provided you give appropriate credit to the original author(s) and the source, provide a link to the Creative Commons license, and indicate if changes were made. The Creative Commons Public Domain Dedication waiver (http://creativecommons.org/publicdomain/zero/1.0/) applies to the data made available in this article, unless otherwise stated.
Authors' Affiliations
(1)
UC Santa Cruz Genomics Institute and Department of Biomolecular Engineering, University of California, Santa Cruz, USA