Genome of the Asian longhorned beetle (Anoplophora glabripennis), a globally significant invasive species, reveals key functional and evolutionary innovations at the beetle–plant interface
Received: 4 August 2016
Accepted: 19 October 2016
Published: 11 November 2016
Abstract
Background
Relatively little is known about the genomic basis and evolution of wood-feeding in beetles. We undertook genome sequencing and annotation, gene expression assays, studies of plant cell wall degrading enzymes, and other functional and comparative studies of the Asian longhorned beetle, Anoplophora glabripennis, a globally significant invasive species capable of inflicting severe feeding damage on many important tree species. Complementary studies of genes encoding enzymes involved in digestion of woody plant tissues or detoxification of plant allelochemicals were undertaken with the genomes of 14 additional insects, including the newly sequenced emerald ash borer and bull-headed dung beetle.
Results
The Asian longhorned beetle genome encodes a uniquely diverse arsenal of enzymes that can degrade the main polysaccharide networks in plant cell walls, detoxify plant allelochemicals, and otherwise facilitate feeding on woody plants. It has the metabolic plasticity needed to feed on diverse plant species, contributing to its highly invasive nature. Large expansions of chemosensory genes involved in the reception of pheromones and plant kairomones are consistent with the complexity of chemical cues it uses to find host plants and mates.
Conclusions
Amplification and functional divergence of genes associated with specialized feeding on plants, including genes originally obtained via horizontal gene transfer from fungi and bacteria, contributed to the addition, expansion, and enhancement of the metabolic repertoire of the Asian longhorned beetle, certain other phytophagous beetles, and to a lesser degree, other phytophagous insects. Our results thus begin to establish a genomic basis for the evolutionary success of beetles on plants.
Keywords
ChemoperceptionDetoxificationGlycoside hydrolaseHorizontal gene transferPhytophagyXylophagy
Background
Beetles (order Coleoptera; >400,000 described extant species) account for more than 20 % of metazoans. The causes of this apparent "inordinate fondness" [
1
] are widely debated, but the evolution of specialized trophic interactions with plants—such as wood-feeding (xylophagy)—is assumed to have played an important role [
2
,
3
]. The beetle family Cerambycidae Latreille (>35,000 species; longhorned beetles) is the most diverse radiation of wood-feeding animals on Earth. Most species complete their entire development while feeding exclusively on the tissues of woody plants. Recent work has established the Asian longhorned beetle (
Anoplophora glabripennis
) as a model for studies of the digestive physiology of wood-feeding beetles (see references cited herein).
A. glabripennis
is a globally significant invasive species, capable of inflicting severe damage on many economically important orchard, ornamental, and forest trees (>100 species) [
4
]. Its potential economic impact in the United States alone, if uncontrolled, has been conservatively estimated at $889 billion (adjusted for inflation, May 2016) [
5
]. Early stage
A. glabripennis
larvae are specialized wood-borers, feeding in galleries under bark in the subcortical tissue and phloem of both healthy and susceptible living trees (Fig.
1
). Larger, later stage larvae tunnel deep into the heartwood, where they continue feeding and complete development. Adults are comparatively short-lived external feeders, consuming small amounts of tissue from host tree leaves and twigs [
4
].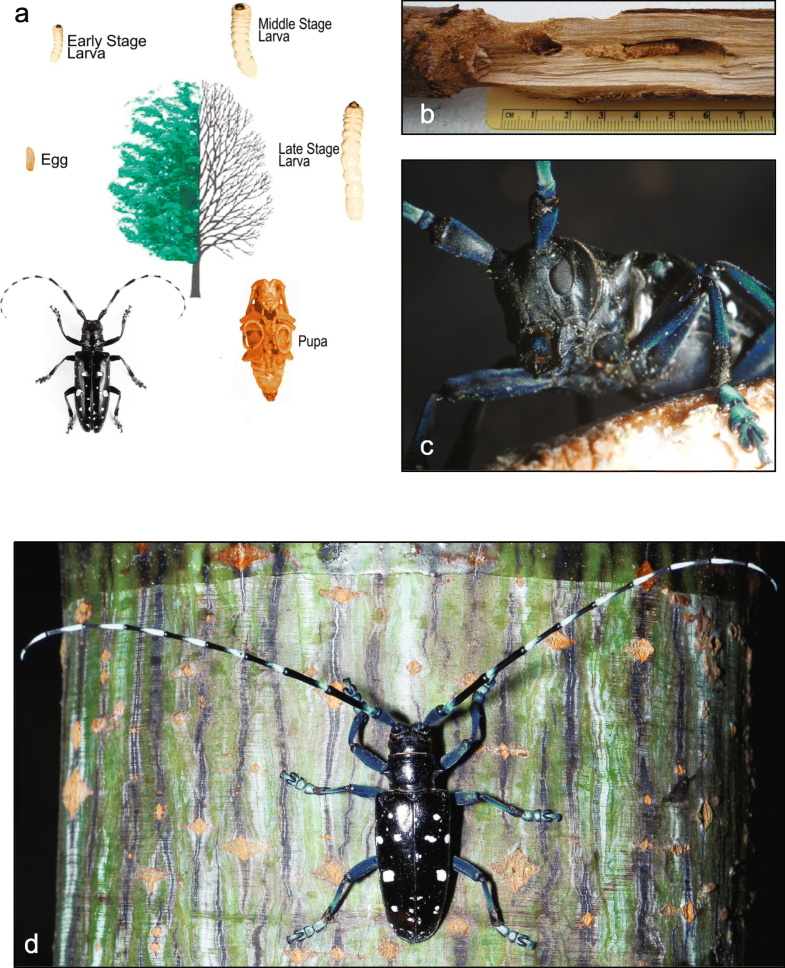 Nitrogen, free amino acids, and protein are typically scarce in wood and access to sugars, minerals, and other key nutrients is severely impeded by lignified plant cell walls. Furthermore, woody plant tissues contain a diversity of allelochemicals that must be detoxified or sequestered when eaten [6]. Successful feeding on woody plants therefore requires specialized metabolic adaptations. The genomes of A. glabripennis and certain other phytophagous beetles are known to contain genes encoding plant cell wall degrading enzymes (PCWDEs) [7–9]. PCWDEs degrade cellulose, hemicellulose, or pectin (the main polysaccharide networks in plant cell walls), liberating sugars, minerals, and other nutrients from woody plant tissues. Some cerambycid PCWDEs were originally obtained via horizontal gene transfer (HGT) from fungi or bacteria, and have subsequently diversified to form multi-gene families [10]. This is in contrast to other wood feeding insects, e.g., termites and some ants and cockroaches, which have broadly similar metabolic capabilities conveyed by symbionts whose genomes contain many of the same families of genes [11]. Additionally, lignin is degraded during passage through the A. glabripennis gut [12], suggesting a role for enzymes secreted into the gut by the beetle, its gut microbiota, or both parties. In vitro, PCWDEs and lignin-degrading enzymes encoded by the genomes of insects and their symbionts may be important in a wide range of biotechnological processes, including the production of biofuels and food [7, 8].
We investigated the genomic basis of specialized phytophagy on woody plants by A. glabripennis through genome and transcriptome sequencing and annotation, comparative genomic analyses, gene expression assays, and functional genomic studies. Complementary comparative analyses involving the A. glabripennis genome and 14 additional insect genomes, including two additional beetles whose genomes are studied here for the first time—the emerald ash borer (Agrilus planipennis, family Buprestidae) and the bull-headed dung beetle (Onthophagus taurus, family Scarabaeidae)—were undertaken to reconstruct broader patterns in the evolution of insect (especially beetle) genes encoding enzymes involved in the digestion of woody plant tissues or detoxification of plant allelochemicals.
Conclusions
A. glabripennis possesses a remarkably robust enzymatic repertoire capable of digesting most of the polysaccharides it encounters while feeding on woody host plants (cellulose, xyloglucan, xylan, and pectin). Furthermore, diverse suites of detoxification genes and several classes of digestive proteinases provide A. glabripennis with the metabolic plasticity needed to overcome the challenges of feeding on different host trees, each with a distinct profile of defensive compounds. Many of the paralogs in gene families encoding enzymes typically involved in plant cell wall degradation (PCWDEs) and detoxification occur in large clusters in the A. glabripennis genome and appear to have diversified by tandem gene duplication. Large expansions of genes encoding CYP450s, UGTs, COesterases (these three together are sometimes called the defensome; e.g., [60]) and GH1s in the A. glabripennis genome are particularly notable, as they are among the largest such repertoires of detoxification genes known in insects. Genes encoding PCWDEs are also uniquely expanded in number in the A. glabripennis genome. The A. glabripennis genome encodes genes from a remarkable three families of putative cellulases (GH5 subfamily 2, GH9, and GH45), and one of these, GH5 subfamily 2, evolved in such a way that it provides the beetle with an arsenal of enzymes possessing the ability to degrade the main polysaccharides of the cellulose and hemicellulose (xylan and xyloglucan) networks in both primary and secondary plant cell walls. A. glabripennis also has the ability to degrade lignin, either through the activities of its gut microbial fauna and/or by way of enzymes encoded in its genome. Our results are notable in including not only an enumeration of genes potentially involved in plant cell wall degradation and detoxification (thus facilitating specialized phytophagy on woody plants and a wide host range), but also results from experimental assessments of gene expression and enzyme activities.
Acquisition of new genes (here, GH5, GH28, and GH45 family genes) via HGT from bacteria and fungi followed by gene copy number amplification and functional divergence contributed to the addition, expansion, and enhancement of the metabolic repertoire of A. glabripennis, certain other beetles, and, to a lesser degree, other phytophagous insects. Our results thus further establish a genomic basis for the invasiveness and broad host plant range of A. glabripennis and reveal genomic innovations potentially underlying the evolutionary success of insects—especially beetles—on plants.
Declarations
Acknowledgements
We thank S. Raschka (MI State University), and K. Morris, V. Lopez, S. Gula, and B. Walters (Xavier University), M. Munoz-Torres (Lawrence-Berkeley National Lab), B. Wurlitzer and D. Schnabelrauch (Max Plank Institute for Chemical Ecology), K. Kuhn and E. Aparicio (USDA ARS BIIR), and J. Johnson (ND State University) for their assistance with this research, and D. Hibbett (Clarke University) for comments on an early draft of the manuscript.
Funding
Funding for genome sequencing, assembly and automated annotation was provided by NHGRI grant U54 HG003273 to RAG. The i5k pilot project (https://www.hgsc.bcm.edu/arthropods) assisted in sequencing of the A. glabripennis, A. planipennis, and O. taurus genomes. We acknowledge funding from the University of Memphis FedEx Institute, US NSF grant DEB1355169 and USDA-APHIS cooperative agreement 15-8130-0547-CA to DDM, USDA NIFA grant 2015-67013-23287 to KH and ES, NSF grant DEB1257053 to JHW, NSF grants IOS1120209 and IOS1256689 to APM, University of Cincinnati Faculty Development Research grant to JBB, Marie Curie International Outgoing Fellowship PIOF-GA-2011-303312 to RMW, Swiss NSF awards 31003A-125350 and 31003A-143936 to EMZ, Max-Planck-Gesellschaft to YP, RK and AB, German Research Foundation (DFG) grants PA 2044/1-1 and SFB 680 to KAP, and NIH postdoctoral training grant 5 K12 GM000708-15 to RFM.
Availability of data and materials
All sequence data are publically available at the NCBI, bioproject number PRJNA167479. Additional file 1: Table S3 gives specific details of accession numbers for specific raw and assembled DNA and RNA sequences. In addition, gene models and a browser are available at the National Agricultural Library (https://i5k.nal.usda.gov/Anoplophora_glabripennis).
Authors' contributions
DDM and SR conceived, managed, and coordinated the project. DL provided specimens for sequencing. DDM performed DNA and RNA extractions. SR, HuD, YH, HaD, DMM, and RAG managed library preparations and sequencing. SR, SLL, and HC constructed libraries and performed sequencing. SCM, JQ, DSTH, SR, and KCW performed the genome assembly and automated gene prediction. DDM, MFP, CC, CL, and HL developed and implemented WebApollo manual curation. RMW, EMZ, and PI performed orthology and phylogenomic analyses. DDM, SA, DA, AB, JBB, TB, JB, BC, LC, MAD, MF, KMG, MADG, SH, IMVJ, JSJ, JWJ, LK, RK, JAL, RM, DRN, SRP, KAP, DP, SP, YP, HQ, AR, JR, HR, RLR, AJR, EDS, AT, and GY participated in manual curation and contributed to subprojects and/or the supporting information. JSJ analyzed genome size. HB and JPD studied genome organization and chromosome synteny. KMG and MADG conducted analyses of DNA methylation. AD, CS, and JW studied bacterial horizontal gene transfers. RK, AB, and YP performed in vitro functional characterization of PCWDEs. EDS, KH, and SMG studied gene expression. LK, AMR, and EDS studied myrosinase and cyanogenic β-glycosidase-like sequences. RMW, JJD, SMG, DDM, AM, and EDS contributed to comparative genomic analyses. DDM, EDS, KH, LAK, JBB, SMG, YP, and SR wrote the manuscript. DDM, SR, DJC, and SS organized the supporting information. All authors approved the final manuscript.
Competing interests
The authors declare that they have no competing interests.
Ethics approval and consent to participate
Not applicable.
Open AccessThis article is distributed under the terms of the Creative Commons Attribution 4.0 International License (http://creativecommons.org/licenses/by/4.0/), which permits unrestricted use, distribution, and reproduction in any medium, provided you give appropriate credit to the original author(s) and the source, provide a link to the Creative Commons license, and indicate if changes were made. The Creative Commons Public Domain Dedication waiver (http://creativecommons.org/publicdomain/zero/1.0/) applies to the data made available in this article, unless otherwise stated.
Authors' Affiliations
(1)
Department of Biological Sciences, University of Memphis, Memphis, USA
(2)
Feinstone Center for Genomic Research, University of Memphis, Memphis, USA
(3)
USDA, Agricultural Research Service, Center for Grain and Animal Health, Stored Product Insect and Engineering Research Unit, Manhattan, USA
(4)
Department of Entomology, Max Planck Institute for Chemical Ecology, Jena, Germany
(5)
Department of Entomology and Center for Chemical Ecology, The Pennsylvania State University, University Park, USA
(6)
USDA, Agricultural Research Service, Daniel K Inouye US Pacific Basin Agricultural Research Center, Tropical Crop and Commodity Protection Research Unit, Hilo, USA
(7)
Center for Insect Science and Department of Neuroscience, University of Arizona, Tucson, USA
(8)
Department of Biology, University of Wisconsin Oshkosh, Oshkosh, USA
(9)
Department of Genetic Medicine and Development and Swiss Institute of Bioinformatics, University of Geneva, Geneva, Switzerland
(10)
The Massachusetts Institute of Technology and The Broad Institute of MIT and Harvard, Cambridge, USA
(11)
Department of Biological Sciences, University of Illinois at Chicago, Chicago, USA
(12)
Department of Biological Sciences, University of Cincinnati, Cincinnati, USA
(13)
Department of Biology, University of Texas at Arlington, Arlington, USA
(14)
Department of Biological Sciences, North Dakota State University, Fargo, USA
(15)
Human Genome Sequencing Center, Department of Human and Molecular Genetics, Baylor College of Medicine, Houston, USA
(16)
USDA, Agricultural Research Service, Red River Valley Agricultural Research Center, Biosciences Research Laboratory, Fargo, USA
(17)
USDA, Agricultural Research Service, National Agricultural Library, Beltsville, USA
(18)
Department of Biology, University of Rochester, Rochester, USA
(19)
USDA, Agricultural Research Service, Beneficial Insects Introduction Research, Newark, USA
(20)
Department of Biological Sciences, Wayne State University, Detroit, USA
(21)
School of Biology, Georgia Institute of Technology, Atlanta, USA
(22)
Department of Entomology, Texas A&M University, College Station, USA
(23)
Department of Biochemistry and Molecular Biology, Department of Computers Science and Engineering, and Department of Fisheries and Wildlife, Michigan State University, East Lansing, USA
(24)
USDA, Animal and Plant Health Inspection Service, Plant Pest and Quarantine, Center for Plant Health Science and Technology, Otis Laboratory, Buzzards Bay, USA
(25)
Graduate Institute of Biomedical Electronics and Bioinformatics, National Taiwan University, Taipei, Taiwan
(26)
Department of Biology, Indiana University, Blomington, USA
(27)
Department of Microbiology, Immunology, and Biochemistry, University of Tennessee Health Science Center, Memphis, USA
(28)
Department of Entomology, University of Kentucky, Lexington, USA
(29)
Institute for Developmental Biology, University of Cologne, Cologne, Germany
(30)
Department of Biology, Xavier University, Cincinnati, USA
(31)
Department of Entomology, University of Illinois at Urbana-Champaign, Urbana, USA