The whole genome sequence of the Mediterranean fruit fly, Ceratitis capitata (Wiedemann), reveals insights into the biology and adaptive evolution of a highly invasive pest species
Received: 11 April 2016
Accepted: 26 August 2016
Published: 22 September 2016
The Erratum to this article has been published in Genome Biology 2017 18:11
Abstract
Background
The Mediterranean fruit fly (medfly), Ceratitis capitata, is a major destructive insect pest due to its broad host range, which includes hundreds of fruits and vegetables. It exhibits a unique ability to invade and adapt to ecological niches throughout tropical and subtropical regions of the world, though medfly infestations have been prevented and controlled by the sterile insect technique (SIT) as part of integrated pest management programs (IPMs). The genetic analysis and manipulation of medfly has been subject to intensive study in an effort to improve SIT efficacy and other aspects of IPM control.
Results
The 479 Mb medfly genome is sequenced from adult flies from lines inbred for 20 generations. A high-quality assembly is achieved having a contig N50 of 45.7 kb and scaffold N50 of 4.06 Mb. In-depth curation of more than 1800 messenger RNAs shows specific gene expansions that can be related to invasiveness and host adaptation, including gene families for chemoreception, toxin and insecticide metabolism, cuticle proteins, opsins, and aquaporins. We identify genes relevant to IPM control, including those required to improve SIT.
Conclusions
The medfly genome sequence provides critical insights into the biology of one of the most serious and widespread agricultural pests. This knowledge should significantly advance the means of controlling the size and invasive potential of medfly populations. Its close relationship to Drosophila, and other insect species important to agriculture and human health, will further comparative functional and structural studies of insect genomes that should broaden our understanding of gene family evolution.
Keywords
Medfly genomeTephritid genomicsInsect orthologyGene family evolutionChromosomal syntenyInsect invasivenessInsect adaptationMedfly integrated pest management (IPM)
Background
The Mediterranean fruit fly (medfly, Ceratitis capitata, Diptera: Tephritidae) is one of the most destructive agricultural pests throughout the world due to its broad host plant range that includes more than 260 different fruits, vegetables, and nuts [1]. Host preferences vary in different regions of the world, which can be associated with its ability to invade and adapt to ecological niches throughout tropical and subtropical regions. While the species originated in sub-Saharan Africa [2, 3], it is currently endemic throughout Africa, the Middle East, European countries adjacent and proximal to the Mediterranean Sea, the Hawaiian Islands, the Caribbean, and Central and South America [4]. Thus the worldwide economic costs due to crop damage, export control due to quarantine restrictions, and control and prevention of medfly infestation reach many US$ billions each year [5] (for an overview of medfly biology, ecology, and invasiveness, see: http://www.cabi.org/isc/datasheet/12367).
Medfly has also been an established lab organism for several decades and is notable as being the closest non-drosophilid relative to Drosophila subject to intensive genetic analysis, with broad chromosomal syntenic relationships established. These studies have been largely driven by efforts to use genetic manipulation to improve the sterile insect technique (SIT), which is the primary biologically based method used to control medfly as a component of area-wide multi-tactical integrated pest management (IPM) approaches, which include the use of natural enemies and insecticide/bait formulations. Current SIT applications are based on the use of a classical genetic sexing strain that incorporates female-specific activity of an embryonic temperature-sensitive lethal (tsl) mutation. Resultant males are mass-reared in billions per week for sterilization and release in North, Central and South America, Australia, South Africa, and Mediterranean countries including Spain and Israel, to not only control existing populations but to also prevent new invasions [6]. As such, medfly has served as a model system for developing genetic analyses and manipulations that might improve these population control programs that are applicable to a large number of tephritid fruit fly species throughout the world, which range from similarly polyphagous species to ones that are more highly specialized.
Previous studies in medfly mapped ~30 cloned genes and ~40 microsatellite sequences by in situ hybridization to larval salivary gland polytene chromosomes [7, 8]. It was also the first non-drosophilid insect to have its germ-line efficiently transformed by a transposon-based vector system [9], an approach that has since been applied to several orders of non-drosophilid species. This has included functional genomics analysis, new vector systems for transgene stabilization, genomic targeting, and transgenic and Wolbachia-infected strains created for potential population control.
To further our understanding of this critical agricultural pest and its genomic organization in comparison to Drosophila and other dipteran/insect species, we now present the results of the medfly whole genome sequencing (WGS) project. This is one of 30 arthropod genome sequencing projects that have been initiated as a part of a pilot project for the i5K arthropod project [10] at the Baylor College of Medicine Human Genome Sequencing Center (BCM-HGSC). Notably, the quality of this analysis is unusually strong for an insect genome, comparable to the more compact genome of Drosophila melanogaster, where half the 479 Mb medfly genome sequence was assembled in 35 scaffolds larger than 4 Mb (NG50). A thorough automated structural annotation of the genome was conducted, aided by RNA sequencing (RNA-Seq) data, which allowed a curation community of 20 groups to make key sequence assignments related to genome structure, orthology, and genetic regulation, and to manually annotate key gene families related to invasiveness and adaptation, insecticide resistance and detoxification, and aspects of sex-determination, reproduction, and cell death.
This extensive resource is expected to provide a foundation for continued research on fundamental and comparative studies of insect genomes and gene family evolution and the high-quality reference genome assembly should have far-reaching practical applications in pest management research. It will be instrumental to the development of methods for the identification of genome-wide polymorphisms that can be used for population genetic analysis and source determination of medflies identified in ports of entry. Furthermore, its extensive annotated gene set will facilitate identifying the molecular basis of mutations in strains used for SIT (e.g. tsl sexing strain) and the identification of novel targets that can be utilized to facilitate higher efficiency and efficacy of IPM programs.
Results and discussion
Genome sequence, structure, orthology, and function
Gene families associated with adaptation and invasiveness
Unlike Drosophila that inhabits and feeds on rotting and decaying organic matter, and Musca that feeds and develops in excreta, carcasses, and other septic matter, medfly is an opportunistic phytophagous species whose survival and dispersion is tightly dependent on its interactions with its different host plants [57]. Adult medfly reproductive behavior is very elaborate and involves the use of sexual pheromones [58, 59] and adults must seek out a rich diet based on carbohydrates and proteins to support a high reproductive rate [60], which involves chemoreception and vision to detect appropriate plant hosts and adaptation to aqueous larval environments. In addition, all invasive insects require adaptation to new and diverse microbial environments requiring immunity mechanisms that defend against multiple pathogens. These are especially important to medfly which oviposits its eggs in microbiologically rich environments. These different resource exploitation and survival strategies are reflected in adaptive differences in the chemoreception, water transport, and visual and immunity system pathways of these species. Indeed, the impressive biological success of medfly is supported by these and additional adaptive traits involving larval to adult life stages in which plasticity for these pathways play a fundamental role [61].
Gene families associated with insecticide resistance and detoxification
The emergence of resistance to insecticides is recognized as a major challenge for IPM control of economically important tephritid flies such as C. capitata [108]. Thus, a high priority is the identification of genes associated with insecticide resistance, including the three major detoxification enzyme families (cytochrome P450, carboxylesterases, and glutathione S-transferases), known receptors/targets for the main groups of insecticides (cholinesterase, cys-loop ligand-gated ion channel, and voltage-gated sodium channels genes), and cuticle proteins. This analysis also provides significant knowledge relevant to the role of these genes and their gene families in biological processes fundamental to development and behavior.
Gene families associated with sex, reproduction, and population control
SIT is the major biologically-based tactic for the control of medfly populations, in addition to several other tephritid pest species. Genomic data related to sex-determination, sex-specific gene expression, reproduction, and programmed cell death have already proven essential to the development of transgenic strains that improve the efficiency of female-lethality for male-only populations, male sterilization, and genetic marking systems for sperm and trapped males. Continued development and improvement of these strains will depend on new strategies that result in: (1) the suppression of testis-specific genes to induce male sterilization (as an alternative to irradiation); (2) the manipulation of sex determination genes in chromosomal females resulting in their development as sterile phenotypic males; (3) the identification of lethal effector genes for tissue and sex-specific conditional lethality; and (4) defining the molecular effects of seminal fluid proteins on female physiology and behavior, which may provide mechanisms that interfere with medfly reproduction.
Sex-determination, sex-linked, and sex-specific genes
Sex determination is a fundamental developmental process that regulates male-specific and female-specific sexual differentiation, and thus, various sex-specific aspects of fertility, courtship behavior, and, in some species, dosage compensation. Given the importance of these functions to medfly IPM population control, the sex-determining genetic constituents in this species, and their interactions, have been studied for many years [44, 137]. This has revealed many commonalities with Drosophila, including most of the identified sex-determination genes, yet several important distinctions exist [138].
In Drosophila, the Sex-lethal (Sxl) > transformer/transformer-2 (tra/tra-2) > doublesex/fruitless (dsx/fru) sex-determination gene pathway hierarchy initiates female-specific differentiation when Sxl > tra transcripts encode functional splicing factors resulting in dsx-female expression. In the default state, when Sxl > tra non-functional products result in dsx-male expression, male-specific differentiation ensues. Orthologues to all of these genes were previously identified and tested in C. capitata, resulting in a similar hierarchy of activity [44, 45, 139, 140], except that the Sex-lethal ortholog (CcSxl) does not act as the upstream regulator of Cctra in females. Indeed, Sxl does not have any apparent sex-determining function in Ceratitis, similar to other other non-drosophilid dipterans including Musca [141, 142]. Alternatively, it has been shown that Cctra activity is required in XX embryos to establish the female developmental pathway, initiating Cctra positive auto-regulation by maternal CcTRA, while male differentiation is regulated by a male determining factor (M-factor) that prevents Cctra activation [44, 143].
To further elucidate and confirm the relationship between sexual differentiation in Drosophila and C. capitata, 35 cognates of Drosophila genes were identified in the medfly genome that are directly or indirectly involved in sex determination or sexual differentiation (25 genes including Cctra, Ccdsx, and CcSxl), six sex-specifically spliced genes, and four genes having somatic sex-specific functions such as dosage compensation [144, 145] (see Additional file 2: Table S23). A tBLASTn analysis showed sequence conservation for all 35 orthologs, having amino acid sequence identities in the range of 35–98 %, with 20 genes expressed at early embryonic stages [142]. Novel sex-determining genes have evolved from gene duplications in other insects (e.g., complementary sex-determiner/feminizer in Apis, Nix in Aedes, and Sxl/sister-of-Sex-lethal [ssx] in Drosophila) [140, 146, 147], though paralogs of the Ceratitis Sxl, tra, and tra-2 genes have yet to be identified in the medfly genome. While Nix is part of the male-determining M-locus in Aedes, its relationship to sex-determining genes in medfly (and other species) appears to be limited to the RNA recognition motif (RMM) most often found in tra-2. Thus, the molecular nature of the upstream splicing regulator(s) of Cctra and the putative Y-linked male determining factor have yet to be clarified, which remains a high priority [137, 142].
Known Y-linked genes are highly limited, and while none are known to encode the M factor, they do provide scaffold identification for sequences that are potentially related. These include four 1–6 kb highly repetitive Y-linked genes (GB acc: AF071418.1, AF154063.1, AF115330.1, and AF116531.1) first identified in a phage library and found to be male-specific and Y-linked by southern blot and mitotic chromosome in situ hybridizations, respectively [20] (see Additional file 2: Table S6). Y-linkage was later confirmed by a Bowtie mapping analysis of >108 male and female genomic reads against the four sequences [137].
For X-linked scaffold identification, the ceratotoxin (ctx) genes (GB acc: CtxA2, Y15373.1; CtxC1, Y15374.1, and CtxC2-CtxD, Y15375.1), previously mapped by in situ hybridization to the mitotic X chromosome [21], were found on the 6.4 Mb genomic scaffold 23 (NW_004523725), which otherwise provides very low gene content (14 transcribed regions), as expected for a highly heterochromatic chromosome. Within a 0.8 Mb flanking region of the ctx family, only the orthologs of Drosophila carboxylesterase 4 and tolloid exist (CcCG4757-like).
The identification of key medfly sex-determining genes has been important to novel sexing strategies for SIT population control, that have incorporated the Cctra sex-specific first intron splicing cassette into cell death genes to achieve female-specific lethality [24, 26, 27, 148]. Of particular interest has been the potential use of conditional knock-outs of Cctra or Cctra-2 to transform chromosomal females to phenotypic XX males [44, 45] for high level production of male-only populations for SIT release programs.
Seminal fluid protein genes
Insect seminal fluid proteins (SFPs), transferred from males to females during mating along with sperm, are powerful modulators of multiple aspects of female reproductive physiology and behavior, including sperm storage and use, ovulation, oviposition, and receptivity to re-mating [149–153]. These proteins belong to functional classes that are rather conserved across different insect species, and include proteases and protease inhibitors, lipases, sperm-binding proteins, antioxidants, lectins, and prohormones [154, 155]. However, their identification based on sequence similarity searches is challenging, as many have been shown to undergo rapid evolution and gene expansion [156]. This can be explained by the critical roles they play in sperm activation, gamete interaction, and ovulation. Only limited information is currently available relevant to the molecular identity and functional roles of medfly SFPs [157–160]. Recent transcriptomic analyses on the testes and male accessory glands identified transcripts that exhibit mating-induced changes in abundance, most likely related to replenishment of their protein products after multiple matings [159] that are frequent in nature [161–164]. Patterns of sperm use in twice-mated females have also been investigated, revealing that sperm are stored in the female fertilization chamber in a stratified fashion, mostly likely to initially favor the fresher ejaculate from the second male [165]. Studies on the effects of SFPs on female physiology and fertilization dynamics may provide the key to understanding how sperm mobilization within the female reproductive tract is regulated.
A total of 459 genes were annotated in the medfly genome and grouped into 17 functional classes based on the categories defined for Drosophila SFPs [166] (see Additional file 2: Table S24 and Additional file 3: Figure S9). The most abundant class corresponds to predicted protease genes, genes involved in lipid metabolism and chitin binding, and sequences with yet unknown function, respectively. Comparison of transcriptional levels between male (ISPRA SRR836190) and female (ISPRA SRR836189) whole body RNA-Seq libraries, as well as reproductive tissue datasets revealed that 37 of all annotated genes are male-biased, with 31 of them being predominantly transcribed in the male reproductive tissues (see Additional file 2: Table S24). These features make them particularly interesting candidates for further functional analysis, although it is noteworthy that SFP-encoding genes do not necessarily display a male-biased expression profile [166, 167].
Proteases also represent a major class among Drosophila SFPs, which are thought to be involved in the regulation of female post-mating responses [168], including cleavage of inactive molecules into their active forms [169]. A previous analysis of medfly testes and male accessory glands expressed sequence tags (ESTs) found that one of the proteases, trypsin alpha-3, is a mating-responsive gene [159]. This gene, indeed, displays a significant increase in transcript abundance immediately after male copulation, including after successive matings. This may indicate that the depletion of its protein products may trigger transcription to replenish the proteins to be transferred upon mating.
Lipid metabolism genes that may encode SFPs are also abundant in the medfly genome and include sequences that may be active in the breakdown of complex energy sources to be used by stored sperm, or in the remodeling of the sperm phospholipid membrane for capacitation [170]. The high number of genes encoding proteins with predicted chitin-binding activity may be related to antimicrobial roles, and indeed, chitin-binding abilities have been reported for several antifungal peptides [171]. Proteins with such chitin-binding activity have been previously identified not only in Drosophila [166], but also in An. gambiae [172]. We also identified genes putatively encoding proteolysis regulators, which are a highly represented protein class in the seminal fluid of multiple species [173]. This finding supports the notion that proteolysis-mediated sperm activation might have broad phylogenetic conservation and that proteolytic activity is essential for male reproductive success [174].
The identification of genes encoding proteins involved in odor perception is in agreement with several studies reporting the expression of such genes in the male accessory glands and testes of multiple species [175–182]. The identification of the medfly putative orthologs for Obp56e and Obp56g, which encode proteins found in the Drosophila seminal fluid, suggests that medfly OBPs may act as carriers for physiologically active ligands, such as hormones, that are transferred from the male to the female upon mating.
Approximately 10 % of the putative SFP genes annotated could not be associated to a specific functional class. Interestingly, several of these genes (n = 19) displayed a male-biased transcriptional profile and a particularly high abundance in male reproductive tissues. Among them is CG5867-like, for which previous ESTs analyses revealed a transcriptional profile possibly related to the replenishment of ejaculate components after mating [159]. Its Drosophila ortholog has a hemolymph juvenile hormone-binding domain that has been suggested to be involved in the regulation of hormone levels. Among the genes with unknown functions, of particular interest is the Uncharacterized protein LOC101454281. While lacking significant sequence similarity to known sequences, the presence of multiple glycosylation sites allows us to speculate on its potential mucin nature. In Drosophila, mucins have been shown to participate, together with other proteins and lipids, in the formation of mating plugs, often produced within the female reproductive tract during or shortly after mating [149, 183]. Medfly does not produce a plug, but mucins may have a role in protecting sperm and assisting their movement through the female tract, as occurs in mammals [184, 185].
These data lay the foundation for deeper proteomics-based investigations aimed at identifying and quantifying the peptides delivered to the female reproductive tract by medfly males. A deeper understanding of the identity and functional roles of the medfly SFPs will allow their exploitation for manipulating female reproductive physiology, behavior, and fertility. This could possibly lead to the development of novel environmentally acceptable species-specific chemosterilants [186, 187], capable of mimicking the behavior-modulating effects of an SFP by impeding correct sperm storage or interfering with female re-mating.
Programmed cell death genes
Pro-apoptotic proteins from the reaper (rpr), hid, grim (RHG) gene family, first described for insects in Drosophila, are primary regulators of programmed cell death by their negative control of the inhibitor of apoptosis (IAP) proteins, thereby allowing caspase activation resulting in cell death [188]. As such, they have critical roles in development, especially in the larval to adult cellular transitions during metamorphosis, and the removal of cells damaged by environmental stress. In Drosophila, their vital roles in development have been demonstrated by lethality resulting from hid and rpr null mutations or their ectopic misexpression from transgenes [189]. Ectopic misexpression of hid, in particular, has been used as an effective lethal effector for uni-sex and female-specific conditional lethality for improved SIT in several species, including medfly where the Drosophila cognate was found to be functional [28]. In the caribfly, Anastrepha suspensa, the native RHG genes were isolated and functionally validated using cell death assays [190], with the A. ludens (mexfly) Alhid cognate subsequently used for highly effective conditional lethality in A. suspensa [25].
Conservation between the Drosophila and medfly apoptotic cognates was first tested by performing the BLASTn algorithm on 95 Drosophila genes from four Gene Ontology (GO) groups against the medfly genome: programmed cell death (GO:12501), germ cell programmed cell death (GO:35234), negative regulation of apoptotic process (GO:43066), and apoptotic processes (GO:6915) (Additional file 2: Table S25). Eighty-one genes were highly conserved, of which 57 had e-values less than 1e–30, while 14 genes did not show significant similarity to medfly sequences. Notably, the medfly reaper, hid, and grim genes were identified by similarities to multiple regions of the orthologous protein, while sickle was only identified by homology of two conserved protein motifs after an additional tBLASTx algorithm search—one being the N-terminal IAP motif and the second being the GH3-binding motif. Both motifs are essential for apoptotic function in D. melanogaster and A. suspensa [190–192] and their conservation suggests a conserved pathway for the two species.
Comparisons of the genomic structure of
Drosophila reaper
,
hid
,
grim
, and
sickle
to their medfly orthologs revealed conserved synteny and genomic organization of the respective regions. In
Drosophila
, all four genes are located within a 272 kb region on chromosome 3L, while in
Ceratitis
, the region is located on scaffold 2 (NW.004523691) that maps to chromosome 6R (see Fig.
2
, Additional file
2
: Table S6). These loci are syntenic based on the polytene map [
193
], and the region in medfly is nearly three-fold longer, consistent with relative genome sizes (Fig.
11
). Nevertheless, the orientation and relative distances among the genes are conserved between the two species.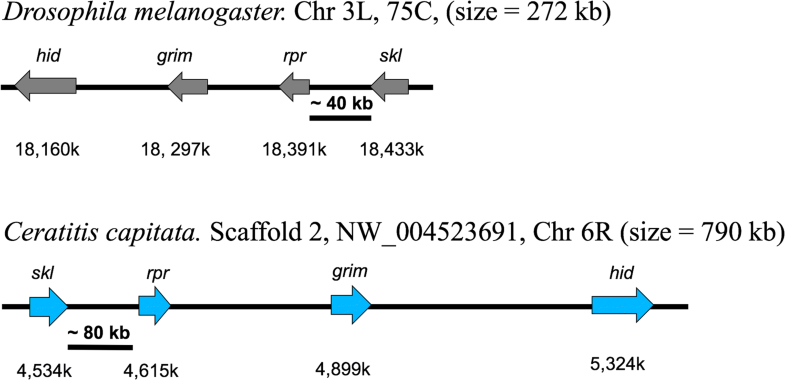 Conclusions
Here we report the whole genome sequence of the Mediterranean fruit fly, C. capitata, which is one of the most highly invasive and destructive plant pests throughout the world. Of particular interest are the comparative relationships of gene families between this species and two closely related dipterans, D. melanogaster and M. domestica, having implications for the adaptation and invasiveness of medfly and presenting specific methods and targets for control of its population size. Current research may also utilize the genome assembly as a foundation to characterize population structure of this pest insect throughout tropical regions of the world and the genomic context for genetic sexing strategies for SIT can now be explored utilizing this as a reference genome.
The final 479 Mb genome assembly size varies from our 538.9 Mb k-mer value and an earlier 540 Mb Feulgen stain estimate [11], and we presume this is due to an inability to assemble highly repetitive heterochromatic sequences that account for approximately 11 % of the genome. The high quality of the assembly, however, is reflected in a contig N50 of 45.7 kb and scaffold N50 of 4.06 Mb, and the integrity of 11–15.8 Mb scaffolds consistent with physical mapping. We conclude that this resulted from the use of genomic DNA from highly inbred single and small-pooled flies to minimize polymorphisms. This is in comparison to an initial sequencing attempt using DNA extracted from non-inbred flies from the same laboratory strain, which yielded low-quality assemblies. This protocol has now been established for all species in the i5K pilot project and should serve as a guide for future projects.
The adaptation of medfly to diverse fruits and vegetables, and its successful invasion of associated habitats, may be related to specific gene expansions relative to Drosophila and Musca. The more similar behavioral ecologies between Drosophila and medfly, for instance, seem to be reflected in more similar expansions of the IR and GR taste receptor gene families, as well as receptors for pheromone attractants, compared to the housefly disease vector, M. domestica, which is considered to be more closely related to D. melanogaster [76]. On the other hand, the larger number of cytochrome P450 genes and the common expansion of CYP6 subfamilies in medfly and Musca, relative to Drosophila, may reflect their cosmopolitan nature requiring an increased need for adaptation, as well as their more pestiferous behavior. This comparison is consistent with the higher number of immunity system genes relative to Drosophila, with the notable expansion of the Toll and spätzle families, and the unique existence and expansion of ceratotoxins, thus far specific to medfly, and both of which may enhance protection of eggs oviposited into diverse microbial-rich environments. Adaptation and invasiveness for medfly may also be reflected in the expansion of the TWDL and CPLCA cuticle protein families, and the highest number of aquaporin genes reported thus far in insects.
Another critical role for the medfly genome analysis is defining potential gene targets and genetic reagents relevant to the IPM control of its behavior and population size. The functional characterization of chemoreception molecules, especially those implicated in courtship/pheromone or fruit detection, may permit the development of new synthetic ligands that act as attractants, repellents, or antagonists to disrupt oviposition or mating behaviors. These molecules may also be used as lures for trapping or pest population monitoring. Knowledge of the spectral sensitivity of opsins should also guide the use of optimal trap colors, and while there is conservation for most of the opsin genes with Drosophila, the absence of the typically conserved blue opsin subfamily in medfly is a notable distinction that should be explored. More generally, an improved understanding of the genetic systems involved in fundamental biological processes should aid in the development of specific and more ecologically sound insecticides. The genomic data generated will also facilitate the development of specific tools for the detection of incipient resistance and the implementation of appropriate resistance management strategies.
Genetically modified strains are currently being developed for control of medfly and related tephritid species, and further advances in the effectiveness and safety of these strains will depend on the identification and isolation of stage, tissue, and sex-specific genes and their promoters, and the lethal effectors they will control. The RHG pro-apoptotic cell death gene family was identified in medfly and found to have a genomic organization analogous to Drosophila. Functional conservation of these genes is also expected, raising the possibility of using the reaper and grim genes, along with hid, for redundant secondary lethality [194]. SFPs present a large repertoire of potential targets for controlling reproduction, including peptides that might be modified for improved suppression of female multiple matings to enhance SIT.
Central to current gene modification protocols is the use of transposon-mediated germline transformation, for which new and highly efficient TE systems are an ongoing need. Thus, the relatively high euchromatic representation of all the DNA transposon superfamilies is encouraging for the discovery of new elements that may be used as vectors. However, these elements may also have the potential for cross-mobilizing related elements, some of which are in current use as transformation vectors. The full genome sequence now allows the identification of potential mobilizing and cross-mobilizing systems, which is critical to evaluating potential instability of transposon vectors for genome modification and mitigation of associated risks. Therefore, the lack of apparent mobilizing systems in the medfly genome for current vectors diminishes the potential for transgene instability and possible lateral inter-species transfer. This alleviates a serious concern for an environmental risk related to the release of genetically modified medflies.
The relatively high quality of this genome sequence is also a prerequisite for highly specific gene editing and the identification of specific genomic sites that can be used for insertional targeting that avoids deleterious genomic effects. Routine use of such target sites could be made most efficacious by initially introducing small recombination sites by gene editing that could be subsequently used for repetitive recombinase-mediated megabase transgene insertions and deletions [29, 30]. This would allow for genomic modifications that avoid position effects on transgene expression and insertional mutations that debilitate the host strain, resulting in enhanced functional studies and modified strains for the most effective and ecologically sound means of population control.
Abbreviations
20E:

20-hydroxyecdysone
AMP:

Antimicrobial peptides
ctx :

Ceratotoxin
CYP450:

Cytochrome P450
cysLGIC:

Cys-loop ligand-gated ion channel
dsx :

Doublesex
EST:

Expressed sequence tag
fru :

Fruitless
GNBP:

Gram-negative binding protein
GO:

Gene Ontology
GR:

Gustatory taste receptor
GST:

Glutathione S-transferase
HMM:

Hidden Markov Model
IAP:

Inhibitor of apoptosis
IGR:

Insect growth regulator
IPM:

Integrated pest management
IR:

Ionotropic receptor
JAMg:

Just_Annotate_My_genome
JHE:

Juvenile hormone esterase
LTR:

Long terminal repeat
nAChR:

Nicotinic acetylcholine receptor
OBP:

Odorant-binding protein
OR:

Odorant receptor
PGRP:

Peptidoglycan recognition protein
PRR:

Pattern recognition receptor
RDC:

Rhino, deadlock, cutoff
RHG:

Reaper, hid, grim
RMM:

RNA recognition motif
rpr :

Reaper
SFP:

Seminal fluid protein
SIT:

Sterile insect technique
ssx :

Sister-of-Sex-lethal
Sxl :

Sex-lethal
TE:

Transposable element
tra :

Transformer
tra-2 :

Transformer-2
tsl :

Temperature-sensitive lethal
TWDL:

Tweedle
WGS:

Whole genome sequencing
Declarations
Acknowledgements
Grateful appreciation is extended to Drs. Kenneth Vick and Kevin Hackett (USDA-ARS, National Program Staff) for their support of the initiation of this project, to Drs. A. Mintzas, D. Kritikou, A. Gariou-Papalexiou, P. Gourzi, E. Stratikopoulos, and A. Augustinos (University of Patras, Greece) for their contributions to the medfly cytogenetic map construction utilized for scaffold and transgene map localizations, and to the FAO/IAEA for support of this effort (to AZ).
Funding
Support of this project was provided by the U.S. Department of Agriculture (USDA), Agricultural Research Service (ARS), Animal and Plant Health Inspection Service (APHIS), and National Institute of Food and Agriculture (NIFA)-Biotechnology Risk Assessment Grants Program (grant no. 2011-39211-30769 to AMH) for funding the initial phase of this project, and to the National Institutes of Health (NIH)-National Human Genome Research Institute (NHGRI) for funding the medfly genome sequencing, assembly, and Maker 2.0 automated annotation as part of the i5K 30 genome pilot project (grant no. U54 HG003273 to RAG). The NIH Intramural Research Program, National Library of Medicine funded the NCBI Gnomon annotation and the USDA-National Agricultural Library (NAL) provided support for the WebApollo curation website. Support was provided for: toxin metabolism and insecticide resistance gene studies from MINECO, Spain (AGL2013-42632-R to FO and PH-C); microRNAs, horizontal gene transfer, and bacterial contaminant studies from the European Social Fund and National Strategic Reference Framework‐THALES (MIS375869 to KB, GT, AGH, and KM) and the U.S. National Science Foundation (DEB 1257053 to JHW); cuticle protein gene studies from USDA-NIFA (grant no. 2016-67012-24652 to AJR); sex-determination studies from L.R. Campania (grant 5/02, 2008 to GS); male reproduction and sexual differentiation studies from the FAO/IAEA (Technical Contract No.: 16966 to GGa) and Cariplo IMPROVE (to FS); and programmed cell death gene studies and genomic data analysis (to MFS) from the Emmy Noether program, DFG (SCHE 1833/1-1) and the LOEWE Center for Insect Biotechnology & Bioresources grant of the Hessen State Ministry of Higher Education, Research and the Arts (HMWK), Germany and from the USDA-NIFA-Biotechnology Risk Assessment Grants Program (grant no. 2015-33522-24094 to AMH).
Availability of data and materials
All genome sequence data are publicly available at the NCBI BioProject: PRJNA168120, and RNA-Seq transcriptome data at BioProject: PRJNA198743, with the genome assembly at NCBI accession number GCA_000347755.1 (see Table 1). Raw sequence data are available at the NCBI SRA site with accession numbers for each library (SRX275786–SRX275788 and SRX276046–SRX276048) and source material, as well as BioProject sites, listed in Additional file 2: Table S1. Annotation and gene model data including a WebApollo browser are available at the USDA-National Agricultural Library i5K Workspace (https://i5k.nal.usda.gov/Ceratitis_capitata). These and additional genomic resources can also be accessed at the BCM-HGSC sites: https://www.hgsc.bcm.edu/arthropods/mediterranean-fruit-fly-genome-project and ftp://ftp.hgsc.bcm.edu/I5K-pilot/Mediterranean_fruit_fly/.
Authors' contributions
AMH and SR conceived of and directed the project whose management was assisted by MFS, AP, and RAG. LMG reared the inbred ISPRA lines and extracted genomic DNA and RNA that was used for library construction, sequencing, assembly, and Maker annotations at HGSC by SR, SD, SLL, HC, HVD, HD, YH, JQ, SCM, DSTH, KCW, DMM, and RAG. Additional community RNA-Seq analysis was performed by GO, IC, and EAW; JAMg annotations were performed by AP and Gnomon (NCBI) annotations were directed by TDM that were provided for manual annotation at the USDA-NAL WebApollo site managed by MP and CC; AD, JHW, AP, TDM, GT, and KB identified and analyzed bacterial sequence contaminants; SG and SBS performed orthology and phylogeny analysis; AMH, AZ, and PH-C made scaffold map assignments; GT and KB performed symbiont horizontal gene transfer analysis; PS, PA, PWA, and AMH analyzed transposable elements; GGe, DK, MDP, ISV, and AGH manually annotated and analyzed microRNAs; LMG, FS, GS, PS, MM, ARM, and GGa manually annotated and analyzed odorant binding protein, odorant receptor, and seminal fluid protein genes; SDG and HMR manually annotated and analyzed gustatory and ionotrophic receptor genes; MF and JWJ manually annotated and analyzed opsin genes; AJR, AER, JPC, and JBB manually annotated and analyzed aquaporin and cuticle protein genes; PK, MR, and KM manually annotated and analyzed immunity-related genes; PC, FO, PH-C, MG-G, EU, and AG-A manually annotated and analyzed toxin metabolism and insecticide resistance genes (P450s, carboxylesterases, GSTs, cysLGICs, and sodium channels); MS and GS manually annotated and analyzed sex determination genes; and MFS and AMH manually annotated and analyzed programmed cell death genes. All authors read and approved the final manuscript.
Competing interests
The authors declare that they have no competing interests.
Consent for publication
Not applicable.
Ethics approval and consent to participate
Not applicable.
Open AccessThis article is distributed under the terms of the Creative Commons Attribution 4.0 International License (http://creativecommons.org/licenses/by/4.0/), which permits unrestricted use, distribution, and reproduction in any medium, provided you give appropriate credit to the original author(s) and the source, provide a link to the Creative Commons license, and indicate if changes were made. The Creative Commons Public Domain Dedication waiver (http://creativecommons.org/publicdomain/zero/1.0/) applies to the data made available in this article, unless otherwise stated.
Authors' Affiliations
(1)
Hawkesbury Institute for the Environment, Western Sydney University, Sydney, Australia
(2)
Justus-Liebig-University Giessen, Institute for Insect Biotechnology, Giessen, Germany
(3)
Department of Biological Sciences, Cal Poly Pomona, Pomona, USA
(4)
Department of Entomology and Center for Disease Vector Research, University of California Riverside, Riverside, USA
(5)
Interdepartmental Graduate Program in Genetics, Genomics & Bioinformatics, University of California Riverside, Riverside, USA
(6)
Department of Biological Sciences, University of Cincinnati, Cincinnati, USA
(7)
Insect Pest Control Laboratory, Joint FAO/IAEA Programme of Nuclear Techniques in Food and Agriculture, Seibersdorf, Austria
(8)
Department of Environmental and Natural Resources Management, University of Patras, Agrinio, Greece
(9)
Department of Environmental Biology, Centro de Investigaciones Biológicas, CSIC, Madrid, Spain
(10)
Human Genome Sequencing Center, Department of Human and Molecular Genetics, Baylor College of Medicine, Houston, USA
(11)
National Agricultural Library, USDA, Beltsville, USA
(12)
Georg-August-Universität Göttingen, Johann-Friedrich-Blumenbach-Institut für Zoologie und Anthropologie, Göttingen, Germany
(13)
Department of Biology, University of Rochester, Rochester, USA
(14)
Department of Biological Sciences, Wayne State University, Detroit, USA
(15)
Department of Biology and Biotechnology, University of Pavia, Pavia, Italy
(16)
USDA-ARS, Pacific Basin Agricultural Research Center, Hilo, USA
(17)
DIANA-Lab, Department of Electrical & Computer Engineering, University of Thessaly, 382 21 Volos, Greece and Hellenic Pasteur Institute, Athens, Greece
(18)
Department of Entomology, University of Illinois at Urbana-Champaign, Urbana, USA
(19)
Department of Biological Sciences, Oakland University, Rochester, USA
(20)
Department of Biochemistry and Biotechnology, University of Thessaly, Larissa, Greece
(21)
Department of Biology, University of Naples Federico II, Naples, Italy
(22)
National Center for Biotechnology Information, National Library of Medicine, National Institutes of Health, Bethesda, USA
(23)
Institute of Molecular Biology and Genetics, Biomedical Sciences Research Centre "Alexander Fleming", Vari, Greece
(24)
Department of Biology, University of Patras, Patras, Greece
(25)
USDA-ARS, Center for Medical, Agricultural, and Veterinary Entomology, Gainesville, USA