Full-length autonomous transposable elements are preferentially targeted by expression-dependent forms of RNA-directed DNA methylation
Received: 22 June 2016
Accepted: 26 July 2016
Published: 9 August 2016
Abstract
Background
Chromatin modifications such as DNA methylation are targeted to transposable elements by small RNAs in a process termed RNA-directed DNA methylation (RdDM). In plants, canonical RdDM functions through RNA polymerase IV to reinforce pre-existing transposable element silencing. Recent investigations have identified a "non-canonical" form of RdDM dependent on RNA polymerase II expression to initiate and re-establish silencing of active transposable elements. This expression-dependent RdDM mechanism functions through RNAi degradation of transposable element mRNAs into small RNAs guided by the RNA-dependent RNA polymerase 6 (RDR6) protein and is therefore referred to as RDR6-RdDM.
Results
We performed whole-genome MethylC-seq in 20 mutants that distinguish RdDM mechanisms when transposable elements are either transcriptionally silent or active. We identified a new mechanism of expression-dependent RdDM, which functions through DICER-LIKE3 (DCL3) but bypasses the requirement of both RNA polymerase IV and RDR6 (termed DCL3-RdDM). We found that RNA polymerase II expression-dependent forms of RdDM function on over 20 % of transcribed transposable elements, including the majority of full-length elements with all of the domains required for autonomous transposition. Lastly, we find that RDR6-RdDM preferentially targets long transposable elements due to the specificity of primary small RNAs to cleave full-length mRNAs.
Conclusions
Expression-dependent forms of RdDM function to critically target DNA methylation to full-length and transcriptionally active transposable elements, suggesting that these pathways are key to suppressing mobilization. This targeting specificity is initiated on the mRNA cleavage-level, yet manifested as chromatin-level silencing that in plants is epigenetically inherited from generation to generation.
Keywords
Cytosine methylationMethylC-seqRNA-directed DNA methylation (RdDM)Transposable element (TE)Small interfering RNA (siRNA)RNA interference (RNAi)MethylomeTE-silent contextTE-active contextDecrease in DNA methylation 1 (DDM1)
Background
Transposable elements (TEs) are mobile fragments of DNA that can generate mutations and genome instability. To repress TE activity and new mutations, cells target TEs for epigenetic transcriptional silencing. Small RNAs (sRNAs) are the triggers of epigenetic transcriptional silencing targeted to transposable elements (TEs) and transgenes. sRNAs are known to direct cytosine DNA methylation and histone tail post-translational modifications in both mice and plants, while in organisms that lack cytosine DNA methylation (such as fission yeast, C. elegans, and Drosophila) sRNAs direct only histone tail modifications (reviewed in [1]). The mechanism of small RNA-directed DNA methylation (RdDM) has been extensively investigated in the reference plant Arabidopsis, where a "canonical" form of RdDM has been uncovered (reviewed in [2]). This canonical form of RdDM begins with the transcription of the target locus by the RNA polymerase protein Pol IV, a plant-specific Pol II paralog [3], which generates a non-coding RNA that is immediately converted into double-stranded RNA (dsRNA) via RNA-dependent RNA polymerase 2 (RDR2). The Pol IV/RDR2 derived dsRNA is cleaved by the RNaseIII DICER protein DCL3 into 23–24 nucleotide (nt) small interfering RNAs (siRNAs) and these 24 nt siRNAs are incorporated into either the Argonaute 4 (AGO4) or AGO6 proteins [4]. In the nucleus, the siRNA-loaded AGO4/AGO6 can base pair with a nascent non-coding RNA still attached to its DNA template produced by Pol V, a second plant-specific paralog of Pol II. The Pol V transcript acts as a scaffold for protein assembly, and interaction between AGO4/6 and the Pol V transcript results in the recruitment of the protein DRM2 to methylate the cytosines of the corresponding locus.
Pol IV is recruited to and transcribes regions of the genome that have reduced histone acetylation, undergo CG-context maintenance methylation, and are enriched for H3K9me2 [5, 6], heterochromatic marks that decorate regions of the genome inhibited for mRNA production. Canonical Pol IV-targeted RdDM (Pol IV-RdDM) is known to reinforce DNA methylation at regions of TE heterochromatin adjacent to genes [7, 8]. Several laboratories have recently investigated how DNA methylation is initiated at a region of the genome that is actively producing an mRNA and is not already silenced. These investigations have uncovered various "non-canonical" mechanisms of RdDM, which do not rely on Pol IV, but rather are triggered by Pol II mRNA transcripts [9–13]. Pol II TE mRNAs can undergo degradation via endogenous RNAi into 21–22 nt siRNAs [14, 15]. In Arabidopsis, the TE mRNA is converted into dsRNA via RDR6, and this dsRNA is cleaved into 21–22 nt siRNAs via DCL4 and DCL2, respectively [15]. Originally thought to be only a post-transcriptional mechanism of silencing, several studies have determined that the degradation products of Pol II-derived mRNAs can trigger RdDM [9, 12, 13, 16]. The best characterized of these pathways is RDR6-RdDM, where the RDR6-dependent 21–22 nt siRNAs are incorporated into the AGO6 protein and drive RdDM in a Pol V and DRM2-dependent manner [16].
There are only a few known targets of RDR6-RdDM [12, 16]. This is due to the fact that this pathway acts on Pol II transcriptionally active regions of the genome and over time these regions become transcriptionally silenced and regulated by either Pol IV-RdDM or by the maintenance methylation pathway that is not dependent on small RNAs [7, 17]. Maintenance methylation occurs separately for each cytosine sequence context, with CG methylation propagated by MET1, CHG (where H = A, C or T) by CMT3, and CHH context methylation by CMT2 [17–19]. Like Pol IV, CMT2 and CMT3 are guided to previously silenced loci by the H3K9me2 heterochromatic mark [17, 20]. CHH context maintenance methylation is low compared to CG or CHG [17] and therefore RdDM (which targets all cytosine contexts equally) has traditionally been assayed by investigating the CHH methylation level [21, 22].
Maintenance methylation of TEs is coordinated by Decrease in DNA methylation 1 (DDM1) [23], a swi/snf family chromatin remodeling protein. DDM1 specifically regulates TEs and in ddm1 mutants TEs undergo loss of H3K9me2, CG DNA methylation, and heterochromatin condensation [23, 24]. This results in genome-wide TE transcriptional activation [23] and the triggering of the RNAi mechanism to degrade TE mRNAs into 21–22 nt siRNAs [15, 25]. In ddm1 mutant plants, TE transcriptional silencing cannot be regained and therefore the cell is stuck in a perpetual cycle of attempted re-silencing via RdDM. Re-targeting of TEs for silencing, and in particular CHH hyper-methylation, is a conserved consequence of TE activation via ddm1 mutation in Arabidopsis, maize, and rice [12, 26, 27]. ddm1 mutants display unmatched resolution of the mechanisms the cell uses to re-silence TEs [28, 29]. Investigation of ddm1 mutants lead to the discovery of RDR6-RdDM [12, 16]; however, the genome-wide roles RDR6-RdDM have been a continued question. For example, what are the additional targets and the overall role of RDR6-RdDM, is this the sole non-canonical RdDM mechanism that functions genome-wide, and why are particular TEs targeted to undergo non-canonical forms of RdDM while others are not? To address these questions, we created a genome-wide DNA methylation and small RNA dataset in 20 key RdDM mutants that span both the TE-silent and TE-active contexts, providing insight to the pathways the plant uses to target DNA methylation to specific TEs.
Discussion
DCL3-RdDM defines a new pathway of TE silencing
By using MethylC-seq and single-locus bisulfite sequencing, we identified and confirmed a novel RdDM pathway that acts via 24 nt siRNAs produced not from Pol IV transcripts, but rather presumably from Pol II transcripts cleaved by DCL3. This pathway is distinct from the Pol II-RDR6-DCL3 or Dicer-independent pathways previously described [35, 40]. On the whole-genome level, we found that this pathway acts on transcriptionally active TEs that are typically long but internally deleted versions of the full-length autonomous element. For Athila6A sub-family TEs, all individual TE targets of DCL3-RdDM are missing the internal promoter region (Fig. 4c, d), suggesting that the structure of the TE critically drives individual elements into this pathway. We focused on a single-locus example to define the precise protein requirements for siRNA production and targeting of DCL3-RdDM and we find that the upstream portion of the pathway is distinct from Pol IV-RdDM, while the downstream portion of the pathway (involving Pol V, AGO6, and DRM2) is conserved. We find that the DCL3-RdDM pathway is independent of RDR2 and RDR6, but it is unknown if this pathway functions completely independently of RNA-dependent RNA polymerization (RDR1, 3, 4, and 5 are untested). If RDR-independent, this pathway may function on only intra-molecular dsRNA generated from fold-back RNA hairpins [44]. The At5g52070 methylated region contains a short inverted repeat and a short palindrome sequence (Fig. 3a), but it is unknown if these features or this locus produces a fold-back dsRNA substrate for DCL3 processing. We investigated whether DCL3-RdDM target TEs are associated with palindromes or inverted repeats genome-wide; however, we did not detect a correlation (data not shown). In addition, we do not see an increase in 21–22 nt siRNA production in dcl3 mutants at the DCL3-RdDM target At5g52070 (Fig. 3b), suggesting that multiple DCL proteins are not competing for the same dsRNA substrate. These RNA substrates are likely produced by Pol II, as we detect more DCL3-RdDM in the TE-active context, DCL3-RdDM is enriched for targets in the transcriptionally competent TE subset, and the 24 nt siRNAs driving DCL3-RdDM are not dependent on Pol IV or Pol V (Fig. 3b). However, key insights, such as the developmental stage that DCL3-RdDM is active and whether DCL3-RdDM functions in the initiation and/or re-establishment of TE silencing, remain unknown.
Diversity of RdDM mechanisms
TEs are the genome-wide target of RdDM mechanisms [19, 45]. In this study we investigated RdDM mechanisms in both the wt TE-silent context, as well as a ddm1 mutant context with genome-wide transcriptionally active TEs. The ddm1 mutation prohibits the formation of the transcriptionally silenced state and hence the cell is in a perpetual cycle of attempted targeting of re-silencing via RdDM. This uncovered an unappreciated diversity in RdDM mechanisms that function on TE targets in the TE-active context. It is now clear in the RdDM field that many biogenesis mechanisms can produce small RNAs that are loaded into AGO proteins to participate in RdDM, including Pol IV/RDR2 24 nt siRNAs (Pol IV-RdDM), Pol IV-independent 24 nt siRNAs (DCL3-RdDM), 21–22 nt siRNAs via RDR6-RdDM, and Dicer-independent siRNAs. We found that the specific pathway targeting each TE is largely defined by the TE's structure. Our data demonstrate that the cell utilizes a number of distinct pathways to direct DNA methylation to active TEs; however, all of these mechanisms converge on one downstream chromatin modifying complex that includes Pol V and DRM2.
Pol IV transcribes silent TEs [5] and thus Pol IV-RdDM functions in the TE-silent context to maintain DNA methylation at particular short TEs near genes, which may require constant re-targeting to maintain the boundary between the heterochromatic TE fragment and the euchromatic neighboring gene [8] (reviewed in [46]). In the TE-silent context, RDR6-RdDM and DCL3-RdDM do not function on many TEs, presumably due to the lack of Pol II-derived transcripts. In contrast, in the TE-active context, DCL3-RdDM and RDR6-RdDM function on 20 % of assayed TEs (and 40 % of transcriptionally competent TEs). In particular, DCL3- and RDR6-RdDM target long TEs which are farther from genes (within the centromeres/pericentromeres); however, DCL3-RdDM targets TEs with internal deletions, while full-length elements are targeted specifically by RDR6-RdDM (at least for the well-annotated Athila6A family). This phenomenon is likely conserved in other plants, as in maize an active autonomous TE is regulated by RDR6-RdDM [47]. However, there are notable exceptions to these general trends, demonstrating that cases exist where TE family-based regulatory dynamics can outweigh the TE size/structure-based regulation shown in Figs. 4 and 5. For example, all RdDM pathways regulate many small fragmented TEs (including RDR6-RdDM), and many full-length ONSEN family TEs are regulated by Pol IV-RdDM even in ddm1 mutants. How and when TE family-based regulation outweighs other trends in genome-wide regulation of TEs remains a key question to be addressed.
Within the specific regulation of individual TE copies, we found that RdDM mechanisms can compensate for each other. In the TE-active context, when Pol IV is mutated many TEs display CHH methylation that is now dependent on RDR6 and vice versa Pol IV-RdDM compensation is detected in rdr6 mutants. However, this compensation effect was not detected unless both Pol IV and RDR6 were mutated at the same time. This compensation may be due to a competition between Pol IV and Pol II for DNA substrates [37, 48]. Thus, only when Pol IV is mutated would Pol II transcribe these TEs into substrates for RDR6-RdDM.
Specificity of full-length TEs for RDR6-RdDM
Because many active full-length structurally autonomous TEs are regulated by RDR6-RdDM, a major question was what drives this specificity. Primary small RNAs are produced either from TEs themselves or elsewhere in the genome by a mechanism similar to microRNA production [
29
]. Our analysis suggests a model whereby full-length TEs are more likely regulated by RDR6-RdDM due to the specificity of full-length TE mRNAs for cleavage by primary sRNAs. Full-length TE mRNAs may circumvent RNA surveillance mechanisms that target short fragmented RNAs, allowing only the full-length high-quality TE mRNAs to survive to the point where they can be targeted by primary sRNAs (see model in Fig.
7
). The nature of the filter responsible for shielding fragmented TE mRNAs from siRNA cleavage is currently unknown (Fig.
7
); however, it may be as simple as the nuclear envelope acting as a mRNA quality control filter, allowing full-length TE mRNAs export into the cytoplasm (for cleavage by sRNAs), while the fragmented TE mRNAs are not exported and instead degraded by alternative mechanisms. XRN endonuclease and exosome RNA degradation competes with RNAi [
49
] and the mRNAs produced from TE fragments may be degraded by these mechanisms rather than be targeted by a primary sRNAs and enter into RNAi. In the TE-active context, once cleaved, the TE mRNAs are targeted by RDR6 and abundant secondary siRNAs are produced. These secondary siRNAs promote additional rounds of RNAi of TE mRNAs (via AGO1), as well as drive RDR6-RdDM (via AGO6).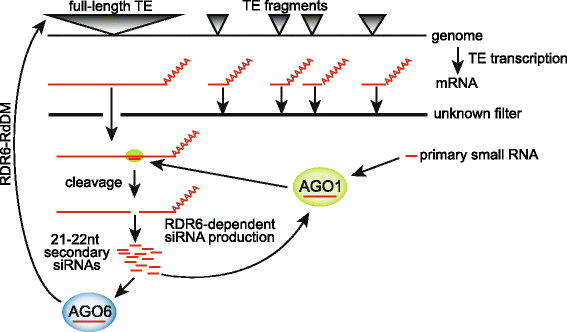 A major question is why some mRNA cleavage events from primary sRNAs generate secondary siRNAs while others do not. For example, some TE mRNAs are cleaved by primary sRNAs in both the TE-silent and TE-active contexts; however, secondary siRNAs are only produced in the TE-active context. We determined that these TE mRNAs are cleaved at new positions by new primary small RNAs in the TE-active context and this is responsible for their secondary siRNA production via RDR6. One hypothesis in the field is that the size of the primary small RNA (21 vs. 22 nt) drives the distinction between secondary siRNA production [43]; however, we did not detect any size shift in the small RNAs (Fig. 6g, h and Additional file 10: Figure S9D). Another hypothesis is that multiple primary cleavage events on the same mRNA triggers secondary siRNA production [42]; however, we did not detect a correlation between multiple cleavage sites and secondary siRNA production. Therefore, how RDR6 is recruited to some cleaved transcripts to generate secondary siRNAs remains a key open question in the field.
Conclusions
The tight transcriptional silencing of TEs in the reference strain of Arabidopsis has produced a general lack of appreciation for the diversity of RdDM mechanisms. We focused on TE silencing mechanisms in both the TE-silent and TE-active contexts and conclude that multiple small RNA-generating mechanisms can target RdDM when TEs are transcriptionally active. This includes the DCL3-RdDM pathway, which processes 24 nt siRNAs for RdDM independent of Pol IV. We found that TE structure and length are key determinants for RdDM pathway specificity and in particular RDR6-RdDM targets many of the full-length and structurally autonomous TEs in the genome. The targeting preference of RDR6-RdDM for full-length autonomous TEs is generated from the specificity of full-length TE mRNAs to be cleaved by primary small RNAs and therefore this RNA cleavage specificity drives the initiation of long-term epigenetic repression of TE mobility.
Methods
Plant material
All plants used in this study are in the Col ecotype background of Arabidopsis thaliana. Plants were grown in long-day (18-h light) conditions at 22 °C and stage 1–12 inflorescence tissue (staging as in [50]) was used for all experiments and sequencing. The alleles of the mutants are shown in Additional file 11: Table S1.
MethylC-seq
DNA was isolated using fractional precipitation followed by phenol-chloroform extraction and RNase A treatment. A total of 1 ug of DNA was used to prepare libraries as previously described [51]. Single-end Illumina sequencing of 150 bp was performed at the University of Georgia Genomics Facility using an Illumina NextSeq500 instrument.
Mapping of MethylC-seq data
Sequencing reads were trimmed for adapters, preprocessed to remove low quality reads, and aligned to the A. thaliana TAIR10 reference genome as previously described [52, 53]. Two strategies were performed to map these data: (1) uniquely mapping: any reads that mapped to more than one location were discarded (-m 1); and (2) multi-mapping: reads that mapped to multiple locations were retained (-a). Both strategies do not allow PCR duplicated reads. We calculated the average TE mappability from the uniquely mapping methylation dataset and found 67.5 % of TEs are perfectly (100 %) mappable, whereas another 32.1 % are semi-mappable, and 0.36 % are not mappable (Additional file 2: Results and Methods and Additional file 3: Figure S2). Therefore, if the read length is long enough (in this study, the read size is 150 bp) and the repetitive fraction of a genome is small/simple/divergent enough (the Arabidopsis genome), then using the unique mapping strategy can provide sufficient coverage and mappability to interrogate TE methylation dynamics, with the added benefit of determining the unique methylation states of individual TE copies. All data analyses shown in this study (excluding Additional file 3: Figure S2) are produced from the uniquely mapping strategy. Sequencing and mapping statistics of our MethylC-seq data is shown in Additional file 11: Table S1.
DMR identification
DMRs were identified between all datasets as previously described [54]. The maximum physical distance to combine two differentially methylated sites (DMSs) was set to 250 bp. DMRs with at least four DMSs were reported and used for subsequent analyses.
Methylation level calculation
The weighted methylation level of genomic features (TE, gene, or DMR) was calculated as described previously [55].
Meta-plots
For each individual entity (TE, gene, or DMR), the average CHH methylation percentage was calculated in 100 bp windows across the length of the entity and a 2 kb neighboring region on either side. The entities are either aligned at the 5′ end or the 3′ end and the average methylation percentage for all the elements was calculated for each 100 bp window. For DMRs, there is no defined 5′ or 3′ end and hence only one edge is shown. For any given window, the variation in methylation across all elements was used to calculate the 95 % confidence interval.
RdDM mechanism categorization
Only those TEs which are covered (at least one reported cytosine) in all genotypes were used for RdDM categorization and further analysis. For each TE, we calculated the average CHH methylation and only this specific cytosine context was used for TE categorization. TEs with less than 1 % CHH methylation in wt Col were classified into the "no CHH" category. For all the other RdDM categories, the following criteria were used for classification. Pol IV-RdDM: TEs that lose >2-fold methylation in pol IV and pol V compared to wt Col but do not lose >2-fold methylation in rdr6 or pol IV rdr6 compared to wt Col or pol IV, respectively. RDR6-RdDM: TEs that lose >2-fold CHH methylation in rdr6 and pol V compared to wt Col, but not pol IV or pol IV rdr6 compared to wt Col or rdr6, respectively. DCL3-RdDM: TEs that lose >2-fold CHH methylation in dcl3 and pol V but not in pol IV or rdr6 or pol IV rdr6 double mutants. The Pol IV- and RDR6-RdDM co-regulated category: TEs that lose CHH methylation in the pol IV rdr6 double mutant compared to wt Col but do not belong to either Pol IV- or RDR6-RdDM categories. No RdDM: TEs with greater than 1 % CHH methylation but do not lose >2-fold CHH methylation in a pol V mutant or could not be categorized into any of the above-mentioned RdDM categories. For the TE-active context, the corresponding ddm1 double mutants were compared to the ddm1 single mutant for categorization. The heat map shown in Fig. 2e was created using the average methylation for each TE in each genotype using the heatmap.2 function of the gplots package in R. The TEs were sorted by their average CHH methylation in each RdDM category for either the TE-silent or the TE-active context.
Small RNA data mapping
Small RNAs were isolated, sequenced, and processed as in [16]. Low quality and reads from rRNA and tRNAs were removed. Bowtie (version 1.1.1) [56] was used to map the sRNAs to specific regions or the whole genome. For sRNA production, only uniquely and perfectly mapping reads were considered (bowtie parameters: -v 0 -m 1). Reads per million (RPM) for each size class of mapped sRNAs was calculated by normalizing the number of raw mapped reads to the total genome-matched (non-tRNA/rRNA) 18–28 nt reads of the specific sRNA library. For reads per kilobase per million (RPKM), the RPM value was normalized to the total length of the region(s) that the sRNAs were mapped to. Heat maps in Fig. 2 were generated using the heatmap.2 function of gplots package in R.
TE consensus element alignments
For Fig. 4, the Athila6A consensus sequence from GIRI RepBase was used [57]. We aligned all the TAIR10 TEs annotated as Athila6A to the consensus sequence using Blastn. The number of TEs undergoing a specific RdDM mechanism was calculated and the fraction of those TEs having a specific Athila6A annotation feature is shown in the likelihood map in Fig. 4d. In Fig. 6a–c, length of each TE in the TAIR10 annotation was compared to its specific autonomous consensus element sequence from GIRI RepBase. TEs were divided into full-length (>80 % of autonomous consensus element length) and TE fragments (<20 % length).
LTR domain annotation and analysis
To identify the TEs with one or more of the essential retrotransposition domains, the TAIR10 TE annotation was used to predict all possible LTR retrotransposon peptide fragments (all reading frames split by stop codons). The peptides were used to query in the HMM domain libraries [58] using hmmsearch [59]. Only hits covering more than 90 % of the reference essential retrotransposition HMM domains were considered. LTRs were predicted using TRsearch from REPET [60], which identifies LTR pairs within a single element. This identified 407 LTR pairs, which were used as a blastn library to identify 894 single LTRs on fragmented elements. LTRs found within the internal portion (farther than 50 bp from either end) of a TE element were discarded. The frequency of each essential domain (number of TEs with a specific domain/total number of TEs) was calculated for all TEs (expected frequency) and for TEs in each specific RdDM category (observed frequency). The ratio of observed over expected frequency is shown as a heat map in Fig. 5a.
mRNA cleavage data analysis
Published and processed data that report the sRNA and its detected PARE signature from [29] were used to assay mRNA cleavage. Only cleavage sites with p value < 0.05 were considered. From this dataset, we determined if one specific TE mRNA is being cleaved at one or multiple sites.
Identification of transcriptionally competent TEs
TEs were identified with at least one uniquely matching RPM in ddm1 RNA-seq (GSE38286) [61], at least ten uniquely matching RPM of 21–22 nt (Pol II-derived) siRNAs in ddm1 (GSE57191) [16], or any evidence of mRNA cleavage in ddm1 or ddm1 rdr6 in GSE52342 [29].
Declarations
Acknowledgments
The authors thank Eric Roose for his laboratory assistance and Greg Booton for advice on statistics.
Funding
This work was supported by NIH grant R00GM100000 to RJS and NSF grant MCB-1252370 to RKS.
Availability of data and materials
The DNA methylation dataset created for this publication (GSE79746) and the small RNAs used in this study (GSE57191 [16], GSE41755 [12], GSE61439 [34], and GSE79780) are available in the NCBI GEO repository.
Authors' contributions
KP and RKS designed the experiment, created the double mutant lines, and isolated the nucleic acid. LJ, DAN, and RJS performed MethylC-seq and processed the data. KP performed sRNA-seq and processed the data. KP analyzed the MethylC-seq and sRNA-seq data with contributions from LJ and JD for specific analyses. KP and RKS prepared the manuscript. All authors read and approved the final manuscript.
Competing interests
The authors declare that they have no competing interests.
Ethics approval and consent to participate
Not applicable.
Open AccessThis article is distributed under the terms of the Creative Commons Attribution 4.0 International License (http://creativecommons.org/licenses/by/4.0/), which permits unrestricted use, distribution, and reproduction in any medium, provided you give appropriate credit to the original author(s) and the source, provide a link to the Creative Commons license, and indicate if changes were made. The Creative Commons Public Domain Dedication waiver (http://creativecommons.org/publicdomain/zero/1.0/) applies to the data made available in this article, unless otherwise stated.
Authors' Affiliations
(1)
Department of Molecular Genetics, The Ohio State University, Columbus, USA
(2)
Institute of Bioinformatics, University of Georgia, Athens, USA
(3)
Department of Genetics, University of Georgia, Athens, USA