High-performance web services for querying gene and variant annotation
Received: 7 January 2016
Accepted: 14 April 2016
Published: 6 May 2016
Abstract
Efficient tools for data management and integration are essential for many aspects of high-throughput biology. In particular, annotations of genes and human genetic variants are commonly used but highly fragmented across many resources. Here, we describe MyGene.info and MyVariant.info, high-performance web services for querying gene and variant annotation information. These web services are currently accessed more than three million times per month. They also demonstrate a generalizable cloud-based model for organizing and querying biological annotation information. MyGene.info and MyVariant.info are provided as high-performance web services, accessible at http://mygene.info and http://myvariant.info. Both are offered free of charge to the research community.
Keywords
AnnotationGeneVariantAPICloudRepositoryDatabase
Background
The accumulation of biomedical knowledge is growing exponentially. There has been tremendous effort to structure research findings as annotations on biological entities (e.g., genes, genetic variants, and pathways). However, these annotations are fragmented among many resources that range greatly in terms of size, funding, and visibility (see, e.g., Ensembl [1], UniProt [2], PROSITE [3], and Reactome [4]). Tools for knowledge integration enable more efficient analysis of genome-scale data sets and discovery of relationships between biological entities.
Bioinformaticians facing data integration problems generally pursue one of two strategies: data warehousing or data federation. Data warehousing involves downloading flat files from various sources, writing parsers to process the files, and then loading the parsed data into a local database. This strategy has the advantage of very high performance, but it also requires significant initial effort to write the parsers and ongoing effort to keep the resource up to date. On the other hand, data federation works by accessing remote data resources through web services. Federated data solutions are always up to date, but extra care is required to maintain the links, and large queries may take a long time to return due to server and network limitations. Moreover, the dependability of federated solutions is entirely dependent on the stability of the remote resources.
Results and Discussion
Here we present an alternative solution for integrating annotations on genes and human variants. MyGene.info and MyVariant.info are open source, high-performance, and continuously updated data application programming interfaces (APIs) for accessing comprehensive, structured gene and variant annotations. These resources are offered as cloud-based web service endpoints with the goal of providing "annotation as a service." MyGene.info and MyVariant.info are centralized repositories for aggregating and serving dispersed annotation data. Both are free of charge for use by the research community.
Other centralized resources for gene and variant annotations currently exist for genes (e.g., Bioconductor AnnotationData Packages [5] and Biomart [6]) and variants (e.g., ANNOVAR [7]). Relative to these existing tools, MyGene.info and MyVariant.info have several advantages. First, a local database is not required, reducing setup, administration, and maintenance costs. Second, we provide a high-performance API that allows real-time queries in analysis pipelines or web applications.
Data integration
MyGene.info is maintained as a comprehensive and up-to-date repository for gene annotations. It integrates data from large, centralized databases as well as smaller, more specialized sources. Each data source has its own data importer, converting external data sources to a list of objects in JavaScript Object Notation (JSON) format. Each individual JSON object uses the National Center for Biotechnology (NCBI) gene ID [
8
] as the preferred primary key. The output of each parser is stored in a MongoDB instance with a timestamp recorded for each individual annotation object, and then all objects with the same primary key are combined into a single annotation object. In addition, we have built a scheduling system that automates the updates for each data source according to its own schedule (see Fig.
1
). Currently, MyGene.info provides more than 200 gene-specific annotation fields ([
9
] and Additional file
1
: Table S1) covering more than 13 million genes for more than 15,000 species [
10
].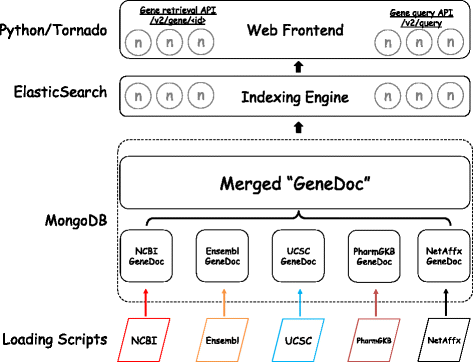 MyVariant.info is built with a similar design and architecture as MyGene.info, but it focuses specifically on annotations of human genetic variants (Additional file 2: Figure S1). We utilize the nomenclature from the Human Genome Variation Society (HGVS) [11] to define the primary key in MyVariant.info (see Methods for specific rules). To prevent incorrect usage of HGVS IDs that could lead to potential errors in clinical interpretation, we also developed and implemented a variant validation function to ensure that all variant IDs included in MyVariant.info strictly follow HGVS guidelines. Currently, MyVariant.info contains more than 500 variant-specific annotation types ([12] and Additional file 3: Table S2) from dozens of resources, covering more than 334 million unique variants [13], including both coding and non-coding variants.
Web services
Performance, scalability, and stability are three key features of a successful web service provider. We built an Elasticsearch-based cluster to index the underlying JSON objects for both MyGene.info and MyVariant.info. This indexing engine provides both superior query performance and rich query syntax to handle a large amount of concurrent queries for a variety of use cases. The Elasticsearch cluster also comes with inherent scalability, so that we can dynamically adjust the size of the cluster to accommodate increased bandwidth as needed. For example, the MyGene.info system is currently hosted on the Amazon EC2 platform with four moderate servers, which based on our tests, can handle traffic from >5000 concurrent users for approximately 10,000 requests per minute. Greater than 95 % of actual user requests take less than 30 ms to process (Additional file 2: Figure S2). This dynamic cluster setup also promotes stability of these services by allowing us to perform maintenance on individual nodes without bringing down the whole system.
Since the release of the v2 API (July 2013), MyGene.info has accumulated more than 133 million requests, and it currently averages more than 3 million requests per month. Primary users include public resources like BioGPS [14], the Monarch Initiative [15], and CIViC [16]. In addition, numerous individual users incorporate MyGene.info into their bioinformatics analysis pipelines. According to our usage monitoring, approximately 30 % of traffic comes from our BioGPS application, while 70 % of traffic comes externally from more than 6000 unique IP addresses. The MyVariant.info API was launched in June 2015. To date, MyVariant.info has accumulated more than 1.5 million user queries.
Use case
To demonstrate their utility, we used MyVariant.info and MyGene.info to reimplement a typical analysis pipeline for interpreting exome sequencing results and identifying candidate genes for a rare Mendelian disease. In 2010, Ng et al. identified DHODH mutations as the genetic cause for Miller syndrome [17]. In their exome analysis, genes with nonsynonymous (NS) variants, splice acceptor and donor site mutations (SS), and coding indels (I) were first identified. Next, they filtered for genes containing NS/SS/I variants in all four sequenced samples. Previously observed variants in dbSNP129 [18], the 1000 Genomes Project [19], or HapMap were excluded. PolyPhen predictions [20] were used to prioritize variants that were predicted to be damaging. This process undoubtedly involved downloading, parsing, and analyzing annotation data from multiple databases, representing a significant investment of time and effort.
Using the MyGene.info and MyVariant.info R packages alone, we are able to implement an updated version of this pipeline: about 50 lines of code, requiring no local installation of variant annotation databases or software tools (see Fig.
2
, [
21
], and Additional file
2
: Supplementary Note 1). We first filtered for NS/SS/I variants and removed variants observed in the 1000 Genomes Project (as in [
17
]). We also incorporated an allele frequency filter based on data from the Exome Aggregation Consortium [
22
], filtered for candidate genes involved in metabolic processes ("GO:0008152") based on Gene Ontology annotations, and ranked candidate genes based on Combined Annotation Dependent Depletion (CADD) score [
23
] (an estimate of pathogenicity). After implementing this workflow for the Miller syndrome study, we were left with only five candidate genes, including the causal gene
DHODH
. In addition, since MyVariant.info contains comprehensive and up-to-date variant annotations, it offers users the flexibility to further tailor this workflow based on other annotation fields (e.g., SIFT score [
24
], PolyPhen score [
20
], and clinical significance from ClinVar [
25
], etc.).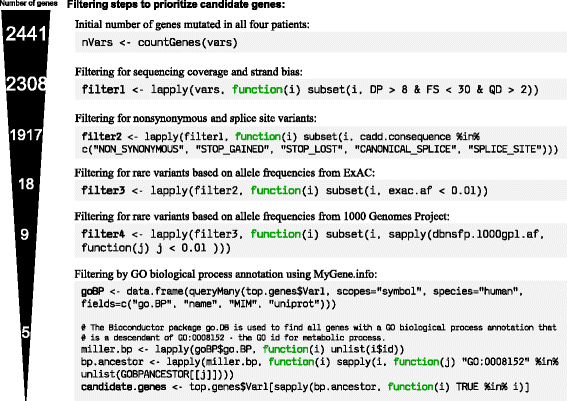 The utility of MyGene.info and MyVariant.info extends beyond this particular pipeline for exome sequencing analysis. Users can search for genes or variants using a wide variety of identifiers, and annotations can be retrieved for either single entities or lists. Users can also perform data-dependent queries (e.g., to find all variants with ExAC allele frequencies below 0.05 in the gene BRCA1). Queries can be performed through the web-based API or by using data access libraries for R or Python. These tools are flexible enough to incorporate into custom workflows, as well as responsive enough to perform real-time queries from other web applications. Finally, although MyGene.info and MyVariant.info focus on genes and human genetic variants, the underlying open source infrastructure is easily extensible to any type of biological entity.
Conclusions
MyGene.info (http://mygene.info) and MyVariant.info (http://myvariant.info) are provided as high-performance web services for querying gene and variant annotation information, currently with over three million user requests per month.
Declarations
Acknowledgements
The authors would like to acknowledge the valuable input from Dr. Robin Haw at the First Network of BioThings Hackathon.
Funding
This work was supported by the US National Institute of Health (grants U01HG008473 to CW, GM083924 and U54GM114833 to AIS, U01HG006476 to AT, and K22CA188163 to OLG). This work was also supported by the Scripps Translational Science Institute with an NIH-NCATS Clinical and Translational Science Award (CTSA; 5 UL1 TR001114).
Open AccessThis article is distributed under the terms of the Creative Commons Attribution 4.0 International License (http://creativecommons.org/licenses/by/4.0/), which permits unrestricted use, distribution, and reproduction in any medium, provided you give appropriate credit to the original author(s) and the source, provide a link to the Creative Commons license, and indicate if changes were made. The Creative Commons Public Domain Dedication waiver (http://creativecommons.org/publicdomain/zero/1.0/) applies to the data made available in this article, unless otherwise stated.
Authors' Affiliations
(1)
Department of Molecular and Experimental Medicine, The Scripps Research Institute, La Jolla, USA
(2)
Current address: Avera Cancer Institute, La Jolla, USA
(3)
Department of Biomedical Informatics and Medical Education, The University of Washington, Seattle, USA
(4)
McDonnell Genome Institute, Washington University School of Medicine, St. Louis, USA
(5)
Department of Integrative Structural and Computational Biology, The Scripps Research Institute, La Jolla, USA
(6)
The Scripps Translational Science Institute, The Scripps Research Institute, La Jolla, USA
(7)
Center for Research in Biological Systems, University of California San Diego, La Jolla, USA
(8)
Lawrence Berkeley National Laboratory, Berkeley, USA