CIRI: an efficient and unbiased algorithm for de novo circular RNA identification
Received: 22 September 2014
Accepted: 12 December 2014
Published: 13 January 2015
Abstract
Recent studies reveal that circular RNAs (circRNAs) are a novel class of abundant, stable and ubiquitous noncoding RNA molecules in animals. Comprehensive detection of circRNAs from high-throughput transcriptome data is an initial and crucial step to study their biogenesis and function. Here, we present a novel chiastic clipping signal-based algorithm, CIRI, to unbiasedly and accurately detect circRNAs from transcriptome data by employing multiple filtration strategies. By applying CIRI to ENCODE RNA-seq data, we for the first time identify and experimentally validate the prevalence of intronic/intergenic circRNAs as well as fragments specific to them in the human transcriptome.
Keywords
False Discovery RateRead LengthSplice SignalShort ExonLinear Transcript
Background
The past 20 years have witnessed much progress in the study of RNAs [1,2]. A large proportion of known RNAs were proved to undertake diverse important biological functions. Circular RNA (circRNA), one of the latest star RNAs, is an RNA molecule with ends covalently linked in a circle that has been discovered in all domains of life with distinct sizes and sources [3-8]. While in eukaryotes circRNAs were often regarded as transcriptional noise, such as products of mis-splicing events [9], recent studies using high-throughput RNA-seq data analysis and corresponding experimental validation have proved that they actually represent a class of abundant, stable and ubiquitous RNAs in animals [10-13]. Their high abundance and evolutionary conservation between species suggest important functions, and studies subsequently revealed that a subset of them function as microRNA sponges [11,14]. Nonetheless, the functions of the majority of circRNAs still remain unknown and there are few models of their mechanism of formation, which prevents model-oriented experimental validation to solve the circRNA mystery.
Our ignorance about circRNAs is partly due to an insufficiency of sequencing data specifically aimed at circRNA detection. In contrast to the scarcity of these data sets, large amounts of RNA-seq data have been generated using high throughput sequencing technology. Analyzing circRNAs identified from enormous RNA-seq data combined with sequencing data generated from additional samples has been adopted in several studies [11,13] and will probably continue to be a commonly used approach in further studies on circRNAs. Thus, an all-round computational tool for unbiased identification of circRNAs from various RNA-seq data sets becomes necessary. Development of such a detection tool, however, is difficult due to the non-uniformity of RNA-seq data sets and the complex nature of eukaryotic transcription: (i) a large proportion of circRNAs have relatively low abundance compared with their linear counterparts [10,15], while most RNA-seq data were generated without a circRNA enrichment step, such as RNase R treatment, which makes it difficult to accurately distinguish circRNAs from false positives caused by noise in RNA-seq data; (ii) existing annotations of reference genomes were mainly based on linear RNA transcript analyses, which is not applicable for circRNA identification, and non-model organisms often have incomplete gene annotation or even lack gene annotation; (iii) read lengths vary in different sequencing data sets, which challenges unbiased identification of circRNAs; (iv) complexities of eukaryotic transcription may generate other non-canonical transcripts, such as lariats and fusion genes, in which corresponding reads similar to circular junctions may lead to false discoveries.
Therefore, current algorithms for circRNA detection have been mainly developed for certain data sets, which restricts their utility as a universal approach. In 2012, Salzman et al. [13] proposed an annotation-dependent algorithm in which circRNAs were detected based on the alignment of reads to a customized database of annotated exon boundaries. They also improved the algorithm in a more recent report by adding false discovery rate (FDR)-controlled filtration based on statistics of alignment quality scores [10]. Nevertheless, their approach necessitates annotation and is not, therefore, applicable to species that are incompletely annotated. Besides, the filtration based on statistics may not be effective on low coverage regions or most RNA-seq data that is not sequenced deeply enough. Memczak et al. [11] utilized GT-AG splicing signals flanking exons as a filter for de novo identification of circRNAs; most recently, a similar pipeline was used to search for microRNA-sponge candidate circRNAs [16]. However, both algorithms adopt a two-segment alignment of split reads, which may lead to an inability to detect certain types of circRNAs with more complicated alignments (for example, short exon-flanking circRNAs). Moreover, the filtration strategy employed in these algorithms is insufficient for removal of false positives. Jeck et al. [12] adopted another strategy, which compares untreated and RNase-treated sequencing results to confirm the existence of circRNA candidates and remove false positives. This approach is sensitive and able to estimate the relative abundance of circRNAs. However, it may introduce systematic bias in the enrichment procedure, and also is not applicable to the majority of currently available RNA-seq data generated without circRNA enrichment.
Compared with circRNA detection algorithms, mapping algorithms have a much longer history of development, and some of them were specifically designed for split and local alignment. BWA-MEM [17] implements a local alignment by seeding with maximal exact matches and extension with an affine-gap algorithm, which provides for fast speed and high accuracy. Another algorithm, segemehl [18], uses an enhanced suffix array for seeding and was reported to outperform its competitors on splice site detection. Because circRNAs are characterized by circular junctions, which resemble splicing and usually produce multiple alignments during read mapping, these mature mapping algorithms may provide large improvements in accuracy and efficiency and may make unbiased detection of circRNAs possible. Indeed, an auxiliary script in segemehl simply summarizes and reports junctions of circular candidates as well as splice sites. However, without strategies to identify sequential features peculiar to circRNAs, large amounts of false positives are unavoidable.
In this article, we present a comprehensive computational tool for circRNA identification and annotation from RNA-seq reads. In contrast to other annotation- or circRNA enrichment-dependent algorithms, this method employs a novel algorithm based on paired chiastic clipping (PCC) signal detection in the Sequence Alignment/Map (SAM) of BWA-MEM combined with systematic filtering to remove false positives. Application of our algorithm to existing and newly generated sequencing data in this study combined with experimental validation demonstrate its reliability and potential for further studies on circRNAs.
Results
Our circRNA identification tool, named 'CIRI' (CircRNA Identifier), scans SAM files twice and collects sufficient information to identify and characterize circRNAs (Figure
1
). Briefly, during the first scanning of SAM alignment, CIRI detects junction reads with PCC signals that reflect a circRNA candidate. Preliminary filtering is implemented using paired-end mapping (PEM) and GT-AG splicing signals for the junctions. After clustering junction reads and recording each circRNA candidate, CIRI scans the SAM alignment again to detect additional junction reads and meanwhile performs further filtering to eliminate false positive candidates resulting from incorrectly mapped reads of homologous genes or repetitive sequences. Finally, identified circRNAs are output with annotation information. Details of the CIRI algorithm are provided in
Materials and methods
.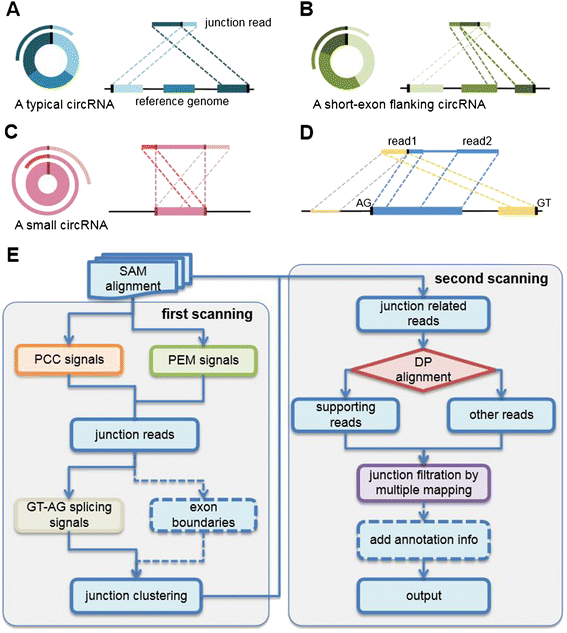 Discussion
CIRI provides an annotation-independent approach for circRNA detection by employing a de novo algorithm. Considering there is little knowledge and few hypotheses on the mechanism of formation of circRNAs at present, this approach can detect novel circRNA candidates for experimental validation and hypothesis generation. In particular, CIRI has the following indispensable advantages over annotation-dependent algorithms: (i) it is able to detect circRNAs transcribed from intronic or intergenic genomic regions; (ii) and it is applicable to sequencing data of eukaryotes that are not well annotated and or even with no annotation.
Conclusion
In this study we propose a novel algorithm, CIRI, that is able to detect circRNAs in a genome-wide range, including intronic and intergenic circRNAs. It does not require RNA-seq data generated after a circRNA enrichment step, such as RNase treatment, or an annotation file as input, and it is applicable to almost all commonly generated read lengths in various sequencing platforms. Systematic filtering in the algorithm ensures a low false positive rate without sacrificing the sensitivity of detecting non-exonic circRNAs and small circRNAs. Extensive simulation studies showed that CIRI has an excellent and unbiased performance with regard to both sensitivity and FDR. A detailed analysis of CIRI output from ENCODE RNA-seq data also revealed new characteristics of circRNAs, including the prevalence of intronic and intergenic circRNAs, which suggests our approach will be a powerful tool for detection and annotation of circRNAs and helpful for further exploration of circRNAs. Since the knockout of ICFs in non-exonic circRNAs does not affect their linear counterparts, the intronic and intergenic circRNAs detected in this study provide good targets for further functional studies.
Abbreviations
bp:

base pair
circRNA:

circular RNA
DP:

dynamic programming
FDR:

false discovery rate
ICF:

intronic/intergenic circRNA fragment
KEGG:

Kyoto Encyclopedia of Genes and Genomes
PCC:

paired chiastic clipping
PCR:

polymerase chain reaction
PEM:

paired-end mapping
SAM:

Sequence Alignment/Map
Declarations
Acknowledgement
We thank Dr Lijuan Chen, Wanshi Cai and Jialong Liang for preparing the HeLa cells and Dr Ji Qi for providing RNase R and helpful discussions. We also thank two anonymous reviewers for critical comments. This work was supported by NSFC grants (31100952, 91131013) and CAS grants to FZ.
Authors' Affiliations
(1)
Computational Genomics Lab, Beijing Institutes of Life Science, Chinese Academy of Sciences, Beijing, China
(2)
University of Chinese Academy of Sciences, Beijing, China
Copyright
© Gao et al.; licensee BioMed Central. 2015
This is an Open Access article distributed under the terms of the Creative Commons Attribution License (http://creativecommons.org/licenses/by/4.0), which permits unrestricted use, distribution, and reproduction in any medium, provided the original work is properly credited. The Creative Commons Public Domain Dedication waiver (http://creativecommons.org/publicdomain/zero/1.0/) applies to the data made available in this article, unless otherwise stated.