The importance of study design for detecting differentially abundant features in high-throughput experiments
Received: 12 September 2014
Accepted: 3 November 2014
Published: 3 December 2014
Abstract
High-throughput assays, such as RNA-seq, to detect differential abundance are widely used. Variable performance across statistical tests, normalizations, and conditions leads to resource wastage and reduced sensitivity. EDDA represents a first, general design tool for RNA-seq, Nanostring, and metagenomic analysis, that rationally selects tests, predicts performance, and plans experiments to minimize resource wastage. Case studies highlight EDDA's ability to model single-cell RNA-seq, suggesting ways to reduce sequencing costs up to five-fold and improving metagenomic biomarker detection through improved test selection. EDDA's novel mode-based normalization for detecting differential abundance improves robustness by 10% to 20% and precision by up to 140%.
Keywords
False Discovery RateMode NormalizationExperimental ChoiceArea Under CurveNegative Binomial Distribution
Background
The availability of high-throughput approaches to do counting experiments (for example, by using DNA sequencing) has enabled scientists in diverse fields (especially in Biology) to simultaneously study a large set of entities (for example, genes or species) and quantify their relative abundance. These estimates are then compared across replicates and experimental conditions to identify entities whose abundance is significantly altered. One of the most common scenarios for such experiments is in study of gene expression levels, where sequencing (with protocols such as SAGE [1], PET [2], and RNA-Seq [3]) and probe-based approaches [4] can be used to obtain a digital estimate of transcript abundance in order to identify genes whose expression is altered across biological conditions (for example, cancer versus normal [5]). Other popular settings where such differential abundance analysis is performed include the study of DNA-binding proteins and histone modifications (for example, using ChIP-Seq [6],[7]), RNA-binding proteins (for example, using RIP-Seq [8] and CLIP-Seq [9]), and the profiling of microbial communities (using 16S rRNA amplicon [10] and shotgun sequencing [11]).
Due to its generality, a range of software tools have been developed to do differential abundance tests (DATs), often with specific applications in mind, including popular programs such as edgeR [
12
], DEseq [
6
], Cuffdiff [
13
],[
14
], Metastats [
11
], baySeq [
15
], and NOISeq [
16
]. The digital nature of associated data has allowed for several model-based approaches including the use of exact tests (for example, Fisher's Exact Test [
11
]), Poisson [
17
], and Negative-Binomial [
6
],[
12
] models as well as Bayesian [
15
] and Non-parametric [
16
] methods. Recent comparative evaluations of DATs in a few different application settings (for example, for RNA-Seq [
6
],[
16
],[
18
]-[
21
] and Metagenomics [
11
]) have further suggested that there is notable variability in their performance, though a consensus on the right DATs to be used remains elusive. In addition, it is not clear, which (if any) of the DATs are broadly applicable across experimental settings despite the generality of the statistical models employed. The interaction between modeling assumptions of a DAT and the application setting, as defined by both experimental choices (for example, number of sequencing reads to produce for RNA-seq) as well as intrinsic experimental characteristics (for example, number of genes in the organism of interest), could be complex and not predictable
a priori
. Correspondingly, only in very recent work, have experimental design issues been discussed in a limited setting, that is, using a
t
-test for RNA-seq analysis [
22
]. Also, as experimental conditions can vary significantly and along several dimensions (Table
1
), a systematic assessment of DATs under all conditions is likely to be infeasible. As a result, the choice of DAT as well as decisions related to experimental design (for example, number of replicates and amount of sequencing) are still guided by rules of thumb and likely to be far from optimal.
Table 1
Experimental conditions affecting differential abundance tests (DATs)
Abbr.

Description

Notes

Experimental choices

Number of replicates

NR

Number of technical or non-technical replicates for the two groups compared in the test

For simplicity, in many cases, we assume NR to be the same in both groups

Number of data-points

ND

Number of data-points generated in the counting experiment

For example, reads generated in an RNA-seq experiment

Experimental characteristics

Entity count

EC

Number of entities in the counting experiment

For example, number of genes in an RNA-seq experiment

Sample variability

SV

Variability across replicates (see Methods)

For example, biological variability in RNA-seq datasets

Abundance profile

AP

Relative abundance of the entities in the first group

Typically follows a power-law distribution

Perturbation profile

PDA, FC

Perturbations to the abundance profile of the first group to obtain the profile for the second group (see Methods)

Used to generate the differentially abundant entities (PDA = Percentage of entities, FC = fold-change distribution)

Test settings

Biases in data generation

Deviations from multinomial sampling due to biases inherent in the experimental protocol

These are often corrected for in a preprocessing step, for example, composition bias in RNA-seq data [23],[24]

Differential abundance test

DAT

See Table 2
In this study, we establish the strong and pervasive impact of experimental design decisions on differential abundance analysis, with implications for study design in diverse disciplines. In particular, we identified data normalization as a source of performance variability and designed a robust alternative (mode normalization) that uniformly improves over existing approaches. We then propose a new paradigm for rational study design based on the ability to model counting experiments in a wide spectrum of applications (Figure
1
). The resulting general-purpose tool called EDDA (for 'Experimental Design in Differential Abundance analysis'), is the first program to enable researchers to design experiments for single-cell RNA-seq, NanoString assays, and Metagenomic sequencing, and we highlight its use through case studies. EDDA provides researchers access to an array of popular DATs through an intuitive online interface [
25
] and answers questions such as 'How much sequencing should I be doing?', 'Does the study adequately capture biological variability?', and 'Which test should I use to sensitively detect differential abundance in my application setting?'. To provide full access to its functionality, EDDA is also available as a user-friendly R package (on SourceForge [
26
] and Bioconductor [
27
]), and is easily extendable to new DATs and simulation models. The R package as well as the website provide different metrics to assess the performance of DATs including the area under curve (AUC) of the receiver operating characteristic (ROC) curve, precision-recall curves, and actual versus estimated false discovery rate (FDR).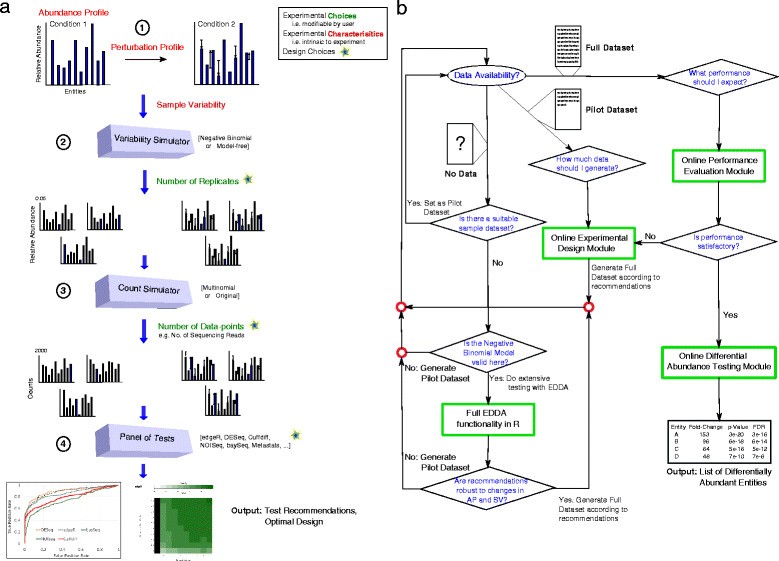 Results
In the following, we present and emphasize the under-appreciated impact of various experimental conditions (grouped into two categories: experimental choices and experimental characteristics, see Table
1
) and various popular DATs (see Table
2
) on the ability to detect differential abundance. Our results highlight the importance of careful experimental design and the interplay between experimental conditions and DATs in dictating the success of such experiments. We first establish that the impact of experimental choices on performance can be significant and in the next section explore their interaction with various experimental characteristics. The results presented here are based on synthetic datasets to allow controlled experiments and exploration of a wide-range of parameters, with no emphasis on a particular application. Note that these comparisons are not meant to serve as a benchmark (more sophisticated comparisons and benchmarks can be found in other studies [
6
],[
11
],[
16
],[
18
]-[
21
],[
28
]) but instead to motivate the need for and the specific design decisions in EDDA. In the following section, we discuss the validity of the modeling assumptions and parameter ranges that we investigated and used to guide the design of EDDA. We conclude by showcasing EDDA's application in various settings. For ease of reference, a schematic overview of the simulation model in EDDA (Figure
1
a) and a flowchart of how it can be used (Figure
1
b) is provided in Figure
1
with detailed descriptions in the Methods section.
Table 2
Description of various software packages for conducting differential abundance tests
| Name | Statistical testing | Normalization approach | Target application areas |
| --- | --- | --- | --- |
| edgeR [12] | Negative Binomial Model, Conditional Maximum Likelihood to estimate parameters, Exact Test | TMM, UQN | SAGE [1], MPSS [29], PMAGE [30], miRAGE [31] and SACO [32] among others |
| DESeq [6] | Negative Binomial Model, local regression to estimate parameters, Exact Test | Normalization by median | |
| baySeq [15] | Negative Binomial Model, empirical Bayes to estimate parameters | RPM, TMM | |
| NOISeq [16] | Non-parametric approach | RPM, RPKM, UQN | |
| Cuffdiff [14] | t-test | RPM, RPKM, UQN | RNA-seq [3] |
| Metastats [11] | Non-parametric t-test, Fisher's Exact Test for small counts | RPM | Metagenomics |
Discussion and Conclusions
The case studies highlighted in the previous section are not unique in any way and point to a general trend in current design of high-throughput experiments, where commonly used rules of thumb lead to suboptimal designs and poor utilization of precious experimental resources. Considering that the market for sequencing based experiments alone is currently in the billions of dollars, savings in research budgets worldwide would be substantial with even a modest 10% improvement in study design. On the other end, with a fixed budget, optimizing study design can ensure that key insights are not missed. In particular, in many scenarios where either (a) effect sizes are small and fold-changes are marginal or (b) large effects on a few entities mask subtle effects on other entities or (c) the goal is to understand coordinated processes such as cellular pathways through enrichment analysis [44], loss in sensitivity or precision due to unguided experimental choices can be detrimental to the study. The use of a personalized-benchmarking tool such as EDDA provides a measure of insurance against this.
With the recent, dramatic expansion in the number of high-throughput applications (largely based on DNA sequencing) as well as end-users (often non-statisticians), differential abundance testing is now frequently done by non-experts in settings different from the original benchmarks for a method. This can make it difficult to determine if a particular analysis was appropriate or lead to incorrect results. One possible approach that could account for this is to use multiple DATs to get a consensus set (also available as an option on the EDDA web-server) but this can result in overly conservative predictions. For example, in a recent analysis of RNA-seq data from two temporally-separated mouse brain samples using edgeR and DESeq (with default parameters), we found that the intersection of differentially expressed genes (at 10% FDR) contained less than 10% of the union. Breakdown of the results showed that while edgeR was primarily reporting upregulated genes (998 out of 1189), DESeq was largely reporting downregulated genes (875 out of 878), with no indication as to which analysis was more appropriate. EDDA simulations and analysis were then used to clarify that results from edgeR were more reliable here (FPR of 3.8% vs. 9.2% at 10% FDR) and could be improved further using mode-normalization (FPR of 1.5%). Furthermore, the bias towards detecting up- or downregulated genes was intrinsic to the tests here (not affected by normalization as we originally suspected) and hence reporting the union of results was more appropriate. Examples such as this are not uncommon in the analysis of high-throughput datasets and experimental design tools such as EDDA can help provide informed answers to researchers.
We hope the results in this study serve to further highlight the still under-appreciated importance of proper normalization for differential abundance analysis with high-throughput datasets [20],[45],[46]. Normalization based on mode statistics provides an intuitive alternative to existing approaches, exhibiting greater robustness to experimental conditions in general, >20% improved AUC performance in some conditions, as well as the ability to detect cases where proper normalization may not be feasible.
EDDA was designed to provide an easy-to-use and general-purpose platform for experimental design in the context of differential abundance analysis. To our knowledge, it is the first method that allows users to plan single-cell RNA-seq, Nanostring assays and Metagenomic sequencing experiments (as well as other high-throughput counting experiments, for example, ChIP-seq), where the larger number of samples involved could lead to important experimental trade-offs. The combination of model-based and model-free simulations in EDDA allows for greater flexibility and, in particular, we provide evidence that the commonly used Negative Binomial model may not be appropriate for single-cell RNA-seq, but a model-free approach (leveraging on a 96-cell dataset generated in this study) is better suited. Model-free simulations using EDDA can thus serve as a basis for refining new statistical tests and clustering techniques for single-cell RNA-seq. Note that a common assumption in EDDA and most statistical testing packages is that deviations from the multinomial model due to experimental biases can be corrected for and hence these issues were ignored in this study [14],[23]. However, we include an outlier simulation model that allows users to investigate the impact of potential outliers in their data on various DATs that are more or less tuned to handle them [28].
EDDA was developed for count-based analysis, where its model-based simulations assume that counts from different entities are not correlated. In some applications, such as transcript-level quantification using short-read RNA-sequencing, this assumption may not be valid due to technical reasons (for example, ambiguity in read mapping). Currently, this limitation can only be circumvented by using the model-free approach in EDDA, based on sample data where entities are correlated (for example, by using transcript-level mapping for RNA-seq). Further work is needed to develop appropriate model-based approaches that adequately simulate technical artefacts in count data and will necessarily have to be application-specific. Note that gene and exon-level quantification are common applications of RNA-seq (as indicated by the majority of DATs being designed for this) and should benefit from model-based analysis in EDDA. Furthermore, with improvements in sequencing read length as well as adoption of third-generation sequencing technologies, issues related to ambiguous read assignment are likely to affect a small fraction of reads. The use of EDDA's model-based analysis is thus expected to become increasingly feasible in this burgeoning application area.
Recently, McMurdie et al. demonstrated the applicability of normalization/detection methods designed for RNA-seq data (edgeR/DESeq) for analyzing metagenomic count data [47]. This study supports the underlying basis of our work that methods for normalization and differential abundance testing should be broadly applicable beyond the domains for which they were originally proposed. Cross-fertilization of best practices from various application areas can improve the analysis of high-throughput count data and we hope that general platforms such as EDDA accelerate this process.
The basis for EDDA is a simple simulate-and-test paradigm as the diversity of statistical tests precludes more sophisticated approaches (for example, deriving closed-form or numerical bounds on expected performance). Given the simplicity of this approach, it is even more surprising that the field has until now relied on rules of thumb. In light of this, the main contribution of this work should be seen as the demonstration that significant variability can be observed across all experimental dimensions and, therefore, lack of experimental design tailored to a particular application setting can lead to substantial wastage of resources and/or loss of detection power. We hope that the availability of EDDA through an intuitive, easy-to-use, point-and-click web-based interface will thus encourage a wide-spectrum of researchers to employ experimental design in their studies.
Declarations
Acknowledgements
We would like to thank Shyam Prabhakar, Swaine Chen, Denis Bertrand, Sun Miao, Li Yi, and Chng Kern Rei for providing valuable feedback on drafts of the manuscript; Christopher Wong for sharing the Nanostring dataset with us; and Lili Sun, Naveen Ramalingam, and Jay West for technical assistance in generating the single-cell RNA-seq dataset.
Funding
This work was done as part of the IMaGIN platform (project No. 102 101 0025), supported by a grant from the Science and Engineering Research Council as well as IAF grants IAF311009 and IAF111091 from the Agency for Science, Technology and Research (A*STAR), Singapore.
Authors' Affiliations
(1)
Computational and Systems Biology, Genome Institute of Singapore, Singapore, Singapore
(2)
Stem-cell and Developmental Biology, Genome Institute of Singapore, Singapore, Singapore
Copyright
© Luo et al.; licensee BioMed Central Ltd. 2014
This article is published under license to BioMed Central Ltd. This is an Open Access article distributed under the terms of the Creative Commons Attribution License (http://creativecommons.org/licenses/by/4.0), which permits unrestricted use, distribution, and reproduction in any medium, provided the original work is properly credited. The Creative Commons Public Domain Dedication waiver (http://creativecommons.org/publicdomain/zero/1.0/) applies to the data made available in this article, unless otherwise stated.