FunSeq2: a framework for prioritizing noncoding regulatory variants in cancer
Received: 17 April 2014
Accepted: 18 September 2014
Published: 2 October 2014
Abstract
Identification of noncoding drivers from thousands of somatic alterations in a typical tumor is a difficult and unsolved problem. We report a computational framework, FunSeq2, to annotate and prioritize these mutations. The framework combines an adjustable data context integrating large-scale genomics and cancer resources with a streamlined variant-prioritization pipeline. The pipeline has a weighted scoring system combining: inter- and intra-species conservation; loss- and gain-of-function events for transcription-factor binding; enhancer-gene linkages and network centrality; and per-element recurrence across samples. We further highlight putative drivers with information specific to a particular sample, such as differential expression. FunSeq2 is available from funseq2.gersteinlab.org.
Keywords
Data Context
Position Weight Matrix
TERT Promoter Mutation
Somatic Variant
Somatic Alteration
Background
Cancer genome sequencing generally identifies thousands of somatic alterations in individual tumor genomes. A few of them, called drivers, contribute to oncogenesis, whereas the majority are passenger mutations accumulated during cancer progression [1]. Systematic studies of human cancer genomes have discovered a wide range of driver genes [2]-[6]. However, comparatively less effort has been invested in the noncoding portions of the genome. Recent discovery of somatic mutations in telomerase reverse transcriptase (TERT) promoter shows that regulatory variants may constitute driver events [7]-[10]. With the decrease of sequencing cost, international cancer consortia, such as TCGA (The Cancer Genome Atlas) and ICGC (The International Cancer Genome Consortium), plan to perform large-scale cancer whole-genome sequencing in the near future. Thus, there is a great demand for high-throughput computational methods to analyze those variants.
In contrast to coding variants, the functional impact of noncoding variants is more difficult to evaluate, due to the lack of knowledge about noncoding regions. The important role of regulatory variants in various diseases has generated a great deal of interest in studying noncoding sequences [11]-[14]. Projects aiming to uncover potential regulatory sequences, such as The Encyclopedia of DNA Elements (ENCODE) [15] and 29 Mammals Project [16], provide an unprecedented opportunity to interpret noncoding variants. Studies have shown that disease-associated single nucleotide polymorphisms (SNPs) identified by Genome-wide Association Studies (GWAS) are significantly enriched in ENCODE regions [17]. A number of tools have been developed using these data to annotate potential regulatory variants or to suggest the most likely causal variants in linkage disequilibrium with GWAS SNPs, such as Haploreg [18], RegulomeDB [19], ANNOVAR [20], GEMINI [21], FunciSNP [22], and VEP [23]. Recently, two computational approaches - GWAVA and CADD - were published to predict the deleterious effect of variants genome-wide [24],[25]. These two methods utilized machine-learning models trained on potential pathogenic variants or nearly fixed/fixed human derived alleles to distinguish deleterious variants from neutral ones.
While much work has been done for germline variants, this is not the case for cancer somatic mutations. Through analyzing the variation patterns of natural polymorphisms, we have published a prototype approach (FunSeq) to identify potential noncoding drivers [26]. Here, we report a more elaborate and flexible framework - FunSeq2 - to annotate and prioritize somatic alterations integrating various resources from genomic and cancer studies. The framework consists of two components: (1) data context from uniformly processing large-scale datasets; and (2) a high-throughput variant prioritization pipeline. The data context can be rebuilt using newly available dataset. Key features of our pipeline include: (1) integrating various functional annotations to identify potential regulatory variants; (2) predicting nucleotide-level loss- and gain-of-function events; (3) examining whether variants occur in noncoding regions that are less likely to tolerate mutations, by analyzing both evolutionary and human population-level conservation; (4) systematically linking variants with target genes using data from the Roadmap Epigenomics Project; (5) incorporating network topology analysis, gene functions, and user annotations to investigate these variant-gene linkages; and (6) identifying recurrent elements from both user-input and publicly available cancer datasets. To prioritize `high-impact' variants, we developed a weighted scoring scheme that takes into account the relative importance of various features, based on the mutation patterns observed in natural polymorphisms.
Besides mutations in the TERT promoter, no other regulatory variants have been functionally characterized as cancer drivers. Thus, due to the lack of a gold standard for regulatory cancer drivers, we used recurrent somatic mutations and known germline pathogenic variants to evaluate the performance of our method. Our method has good prediction power for both recurrent somatic and germline pathogenic regulatory variants, and more importantly it contains multiple cancer-specific features, such as differential gene expression detection between tumor and matched normal samples. As a test case, we also applied our method to an individual tumor genome with a known TERT promoter mutation. Our method is able to prioritize the variant and provides a hypothesis for its potential functional impact. This shows that our method can help researchers and clinicians to prioritize a few somatic regulatory mutations for further studies.
Results and discussion
High-throughput technologies have generated huge amount of genomics data in the past few decades. How to mine and integrate these data to tackle particular scientific question remains a challenge. In this study, we first build an organized data context by processing large-scale genomics and cancer resources into small-scale informative data and then use them to annotate and prioritize cancer somatic alterations. The workflow is depicted in Figure
1
and the detailed description of variant prioritization is in Figure
2
.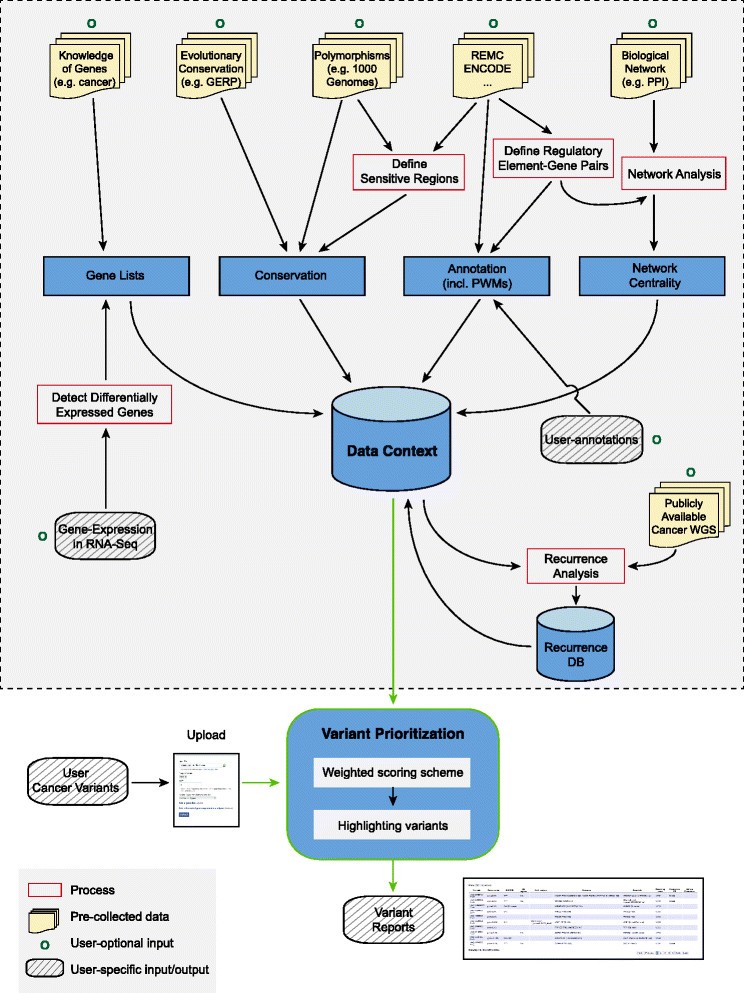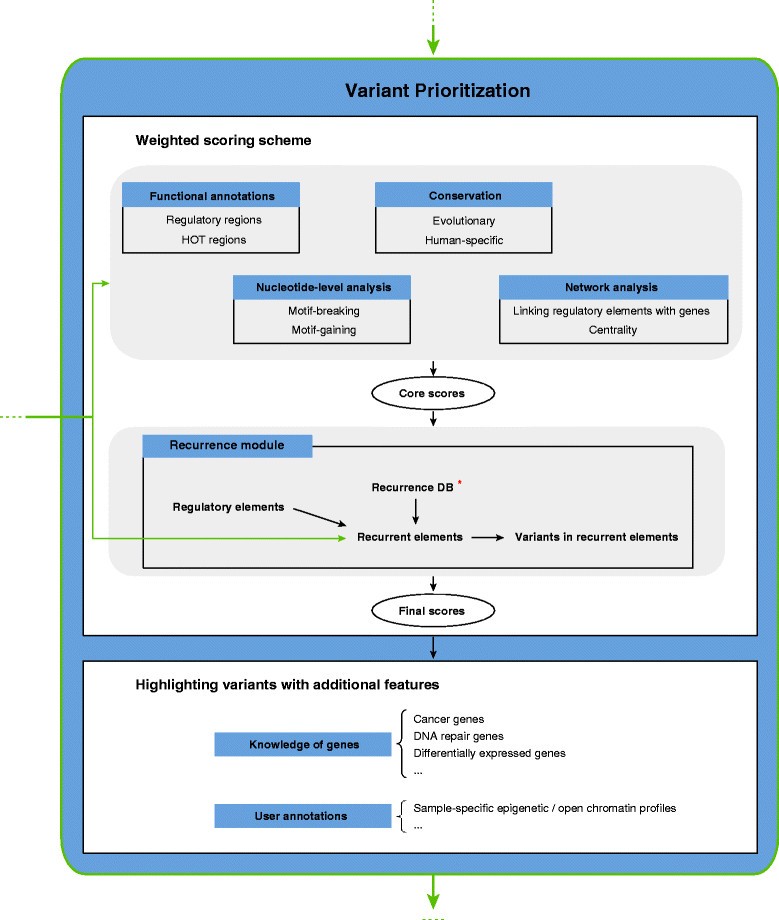 Conclusions
We have developed a method integrating various genomic and cancer resources to prioritize cancer somatic variants, especially regulatory noncoding mutations. User data can be easily integrated into the framework. We believe that the software will be useful for researchers to identify a few somatic events among thousands for further in-depth analysis to understand the mechanisms underlying oncogenesis.
Authors' contributions
YF, EK, and MG conceived the study and wrote the manuscript. YF wrote the framework and performed the method evaluation. ZL developed the web server. JB participated in the differential gene expression analysis. SL and KYY carried out studies associating regulatory elements with target genes. XJM participated in transcription factor binding motif analysis. EK and MG co-directed the work. All authors have read and approved the final manuscript.
Abbreviations
COSMIC:

Catalogue of Somatic Mutations in Cancer
ENCODE:

The Encyclopedia of DNA Elements
GWAS:

Genome-wide association studies
HGMD:

The Human Gene Mutation Database
PWM:

Position weight matrix
REMC:

Roadmap Epigenomics Mapping Consortium
SNP:

Single nucleotide polymorphisms
TERT:

Telomerase reverse transcriptase
TF:

Transcription factor
TSS:

Transcription starting site
Declarations
Acknowledgements
This work was supported by the National Institutes of Health, AL Williams Professorship, and in part by the facilities and staff of the Yale University Faculty of Arts and Sciences High Performance Computing Center (Grant Number RR029676-01). JB acknowledges support from the National Science Foundation - Graduate Research Fellowship Program (Grant Number 1346837). Funding for open access charge: National Institutes of Health. We also thank Zhixiang Lin, Curran Oi, and Yanwei Cai for useful discussion and proofreading the manuscript.
Authors' Affiliations
(1)
Program in Computational Biology and Bioinformatics, Yale University, New Haven, USA
(2)
School of Life Science, Fudan University, Shanghai, People's Republic of China
(3)
Department of Computer Science and Engineering, The Chinese University of Hong Kong, Shatin, Hong Kong
(4)
Broad Institute of Harvard and MIT, Cambridge, USA
(5)
Molecular Biophysics and Biochemistry Department, Yale University, New Haven, USA
(6)
Department of Physiology and Biophysics, Weill Cornell Medical College, New York, USA
(7)
Department of Computer Science, Yale University, New Haven, USA
Copyright
© Fu et al.; licensee BioMed Central Ltd. 2014
This article is published under license to BioMed Central Ltd. This is an Open Access article distributed under the terms of the Creative Commons Attribution License (http://creativecommons.org/licenses/by/4.0), which permits unrestricted use, distribution, and reproduction in any medium, provided the original work is properly credited. The Creative Commons Public Domain Dedication waiver (http://creativecommons.org/publicdomain/zero/1.0/) applies to the data made available in this article, unless otherwise stated.