Unraveling the clonal hierarchy of somatic genomic aberrations
Received: 14 July 2014
Accepted: 13 August 2014
Published: 26 August 2014
The Erratum to this article has been published in Genome Biology 2017 18:80
Abstract
Defining the chronology of molecular alterations may identify milestones in carcinogenesis. To unravel the temporal evolution of aberrations from clinical tumors, we developed CLONET, which upon estimation of tumor admixture and ploidy infers the clonal hierarchy of genomic aberrations. Comparative analysis across 100 sequenced genomes from prostate, melanoma, and lung cancers established diverse evolutionary hierarchies, demonstrating the early disruption of tumor-specific pathways. The analyses highlight the diversity of clonal evolution within and across tumor types that might be informative for risk stratification and patient selection for targeted therapies. CLONET addresses heterogeneous clinical samples seen in the setting of precision medicine.
Keywords
Whole Exome SequencingGenomic AberrationWhole Genome Sequencing DataInformative SNPsAllelic Fraction
Background
Cancer arises from initiating cells (clones) that undergo intense evolutionary selection during disease progression and can be widely altered during treatment. The tumor cell evolutionary process may lead to subclonal divergence resulting in genetic and molecular heterogeneity. Computational approaches to establish maps of cancer evolution might inform clinical risk stratification and treatment strategies. Analysis strategies have been developed to address tumor DNA purity and cancer cell ploidy, but there remains a gap for the analysis of minimally aberrant or highly heterogeneous tumors.
Over the past years, several methods have been developed to quantify DNA admixture and ploidy from high density single-nucleotide polymorphism (SNP) array data [1]-[4] that utilize the relative abundance of specific allele signal (B allele frequency (BAF)) and the tumor over normal signal ratio (referred to as Log R) to measure the complexity of the underlying cellular population. Global optimization methods are applied to find the configuration of DNA admixture and ploidy that better account for the observed values of BAF and Log R. More recent tools [5]-[9] exploit the rich statistical properties of massively parallel sequencing to provide base-pair data resolution. Using germline heterozygous SNP loci (hereafter called informative SNPs), tumor purity and ploidy are estimated analyzing allelic fraction (AF) values (that is, the fraction of sequencing reads supporting the reference base) in a way resembling the use of BAF data in SNP arrays. Subclonal alterations will appear as outliers from the computed admixture and ploidy.
All these tools apply a global approach (that is, the AF (or BAF) values are all thrown into an inference algorithm that eventually returns DNA purity and ploidy). Global methods are well-suited for tumor samples with fairly homogenous genomic aberrations (high ratio of clonal versus subclonal lesions). In the clinical setting, where tumor samples might exhibit heterogeneity due to progression or subsequent to multiple lines of treatment, and for tumor types that undergo structural changes such as `chromoplexy' events in prostate cancer (that is, abundant DNA rearrangements and deletions that arise in a highly interdependent manner) [10], these approaches may prove suboptimal as they ignore the genomic diversity.
These observations prompted us to develop a second generation tool based on local (in contrast to global) optimization where estimates of purity and ploidy are derived from few clonal events (Figure
1
). We noted that the AF values of the informative SNPs within a somatic deletion result from the composition of signal from three cell populations: (i) non-tumor cells (contributing to the DNA admixture); (ii) tumor cells without the deletion; and (iii) tumor cells harboring the deletion (that is, a subclonal deletion given (ii) and (iii)). By modeling the probability distribution of the observed AFs, we compute a local estimate of the DNA admixture (1 - DNA purity) that accounts for both normal cell admixture and subclonal tumor cell population. After estimating local admixture values for all deletions across the genome, only selected lesions (from the most clonal side of the spectrum) contribute to the computation of the tumor sample global admixture. In the presence of homogenously aberrant genomes (Figure
1
, top), global and local approaches result in similar estimates; for heterogeneous genomes (Figure
1
, bottom), the local approach focused on selected lesions (blue arrows in Figure
1
) leads to more realistic estimates. Here, we present the full implementation of CLONET (CLONality Estimate in Tumors) and study the clonality of somatic aberrations from whole genome sequencing (WGS) data across 3 tumor types comprising 55 individuals with primary prostate cancer [
10
], 24 metastatic melanomas [
11
], and 21 lung adenocarcinomas [
12
].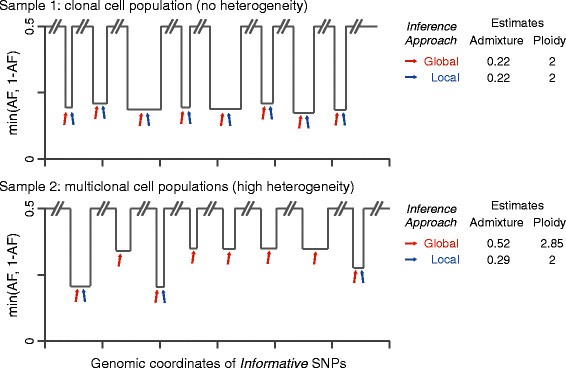 Discussion
We have developed a mathematical model that exploits the genetic background of each individual to characterize cancer cell heterogeneity within a tumor specimen and builds lesion hierarchies by learning from recurrent patterns across multiple patients. The approach relies on base level information from a range of next-generation sequencing data (WGS, WES and targeted sequencing) and utilizes a local optimization approach and confidence propagation steps to enable the processing of complex subclonal patterns typical of patients with advanced tumors who may have undergone multiple treatment cycles.
The local optimization approach ensures accurate tumor purity assessment across challenging samples. Our group recently implemented CLONET in precision medicine WES reports to assess adequacy of biopsy samples, highly relevant in a regulatory compliant environment. Direct assessment of CLONET performance on WES versus WGS data from 15 samples (data from [10],[17]) showed excellent agreement for Adm.global (Figure S8A in Additional file 10) and clonality estimates (Figure S8B in Additional file 10) where 97.6% of genes annotated as subclonal in WES are also subclonal in WGS. This approach can also be utilized to assess temporal evolution from serial samples from one patient, as observed with patient 7520, in which both his primary untreated prostate cancer and metastatic treatment-resistant tumor (biopsied three years later) were profiled. Upon correction for ploidy and global admixture, CLONET identified the gene AURKA as copy number neutral in the primary sample but found a gain of two copies in the late metastatic sample (Additional file 11). Amplification of AURKA has been described in treatment-resistant metastatic prostate cancer [29],[37], and inhibitors of AURKA are currently in clinical trials. In addition, by exploiting the local optimization approach, we were successful in following tumor dynamics across cell-free DNA samples (liquid biopsies) from castration-resistant prostate cancer patients upon deep targeted sequencing and to monitor clonal expansion and contraction of key somatic aberration from low tumor content DNA samples [38].
Here, we report the results from three common solid tumor types characterized by diverse histology and clinical course and for which we were able to detect patterns and dynamics of subclonal evolution that support the relevance of the approach. Globally, we observed great variability across and within tumor types. Targeted analyses revealed both commonalities and clear differences (Figure 6A). Notably, we identified the partial loss of chromosome 8p as a common early event in the three tumors, while the focused analysis on the long arm of chromosome 10 suggested different mechanisms of PTEN deregulation and participation in tumorigenesis. Finally, specific examples of subclonality, such as MUC4 PMs in melanoma and SOX2 gains in lung, have been identified. Understanding patterns of tumor evolution can aid in the rational development of more effective and early therapeutic approaches to directly target clonal events that are driving tumorigenesis, especially as multiple potentially actionable alterations are often identified within one tumor even at diagnosis.
It is important to note that to properly construct comprehensive tumor evolution maps, thousands of genomes are required to reach adequate statistical power when considering the range of frequencies of co-occurring aberrations. As sequencing data for multiple tumor samples and tumor types becomes accessible to the community, maps will be drafted and completed over multiple iterations. In turn, this will soon allow assigning an evolution time stamp to each new clinically profiled sample based on where the tumor genome fits into the evolution maps. Establishing a 'timeline' of cancer progression is critical for biomarkers development in the precision medicine era, allowing clinicians to more accurately gauge prognosis by adding a molecular measure of progression to standard staging and grading systems, which do not associate with molecular heterogeneity of samples (Table S3 in Additional file 5). Such an approach may allow improved clinical decision-making in a variety of cancer types, guiding the choice of management strategies and level of aggressive therapy based on how far the tumor has progressed at the genomic level.
In summary, we present a robust method that exploits next-generation sequencing data to classify somatic lesions based on their clonality within the tumor cell population. The utility of CLONET is related to transitioning next-generation sequencing efforts from the static evaluation of untreated tumor samples to the clinical arena of precision medicine where patients will be followed along a continuum of treatment modalities and a targeted therapy regimen is based on the understanding of driver mutations.
Conclusions
Distinguishing gatekeeper or driver mutations from passenger mutations is a high priority for understanding disease progression. Knowledge of the chronology of molecular alterations can provide important insights into defining the most clinically relevant mutations that characterize important milestones in cancer. Genome sequencing of cancer samples taken during the course of precision medicine might demonstrate a wider range of genomic heterogeneity than previously observed in international genome sequencing studies. These clinical samples demonstrate more heterogeneity and admixture of both tumor and non-tumor components. To aid in unraveling the critical temporal evolution of somatic aberrations in challenging clinical tumors, we developed CLONET, a computation tool that requires only few clonal events to precisely estimate tumor purity and ploidy and then nominates the hierarchy of genomic aberrations. We demonstrate that CLONET can determine the clonality of different types of somatic aberrations, including SCNAs, PMs, and REARRs, using either WGS or WES datasets. We anticipate that with the emergence of larger genomic datasets, CLONET could help map out the evolution of molecular alterations.
Abbreviations
AF:

allelic fraction (fraction of reads supporting the reference base)
AP:

proportion of reads supporting the alternative allele or alternative allelic proportion (fraction of reads supporting the alternative allele at a somatic point mutation position)
BAF:

B allelic fraction (refer to array based data)
CLONET:

CLONality Estimate in Tumors
FDR:

false discovery rate
FISH:

fluoresce in situ hybridization
PM:

somatic point mutation
REARR:

structural rearrangement
SCNA:

somatic copy number aberration
SNP:

single-nucleotide polymorphism
TCGA:

The Cancer Genome Atlas
WES:

whole exome sequencing
WGS:

whole genome sequencing
Declarations
Acknowledgements
We like to thank TY MacDonald for technical support, E Van Allen for fruitful discussions, and O Elemento for critical reading of the manuscript.
Financial support
This work was supported by the following grants: US Department of Defense Synergy Awards (PC101020 to FD, LAG, and MAR), US National Cancer Institute (2R01CA125612-05A1 to MAR and FD), the Prostate Cancer Foundation, the Prostate Cancer Foundation Young Investigator Award (CEB), Early Detection Research Network US NCI CA111275 (MAR, JMM). Tissue-based work was supported in part by the Translational Research Program at WCMC, Department of Pathology and Laboratory Medicine.
Authors' Affiliations
(1)
Centre for Integrative Biology, University of Trento, Povo Trento, Italy
(2)
The Broad Institute of MIT and Harvard, Cambridge, USA
(3)
Dana-Farber Cancer Institute, Boston, USA
(4)
Harvard Medical School, Boston, USA
(5)
Department of Urology, Weill Medical College of Cornell University, New York, USA
(6)
Department of Pathology and Laboratory Medicine, Weill Medical College of Cornell University, New York, USA
(7)
Department of Medicine, Division of Hematology and Oncology, Weill Medical College of Cornell University, New York, USA
(8)
Institute for Precision Medicine, Weill Medical College of Cornell University and New York Presbyterian Hospital, New York, USA
(9)
HRH Prince Alwaleed Bin Talal Bin Abdulaziz Alsaud Institute for Computational Biomedicine, Weill Medical College of Cornell University, New York, USA
Copyright
© Prandi et al.; licensee BioMed Central Ltd. 2014
This article is published under license to BioMed Central Ltd. This is an Open Access article distributed under the terms of the Creative Commons Attribution License (http://creativecommons.org/licenses/by/4.0), which permits unrestricted use, distribution, and reproduction in any medium, provided the original work is properly credited. The Creative Commons Public Domain Dedication waiver (http://creativecommons.org/publicdomain/zero/1.0/) applies to the data made available in this article, unless otherwise stated.