Metastatic tumor evolution and organoid modeling implicate TGFBR2as a cancer driver in diffuse gastric cancer
Received: 29 April 2014
Accepted: 27 August 2014
Published: 27 August 2014
Abstract
Background
Gastric cancer is the second-leading cause of global cancer deaths, with metastatic disease representing the primary cause of mortality. To identify candidate drivers involved in oncogenesis and tumor evolution, we conduct an extensive genome sequencing analysis of metastatic progression in a diffuse gastric cancer. This involves a comparison between a primary tumor from a hereditary diffuse gastric cancer syndrome proband and its recurrence as an ovarian metastasis.
Results
Both the primary tumor and ovarian metastasis have common biallelic loss-of-function of both the CDH1 and TP53 tumor suppressors, indicating a common genetic origin. While the primary tumor exhibits amplification of the Fibroblast growth factor receptor 2 (FGFR2) gene, the metastasis notably lacks FGFR2 amplification but rather possesses unique biallelic alterations of Transforming growth factor-beta receptor 2 (TGFBR2), indicating the divergent in vivo evolution of a TGFBR2-mutant metastatic clonal population in this patient. As TGFBR2 mutations have not previously been functionally validated in gastric cancer, we modeled the metastatic potential of TGFBR2 loss in a murine three-dimensional primary gastric organoid culture. The Tgfbr2 shRNA knockdown within Cdh1 -/- ; Tp53 -/- organoids generates invasion in vitro and robust metastatic tumorigenicity in vivo, confirming Tgfbr2 metastasis suppressor activity.
Conclusions
We document the metastatic differentiation and genetic heterogeneity of diffuse gastric cancer and reveal the potential metastatic role of TGFBR2 loss-of-function. In support of this study, we apply a murine primary organoid culture method capable of recapitulating in vivo metastatic gastric cancer. Overall, we describe an integrated approach to identify and functionally validate putative cancer drivers involved in metastasis.
Keywords
Gastric Cancer
Allelic Imbalance
Ovarian Metastasis
Diffuse Gastric Cancer
Hereditary Diffuse Gastric Cancer
Background
Worldwide, gastric adenocarcinoma is the fourth most common malignancy and the second leading cause of cancer deaths among men and women. Based on distinctive histopathologic features, gastric adenocarcinoma is categorized into diffuse and intestinal subtypes [1]. In terms of histopathology, diffuse gastric cancers are generally undifferentiated, frequently have signet cell ring features and invasively infiltrate normal stomach tissue. In contrast, the intestinal subtype has epithelial features and forms discrete tumor masses similar to colon cancer. Diffuse gastric cancer has a higher incidence of metastatic disease and a generally worse prognosis compared to the intestinal subtype [2],[3]. Currently, the genomic analyses of diffuse gastric cancer have involved a small number of samples including a recent study by the Cancer Genome Atlas Project (TCGA) and a whole genome sequencing survey of a set of diffuse gastric tumors [4]. However, there are few, if any, studies that detail the metastatic evolution of gastric cancer; metastatic tumors are typically absent from large-scale genomic cancer surveys such as TCGA. Overall, little is known about the oncogenic process and tumor evolution of metastatic gastric cancer despite its paramount clinical importance [5].
In hereditary diffuse gastric cancer (HDGC), germline mutations in CDH1 (that is, E-cadherin) confer a 70% lifetime risk of developing diffuse gastric cancer [6],[7]. The CDH1 tumor suppressor gene encodes E-cadherin, a transmembrane glycoprotein that mediates calcium-dependent cell-cell adhesion. Changes in CDH1 function affect the epithelial-mesenchymal transition (EMT) that has been implicated as playing a role in tumorigenesis. Studies of affected HDGC individuals' tumors provide a unique opportunity to determine the essential drivers of diffuse gastric cancer in the context of CDH1 loss of function. Supporting evidence of the role of CDH1 in sporadic diffuse gastric cancers includes the observation that 50% contain CDH1 mutations or hypermethylation of the CDH1 promoter [8],[9]. A recent whole genome sequencing survey of diffuse gastric cancer also identified frequent CDH1 mutations as the most common driver event [4]. The TCGA gastric cancer data also show a high frequency of somatic CDH1 mutations [10]. Significantly less is known about the identity and role of co-occurring drivers that contribute to diffuse gastric metastasis.
Herein, we report a study of the metastatic evolutionary process in diffuse gastric cancer. Our goal was to identify known and candidate drivers that delineate the tumor progression during metastasis. We performed an extensive genome sequencing analysis of a primary gastric tumor and metastasis from an individual with a germline
CDH1
mutation (Figure
1
) who presented with a gastric primary, followed after 3 years by metastasis in the left ovary. Given the existing germline mutation in
CDH1,
the cancer genome only requires a second allelic hit via a somatic genetic aberration, as is demonstrated in the tumor from this individual. Because the initial cancer driver event is known, Mendelian cancer genomes provide a rare and highly informative `experiment of nature' that provides an opportunity to delineate somatic genetics of metastasis. Genome sequencing analysis of both tumors revealed evidence of a common origin based on shared mutations but greater genomic diversity seen both at the level of mutations as well as extensive allelic imbalance and copy number aberrations for the metatasis.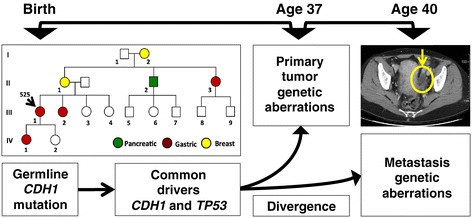 We determined if the candidate drivers from this metastatic progression were sufficient to reproduce diffuse gastric cancer. Our cancer modeling methodology used in vitro gastric organoids and allows one to engineer the genetic driver context of these cancers and study the process of metastatic evolution and oncogenic pathway divergence. Integrating genetic analysis and biological modeling, we determined the independent role of TGFBR2 (transforming growth factor-β receptor 2) in the oncogenesis of diffuse gastric cancer. Our experimental cancer modeling relies on an air-liquid interface for primary mouse intestinal culture that contains both epithelial and mesenchymal elements, accurately recapitulates long-term proliferation, multilineage differentiation, the Wnt/Notch-dependent stem cell niche, and peristalsis [11]. We reported an analogous primary gastric organoid culture system that accurately recapitulates multilineage epithelial differentiation and stromal elements [12]. Recently, we achieved robust in vitro oncogenic transformation of primary gastric, colon, and pancreatic organoids via mutations in Kras and Trp53, which induce high-grade dysplasia and invasion in vitro with adenocarcinoma upon subcutaneous transplantation into mice [13]. We demonstrate the functional validation of candidate gastric cancer metastasis drivers from cancer genomic profiling studies, focusing on modeling the TGFBR2 driver as proof of principle.
Discussion
To address the question of identifying the genetic drivers of diffuse gastric cancer metastasis, we performed an extensive genome sequencing analysis of the metastatic evolutionary process. This involved sequencing of a matched gastric primary and subsequent metastasis from the same patient. We leveraged the unique Mendelian genetics of a HDCG proband as an `experiment of nature' to delineate essential cancer drivers in diffuse gastric cancer.
Our genomic analysis revealed FGFR2 amplification exclusive to the primary gastric tumor and not present in the metastasis. Our results fully confirm several descriptions of FGFR2 amplification, as well as increased sensitivity of FGFR2-amplification positive cell lines such as KatoIII to small molecule FGFR inhibitors [44]-[47], with accompanying implications for FGFR2-targeted treatment [48]. The striking absence of FGFR2 amplification in the metastasis in the context of the common somatic CDH1 and TP53 mutations argues strongly for a tumor evolutionary divergence.
The functional validation of the metastatic potential of Tgfbr2 knockdown in our well-validated air-liquid interface gastric organoid method [12],[13] provides the first demonstration that TGFBR2 functions as a bona fide metastasis suppressor gene in diffuse gastric cancer. Homozygous TGFBR2 deletion is also present in a subset of TCGA gastric cancers [10] which are largely comprised of non-metastatic tumors. It will be interesting to evaluate whether TGFBR2 alterations are more prevalent in gastric metastases, such as to ovary or other sites. Furthermore, the functional relevance of other potential loci undergoing alteration in these samples merits additional exploration.
Our study also describes the first successful in vitro conversion of primary gastric tissue to metastatic gastric adenocarcinoma, suggesting the general applicability of the organoid method to the functional validation of gastric cancer loci involved in progression and/or metastasis. As shown here, such three-dimensional organoid-based functional validation strategies can potentially combine both the experimental tractability of two-dimensional culture of transformed cell lines with the accurate tissue ultrastructure and stromal components of transgenic mouse systems.
Conclusions
Exclusive FGFR2 and TGFBR2 genetic aberrations delineated the evolution of metastatic recurrence. Our finding may have implications for targeted cancer therapy. For example, the index patient in this study may have conceivably responded to a FGFR2 inhibitor based on FGFR2 amplification in the primary tumor. However, the patient's metastatic recurrence did not harbor this same FGFR2 amplification, suggesting that treatment with a therapeutic small molecule inhibitor may not have had a discernible biological effect on the patient's metastatic disease. In the precision management of individuals with metastatic cancer, one may need to account for the genetic heterogeneity and subsequent variation in cancer biology that differentiates metastatic sites from the primary tumor before the initiation of targeted therapy.
Although a comprehensive knowledge of the metastatic process is crucial for improved cancer treatment, the driver events underlying metastatic spread are unfortunately poorly understood [49]. Our paucity of knowledge regarding metastasis is further compounded by the relative omission of metastatic samples in large-scale genomic cancer surveys such as TCGA. This study is an initial effort to further address these questions about the genetics and biology of metastatic evolution by integrating genomic sequencing analysis with in vitro validation of clonal-specific candidate drivers.
Materials and methods
Cancer samples
This study was conducted in compliance with the Helsinki Declaration. The institutional review board (IRB) at Stanford University School of Medicine approved the study protocols (11886 and 19071). For all patients cited in this study, we obtained informed consent to conduct research and publish the results. Samples were obtained from the Stanford Cancer Institute Tissue Bank. Frozen tissue sections were prepared from each tumor and hematoxylin-eosin (H&E) staining was performed on a single section. We estimated overall tumor composition that generally was approximately 50% or greater for most samples. Tumors were macro-dissected to increase tumor cellularity and processed for genomic DNA. Full details are in the Additional file 1: Methods.
Sample preparation for whole genome, exome, and targeted resequencing analysis
Genomic DNA was extracted from blood, normal gastric tissue and tumor samples using the E.Z.N.A. SQ DNA/RNA Protein Kit (Omega Bio-Tek, Norcross, GA, USA). Concentrations of genomic DNA were determined with a Nanodrop instrument (Thermo Scientific, Wilmington, DE, USA). Genomic DNA from matched normal and cancer tissue were then used for creating sequencing libraries. DNA from peripheral leukoctyes was used for the Affymetrix SNP array.
From each sample, we fragmented 4 μg of genomic DNA with a Covaris instrument (Covaris, Woburn, MA, USA). Illumina TruSeq Paired End libraries were constructed from double stranded, fragmented DNA per Illumina's standard protocol (Illumina, San Diego, CA, USA). The amplified material was recovered with a Qiaquick (Qiagen) column according to the manufacturer's instructions, except the DNA were eluted in 50 μL water. The sequencing library DNA was quantified using the NanoDrop-1000 and the library was evaluated with an Agilent Bioanalyzer 2100 (Agilent, Santa Clara, CA, USA) using a DNA1000 chip. The mean library fragment size was found to be 300 bp and these libraries were used for whole genome sequencing. For exome capture hybridization, we used Nimblegen SeqCap version 2 enrichment assay (Roche-Nimblegen, Madison, WI, USA). The methods were according to the NimbleGen's SeqCap EZ Exome Library SR User's Guide v2.2. Following the final amplification reaction, we purified the exome libraries using a Qiaquick column (Qiagen, Valencia, CA, USA) per the manufacturer's recommended protocol.
Cancer genome sequencing
See Additional file 1 for complete details regarding the whole genome, exome, and targeted resequencing data analysis. This includes information about the targeted resequencing process, variant calling, allelic frequency determination, and mutation interpretation The oligonucleotide sequences for deep targeted resequencing are listed in Additional file 2.
FGFRamplification analysis from diffuse and intestinal gastric cancers
Quantitative PCR was performed using the Bio-Rad QX100 droplet digital PCR (ddPCR) system (Bio-Rad, Pleasanton, CA, USA). We used a standard set of FGFR2-specific TaqMan primers and probes (Life Technology, Foster City, CA, USA) compared with standard references using an ultra-conserved region on chromosome 1. Briefly, TaqMan PCR reaction mixtures were assembled using 2× ddPCR Supermix for probes, 20× assays (18 μM primers and 5 μM probe) and restriction digested DNA samples (Biorad). To assess FGFR2 copy number, 125 ng of each tumor DNA sample was digested with 1.25 units of BsaJI (NEB) in 15 μL for 1 h at 60×C. The digests were diluted 1.67-fold to 25 μL with nuclease free water then 25 ng (5 μL) was assayed per 20 μL ddPCR reaction. FGFR2 assay sequences were (forward primer) 5'-GGCTGGCTGCTGAAGTCT-3', (reverse primer) 5'-CTTAATCGCCTGTATGGTGGTAACA-3', and (probe) 5'-FAM-TCTTGGTCGTGTTCTTCATTCGGCACAG-BHQ1-3'. The FGFR2 assay was duplexed with a standard reference sequence on Chromosome 1. This standard reference assay used the following primers: (forward primer) 5'-TGAGGGATTCGGCAGATGTTG-3', (reverse primer) 5'-CTGAAAGGCTGGACTTGACAGA-3', and (probe) 5'-VIC-ACTGTGTGCTGGACCT-MGB-3'. All assay primers were ordered from Integrated DNA Technologies. Thermal cycling conditions were 95°C 10 min (1 cycle), 94°C 30×s and 60×C 60×s (40 cycles), 98°C 10 min (1 cycle), and a 12°C hold. FGFR2 copy number per cell was estimated as the ratio of the FGFR2 and RPP30 concentrations multiplied by two to account for the two copies of RPP30 that are expected per diploid genome. Analysis of the ddPCR data was performed using the CNV mode of the QX100 analysis software (version 1.2.9.0). Quadruplicate ddPCR wells were analyzed for each sample.
FGFRinhibitor sensitivity assay
KatoIII cells (HTB-103, ATCC) and AGS cells (CRL-1739, ATCC) were grown in Dulbecco's Modified Eagle Medium (DMEM), supplemented with 10% fetal bovine serum and 100 U/mL of Pen Strep Glutamine (Gibco). All cells were cultured at 37°C in a humidified atmosphere and 5% CO2. Survival of KatoIII and AGS cells was determined using the WST-1 Proliferation Assay (Roche). We tested multiple FGFR inhibitors including TKI-258, Brivanib (BMS-540215), Ponatnib (AP24534), and AZD4547 (Selleck Chemical). Cells were seeded at a density of 2 × 104 cells/well in 96-well microtiter plates, 100 μL medium/well and maintained 18 h for attachment. Afterwards, we treated the cultures with varying concentrations of each drug diluted in DMSO. After 30×h incubation, 10 μL of WST-1 reagent was added followed by 1 h at 37°C. The cleavage of tetrazolium salt (WST-1) into a visible formazan by viable cells was spectrophotometrically measured using a reference wavelength of 450 nm. Each test was performed in triplicate. Percentages of cell survival were calculated as follows:% cell survival = (absorbance of treated cells/ absorbance of cells with vehicle solvent) × 100. The half inhibitory concentration (IC50) was calculated with a non-linear regression from the dose–response curve.
Mismatch repair protein immunohistochemistry
Mismatch repair protein immunohistochemistry was performed on the primary diffuse gastric tumor using the standard streptavidin-biotin-peroxidase procedure. Primary monoclonal antibodies against MLH1 (clone G168-728, 1:200, BD PharMingen, San Diego, CA, USA 1:200), MSH2 (clone FE11, 1:100, Oncogene Research Products, Cambridge, MA, USA), MSH6 (clone 44, 1:200, BD Transduction, San Jose, CA, USA) and PMS2 (clone MRQ-28, 1:10, Cell Marque, Rocklin, CA, USA) were applied to formalin-fixed, paraffin embedded sections four microns thick. The sections were deparaffinized in xylene, and rehydrated through graded alcohols to distilled water before undergoing antigen retrieval by heat treatment in either citrate solution pH 6.0 (MLH1, PMS2, and MSH2) or EDTA solution pH 9.0 (MSH6). An automated detection using a Leica Bond Autostainer (Leica, Buffalo Groove, IL, USA) was employed. Normal expression was defined as nuclear staining within tumor cells, using infiltrating lymphocytes as positive internal control. Negative protein expression was defined as complete absence of nuclear staining within tumor cells in the face of concurrent positive labeling in internal non-neoplastic tissues.
Gastric organoid cancer modeling in mice and functional analysis
All procedure involving animal were approved the Stanford University Administrative Panel on Laboratory Animal Care and was fully compliant with the USDA Animal Welfare Act, and our Assurance of Compliance with the PHS Policy on Human Care and Use of Laboratory Animals. Air-liquid interface organoid culture was performed as described [11],[12].
Cdh1flox/flox;Trp53flox/flox mice were generated by crossing Cdh1flox/flox mice, obtained from Jackson Laboratory, and Trp53flox/flox mice, kindly provided by Dr. Anton Berns [50] NOD.Cg-Prkdcscid Il2rgtm1Sug/JicTac mice were obtained from Taconic Farms, Inc. We dissected stomachs from neonatal mice (age P1-10) and washed them in cold PBS to remove all luminal contents. We extensively minced either large 25% sections or any entire neonatal stomach per dish and embedded the minced tissues in a 3D collagen gel using a double-dish air-liquid interface culture system as previously described [11]. To maintain the organoids, we applied fresh medium (F12, 20%FCS, gentamicin 50 ug/mL) every week.
Tgfbr2 shRNAs were obtained from Origene (catalog TG516186). Retroviral plasmids were cotransfected with pCL-Eco into 293 T cells by Lipofectamine2000 (Invitrogen). Retroviral supernatants were collected 48 and 72 h post-transfection and concentrated by PEG-it virus precipitation solution (5×, System Biosciences). Virus titer was determined by infection of NIH3T3 cells and FACS analysis of GFP positive cells 48 h post infection. Cdh1flox/flox;Trp53flox/flox gastric organoids were infected at day 0 with adenovirus Ad Cre-GFP (University of Iowa Vector Core) or control adenovirus Ad Fc [43] encoding a mouse immunoglobulin IgG2α Fc fragment by layering viral particles (109 pfu) suspended in 500 μL culture media over the top of the collagen matrix containing primary tissue. For retrovirus infection of secondary organoids, primary organoids at 14 to 20 days of growth were recovered from collagen gel by collagenase IV (Worthington) incubation followed by 0.05% trypsin/EDTA incubation to dissociate organoids into a single cell suspension. Following extensive washing with 10% FBS to inactivate collagenase/trypsin, cells were pelleted by centrifugation and incubated with retroviral particles (2 μL of 108 pfu/mL) encoding Tgfbr2-shRNA in the presence of growth medium and TransDux (System Biosciences) at room temperature for 60×min before serial replating into 3D collagen gel air-liquid interface culture.
Samples were fixed with 4% paraformaldehyde overnight, paraffin-embedded, sectioned, and sections stained by H&E for initial histology analysis. Further immunohistochemistry analysis, used the following antibodies: PCNA (1:300; Invitrogen), CDH1 (1:300; BD Biosciences Pharmagen), TGFBR2 (1:250; Abbiotec), p53 (1:100; Santa Cruz). Cell lysates of mouse gastric culture cell or GSM-06 cells transfected with Tgfbr2-shRNA-GFP were immunoblotted with TGFBR2 (1:2,000, Abbiotec) and β-actin (1:2,000, Abcam).
Cells from gastric organoids were collected from the air-liquid interface collagen gel by disaggregation with collagenase IV (Worthington). For transplantation, 400,000 cells per mouse flank were mixed with matrigel (50% Matrigel, 10%FCS, 40% F12, 100× L of Matrigel mixture per = mouse) and injected into NOD.Cg-Prkdcscid Ilr2rgtm1Sug/JicTac mice. Mice were sacrificed after day 50, after which tumors were dissected and examined by H&E staining. P values were determined using a two-tailed Student's t-test assuming unequal variances. A P value of 0.05 was considered significant.
Data availability
The data from this study have been submitted to the NCBI Sequence Read Archive under the accession number SRP044347.
Authors' contributions
HPJ, LDN, and JMF designed the analysis of the HDGC patient. HX and ESH conducted the sequencing assays. LDN, LM, and JR conducted molecular assays for validation. SG, GN, JMB, PF, CP, HC, NRZ, and HPJ conducted the sequencing data and genetic analysis. RKP provided pathologic review of the gastric cancers and organoids. LDN and LM conducted the cell line and organoid experiments. LDN, AO, and CJK developed the organoid system. CJK supervised the development of cancer organoid modeling. HPJ supervised and coordinated all aspects of the analysis and experiments. All authors revised, read, and approved the final manuscript.
Abbreviations
Ad:

Adenovirus
BMP:

Bone morphogenic protein
CNV:

Copy number variation
ddPCR:

Droplet digital PCR
EMT:

Epithelial mesenchymal transition
FGFR2 :

Fibroblast growth factor receptor 2
GFP:

Green fluorescent protein
H&E:

Hematoxylin-eosin
HDGC:

Hereditary diffuse gastric cancer
indel:

Insertion-deletions
IRB:

Institutional review board
LOH:

Loss of heterozygosity
MAF:

Minor allele frequency
Mb:

Megabase
SNP:

Single nucleotide polymorphism
TCGA:

The Cancer Genome Atlas
TGFBR2 :

Transforming growth factor-β receptor 2
TKI:

tyrosine kinase inhibitor
Declarations
Acknowledgements
HPJ was supported by a Research Scholar Grant, RSG-13-297-01-TBG, from the American Cancer Society. HPJ received additional support from the Doris Duke Clinical Foundation Clinical Scientist Development Award and a Howard Hughes Medical Institute Early Career Grant. Other support came from the Gastric Cancer Foundation (HPJ, JMF). We also acknowledge support from National Institutes of Health Grants Digestive Disease Center DK56339 (HPJ, LN), P01 HG000205 (EH, JMB, SG, PF, and HPJ), NHGRI RC2 HG005570 (GN, JMB, HX, and HPJ), NCI Innovative Molecular Analysis Technology 1R33CA1745701 (JMB and HPJ), NHGRI R01 HG006137 (HPJ and NZ), NCI Tumor Microenvironment Network Consortium 1U01CA151920 (CJK and HPJ), NCI Cancer Target and Discovery Consortium U01CA17629901 (CJK and HPJ), NIDDK and NIAID Intestinal Stem Cell Consortium 1U01DK085527 (CJK) and K08 CA166512 (LN). LN received additional support from an American Society for Clinical Oncology Young Investigator Award.
Authors' Affiliations
(1)
Division of Oncology, Department of Medicine, Stanford University School of Medicine, CCSR 1115, Stanford, USA
(2)
Stanford Genome Technology Center, Stanford University, Palo Alto, USA
(3)
Department of Pathology, University of Pittsburgh Medical Center, Pittsburgh, USA
(4)
Bio-Rad, Inc, Pleasanton, USA
(5)
Department of Statistics, Stanford University, Stanford, USA
(6)
Division of Hematology, Department of Medicine, Stanford University School of Medicine, CCSR 1155, Stanford, USA
(7)
Department of Statistics, The Wharton School, University of Pennsylvania, Philadelphia, USA
Copyright
© Nadauld et al.; licensee BioMed Central 2014
This article is published under license to BioMed Central Ltd. This is an Open Access article distributed under the terms of the Creative Commons Attribution License (http://creativecommons.org/licenses/by/4.0), which permits unrestricted use, distribution, and reproduction in any medium, provided the original work is properly credited. The Creative Commons Public Domain Dedication waiver (http://creativecommons.org/publicdomain/zero/1.0/) applies to the data made available in this article, unless otherwise stated.