Astrogenomics: big data, old problems, old solutions?
Published: 13 August 2013
The ominous warnings of a data deluge in the life sciences from high-throughput DNA sequencing data are being supplanted by a second deluge, of clichés bemoaning our collective scientific fate unless we address the genomic data tsunami. It is imperative that we explore the many facets of the genome, not just sequence but also transcriptional and epigenetic variability, integrating these observations in order to attain a genuine understanding of how genes function, towards a goal of genomics-based personalized medicine. Determining any individual's genomic properties requires comparison to many others, sifting out the specific from the trends, requiring access to the many in order to yield information relevant to the few. This is the central big data challenge in genomics that still requires some sort of resolution. Is there a practical, feasible way of directly connecting the scientific community to this data universe?
The best answer could be in the stars overhead. About two decades ago, astronomers faced a similar challenge: new digital imaging detectors such as charge-coupled devices (CCDs) and increasingly sophisticated observatories created astronomy's own data avalanche, in the era of floppy disks and megabase hard drives. Data acquisition in astronomy has been growing exponentially ever since, with a Moore's Law-like doubling time of 12 to 18 months [
1
]. While neither astronomy nor genomics is unique in encountering a big data predicament, astronomy was one of the first scientific disciplines to recognize and tackle these issues effectively, with lessons for today's challenges in genomics (Figure
1
).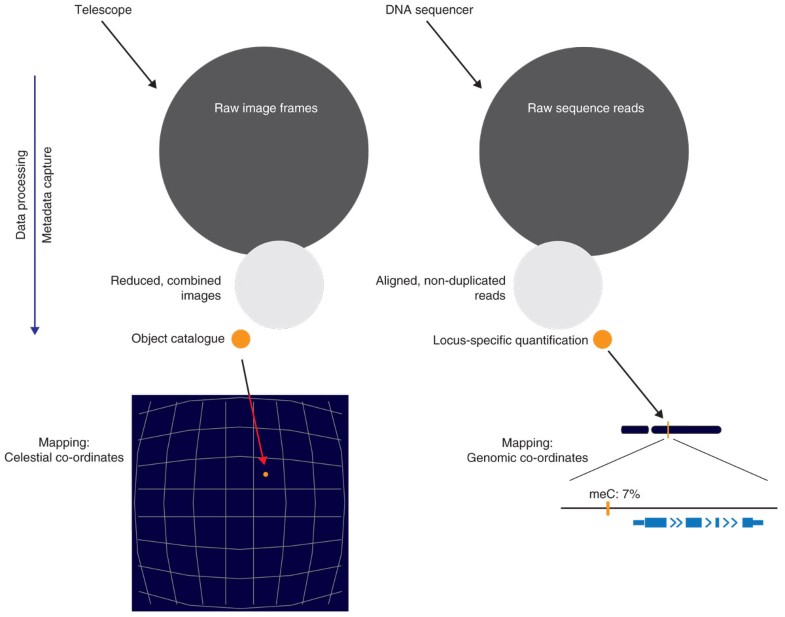 Two developments facilitated progress by the astronomers. First, the astronomical community recognized the benefits of settling on a common image standard, the Flexible Image Transportation System (FITS), which struck the right balance between universality and simplicity, and has been used as a world-wide astronomical standard ever since [2]. The second important development was the emergence of publicly accessible data archives from all NASA missions that encouraged data re-use and federation. Thus, the astronomical community was primed to use web-based, distributed databases.
As the quality and complexity of data increased, the pressure increased for 'reducing the data', or the processing of raw images to extract specific measurements, encouraging an approach based around a hierarchy of data types and derived data products. The apex of the hierarchy, such as the number of galaxies in a field of view as a function of flux, typically takes up a small fraction of storage space compared to the numerous raw image files from which they are derived. Metadata describing the observational data. containing information about how the images were acquired and processed to generate the reduced image data, were also recognized to be essential, allowing lasting use of the observational data and their integration with other astronomical datasets.
As the data volumes grew far beyond what could be effectively analyzed or downloaded by a scientist on a personal computer, the need emerged for a different paradigm for data access, sharing and analysis. The advent of the World Wide Web provided a suitable platform for these tasks.
(1)
Center for Epigenomics, Department of Genetics, Albert Einstein College of Medicine, Bronx, NY 10461, USA
(2)
Division of Computational Genetics, Department of Genetics, Albert Einstein College of Medicine, Bronx, NY 10461, USA
(3)
Center for Advanced Computing Research, California Institute of Technology, Pasadena, CA 91125, USA
(4)
Department of Astronomy, California Institute of Technology, Pasadena, CA 91125, USA
© BioMed Central Ltd 2013