Interactions of beneficial and detrimental root-colonizing filamentous microbes with plant hosts
Interactions between organisms shape ecological communities [1]. It is fascinating how plants fine-tune defense to prevent detrimental interactions while supporting development towards advantageous interactions [2]. As plants are unable to escape parasite attacks, they needed to evolve strong defense mechanisms to effectively ward off pathogens [3]. But plants also engage in symbiosis with advantageous microorganisms such as root-associated bacteria or fungi to gain extended nutrient access [4]. Knowing how plants control their interactions has a direct impact on our crop plants and influence on our agricultural strategies, and is thus a very important field of research.
Driven by the impact of diseases on agriculture, plant-pathogen research has resulted in extensive knowledge on how plants defend themselves against above-ground pathogens. Also, how plants engage in beneficial root symbiosis is a field of intense research [5]. However, there is much less known on the overlap between the two types of interaction. One reason is that historically research into plant-pathogen interactions and symbiosis research were motivated by different aims. Economically relevant pathogens such as the fungus-like oomycete Phytophthora infestans, trigger of the Irish potato famine, continue to cause dramatic yield losses in crops such as potato and tomato [6]. Given these economic and societal impacts, plant pathology research has focused on disease resistance, and has therefore been dominated by the study of pathogen modulation of plant immunity [7].
In contrast, research into beneficial effects of plant microbes is mainly guided by nutritional aspects [5] with much less focus on immunity and compatibility aspects. A well-studied example for beneficial symbiosis is the association of plant roots with fungi [8]. This mycorrhiza can be found in 80% of all land plants. Arbuscular mycorrhiza (AM) relies on an evolutionarily ancient program dating back to early land plants and was key when plants conquered the land. It is conceivable that pathogens take advantage of this symbiosis program to gain access to the host plant's resources.
We have extensive evidence for commonalities between pathogenic and symbiotic lifestyles. Both interaction types follow similar developmental processes of identification, plant cell penetration and re-differentiation of the host cells to establish intracellular interfaces for nutrient and information exchange (Figure
1
) [
9
]. Undecorated chitin oligomers of microbe origin, known to be potent inducers of plant immunity [
10
], were found recently to also activate symbiosis-related signaling [
11
]. Furthermore, effector proteins, hallmarks of animal and plant pathogens and which suppress defense and reprogram the host, were also described recently in mycorrhizal fungi [
12
,
13
]. Considering these similarities, it is surprising that very few parallels have been made between modes of pathogen and symbiotic colonization. Since symbiotic mycorrhiza occur only below ground, we are bound to study both types of interactions in roots. This will enable us to generate pathogen-resistant crop plants without affecting beneficial symbiosis. To do so, we need dual research systems that enable these comparative studies.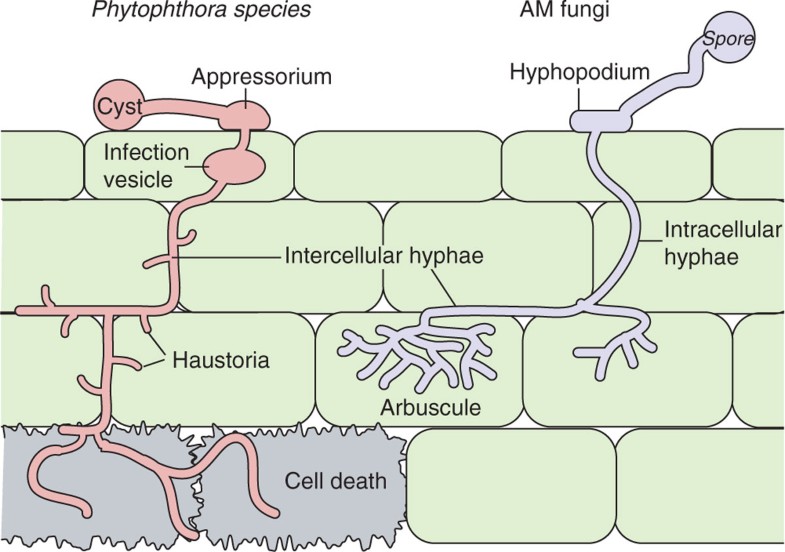 Our ability to compare principles of colonization is hampered by the traditional separation of plant pathology systems and symbiosis systems on different plant species.
Arabidopsis thaliana
, the plant system of choice for numerous plant-pathogen interactions, does not support feeding structure formation by endomycorrhizal fungi, and thus is limited to studies of non-host interactions [
14
]. Notably, separate research of
Phytophthora
pathogens in its host plants potato and tomato, and beneficial AM fungi in legumes and rice, has shown that both follow analogous steps to establish an interaction (Figure
1
). Moreover, both form specialized accommodation structures within plant cells (Figure
2
). Thus, it would be good to have a single plant species that allows direct comparison between pathogenic and symbiotic interactions.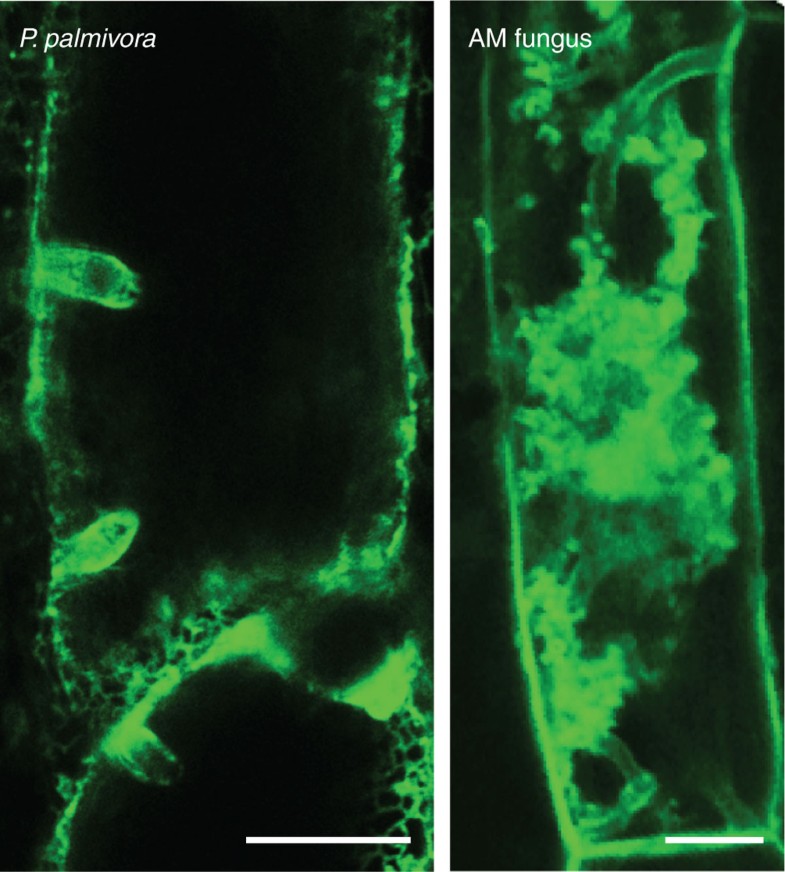 (1)
Sainsbury Laboratory, University of Cambridge, Bateman Street, Cambridge, CB2 1LR, UK
(2)
The Sainsbury Laboratory, Norwich Research Park, Norwich, NR4 7UH, UK
© BioMed Central Ltd 2013