Obligate mutualism within a host drives the extreme specialization of a fig wasp genome
Genome Biology
2013
14:R141
Received: 12 September 2013
Accepted: 20 December 2013
Published: 20 December 2013
Abstract
Background
Fig pollinating wasps form obligate symbioses with their fig hosts. This mutualism arose approximately 75 million years ago. Unlike many other intimate symbioses, which involve vertical transmission of symbionts to host offspring, female fig wasps fly great distances to transfer horizontally between hosts. In contrast, male wasps are wingless and cannot disperse. Symbionts that keep intimate contact with their hosts often show genome reduction, but it is not clear if the wide dispersal of female fig wasps will counteract this general tendency. We sequenced the genome of the fig wasp Ceratosolen solmsi to address this question.
Results
The genome size of the fig wasp C. solmsi is typical of insects, but has undergone dramatic reductions of gene families involved in environmental sensing and detoxification. The streamlined chemosensory ability reflects the overwhelming importance of females finding trees of their only host species, Ficus hispida, during their fleeting adult lives. Despite long-distance dispersal, little need exists for detoxification or environmental protection because fig wasps spend nearly all of their lives inside a largely benign host. Analyses of transcriptomes in females and males at four key life stages reveal that the extreme anatomical sexual dimorphism of fig wasps may result from a strong bias in sex-differential gene expression.
Conclusions
Our comparison of the C. solmsi genome with other insects provides new insights into the evolution of obligate mutualism. The draft genome of the fig wasp, and transcriptomic comparisons between both sexes at four different life stages, provide insights into the molecular basis for the extreme anatomical sexual dimorphism of this species.
Keywords
Horizontal Gene Transfer Event
Cuticular Protein
Insect Genome
Cuticular Protein Gene
Candidate Horizontal Gene Transfer
Background
In symbiosis, different species live together intimately. Symbiosis is responsible for several major transitions in evolution, including the origin of eukaryotes, and it underpins key ecosystem functions like nitrogen fixation and pollination [1]. In this system, a large species (host) usually interacts with a smaller one (symbiont), which may live inside it as an 'endosymbiont'. Interactions can be antagonistic, when the symbiont harms the host, such as for parasites and most plant-herbivore interactions [2], or mutualistic, where host and symbiont both benefit from the association and their evolutionary interests are more closely aligned [1, 3]. Obligate herbivore-plant mutualisms are relatively uncommon, but the fig pollinating wasp-fig mutualism is an ancient and stable association that originated about 75 million years ago [4].
Typically, endosymbionts are host-specific and show specialized adaptations to life inside their hosts [5, 6]. For example, parasites often exhibit a series of morphological reductions. Symbionts may also tend towards gene loss and genome reduction [7]. For example, parasites like tapeworms [8] and the mutualistic bacterium Buchnera[9, 10] have smaller genomes than their free-living relatives. Many endosymbionts spend most or all of their lives in the host [5, 6] and are vertically transmitted from one host generation to the next, often through eggs or propagules [9–11]. Even when an endosymbiont has a free-living stage, it is often quiescent (for example, tapeworm eggs); transmission to other hosts occurs via host contact or through food or water. Consequently, most obligate endosymbionts, benign or parasitic, live most of their lives in somewhat simplified, relatively predictable environments, allowing selective reduction of their anatomies and genomes [5, 6].
Fig-pollinating wasps (Agaonidae: Hymenoptera), hereafter referred to as 'fig wasps' or 'fig pollinators' for brevity, have an obligate, pollinating mutualism with fig trees (
Ficus
: Moracae) [
12
,
13
]. Therefore, unlike most other insect herbivores (for example,
Tribolium
beetles, pea aphids, diamondback moths), fig wasps are highly mutualistic with the plants upon which they feed. This is one of the most dramatic and ancient examples of an obligatory herbivore-plant mutualism known. Males spend their entire lives inside figs, but females have a brief (1 to 2 day) free-living adult stage that is crucial because these tiny wasps (2 to 5 mm long) achieve record feats of dispersal to lay eggs in trees up to 160 km away [
14
,
15
] (Figure
1
). Selection on males favors anatomical and genomic reductions, but selection on females may oppose this. The need of female fig wasps to disperse great distances and precisely locate and enter host figs requires impressive environmental sensing and locomotor abilities. Thus, sex-differential selection results in extreme anatomical sexual dimorphism (Figure
2
). Female fig wasps resemble other related wasps, although their narrow heads and detachable antennae are key adaptations for entering figs. In contrast, being wingless, de-pigmented, having reduced antennae and eyes [
12
,
13
], males show a series of morphological reductions befitting obligate endosymbionts.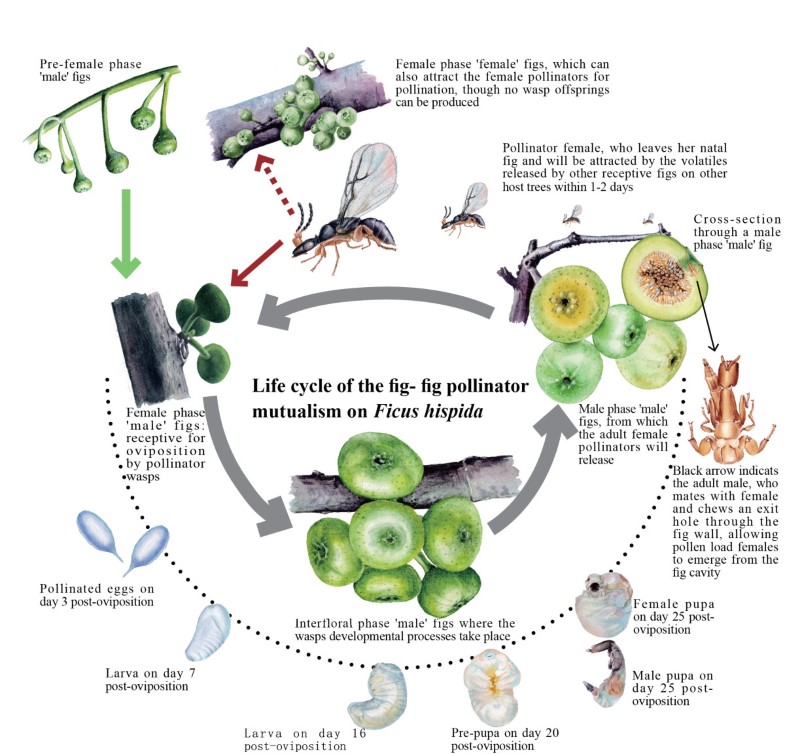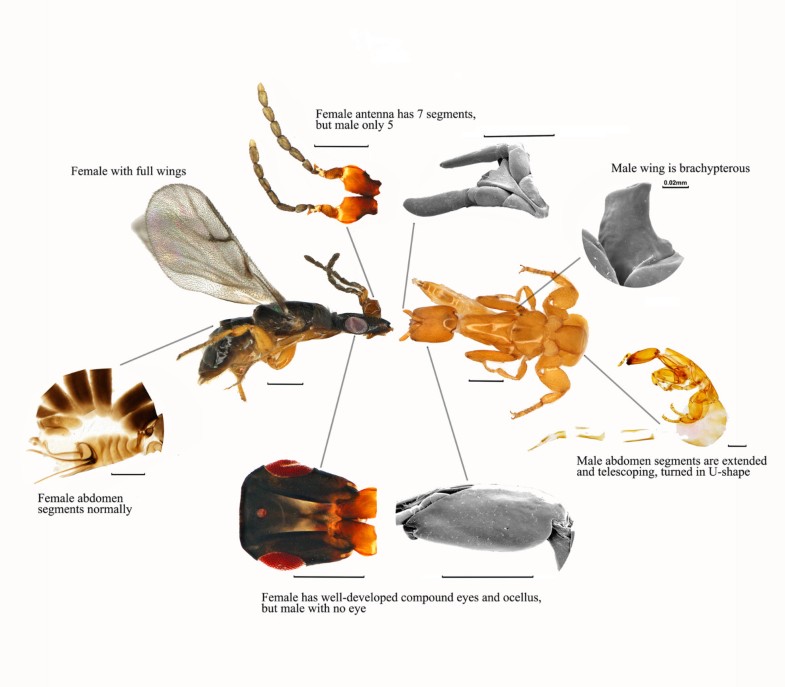 Ceratosolen solmsi is the obligate pollinating wasp of Ficus hispida, and it has the lifestyle and morphological characters typical of fig pollinators (Figures 1 and 2). We investigate how the longstanding mutualism and largely endosymbiotic lifestyle have shaped the genome of this herbivorous insect by deciphering the draft genome, as well as exploring life-staged transcriptomic differences between both sexes. We also test whether this largely endosymbiotic lifestyle has led to the endosymbiont signature of genome reduction, or if a life cycle with dispersive females prevents this from happening. In the latter case, we predict that male morphological reduction largely reflects reduced gene expression. This draft genome provides a valuable new genome resource for hymenopteran insects, and also permits comparisons with other insects to shed new light on the evolution of obligate mutualism.
Conclusions
The fig-fig wasp system is one of the most dramatic and ancient examples of an obligatory herbivore-plant mutualism known. Both figs and fig wasps show morphologies highly specialized to this mutualism. The first draft genome sequence of a fig wasp, that of C. solmsi, reveals how the long-term mutualism has shaped its genome. The genome generally resembles that of other insects in that it has similar gene content to other hymenopterans and other insects in genes such as those encoding for heat shock proteins, circadian rhythm, yellow and royal jelly-like proteins, hox complex, sex determination, and DNA methylation (for further information on these analyses plus an interesting analysis on the nutritional and microbial in the genome, please see Additional file 1). However, importantly, the fig wasp genome shows marked reductions of genes associated with environmental sensing and protection (for example, detoxification). Extreme host-specificity and endosymbiosis in a mutualistic host appears to drive this pattern. Counter-intuitively, complex dispersal is viable with a streamlined chemosensory toolbox, maybe because overwhelming selection pressure involves homing in on the correct host during the short adult lives of females; the sensing of other aspects of a complex external environment is of little importance, and might even be distracting. Comparisons of transcriptomes between female and male fig wasps at the key life stages of larva, early pupa, late pupa, and adult indicate that extreme anatomical sexual dimorphism likely results from a strong bias in sex-specific gene expression. Our analyses facilitate a deeper understanding of the biology of fig wasps, and also provide new insights into the evolution and genomic adaptations of mutualisms.
Abbreviations
AMP:

Antimicrobial peptides
CCE:

Carboxylesterases
CPR:

Cuticular protein
CSP:

Chemosensory protein
CYP:

Cytochrome P450
Gr:

Gustatory receptor
GST:

Glutathione-S-transferases
HGT:

Horizontal gene transfer
IMD:

Immunodeficiency
Ir:

Ionotropic receptors
JAK/STAT:

Janus kinase/signal transducers and activators of transcription
JNK:

c-jun N-terminal kinase
OBP:

Odorant binding protein
Or:

Olfactory receptor
P450:

Cytochrome P450.
Declarations
Acknowledgments
We thank Prof. Hugh M. Robertson in University of Illinois at Urbana-Champaign for helping in manual annotation of chemoreceptor genes. Thanks go to Prof. En-Kui Duan in Institute of Zoology, Chinese Academy of Sciences for helping in the analysis of the ommatidium structure of fig wasp. This project was supported by the National Natural Science Foundation of China (NSFC grant no. 31090253, 31172072, 31210103912), partially by Major Innovation Program of Chinese Academy of Sciences (KSCX2-EW-Z-2), by Program of Ministry of Science and Technology of the Republic of China (2012FY111100, 2011FY120200), by a grant (No. O529YX5105) from the Key Laboratory of the Zoological Systematics and Evolution of the Chinese Academy of Sciences, and by National Science Fund for Fostering Talents in Basic Research (Special subjects in animal taxonomy, NSFC- J1210002). Manuscript preparation was supported by a Discovery Grant from the Natural Sciences and Engineering Research Council of Canada (3148) and by a Visiting Professorship for Senior International Scientists from the Chinese Academy of Sciences to R.W. Murphy.
Authors' Affiliations
(1)
Key Laboratory of Zoological Systematics and Evolution, Institute of Zoology, Chinese Academy of Sciences, Beijing, China
(2)
BGI-Shenzhen, Shenzhen, China
(3)
University of Chinese Academy of Sciences, Beijing, China
(4)
College of Plant Protection, Shandong Agricultural University, Tai'an, China
(5)
Beijing TransGen Biotech Co. Ltd., Beijing, China
(6)
Biology Department, University of Rochester, Rochester, USA
(7)
State Key Laboratory of Genetic Resources and Evolution, Kunming Institute of Zoology, Chinese Academy of Sciences, Kunming, China
(8)
Department of Natural History, Royal Ontario Museum, Ontario, Canada
(9)
Environment and Plant Protection Institute, Chinese Academy of Tropical Agricultural Sciences, Danzhou, China
(10)
College of Life Science, Hebei University, Baoding, China
(11)
School of Biology, Georgia Institute of Technology, Atlanta, USA
(12)
Key Laboratory of Plant Resources Conservation and Sustainable Utilization, South China Botanical Garden, Chinese Academy of Sciences, Guangzhou, China
(13)
College of Life Sciences, Fujian Normal University, Fuzhou, China
(14)
School of Biological Sciences, University of Reading, Berkshire, UK
(15)
Hawkesbury Institute for the Environment, University of Western Sydney, Penrith South, Australia
Copyright
© Xiao et al.; licensee BioMed Central Ltd. 2013
This article is published under license to BioMed Central Ltd. This is an Open Access article distributed under the terms of the Creative Commons Attribution License (http://creativecommons.org/licenses/by/2.0), which permits unrestricted use, distribution, and reproduction in any medium, provided the original work is properly cited. The Creative Commons Public Domain Dedication waiver (http://creativecommons.org/publicdomain/zero/1.0/) applies to the data made available in this article, unless otherwise stated.