Cytosine methylation and hydroxymethylation mark DNA for elimination in Oxytricha trifallax
Received: 1 June 2012
Accepted: 17 October 2012
Published: 17 October 2012
Abstract
Background
Cytosine methylation of DNA is conserved across eukaryotes and plays important functional roles regulating gene expression during differentiation and development in animals, plants and fungi. Hydroxymethylation was recently identified as another epigenetic modification marking genes important for pluripotency in embryonic stem cells.
Results
Here we describe de novo cytosine methylation and hydroxymethylation in the ciliate Oxytricha trifallax. These DNA modifications occur only during nuclear development and programmed genome rearrangement. We detect methylcytosine and hydroxymethylcytosine directly by high-resolution nano-flow UPLC mass spectrometry, and indirectly by immunofluorescence, methyl-DNA immunoprecipitation and bisulfite sequencing. We describe these modifications in three classes of eliminated DNA: germline-limited transposons and satellite repeats, aberrant DNA rearrangements, and DNA from the parental genome undergoing degradation. Methylation and hydroxymethylation generally occur on the same sequence elements, modifying cytosines in all sequence contexts. We show that the DNA methyltransferase-inhibiting drugs azacitidine and decitabine induce demethylation of both somatic and germline sequence elements during genome rearrangements, with consequent elevated levels of germline-limited repetitive elements in exconjugant cells.
Conclusions
These data strongly support a functional link between cytosine DNA methylation/hydroxymethylation and DNA elimination. We identify a motif strongly enriched in methylated/hydroxymethylated regions, and we propose that this motif recruits DNA modification machinery to specific chromosomes in the parental macronucleus. No recognizable methyltransferase enzyme has yet been described in O. trifallax, raising the possibility that it might employ a novel cytosine methylation machinery to mark DNA sequences for elimination during genome rearrangements.
Keywords
epigenetics
DNA degradation
heterochromatin
methyltransferase
5-Aza-2'-deoxycitidine
5-azacytidine
azacitidine
decitabine
Background
DNA methylation is an epigenetic mark that alters gene expression and regulates genome stability in plants, animals and fungi [1–5]. As a stable, heritable repressive mark that is copied faithfully during DNA replication, DNA methylation of cytosine is crucial for the specification of cell lineages in mammalian and plant development [2–4, 6, 7] Demonstrating their essential functional roles, mutations in DNA methyltransferases (Dnmts) are lethal in mice and frogs [8–10] while mutations of the de novo methyltransferase Dnmt3a/b cause developmental disease in humans [11, 12]. DNA methylation induces and reinforces the formation of heterochromatin, which is a tightly packed form of chromatin associated with the repression of transcription [2, 4, 13]. The most widely-studied regulatory methylation occurs at gene promoters, in CpG-rich regions termed 'CpG islands' [14, 15], where it induces a transcriptionally silent epigenetic state that is inherited faithfully in descendant cells [4]. For example, the promoter of the stem cell pluripotency gene Oct-4 becomes methylated in differentiating cells, which leads to silencing and a block to reprogramming other stem cell fates in all cell progeny [16, 17]. Another example is the development of the vertebrate immune system, in which cascades of transcription factors control cell fates; these fates are locked in by de novo DNA methylation of target gene promoters (reviewed in [18]). DNA methylation also plays a key role in oncogenic transformation: it has been known for over 15 years that cancer cell genomes display genome-wide abnormalities in DNA methylation patterns [19–23], some of which have been shown to be oncogenic [24] and to contribute to genome instability [25]. In particular, de novo methylation of tumor suppressor gene promoters occurs frequently in cancers, thereby silencing them and promoting transformation [19, 21, 22].
Oxytricha trifallax is a ciliated protist that performs genetic gymnastics in a complex developmental program to disentangle its genome [26]. Each cell contains two distinct types of nuclei: a germline micronucleus (MIC) that is usually transcriptionally silent, and a transcriptionally-active somatic macronucleus (MAC) that derives from the MIC but retains only 5% of its sequences [27]. The process of MAC development involves elimination of repetitive elements such as transposons [28–30] and satellite repeats [31]. In the developing, or zygotic, MAC, genes are reconstructed from relatively short segments, known as Macronuclear Destined Segments (MDSs), which are stitched together, often in a different order relative to their original order in the MIC, to produce nanochromosomes that typically contain only a single gene [26]. Genes are frequently interrupted by spacer sequences, known as Internal Eliminated Sequences (IESs), that are removed from the genome during the rearrangement process. MAC nanochromosomes are, on average, a little over 2 kb long, and there are approximately 20,000 different chromosomes in each macronucleus [26]. During the developmental process of genome rearrangement, one MIC genome irreversibly differentiates into a new, zygotic MAC, and the old, parental MAC genome degrades.
Oxytricha
cells thus have to eliminate two sets of DNA during development of the zygotic MAC: the entirety of the parental MAC genome and the vast majority (95%) of the MIC genome (Figure
1
) [
26
,
27
,
32
,
33
]. Here we present data that implicate DNA methylation and hydroxymethylation in both DNA degradation processes. Furthermore, we describe a type of DNA methylation/hydroxymethylation whose defining characteristic is modification of every cytosine in a local region of a chromosome in a context-independent fashion, as opposed to modification of specific motifs. This pan-cytosine modification in
O. trifallax
is consistent with a model in which methylation marks DNA segments for elimination (possibly through degradation into nucleotides, which are then released into the media [
34
]). We present functional data linking DNA methylation to the highly regulated and essential process of genome rearrangement in
O. trifallax
. Given that no recognizable methyltransferase enzyme has yet been described in
O. trifallax
, it is possible that this unusual methylation may be deposited by novel methylation machinery.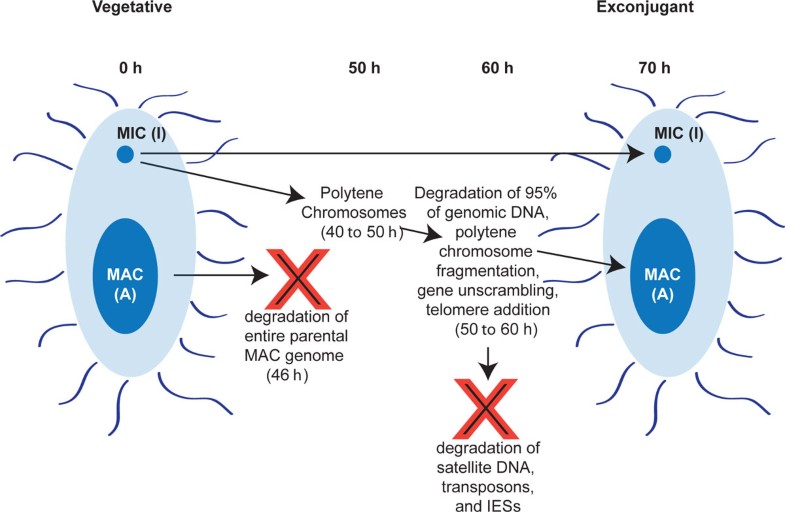 The identification of cytosine methylation and hydroxymethylation as a degradation signal for DNA is novel although not entirely surprising, because the distantly related ciliate Tetrahymena thermophila uses repressive chromatin marks, including histone methylation of H3K27 [35] deposited by an Enhancer of Zeste (E(z)) homolog [36], along with several chromatin-recognizing proteins [37–39], to mark DNA for degradation. In addition, E(z) homologs (specifically, EZH2) in humans are known to recruit DNA methyltransferases [40]. However, neither DNA methylation nor hydroxymethylation has previously been implicated in a eukaryotic DNA degradation process. Therefore, the observations presented here significantly expand our understanding of functional roles for DNA methylation and hydroxymethylation in biology.
Discussion
DNA methylation plays pivotal roles in development and cell lineage differentiation in plants and animals [1, 3–6]. While our knowledge of DNA methylation pathways in animals, plants and fungi is relatively advanced, very little is known about DNA methylation in microbial eukar-yotes, such as ciliates. Though early work uniformly failed to identify cytosine methylation in Paramecium aurelia, T. thermophila, or O. trifallax [73–75], we have here identified both methylcytosine and hydroxymethyl-cytosine as vital players in the genome rearrangement process of O. trifallax. We have unambiguously identified these modifications using high-sensitivity nano-flow UPLC-MS, and have tested their functionality by preventing their formation using methyltransferase inhibitors. Because earlier work examined vegetative samples of O. trifallax, which we confirm are lacking in both methylcytosine and hydroxymethylcytosine, it did not detect the de novo methylation and hydroxymethylation that we show occurs only transiently during genome rearrangements. Supporting these observations, a report in 2003 described de novo methylation in the stichotrichous ciliate (and close O. trifallax relative) Stylonychia lemnae [76]. In that work, though detected at low levels in vegetative MIC, cytosine methylation was detectable primarily during the genome rearrangement processes, where it was introduced de novo within eliminated transposon-like sequences [76]. As in the O. trifallax system, methylation was observed in all sequence contexts within the transposable element, and was clustered in a region spanning approximately 500 bp [76]. While our results generally support the conclusions of the S. lemnae study, our work differs in some important ways: firstly, since hydroxymethylation had not yet been identified as an important epigenetic mark in DNA, it was not analyzed in S. lemnae; secondly, O. trifallax DNA methylation/hydroxymethylation occurs at a much higher level (70%-90%) than reported in S. lemnae (25%); thirdly, O. trifallax has significant modification of at least a few macronuclear chromosomes and aberrant splicing products, neither of which was reported for S. lemnae; fourthly, the data presented here directly implicate methylation/hydroxymethylation in O. trifallax's DNA elimination pathway; and, fifthly, we report a 20 bp motif that appears to play a role in directing methylation/hydroxymethylation to particular regions of specific chromosomes. We demonstrate that the DNA methylation process plays a significant functional role in the elimination of repetitive sequences in the MIC, including a highly abundant transposon family and an abundant satellite repeat family. We also report the specific methylation/hydroxymethylation of a small number of aberrantly rearranged molecules but not their correctly rearranged counterparts, suggesting a role for DNA modification in either error recognition during chromosome rearrangement and/or the degradation of such incorrectly rearranged molecules.
Functional data presented here support a role for DNA methylation in degradation pathways, because methylation appears enriched in DNA from the parental MAC, which is targeted for elimination, as well as repetitive MIC eliminated sequences. We found that inhibition of DNA methyltransferases by decitabine led to significant demethylation of 6 out of 9 MAC chromosomes and one MIC locus (the 170 bp satellite repeat; Figure 7c). Coincident with the decitabine-induced loss of methylation from these chromosomes, we observed a mild but often statistically significant accumulation of the chromosomes themselves (the native DNA signal in Figure 7c). While this accumulation is modest, with a maximum 1.5- to 2-fold increase, these data provide compelling support across multiple chromosomes for an intimate link between DNA methylation/hydroxymethylation and degradation during genome rearrangement.
Further support for the model comes from the examination of cells that have completed genome rearrangements after azacitidine and decitabine treatment: 170 bp satellite repeats and TBE1 transposons display a statistically significant accumulation relative to untreated controls (Figure 8b,c,d). In addition, azacitidine treatment induces an accumulation of germline TEBPα and a decrease in MAC versions of the same gene (Figure 8b, c). We observe other genome rearrangement defects upon azacididine or decitabine treatment: along with TEBPα, Contig4414 also shows lower levels, while two other chromosomes showed elevated levels (Contig18539 and Contig15988), consistent with retention of parental MAC chromosomes that were not degraded properly. These data demonstrate the complexity of the functional consequences of inhibiting DNA methylation: effects may be direct (such as a failure to degrade a given molecule of DNA from the parental MAC) or indirect (for example, if the cell cannot properly eliminate an IES from the MIC version of a gene and therefore does not produce enough MAC product). Further work is needed to disentangle these effects but, taken together, the data implicate a DNA methylation/hydroxymethylation pathway in the elimination of repetitive and single-copy elements from the MIC genome and in the production of a functional macronuclear genome.
The relationship between cytosine methylation and hydroxymethylation in O. trifallax offers new challenges. In mouse, for example, sperm DNA is methylated but paternal genome methylation is rapidly lost upon fertilization [77], as the embryo undergoes epigenetic repro-gramming and establishment of new methylation patterns [78, 79]. Hydroxymethylcytosine appears in the paternal, but not maternal, pronucleus during this dramatic re-writing of the epigenetic code [80, 81], coincident with the loss of paternal methylation. Other work has linked hydroxymethylation with tissue-specific promoter activation and, presumably, demethylation during development [82]. Hydroxymethylation is dependent upon pre-existing methylation and so exists in a dynamic tension with it: both modifications can mark the same genomic regions [83], as we see in O. trifallax, and this phenomenon is particularly prevalent in embryonic stem cells [84, 85]. Yet hydroxymethylation also antagonizes methylation by directing its removal and/or blocking methylcytosine-binding heterochromatin proteins [86, 87]. The link between methylation and degradation in O. trifallax suggests that the organism might use hydroxymethylation as a countervailing, stabilizing force, perhaps to target genes that are important for conjugation. Other mechanisms may also be involved in this association: O. trifallax's most hydroxymethylated ribosomal protein gene is a homolog of L12, which in bacteria and yeast can regulate ribosome initiation and elongation [88, 89]. Therefore, changes in expression of the L12-encoding chromosome may have ramifications across the proteome, possibly even shutting down translation while the organism undergoes the elaborate steps of genome remodeling.
Conclusions
In conclusion, we have observed three different types of DNA marked with cytosine methylation in O. trifallax: chromosomes targeted for degradation in the parental macronucleus, micronucleus-limited repetitive elements and aberrantly spliced gene rearrangement products. Azacitidine or decitabine treatment significantly inhibited the elimination of at least some sequences, coincident with reduced methylation. The work presented here reveals a novel pattern of extensive cytosine DNA methylation and suggests a functional link to DNA degradation, while also providing a first glimpse into a methylation-based error-detection pathway in O. trifallax.
Previous literature reporting the absence of methylctyosine in ciliates [73–75, 90] makes our results surprising. However, these earlier studies exclusively surveyed vegetative cell DNA, whereas a more recent study that examined conjugating DNA [76] did detect low levels of methylcytosine, although (as discussed above) no functional role was defined and the levels of modification were much lower than reported here. We do not detect any homologs of the canonical DNA methyltransferase genes (DNMT1, 3A, 3B, or 3L, Dim-2, or the plant-specific methyltransferases CMT3, DRM1/2, and MET1) [1, 3, 4, 91] in the macronuclear genome of O. trifallax [92], suggesting that the enzyme might be encoded in the micronucleus or on a rare macronuclear chromosome that was excluded from the macronuclear genome assembly (Swart et al., manuscript in revision). However, a search of the current draft micronuclear genome which contains 95% of macronuclear sequences (J.R.B, L.F.L. and X. Chen, unpublished data) revealed no additional candidate methyltransferases.
In contrast to the absence of DNA methyltransferases, we can identify a macronuclear family of Tet (Ten-eleven translocation) dioxygenases resembling those involved in hydroxymethylation in other systems [41, 85], as well as a homolog of the DNA methyltransferase-binding protein (DMAP1) [93]. This protein has been reported to activate DNMT1 at sites of DNA breakage during homologous recombination [94]. The association of DMAP1 with an unknown DNA methylase could help O. trifallax distinguish between aberrantly spliced products and their correct versions, ensuring that only the former are methylated.
The observation that DNA rearrangements in O. trifallax and S. lemnae are rife with errors during early nuclear development [65] necessitated a mechanism to correct or eliminate aberrant products, and prompted our laboratory's previous discovery of the long, noncoding RNAs that supply templates for error correction [64]. While the mechanism by which the cell detects aberrantly spliced DNA is unknown, DNA methylation, perhaps coupled with non-coding RNA guides, provides an elegant mechanism to mark DNA splicing mistakes for future degradation, along with other genomic sequences to be eliminated.
Materials and methods
O. trifallax culture
O. trifallax mating types JRB510 and JRB310 were cultured separately in Pringsheim media, the volume of which was doubled every day, and with Chlamydomonas reinhardtii as a food source, supplemented daily with fresh overnight cultures of Klebsiella pneumoniae. For conjugations, very lightly starved cells were gauze filtered to remove algae clumps. A very small amount of K. pneumoniae culture was added (approximately 5 μl in a 300 ml dish) to promote conjugation. The cells form maximal pairs at approximately 12 h post-mixing and separate by 24 h post-mixing. The cells were harvested by killing with 25 mM EDTA, centrifuged for five minutes at 5,000 rpm, and resuspended in buffer T1 of the Nucleospin Tissue Kit (#740952.250, Macherey-Nagel, Bethlehem, PA, USA). The standard protocol was followed for DNA preparation (proteinase K treatement, lysis and purification over a column).
Immunofluorescence
Twelve-well slides were incubated overnight with 20 mg/ml polylysine in a moist chamber. The wells were washed with water and fixed O. trifallax cells (4% paraformaldehyde, 10 to 15 minites, 2× PBS wash) were allowed to adhere to the slides overnight. Cells were permeabilized for 20 minutes with 0.5% Triton-X100 in PBS, then incubated for five minutes with 0.1 N HCl. After washing again, the Image-iT signal enhancer (cat#I36933, Invitrogen, Grand Island, NY, USA) was added to the cells for 30 minutes. The cells were washed, incubated with primary antibody for 1 h at room temperature, then washed for 20 minutes, followed by secondary antibody incubation (1:800 goat anti-mouse or -rabbit; labeled with AlexaFluor 488 or 568) for 1.5 h at 37°C. The cells were washed twice more with PBS, then stained with DAPI (1 to 2 ng/μl in PBS) for two to three minutes. Cells were washed three times with PBS, then mounted with Aqua-Poly/Mount (Polysciences, Warring-ton, PA, USA), and a coverslip was added. Imaging was performed with a confocal microscope at the Princeton University Microscopy Facility. A mouse anti-methylcyto-sine antibody (33D3, ab10805, Abcam, Cambridge, MA, USA) was used at 1:100 dilution and a rabbit anti-hydro-xymethylcytosine antibody (#39792, ActiveMotif, Carlsbad, CA, USA) was used at 1:500 dilution.
Methylcytosine immunoprecipitation and deep sequencing
All steps were performed as described [44]. We used a Covaris machine (Covaris, Woburn, MA, USA) for fragmentation of 10 μg of 46 h or an equal mixture of JRB310 + JRB510 DNA to 300 bp (10% duty cycle, intensity = 4,200 cycles per burst, 80 seconds). We performed Illumina library adaptor ligation (Illumina, San Diego, CA, USA) before immunoprecipitation, using different indexes for 46 h and vegetative DNA; these libraries were mixed prior to immunoprecipitation and no PCR steps were performed until after IP to avoid loss of DNA modifications. The pooled libraries were subjected to immunoprecipitation using the same anti-methylcytosine and anti-hydroxymethylcytosine antibodies used for immuno-fluorescence, described in the previous section, or control IgG (mouse). Immunoprecipitation was carried out with Dynabeads Protein A (Invitrogen, Grand Island, NY, USA) and a magnetic capture system. After immunoprecipitation as in [44], PCR amplification of the captured material was performed with Illumina adaptor primers by Phusion Hot Start Flex (New England Biolabs, Ipswich, MA, USA) (15 cycles, 60° annealing, 30 second extend), followed by size-selection on a 2% MetaPhor (Cambrex, East Rutherford, NJ, USA) agarose gel to eliminate adaptor dimers and size-select the library. Sequencing was performed on a HiSeq2000 (Illumina, San Diego, CA, USA) at the Princeton University Microarray Facility and approximately 5 to 8 million sequences were obtained for each library. Data were mapped with BWA [95] and the resulting SAM files were custom parsed with custom Python scripts to produce the scatter plots shown in Figure 4. Both raw read files and processed data files are available on Gene Expression Omnibus (GEO); see Data Availability section for more information.
Treatment of O. trifallax with azacitidine and decitabine
Cells were grown and cultured as described above, with separate dishes for each drug concentration. Every day a fresh 500 μM stock of azacitidine or decitabine was prepared by mixing 0.001 g of powder into 10 ml of Pringsheim media, and shaking gently for two to five minutes. This stock was diluted into the culture dishes directly when the cells were fed daily or when conjugation was initiated. Cells were fed the equivalent of 25 ml C. reinhardtii culture per 100 ml petri dish (containing 25 ml dense ciliate culture), washed twice in Pringsheim media, and supplemented with 30 μl of fresh K. pneumoniae culture. Each day the volume was doubled with fresh Pringsheim media, and the amount of food was doubled. On the third day, the cells were filtered through gauze to remove algae clumps and supplemented with an equal volume of fresh Pringsheim and 5 μl K. pneumoniae. Conjugation efficiency and synchrony were quantified by fixing and DAPI staining some cells for microscopy: approximately 700 μl of cells were mixed with an equal volume of a 3:1 Methanol: Acetic acid solution, and allowed to fix for at least five minutes. The cells were gently spun down at 200 g for one minute, following which the supernatant was discarded. A volume of cells between 20 and 50 μl was pipetted onto labeled glass coverslips and allowed to air-dry completely (approximately 45 minutes). Once dry, they were either stored or immediately rehydrated and imaged. The rehydration was carried out by floating the coverslips, inverted, for three minutes on the surface of TE buffer, pH 7.5 (10 mM Tris, 1 mM EDTA) in a petri dish. After three minutes the coverslips were removed and excess fluid blotted off, and 20 μl of a 5 μg/ml DAPI solution was immediately applied. The coverslips were inverted onto a glass slide and the edges sealed with clear nail polish to prevent evaporation, and were imaged immediately at 400× magnification on an inverted microscope. Cells were harvested at 40 h or at 72-94 h with the Nucleospin Tissue kit and the DNA analyzed by PCR or qPCR, as described above.
Bisulfite-PCR
We used the Cells-to-CpG kit (Invitrogen, Grand Island, NY, USA) and followed the standard protocol provided in the kit. In particular, we used a 3× conversion cycle proto-col (denature, then 65°C for 30 minutes, 95° 1.5 minutes, 65° for 30 minutes, 95° 1.5 minutes, 65° for 30 minutes, then desalt and desulfonate). For qPCR, we ran the samples for 45 cycles on an ABI384 (Applied Biosystems, Carlsbad, CA, USA) under standard cycling conditions. We normalized all samples to mitchondrial rDNA and used the ddCt method [63]. Bisulfite-PCR was carried out with primers listed in Additional file 6 and FastStart Taq (Roche, Indianapolis, IN, USA) using the following program: 1) 95° 30 seconds 2) 95° 30 seconds 3) 55° anneal, 4) 72° extend for 30 seconds, for 35 cycles 5) 72° for 5 minutes, 6) 4° hold. A selection of PCR products were Sanger sequenced by GENEWIZ (South Plainfield, NJ, USA) and the traces are presented as supplemental online material (see Data Availability section).
Southern hybridization
Exconjugant DNA was separated on an ethidium-bromide-stained 0.3% SeaKemGold agarose gel (Lonza, Walkersville, MD, USA). DNA was depurinated in gel (0.25% HCl, 20 minutes; soaked twice in 0.4 M NaOH for 10 minutes to neutralize) and transferred to Hybond XL membrane (GE Healthcare Life Sciences, Pittsburgh, PA, USA) in 0.4 M NaOH using a Nytran TurboBlotter (Schleicher & Schuell, Keene, NH, USA). Labeled probe was generated via random priming (Prime-It, Stratagene, Santa Clara, CA, USA) of gel purified PCR product from O. trifallax strain JRB310. After overnight hybridization at 60°C in Church buffer (0.5 M NaPO4, pH 7.2, 1% BSA, 1 mM EDTA, 7% SDS) the membrane was washed twice in 0.2 × SSC with 0.1% SDS (30 min, 60°C), wrapped in saran wrap and exposed to a phosphorimager screen for 6 h or overnight.
High-resolution nano-flow UPLC-mass spectrometry
Purified O. trifallax DNA was subjected to degradation into nucleosides by treatment with DNA Degradase Plus (Zymo Research, Irvine, CA, USA). Methylcytosine and hydroxymethylcytosine controls were obtained from Zymo Research where they were generated by PCR with the appropriately modified nucleotides. Concentrated digest solutions were diluted to approximately 5 ng/ul using 3% acetonitrile (ACN)/0.1% formic acid (FA) and placed directly into autosampler vials. Samples were subjected to reversed-phase nano-LC-MS and MS/MS performed on a nano-flow capillary ultra-high pressure HPLC system (Nano Ultra 2D Plus, Eksigent, Dublin, CA, USA) coupled to an LTQ-Orbitrap XL hybrid mass spectrometer (ThermoFisher Scientific, San Jose, CA, USA) outfitted with a Triversa NanoMate ion source robot (Advion, Ithaca, NY, USA). Chromatography was achieved using a 75 m × 25 cm column packed in house into a fritted capillary (Integrafrit, New Objective, Woburn, MA, USA) using 1.7 um C18 BEH resin (Waters, Milford, MA, USA). Samples were loaded directly on column and separations were conducted using a linear gradient of A and B solvents (Solvent A: 3% ACN/0.2% FA/0.1% acetic acid; Solvent B: 97% ACN/0.2% FA/0.1% acetic acid) over 60 or 90 minutes at a flow rate of approximately 250 nl per minute. Nano electrospray ionization was carried out using the NanoMate ion source at 1.74 kV, with the LTQ heated capillary set to 200°C. Full-scan mass spectra were acquired in the Orbi-trap in positive-ion mode over the m/z range of 225 to 1800 and the narrower range of 225 to 300 at an instrument resolution of 100,000. Spectra were typically within a calibration error of 2 to 3 ppm with respect to absolute mass accuracy, following external calibration of the instrument. LC-MS data were manually interpreted using Xcalibur software (ThermoFisher Scientific, San Jose, CA, USA) to visualize nucleoside mass spectra and to generate extracted ion chromatograms by using the theoretical [M+H] values of the target nucleosides within a range of ±0.0005 Da. Data are available on OxyDB, the O. trifallax genome database website. See Data Availability section for details.
Data availability
The DNA immunoprecipitation and high-throughput sequencing data are available on Gene Expression Omnibus (GEO) [96]: Accession number [GSE41060]. Sanger traces from bisulfite-PCR sequencing are available as Additional files 7, 8, 9, 10, 11, 12, 13, 14, 15. UPLC-mass spectrometry data are available at OxyDB, the O. trifallax genome database website [43].
Abbreviations
ACN:

acetonitrile
bp:

base pair
Ct:

threshold cycle
DAPI:

4',6-diamidino-2-phenylindole
ddCt:

delta-delta-Ct
DMAP1:

DNA methyltransferase binding protein
Dnmt:

DNA methyltransferase
FA:

formic acid
kb:

kilobases
MAC:

macronucleus
MIC:

micronucleus
IES:

Internal Eliminated Sequence
IgG:

immunoglobulin G
LC:

liquid chromatography
MDS:

Macronuclear Destined Sequence
MS:

mass spectrometry
PCR:

polymerase chain reaction
qPCR:

quantitative PCR
TBE:

Telomere-Bearing Element
TEBPα:

Telomere End-Binding Protein α
TEBPβ:

Telomere End-Binding Protein β
UPLC:

ultra high performance liquid chromatography.
Declarations
Acknowledgements
We thank all members of the Landweber laboratory for helpful discussions, Wenwen Fang and Jaspreet Khurana for critical reading of the manuscript, and the anonymous referees for their helpful suggestions. We wish to acknowledge the work of Jessica Buckles, Donna Storton and Wei Wang at the Princeton University Sequencing Core facility and Joe Goodhouse at the Princeton University Microscopy Facility for their assistance. We also thank Nick Stover for hosting the mass spectrometry data on OxyDB, the O. trifallax genome database website. This work was supported by National Science Foundation grant 0923810 and 0900544 and National Institutes of Health grant GM59708 to L.F.L, and by National Institutes of Health grant 1F32GM099462 to J.R.B. The content is solely the responsibility of the authors and does not necessarily represent the official views of the National Institutes of Health.
Authors' Affiliations
(1)
Ecology & Evolutionary Biology Department, Princeton University, Princeton, USA
(2)
Collaborative Proteomics and Mass Spectrometry Center, Molecular Biology Department and the Lewis-Sigler Institute for Integrative Genomics, Princeton University, Princeton, USA
Copyright
© Bracht et al.; licensee BioMed Central Ltd. 2012
This article is published under license to BioMed Central Ltd. This is an open access article distributed under the terms of the Creative Commons Attribution License (http://creativecommons.org/licenses/by/2.0), which permits unrestricted use, distribution, and reproduction in any medium, provided the original work is properly cited.