Small variable segments constitute a major type of diversity of bacterial genomes at the species level
Received: 29 October 2009
Accepted: 30 April 2010
Published: 30 April 2010
Abstract
Background
Analysis of large scale diversity in bacterial genomes has mainly focused on elements such as pathogenicity islands, or more generally, genomic islands. These comprise numerous genes and confer important phenotypes, which are present or absent depending on strains. We report that despite this widely accepted notion, most diversity at the species level is composed of much smaller DNA segments, 20 to 500 bp in size, which we call microdiversity.
Results
We performed a systematic analysis of the variable segments detected by multiple whole genome alignments at the DNA level on three species for which the greatest number of genomes have been sequenced: Escherichia coli, Staphylococcus aureus, and Streptococcus pyogenes. Among the numerous sites of variability, 62 to 73% were loci of microdiversity, many of which were located within genes. They contribute to phenotypic variations, as 3 to 6% of all genes harbor microdiversity, and 1 to 9% of total genes are located downstream from a microdiversity locus. Microdiversity loci are particularly abundant in genes encoding membrane proteins. In-depth analysis of the E. coli alignments shows that most of the diversity does not correspond to known mobile or repeated elements, and it is likely that they were generated by illegitimate recombination. An intriguing class of microdiversity includes small blocks of highly diverged sequences, whose origin is discussed.
Conclusions
This analysis uncovers the importance of this small-sized genome diversity, which we expect to be present in a wide range of bacteria, and possibly also in many eukaryotic genomes.
Keywords
Genomic IslandFlank GeneIllegitimate RecombinationVariable SegmentIntragenic Locus
Background
The availability of bacterial genome sequences for closely related strains within a species and software dedicated to multiple genome alignments allow for a novel perspective of bacterial genetic diversity [1–3]. Use of these aligners has led to the notion that bacterial species share a DNA backbone common to all strains interrupted by variable segments (VSs) that are specific to a subset of the aligned strains [4–6]. The most studied category of VSs are genomic islands, which are defined by Vernikos and Parkhill as horizontally acquired mobile elements of limited phylogenetic distribution [7]. These islands are of a large size (30 to 100 kb), and often encode genes critical for pathogenesis [8]. Their integration into genomes presumably occurs by site-specific recombination. Genomic islands may then diffuse from strain to strain by homologous recombination [9]. Where known, horizontal transfer of islands occurs either by mobilization through bacteriophages, such as in Staphylococcus aureus [10, 11] or by conjugation, using transfer origins located either outside or inside the island [9, 12, 13]. Informatic tools have been developed to detect such islands in genomes [14–16]. A second category of VSs of large size involves temperate bacteriophages, or phage remnants. Like genomic islands, they enter the bacterial chromosome by site-specific recombination. Informatic tools to predict these elements have flourished in the past few years [17–19]. Recently, a new class of large variable elements has been characterized with the clustered, regularly interspaced short palindromic repeats (CRISPR), in which repeats alternate with short DNA segments of plasmid or bacteriophage origin. These regions confer phage or plasmid immunity [20, 21] by mechanisms that remain to be understood. Databases for these elements are available [22, 23]. Transposons and insertion sequences (ISs) also contribute to VSs when closely related genomes are compared, and their size is small compared to the first two types of elements (a few hundred base pairs to a few kilobases). These elements move within a given genome by transposition. A reference website allowing their classification exists [24], and two strategies for automated IS detection have been described [25, 26]. Finally, the smallest kind of VS (with a = 20 bp threshold) expected to be present when genomes are aligned are the minisatellites, composed of small tandem repeats that are commonly used for strain typing. Websites allowing their recognition are available [27–29]. A special category of such repeats are the 'small dispersed repeats', some 20 bp long and tandemly repeated in various copy numbers in genomes, which might be mobile [29]. The Escherichia coli genomes contain a family of such elements, called palindromic units (PUs; 30 to 37 bp), which are palindromic and intergenic, and often combined in clusters [30].
DNA recombination and mutagenesis are the sources of respectively large and small scale genetic diversity in genomes. In a broad sense, recombination designates all events that reshuffle DNA sequences. This reshuffling can have two opposite effects: either it homogenizes DNA sequences (a process called DNA conversion), or it provokes the abrupt loss, acquisition or translocation of genetic information, and therefore brings in diversity. A wide range of artificial genetic systems have been set up in the past decades to study recombination at the molecular level in bacteria and to determine the frequencies of its occurrence. Among the three main categories of recombination events, site-specific recombination is highly efficient; for example, recombination can occur in 100% of cells in an engineered site-specific recombination assay [31]. However, this class of events is limited by its specialization, as it requires a dedicated enzyme (whose expression is usually regulated) and its cognate site. The next most efficient bacterial system is homologous recombination; for example, an estimated 10-4 of a non-stressed cell population recombined 1-kb-long tandem repeats present in the chromosomes of Salmonella typhimurium [32], E. coli [33], Bacillus subtilis [34] and Helicobacter pylori [35]. These events usually rely on RecA, an ubiquitous enzyme that catalyzes homologous DNA pairing. Homologous recombination is not sequence-specific, and its efficiency is proportional to the length of homology shared by the recombining molecules. High proportions of recombinants are scored during DNA conjugation (up to 10%), where several hundred-kilobase-long DNA segments enter the cell [36], and during natural DNA transformation [37]. Finally, illegitimate recombination is the least efficient mode of recombination, with events occurring in approximately 10-8 of a given cell population [38, 39]. It includes events that join DNA segments not sufficiently homologous for RecA pairing, nor involved in site-specific recombination. Illegitimate recombination events are attributed to errors of enzymes that deal with DNA, such as DNA polymerases [40–42], RNA polymerases [43], repair enzymes, or topological enzymes (for reviews, see [44, 45]). Interestingly, the non-homologous end joining type of illegitimate recombination, which involves dedicated enzymes and has a pre-eminent role in eukaryotes, is almost absent in prokaryotes, except in a few species such as Mycobacterium tuberculosis [46, 47] and B. subtilis, where it contributes to spore germination and resistance to desiccation [48, 49].
To date, no correlation exists between experimental DNA recombination studies and comparative genomic analyses. Indeed, molecular analyses usually focus on a single type of event (for examples, see [34, 38, 42]) without considering its frequency compared to those of other events that occur in the natural history of bacterial genomes. It is conceivable that the least efficient - that is, illegitimate recombination - is the major contributor in shaping bacterial genomes. Comparative genomic analyses offer the possibility to examine genome diversity globally, but most studies usually concentrate on just a single class of VSs. One exception involves a systematic analysis of all VSs of more than 10 bp present on two very closely related S. aureus genomes [50]. Among 27 VS sites, this study revealed a pre-eminence of illegitimate events over other classes of recombination, and raises questions of whether this observation can be generalized to more diverse genomes, and to other species.
In this report, we performed multi-strain alignments in three very different species to make a global assessment of bacterial diversity. Our aim was to understand the kind of molecular events that shaped present day genomes, and to determine the features of recombination. Our main finding is that short VSs (20 to 500 bp long) are highly frequent in genomes and reside often within genes. Such VSs are sometimes referred to as indels, but our multigenome analysis shows that only a minority of them originates effectively from an insertion or a deletion; we therefore designated them collectively by the broader term of 'microdiversity'. This study uncovers the numerical importance of microdiversity, predicts the pre-eminence of illegitimate recombination as the mechanism generating it, and highlights the existence, among microdiversity, of highly diverged blocks.
Discussion
Microdiversity constitutes a major type of variability between bacterial genomes within a species
The main outcome of this study is the discovery of a major type of bacterial genome diversity at the species level, made of variable short segments between 20 and 500 bp long. In the five-genome alignments, these VSs represent some 63 to 72% of all possible variable regions detected by whole genome alignments. They remain very abundant (50 to 72% of all loci) when a maximal number of genomes are included in the alignments (Table 2). The presence of such small diversity had been reported earlier for E. coli [4, 58], and its general importance is presently emerging in various comparative genomic studies, both in eukaryotes [59] and prokaryotes [60], where it is often reported as indels. However, the term indel is imprecise with respect to the size of segments involved (it can be used for 1- to 10-bp insertions or deletions up to the insertion or deletion of genomic islands). It is also misleading in terms of the underlying mechanism because it suggests that an insertion or a deletion occurred. Our work shows that more than 80% of the microdiversity loci are due to neither insertion nor deletion. The term indel was therefore replaced in this study by the more neutral term of microdiversity. If such microdiversity were found essentially outside genes, it might be considered as recombination scars, with little evolutionary importance. However, among the five-genome alignments, 35 to 55% of microdiversity regions lie within ORFs and 16 to 33% of VSs are immediately upstream of ORFs. They should therefore contribute greatly to strain diversity within a species, either by affecting protein domains or by changing gene expression.
Among the E. coli genes harboring microdiversity, those encoding membrane and surface proteins are significantly enriched in VSs. This is in keeping with the notion that bacteria adapt to their varying and challenging environments by modifying their surface proteins, as already documented [61]. A comparative genome analysis detected 23 genes that are under positive selection in E. coli [62]. The present study identifies six of them (fhuA, ompA, ompC, ompF, lamB and ubiF) as harboring microdiversity. Moreover, for five of the six proteins where the structure is known, the Peterson analysis revealed that all mutations were concentrated on one or a few loops of the protein [62]; this feature allowed us to detect them in our screen, as scattered mutations would have gone undetected. Recently, using a more sensitive approach, 290 core genes of E. coli were detected as under short-term positive selection [63]. However, only four of them (narH, fes, cstA and yphH) corresponded to the 192 genes we report here as harboring microdiversity. Therefore, at least 10 of the 192 genes harboring microdiversity may be under positive selection. Interestingly, microdiversity regions have been found in orthologous proteins compared broadly across bacterial and yeast species and found to be more numerous in essential proteins, which suggests a functional role for these flexible regions [60].
Illegitimate recombination may explain a large fraction of the VSs
One aim of this study was to elucidate the mechanisms underlying DNA recombination in microbial genomes. To this end, we focused on E. coli, the best studied bacterial species at the molecular level for recombination. More than half of the VS loci could not be explained by site-specific recombination, nor by transposition, nor by the hypothetical mechanism invoked for very short dispersed elements similar to PUs [29] (Table 2). We speculate that homologous or illegitimate recombination may explain these loci: in the three species, analysis of the five-genome alignments have shown that 10 to 18% of the VSs are flanked by repeats at least 5 bp long, which might account for part of the variability, especially as a deletion was often found associated with such loci (Table 4). However, as most repeats were of a size below 30 bp, the reported threshold for RecA-dependent homologous recombination in E. coli [64], it is likely that VSs are generated by replication slippage between the repeats, a mechanism also called short-homology-dependent illegitimate recombination [65]. Although not as proportionally abundant as events detected in a previous, more limited study [50], the present analysis implicates short-homology-mediated deletion events as one significant cause of genome variability.
This conclusion on the importance of illegitimate recombination with regards to the VSs should not yield to the notion that homologous recombination is unimportant in bacterial genomes. Rather, homologous recombination relies on the detection of subtle tracts of 3 to 4% diverged sequences, which are not taken into account in our VS analysis. These sequences are part of the backbone, and studies on backbone DNA detecting blocks of mutations moving together across strains have shown, to the contrary, that homologous recombination plays a great role in bacteria. In E. coli, the average size of these blocks was estimated to be 500 bp in a first study on four genomes [66], and more recently re-estimated to to 50 bp based on a 20-genome comparison [53]. It has also been demonstrated that genomic islands, once integrated into a genome (by site-specific recombination most likely), diffuse in a population by homologous recombination between the sequences flanking the island [9].
Dimorphic loci, which contain exactly two different segments at a given site, represent 38 to 68% of all loci in the five-genome alignments (Figure
6
), and 22 to 52% of all microdiversity loci in the maximal alignments (Table
2
). In the case of the
E. coli
five-genome alignment, we found that in about half the cases, one of the two segments was present in
E. fergusonii
. This suggests that the ancestral segment was replaced at some point by another segment. A process called 'illegitimate recombination assisted by homology' can produce such a situation [
67
–
69
]. If the new incoming DNA segment is flanked by a segment homologous to the recipient chromosome, RecA may initiate homologous recombination on part of the molecule, followed by 'illegitimate' actors that complete the DNA integration at the other extremity (Figure
7a
). Such a process is described in
Streptococcus pneumoniae
,
Acinetobacter baylii
and
Pseudomonas stutzeri
, three naturally competent species, and was found to be 10
2
- to 10
5
-fold more efficient than strict illegitimate recombination [
67
–
69
]. Whether such a process could occur in
E. coli
, for instance during DNA conjugation, is presently under study. Alternatively, dimorphic (as well as polymorphic) loci may also correspond to fragile sites of the chromosome, which are hot spots of illegitimate recombination.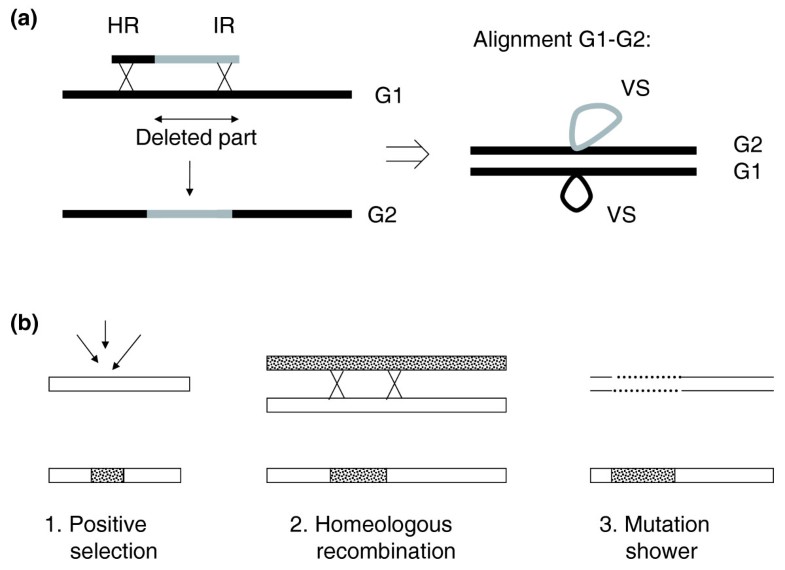 Although illegitimate recombination occurs at low frequency, our analysis of VSs suggests that it nevertheless is responsible for a large proportion of the genomic diversity: taking all loci differing from known events for E. coli, and labeled "Other" in Table 3, and removing the category of homeologous loci (Figure 6) we estimate that it is responsible for 41% (E. coli five-genome alignment) to 56% (E. coli B2 alignment) of microdiversity loci.
What mechanism generates homeologous DNA microdiversity?
A particular class of loci comprises those containing homeologous sequences. For E. coli, S. aureus and S. pyogenes, they represent 20 to 30% of loci in the five-genome alignments, and even more (20 to 46%) in the maximal genome alignments (Table 2). They are less abundant, however, in the alignment of B2 genomes (9%). Interestingly, we found that among the five-genome alignments, homeologous loci were significantly enriched among intragenic loci (50 to 78% of the divergent loci are intragenic). The question arises as to how such blocks of microdiversity could be generated. Three scenarios are considered: positive selection, homeologous recombination and mutation showers (Figure 7b).
Positive selection
A given protein domain may be under positive selection, so that non-synonymous mutations accumulate in a limited region of the corresponding gene, while conservation of the rest of the protein is selected by physical constraints (for example, membrane-spanning domains), such that non-synonymous mutations are counter-selected. In contrast, synonymous mutations are expected in equal density inside and outside the microdiversity block. However, we did not observe this pattern (synonymous mutations were also enriched in the homeologous loci), and therefore tend to exclude this hypothesis.
Homeologous recombination between diverged DNA segments
Given our similarity threshold, recombination should have taken place between at least 24% diverged sequences. In E. coli, RecA seems inefficient on 22% diverged sequences [70], and B. subtilis RecA is apparently inhibited by 7% divergence [71]. However, phage recombinases may be more efficient on highly diverged DNA [70]. Moreover, it is suspected that, in nature, bacteria alternate between a mutator and non-mutator state, via the inactivation/activation of the mutS or mutL genes, and during the mutator period, homeologous recombination should increase [72].
Conclusions
We report here an attempt to examine systematically genome variability at the DNA level in several bacterial species. We have shown that at the species level, the main kind of genomic variability is 'microdiversity'. It consists of small blocks (20 to 500 bp in length) of DNA, often present within or upstream of genes and contributing to the genome diversity. This notion raises the question of the mechanisms that may generate such diversity, and opens challenging new questions at both the molecular and bacterial evolution level.
Abbreviations
bp:

base pair
CRISPR:

clustered: regularly interspaced short palindromic repeat
IS:

insertion sequence
ORF:

open reading frame
PU:

palindromic unit
VS:

variable segment.
Declarations
Acknowledgements
We are thankful to Alexandra Gruss and Ivan Matic for helpful comments on the manuscript. We thank Hélène Chiapello, Annie Gendrault and Philippe Palcy for running MGA and MAUVE alignments and integrating them into the MOSAIC database [55], as well as the Migale bioinformatics platform for providing computational resources and technical assistance. The research was funded by the French 'Agence Nationale de la Recherche' project CoCoGen BLAN07-1_185484.
Authors' Affiliations
(1)
INRA, UMR1319, Micalis, Jouy en Josas, France
(2)
INSERM U722 and Université Paris 7, Faculté de Médecine, Paris, France
(3)
CNRS-UMR 8030 & CEA/IG/Genoscope, Laboratoire d'Analyses Bioinformatiques en Génomique et Métabolisme (LABGeM), Evry, France
(4)
CEA, Institut de Génomique, Genoscope, Evry, France
Copyright
© Touzain et al.; licensee BioMed Central Ltd. 2010
This article is published under license to BioMed Central Ltd. This is an open access article distributed under the terms of the Creative Commons Attribution License (http://creativecommons.org/licenses/by/2.0), which permits unrestricted use, distribution, and reproduction in any medium, provided the original work is properly cited.