Research highlight

Open Access
Metastasis suppression: a role of the Dice(r)
Accepted: 30 November 2010
Published: 30 November 2010
The overwhelming majority of human cancer deaths are attributable to distant metastases, rather than the primary tumors from which these malignant lesions originate. Metastases arise through the completion of a series of complex, interrelated cell biological events - collectively termed the 'invasion-metastasis cascade' - involving the dissemination of tumor cells to anatomically distant loci and the subsequent adaptation of these tumor cells to the foreign microenvironments encountered there [1]. Molecular mediators of these events have recently begun to be identified; however, our understanding of the pathogenesis of metastatic disease remains woefully incomplete.
One class of molecules that have been documented to have a crucial role in regulating the invasion-metastasis cascade are microRNAs (miRNAs). miRNAs are an evolutionarily conserved family of small regulatory RNAs that pleiotropically suppress gene expression through sequence-specific interactions with the 3' untranslated regions (UTRs) of cognate mRNA targets [2]. Research conducted over the past 3 years has succeeded in elucidating various individual miRNAs that serve either to enhance or to impair discrete steps of the metastatic process [3].
Two recent studies [
4
,
5
] have now evaluated the consequences for metastasis of a global reduction in the levels of all the miRNAs produced by a cancer cell. More specifically, these investigators have discovered signal transduction pathways that lead to downregulation of the miRNA biogenesis enzyme Dicer and have then assessed the repercussions of impaired Dicer function for breast carcinoma metastasis (Figure
1
). Dicer is an RNase III family endonuclease that is required for the post-transcriptional processing of miRNAs to their mature, functionally active form [
2
]. Previous studies have shown that global miRNA levels are often reduced in human tumor specimens [
6
]; moreover, experimental inhibition of Dicer or other components of the miRNA biogenesis machinery has been reported to accelerate primary tumor development [
7
]. However, the recent studies from the laboratories of Piccolo [
4
] and Flores [
5
] are the first to address the functional contributions of Dicer specifically to metastatic progression.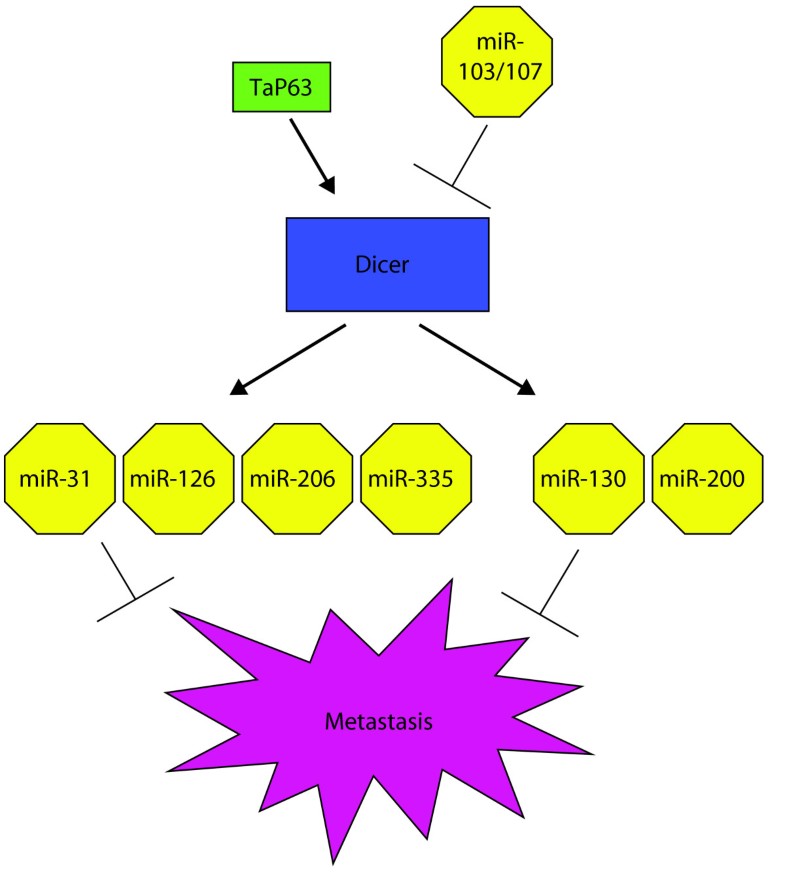 (1)
Whitehead Institute for Biomedical Research, Cambridge, MA 02142, USA
(2)
Department of Biology, Massachusetts Institute of Technology, Cambridge, MA 02139, USA
(3)
Present address: Department of Cell Biology, Harvard Medical School, Boston, MA 02115, USA
(4)
MIT Ludwig Center for Molecular Oncology, Cambridge, MA 02139, USA
© BioMed Central Ltd 2010