Genome-wide prediction of transcription factor binding sites using an integrated model
Received: 18 June 2009
Accepted: 22 January 2010
Published: 22 January 2010
Abstract
We present an integrated method called Chromia for the genome-wide identification of functional target loci of transcription factors. Designed to capture the characteristic patterns of transcription factor binding motif occurrences and the histone profiles associated with regulatory elements such as promoters and enhancers, Chromia significantly outperforms other methods in the identification of 13 transcription factor binding sites in mouse embryonic stem cells, evaluated by both binding (ChIP-seq) and functional (RNA interference knockdown) experiments.
Keywords
Hide Markov ModelHistone ModificationHistone MarkHide Markov Model ModelP300 Binding Site
Background
Transcription factors (TFs) play a central role in regulating gene expression. Binding of TFs to their target loci is a key step of activating or repressing a gene. Determination of transcription factor binding sites (TFBSs) is an important but challenging problem because the DNA segments recognized by TFs are often short and dispersed in the genome [1]. In addition, the target loci of a TF vary depending on tissue, stage of development or physiological condition. Such condition-dependent regulation makes the problem even more challenging.
Both experimental and computational technologies have been developed to identify TFBSs. Chromatin immunoprecipitation (ChIP)-chip [2, 3] and, more recently, ChIP-seq have become popular and powerful tools to determine TFBSs at a genome-wide scale [3–5]. Currently, a major bottleneck in applying ChIP-chip or ChIP-seq to all TFs encoded in a genome is the availability of ChIP-quality antibodies against each TF. Efforts have been made to tag every individual TF but the success of tagging techniques has only been shown for a limited number of TFs in mammalian genomes.
Many computational methods [6–15] (for a survey, see [16]) have been developed to identify DNA segments recognized by TFs. These DNA motifs are often represented by a position-specific scoring matrix (PSSM) [17] that reflects the preference of nucleotides at each position. Because simply matching such DNA motifs in the genome always generates too many false positives, additional information, such as co-localization and conservation of TFBSs, are often included to improve prediction accuracy. Methods such as Comet [18], Cluster-Buster [19] and ModuleMiner [20] use motifs documented in databases - for example, JASPAR [21] and TRANSFAC [22] - or predicted by de novo motif finding algorithms, and search for clusters of TFBSs. Methods like Stubb [23] and EEL [24] also include motif conservation information in addition to TFBS clustering. Other methods such as CisModule [25] and EmcModule [26] conduct de novo motif finding and cis-regulatory module (CRM) identification simultaneously in an iterative fashion. Recently developed methods like GibbsModule [27] can further improve prediction accuracy by combining motif overrepresentation in the co-expressed genes, motif conservation and co-localization of TFBSs. Although all these methods showed promising performance on the test datasets, they are limited by various factors. For example, incorporation of conservation information can improve the prediction accuracy only if genomes with appropriate evolutionary distances are correctly selected and reliable alignment of these genomes, which is not a trivial task, can be generated. In addition, it is still challenging to apply many of these methods to predicting target loci of a TF at a genomic scale with acceptable accuracy. More importantly, none of these computational methods can work in a condition-dependent manner to distinguish TFBSs from one condition to another.
Recent mapping of histone modifications using ChIP-chip or ChIP-seq technologies [28, 29] provides an opportunity of predicting TFBSs using an alternative approach. It has been shown that regulatory elements such as promoters and enhancers are associated with distinct chromatin signatures [28], and, conversely, such chromatin signatures could be used to predict the regulatory elements [28, 30, 31]. In the present study, we propose an integrated approach that combines sequence information and chromatin signatures to predict binding sites of individual TFs, rather than genomic regions of regulatory elements as in the previous studies. This method is called Chromia (CHROMatin based Integrated Approach). More specifically, we scored genomic sequences using a PSSM that represents the DNA motif recognized by a TF. The PSSM score pattern in a genomic region reflects the preference for binding of a TF. Such sequence information and ChIP-seq signals of histone modifications at promoters or enhancers were integrated using a hidden Markov model (HMM) that was designed to capture characteristic patterns of these signals. The HMM model was applied to genome-wide identifications of 13 TFBSs, including CTCF, E2F1, Esrrb, Klf4, c-Myc, n-Myc, Nanog, Oct4, Sox2, Smad1, STAT3, Tcfcp2l1, and Zfx, in mouse embryonic stem (mES) cells. The predictions were assessed using the ChIP-seq data of the same TFs [32], which showed that our approach outperformed many of the currently available methods in terms of both accuracy and efficiency.
Discussion
The analysis of the recently available ChIP-seq data on 8 histone modification marks and 13 TF binding sites in mES cells confirmed the distinct chromatin signatures associated with promoters and enhancers. We did not observe any significant correlation between the histone modification patterns and the binding of the 13 TFs probably because none of these factors are involved in chromatin modification. The unexpected correlations between several histone marks and the binding strength of TFs (Table S3 in Additional file 2) still needs further validation and determination of the underlying molecular mechanisms.
Histone modifications reflect the epigenetic state of a cell, which provides useful information to map the functional activities of regulatory elements. In this study, we present a new computational model called Chromia that integrates sequence motif and chromatin signatures to predict target loci of TFs. We have demonstrated that the performance of our method is superior to many other methods. When comparing the predicted target genes of four TFs with the genes affected by knocking down these TFs, we found that Chromia identified more TF target genes than using the binding peaks of these TFs. This observation is not totally unexpected because the histone modifications are tightly related to function, which illustrates the usefulness of Chromia for predicting functional TFBSs.
There are several advantages of our approach. First, antibodies specifically against many histone marks are already available and therefore the chromatin modification profiles can be readily obtained for many organisms/tissues/cell lines. Second, this approach does not rely on the assumption that TFBSs are evolutionarily conserved, which allows identification of fast evolving or species-specific TFBSs. Furthermore, the non-trivial problem of choosing genomes with appropriate evolutionary distance and aligning these genomes can also be avoided. Third, since histone modification patterns are condition-specific, our method provides an approach to identifying TFBSs that may be functional only in specific tissues or developmental stages. Fourth, our method is much more efficient than many methods for predicting TFBSs at the genomic scale.
It is also worth noting that our model suggests a way to combine discrete and continuous sources of information by converting DNA sequence information to continuous PSSM scores. Previous studies showed that, in many scenarios, a cluster of weak TFBSs may play significant roles in regulating gene expression. The PSSM score profile provides an overall characterization of binding preference of a TF at a genomic locus. This is captured by the HMM and integrated with the chromatin signature to pinpoint the binding sites of a TF.
Recently, several approaches have been proposed to predict TFBSs in mammalian genomes using chromatin structure information. For example, ProbTB combined multiple sources of data to identify TFBSs in 47 mouse promoters [43]. Whitington et al. [44] used H3K4me3 as an additional filter to predict TFBSs in promoter regions. However, these studies are restricted to the small regions near TSSs. In contrast, we integrated chromatin signature and sequence motif information into one model and performed genome-wide prediction of TFBSs in both promoter and enhancer regions. Also, we demonstrated the superior performance of Chromia over the baseline method, which is in the same spirit of the Whitington et al. approach. Compared to our previous study [30], which aimed to find genomic regions of functional elements, including promoters and enhancers, here we were able to pinpoint TFBSs to 100-bp resolution by incorporating motif information, which also demonstrates the flexibility of our model to integrate additional data.
Although the performance of our method is very encouraging, it is no doubt there is still much room for improvement. Currently, only eight histone marks are mapped in the mES cells and not all of them are informative for locating regulatory elements. We expect that more histone marks with distinct patterns will help improve the performance of our method. We also observed that predictions for enhancers were relatively worse than those for promoters. Recent studies suggested that enhancers might be more cell type specific than promoters [40]. It is possible that the lower prediction accuracy for enhancers may be due to different cell lines used in histone modification (murine V6.5 ES cells) and TF binding (murine E14 ES cells) experiments. Furthermore, we should point out that our HMM was trained on the chromatin signatures associated with the p300 binding sites, which might only represent a small subset of the histone modification patterns at enhancers. Therefore, the trained HMM may miss many enhancers with different chromatin signatures. When binding sites of other cofactors commonly appearing at enhancers are mapped, a more comprehensive collection of histone modification patterns can be established and it is possible that the performance of our method can be further improved. Another limit of our method is that, like all methods that rely on binding motifs, it cannot distinguish TFs with very similar PSSMs (like n-Myc and c-Myc). However, if more histone marks are mapped and these TFs are associated with distinct chromatin signatures, it is possible to resolve the ambiguity of binding of these TFs.
Chromia is available at [45].
Materials and methods
Dataset
The histone modification data of eight chromatin marks in murine V6.5 ES cells were obtained from [33, 35]. Based on our previous studies of smoothing ChIP-seq data, the sequencing reads were binned into 100-bp bins by averaging four adjacent 25-bp bins documented in [33, 35]. PSSM scores were generated by a sliding window of the motif size, and the largest of the PSSM scores within a 100-bp bin was used as the value of that bin. These 100-bp binned values of sequencing read counts and PSSM scores were input to the HMM of Chromia.
Data visualization: heatmaps
In plotting a heatmap of histone marks and the PSSM scores (but not in the HMM models), we re-scaled the signals in order to achieve a better visualization effect. Let x be the sequence read of a 100-bp bin. The re-scaled count in a bin n(x) is calculated as:
Where xmax is the maximum sequencing read count of a histone mark in the entire genome, and α x is the value that only 0.1% of the histone mark bins have higher read counts. Each histone mark was re-scaled individually. In re-scaling the PSSM scores, α x was set to 15, which was the top 0.1% value of the PSSM scores in the entire genome. Plotting the re-scaled read counts avoided the problem that only the sites with large values (>0.1%) were visible with a bright color.
Position specific scoring matrices (PSSMs) of the 13 TFs
Chen et al. [32] conducted ChIP-seq experiments on 13 TFs in the murine E14 ES cell. We extracted 200-bp sequences centered at each of the top 500 ChIP-seq binding sites of the 13 TFs. These sequences were input to the motif finding algorithm MEME [46]. We used the option '-dna -nmotifs 1 -mod oops -revcomp -minw 10 -maxw 15', which specified the number of motif, the oops assumption (one occurrence per sequence) and the range of the motif length (10 to 15 bp). By manually examining the motifs identified by MEME [46], all position specific frequency matrices (PSFMs) (Figure S8 and Table S1 in Additional file 2) were similar to those documented in the TRANSFAC database [22] and those reported in [32] by running the motif finding algorithms Weeder [47] or NestedMICA [48]. Because Oct4, Sox2 and Nanog are known to share many binding sites [49], we also searched for enriched motifs in the 1,500 peaks generated by pooling together the top 500 peaks of each TF. Such a 'combined' motif was similar to that found in a previous study [50].
where W x is the width of the motif, P k (x k ) and P b (x k ) are the probabilities of observing nucleotide x k at position k from the motif and the background distributions, respectively. The background was obtained from the occurring frequency of each nucleotide in the entire mouse genome.
The Chromia model
Chromia integrates continuous (histone modifications) and discrete data (DNA sequence) in its model. It converts the discrete sequence data to continuous PSSM score signals using Equation 1. As described above, the PSSM score was also binned to have the same format as the ChIP-seq data.
Chromia uses parallel HMM(
Θ
)s with a left-right structure [
30
,
51
] to integrate these two types of information. The left-right structure was chosen because it has been successfully applied to speech recognition, in which the speech signals are very similar to the ChIP-seq data and PSSM scores. In a left-right structure, transitions from state q to q'<q are not allowed. The first state has no transition from other states and the last state terminates the sequence. Transition is only allowed from state
i
to state
j
≥
i
. In our previous study, this left-right structure has been successfully applied to capture the characteristic patterns of histone signatures [
30
]. The HMM has
Q
states. An HMM state emits a signal according to a probability density function of a Gaussian mixture of
N
dimensions. Here
N
is the total number of histone marks (
N
HistoneMark
) and the PSSM score, that is,
N = N
HistoneMark
+ 1. The probability density function of the Gaussian mixture is:
where xis the vector being modeled, M is the number of Gaussians and c jm is the mixture coefficient for the mth Gaussian distribution in state j; G [x, μ jm , U jm ] represents the Gaussian function with a mean vector μ jm and a covariance matrix U jm . The forward and backward algorithm [51] was used to estimate the transition probabilities and the mixture coefficients as well as mean and covariance matrices of the Gaussians in each state. In this study, we chose to train three HMMs for promoters, enhancers and background separately. We set Q = 3 in the promoter and enhancer HMMs and Q = 1 in the background HMM. Strictly, it is a simple mixture of Gaussians when Q = 1. Each state was composed of three mixtures of Gaussian components (M = 3) to capture the complex signal patterns. Models with larger M did not improve the prediction performance (data not shown).
In our previous study [
30
], we investigated how to select
Q
to capture characteristic patterns of the histone modifications. We found the number of
Q
was related to the length of the genomic regions containing the histone modifications. Here, we considered 2,000-bp regions (20 100-bp bins) and
Q
was set to 3. This choice was particularly motivated by the observation of bimodal patterns for several histone marks, such as H3K4me1, in the promoters (Figure
1
). Namely, the first and third state aimed to capture the two shoulder peaks and the second state the middle dip. In addition, mixtures of Gaussians allows modeling of the signal profiles better than individual Gaussians. In other words, the choice of
Q
= 3 and
M
= 3 is presumably better than
Q
= 9 and
M
= 1. We tested this in the leave-one-out validation using
Q
= 9,
M
= 1 and
Q
= 1,
M
= 3 (Figure S9 in Additional file
2
). To further illustrate this point, we plotted the probability density versus sequencing read count in Figure
8
for the three states of the trained HMMs. The probability density of H3K4me1 trained with the histone marks centered at the p300 binding sites and with the strongest Oct4 PSSM motif scores has peaks of read count around 5, 3 and 9 for the first, second and third state of the HMM, correctly capturing the bimodal pattern of this mark. H3K4me3 is generally skewed towards TSS, which is consistent with the probability density peak at smaller read count in the first state and at larger ones in the next two states at the TSSs ranked highest with the E2f1 PSSM scores. An example, the promoter of
Yipf6
, is shown in Figure
9
, in which the peaks of H3K4me3 and PSSM scores of E2f1 are located downstream of the TSS; Chromia correctly predicted this region as a promoter. It is worth pointing out that chromatin profiles at individual sites are not necessarily aligned well to the average pattern (Figure
1
; Figure S1 in Additional file
2
). We observed that a single Gaussian distribution was often not able to model the individual profiles as well as a mixture of three (or more) Gaussians.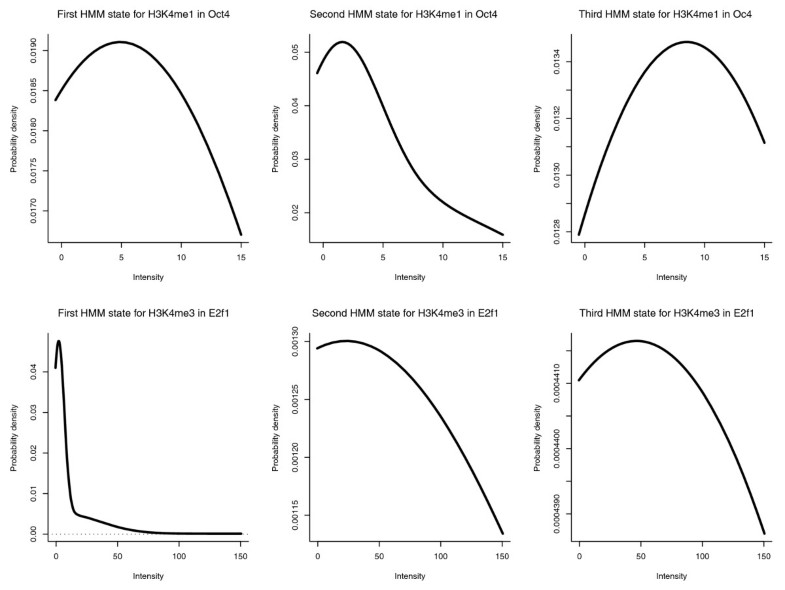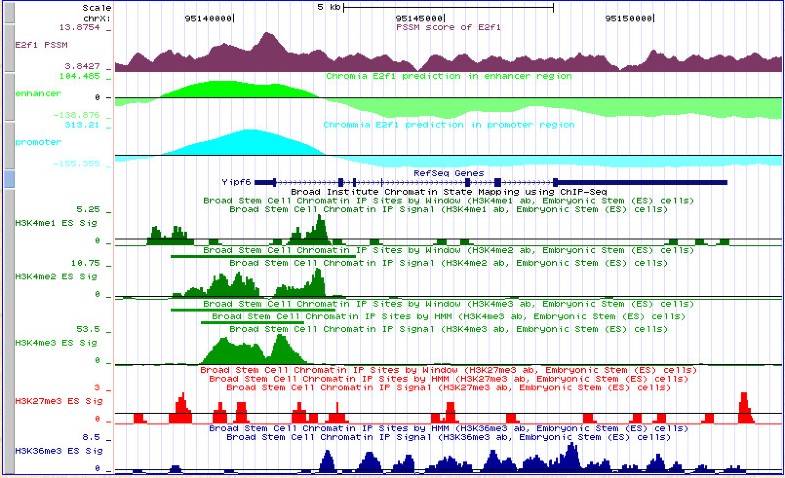 Training set
To train an HMM that integrated chromatin signatures and the motif information, we selected regions containing both strong histone modification signals and large PSSM scores because the HMM model was designed to capture patterns of chromatin and sequence motif data. To select strong histone modification signals, we first chose a read count cutoff where only 1% of all bins in all chromosomes had a value larger than the cutoff. We selected H3K4me3 (cutoff = 13.6) as the mark for promoters (annotated RefSeq TSSs) and H3K4me1 (cutoff = 5.9) or H3K4me2 (cutoff = 7.6) as the marks of enhancers (p300 binding sites). The prediction results were not sensitive to the cutoff value (data not shown). Next, all the selected promoter or enhancer bins in the entire genome that contain a sequencing read count larger than the cutoff value were ranked using the PSSM score of the TF under consideration. The top 100 promoters and 100 enhancers were then selected as the training set (Figure 1; Figure S1 in Additional file 1). The background model was trained on the entire chromosome 1.
Genome-wide predictions of the TFBSs using the Chromia model
For a given genomic region, likelihood scores were calculated using the three HMMs for promoter, enhancer and background separately. The likelihood of an input x(chromatin and sequence data) was calculated by summing over all possible paths through the hidden states.
where qis the state of the HMM(Θ) (promoter, enhancer or background). In Chromia, two log-odd scores, one for promoter and one for enhancer predictions, were calculated as:
The log-odd score reflects how strong a signal is compared to the background and has been widely applied, for example, to calculating the conservation score in phylo-HMM [38].
To incorporate conservation information, we further multiplied the Phastcon score [
38
]. The maximum Phastcon score in a bin was used as
Score
Phastcon
in the following equations (Table S6 in Additional file
2
):
We calculated the log-odd scores for both promoters and enhancers using a sliding window of 2,000 bp centered at each bin. We smoothed the results by averaging the scores of the three adjacent bins. Among log-odds for promoters and enhancers, we only considered bins as potential TFBS-containing regions if they had a log-odd score larger than all other bins within ± 2,000 bp. We kept all the potential TFBS-containing bins if the distance between them was greater than 2,000 bp.
Running other programs
All programs were run using their default setup and parameters. To run MAST we used the background obtained by running MEME [46]. Especially, for cross-validation, we tested MAST [52] on the sequences whose alignment between human and mouse genomes was available in the UCSC genome browser. We used the option '-comp' to select the current target sequences as a random model and '-ev 1000000' to obtain output with various E-values. We used different cutoffs for E-value to draw ROC curves. MCAST was run with an option '-e-thresh 0' to turn off thresholding. We changed the motif score to draw ROC curves. Cluster-Buster [19] was run with an option '-p0 -m0 -c0' to get the output not using pseudocounts (because pseudocounts were already included in the PSSM) and without thresholding the motif and cluster scores. We used a cluster score threshold as a cutoff to draw ROC curves. To run EEL [24] and Stubb [23], we used human and mouse orthologous sequences obtained from the UCSC genome browser. EEL aligned the orthorlogous sequences and yielded a binding score, which was changed to plot ROC curves. To run Stubb using its multiple sequence option, we used LAGAN [53] to align human and mouse orthorlogous sequences and used 'window size' = 500 and 'shiftsize' = 100. We changed the free energy calculated by Stubb to plot ROC curves.
Calculating AUC2000of Chromia and plotting ROC curves for method comparisons
To evaluate the performance of the genome-wide TFBS predictions made by Chromia, we calculated the AUC when FP = 2000 (AUC2000; Table S9 in Additional file 2). For comparison between different methods using the 20 large chunks of genomic regions, we plotted ROC curves (Figure 7). In both of the above situations, we scored every 100-bp bin in large genomic regions and the number of TNs was huge. To make it possible to draw a ROC curve and calculate the AUC, we grouped the adjacent ten 100-bp bins into one 1,000-bp bin. This 1,000-bp bin was considered a TP if it contained a ChIP-seq binding peak and was predicted to contain a TFBS; otherwise, it was a FP. A TN was a 1,000-bp bin that did not contain any ChIP-seq binding peak and was not predicted to contain a TFBS; otherwise, it was a false negative (FN).
Abbreviations
AUC:

area under the ROC curve
ChIP:

chromatin immunoprecipitation
FN:

false negative
FP:

false positive
HMM:

hidden Markov model
mES:

mouse embryonic stem
PPV:

positive predicative value
PSSM:

position specific scoring matrix
RNAi:

RNA interference
ROC:

receiver operator characteristic
TF:

transcription factor
TFBS:

transcription factor binding site
TN:

true negative
TP:

true positive
TSS:

transcription start site.
Declarations
Acknowledgements
This work was partially supported by a NIH grant R01GM072856 to WW. We also thank the two anonymous reviewers for insightful comments.
Authors' Affiliations
(1)
Department of Chemistry and Biochemistry, University of California, San Diego, La Jolla, USA
(2)
Ludwig Institute for Cancer Research and Department of Cellular and Molecular Medicine, UCSD School of Medicine, La Jolla, USA
Copyright
© Won et al.; license BioMed Central Ltd. 2010
This article is published under license to BioMed Central Ltd. This is an open access article distributed under the terms of the Creative Commons Attribution License (http://creativecommons.org/licenses/by/2.0), which permits unrestricted use, distribution, and reproduction in any medium, provided the original work is properly cited.