Genome-wide prioritization of disease genes and identification of disease-disease associations from an integrated human functional linkage network
Received: 2 May 2009
Accepted: 3 September 2009
Published: 3 September 2009
Abstract
We integrate 16 genomic features to construct an evidence-weighted functional-linkage network comprising 21,657 human genes. The functional-linkage network is used to prioritize candidate genes for 110 diseases, and to reliably disclose hidden associations between disease pairs having dissimilar phenotypes, such as hypercholesterolemia and Alzheimer's disease. Many of these disease-disease associations are supported by epidemiology, but with no previous genetic basis. Such associations can drive novel hypotheses on molecular mechanisms of diseases and therapies.
Keywords
Disease Gene
Additional Data File
Seed Gene
Candidate Disease Gene
Disease Pair
Background
Recently, a number of computational approaches have been developed to predict or prioritize candidate disease genes [1–34]. Most approaches are based on the idea that genes associated with the same or related disease phenotypes tend to participate in common functional modules (such as protein complexes, metabolic pathways, developmental or organogenesis processes, and so on) [1–16]. This concept is supported by functional analysis of genes associated with diverse diseases [1–4], and by the success of various disease gene prioritization studies based on the concept [5–7, 9–17, 19, 20, 23, 24, 29].
Network-based approaches have also been employed to infer new candidate disease genes based upon network linkages with known disease genes [15, 17–23]. These methods typically first construct a gene-gene association network based on one or more types of genomic and proteomic data, and subsequently rank candidate genes based on network proximity to known disease associated genes. Although some of these methods perform well using just one specific type of evidence for functional association, such as protein-protein physical-interaction data or co-expression data, the restriction to only one type of functional association potentially limits their predictive ability [17, 20–23]. To address this issue, Franke et al. [15] constructed a functional linkage network (FLN) by integrating multiple types of data, and utilized the FLN for disease gene prioritization. However, their results indicate that the performance was highly dependent on Gene Ontology (GO) annotations, in addition to functional associations from curated databases such as the Kyoto Encyclopaedia of Genes and Genomes (KEGG) and Reactome [15, 35, 36]. As a result, the predictions tend to be biased towards well-characterized genes, and thus limit potential inferences. In a second study, Kohler et al. [19] constructed an FLN from heterogeneous data sources, and used a random walk algorithm for disease gene prioritization. However, their network did not incorporate linkage weight to differentiate confidences in functional associations among genes. Therefore, the FLN-based disease gene prioritization still needs to be further explored.
In addition to identifying genes associated with different diseases, other work has explored relationships among human diseases [1–4, 37]. Recent studies indicate that human diseases tend to form an interrelated landscape, whereby different diseases are linked together based on perturbing the same biological processes [1–4]. Perhaps unsurprising is the finding that diseases with similar phenotypes tend to be caused by dysfunctions of the same genes [1–4]. Less anticipated was the finding that diseases with dissimilar phenotypes can also be related at the molecular level [1, 2]. To study disease-disease relationships, some previous methods used the similarity of phenotype descriptions or examined the hospital diagnosis records to quantify the disease-disease associations [3, 37]. However, because these approaches characterize disease-disease associations entirely at the phenotypic level, they have the potential limitation of missing those disease-disease associations that can be easily detected at the molecular level but not at the phenotypic level.
Recently, Goh et al. [4] proposed a method to identify disease-disease associations at the molecular level based on shared disease genes, which therefore may capture associations missed by the phenotype-based approaches. However, the breadth of this method is limited by the relative paucity of knowledge of disease causing genes. A potential solution to this problem is the use of functional linkages to identify associations between genes involved in different diseases. This can result in the identification of relationships between diseases that while they may not be associated with the same genes, are associated with functionally related sets of genes.
Here, we construct an integrated FLN in human for two purposes: to prioritize new (not previously recognized) genes that are potentially associated with a given disease; and to explore the inter-relationships between diverse diseases revealed by considering functional associations between genes associated with different diseases (Figure
1
). We use a naïve Bayes classifier [
38
,
39
] to integrate 16 functional genomics features assembled from 32 sub-features. The result of this integration is a genome-scale FLN (composed of 21,657 genes and 22,388,609 links), in which nodes represent genes, and edge weights the likelihood that the linked nodes participate in a common biological process. Our integrated FLN has a higher coverage and increased accuracy compared to networks based on individual data sources.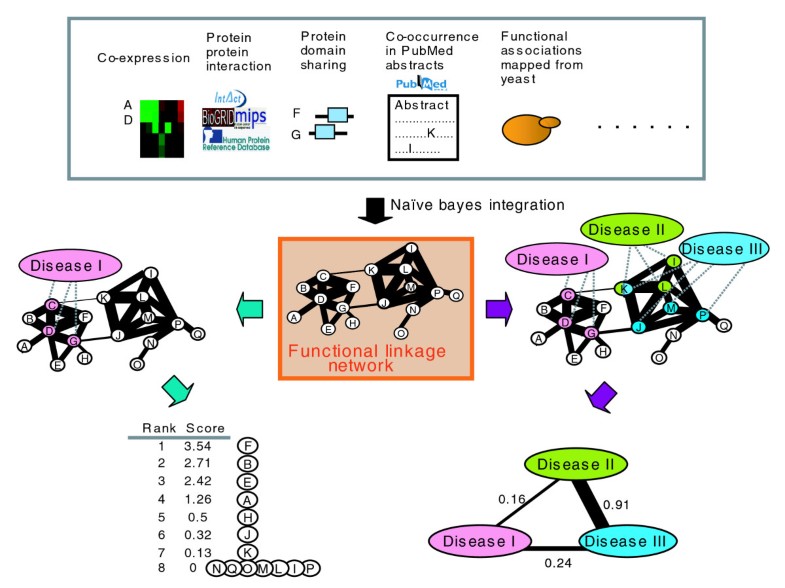 Next, we use this FLN to predict new candidate disease genes for 110 diverse diseases from the Online Mendelian Inheritance in Man Database (OMIM) database [40]. For each disease, we quantify the degree of association between each gene and the disease by considering how tightly the candidate gene is connected to known disease genes in the FLN. This then allows us to rank the probabilities of all genes being involved in a particular disease, based upon their degree of functional relatedness to genes known to be associated with a given disease.
Finally, using the FLN, we identify disease-disease associations based on functional correlations between disease-related genes. Specifically, our approach considers not only whether diseases share associated genes, but also whether gene sets from different diseases are tightly linked in the FLN. We show that the FLN can be used to identify associations between phenotypically diverse diseases, and to reveal associations even in the absence of common known disease genes or common pathological symptoms. With knowledge of such disease-disease associations, prior knowledge gained from one disease can shed light on the underlying molecular mechanisms and relevant therapies of related diseases.
Discussion
Comparison with other disease gene prioritization methods
We have demonstrated that our FLN-based disease gene prioritization approach successfully predicts new candidate disease genes for diverse diseases. The method compares favorably to previous methods, providing 50% more coverage than [19] with accuracy comparable to [19, 24, 72]. (Detailed descriptions of the performance comparisons are provided in Additional data file 5.)
A potential strategy for further improving on our predictive performance is to consider not only functional linkages between neighbors as was done here, but to also incorporate global network topology into disease gene identification [19]. It should be noted, however, that the use of a global propagation scheme should be done with extra care. A global propagation scheme may more comprehensively exploit the information contained in the FLN by considering non-adjacent nodes, but at the same time it can be more susceptible to noise. Such issues are exemplified in recent work by Wu et al. [23], where they compared a direct interaction based local rule and a shortest path rule, based on their abilities to prioritize disease genes. Surprisingly, the shortest path rule, which uses global network topological information, performs worse than the direct interaction rule [23]. A likely reason is that although, in principle, rules utilizing global network topological information are preferred, they are more sensitive to the false positive and false negative links in the network. In practice, however, a properly implemented local rule can perform well, when combined with a comprehensive and weighted FLN.
Further considerations for disease gene prioritization
Among the data sources used for constructing the integrated FLN, literature-based text mining, GO annotation (GO annotations in the molecular function and cellular component categories are included in the integration), and curated PPI might be biased towards well characterized genes (Table 1). Similarly, text mining and curated PPI data mapped from mouse and rat (organisms close to human in the evolutionary tree) via orthology may also have the same bias. Consequently, predictions based on these sources tend to be biased towards well characterized genes. On the other hand, the remaining data sources are relatively unbiased, and include sequence data, high-throughput experiments, and functional associations mapped from yeast, worm, and fly (organisms distant to human in the evolutionary tree). Predictions from these latter sources can reveal new disease genes that are not well characterized. To test the extent to which our predictions depend on the relatively biased data sources, we remove them and use the remaining unbiased sources for FLN construction and disease gene prioritization. The prediction performance remains far better than random control (Figure S6 in Additional data file 5). Using the gene-centric assessment, over 40% of disease genes are still ranked within the top 10 positions in the artificial chromosome region background composed of 100 genes. The disease-centric assessment also shows similar results. Therefore, our predictions do not solely rely on the potentially biased text mining, molecular function and cellular component annotations of GO, and curated PPI data sources; other relatively unbiased sources also make significant contributions to the disease gene prediction and biological insights that go beyond well characterized genes.
Our current framework assumes that known disease genes ('seed genes') contribute equally to the disease, but in reality some seed genes may contribute more than others, especially for complex diseases. An example is homozygosity in the APOE4 allele, which confers a 40% chance of late-onset Alzheimer's disease [73]. Incorporation of this notion of 'seed strength' into our framework would be desirable. In addition, our framework requires the knowledge of a number of known disease genes as seed genes in order to predict new candidate genes. A further improvement might be to borrow seed genes from closely related diseases when the disease under study does not have enough seeds, adjusting the strength in accordance with how closely related the two diseases are.
Additionally, FLN has been made available in VisANT [74], a web-based platform for the integrative visualization and analysis of biological networks and pathways [75–80]. Users can interactively query the FLN for genes of interest by choosing FLN as the current database in the VisANT toolbar; compare the FLN with other interaction data by updating gene interactions stored in the Predictome database; and filter the FLN with preferred weights and visualize the weight using edge color, edge thickness or both. In addition, we are developing a series of functions to integrate the methods of FLN-based prediction of new disease genes and disease-disease associations into VisANT, including making predictions for the new seed sets provided by users. Each disease will be represented as a metanode [78] - a special type of node that contains associated sub-nodes (disease genes), which allows direct integration of disease information and the FLN. These new functions will extend the applications developed here to other areas, such as the prediction of new proteins for protein complexes, cross-talk between pathways and so on.
Further considerations for FLN-based identification of disease-disease associations
Here, we carry out a proof-of-principle study with our mutual predictability measure to demonstrate that the functional links provided by the FLN can be used to quantify disease-disease associations at the molecular level as illustrated in the Results section. Further studies are needed to improve our measures as well as to explore related measures of disease-disease associations based on the FLN. Our approach for assessing disease-disease associations requires the knowledge of a few known disease genes for each disease, and cannot be applied to diseases with no known disease genes. In these cases, phenotype-based methods such as [3] are good alternatives if there is enough disease phenotype information available, bearing in mind that it is possible for two diseases to share related molecular pathology mechanisms but be less similar at the phenotypic level [1, 2]. In general, it is likely that the identification of disease-disease associations can be further improved by combing our FLN-based approach with phenotype-based approaches.
Conclusions
In this work, we build a comprehensive and high quality weighted FLN by integrating 16 functional genomics features assembled from 32 sub-features from 6 model organisms. To our knowledge, our integrated human FLN is the most comprehensive to date.
We show that genome-wide disease gene prioritization for diverse diseases can be obtained using our integrated FLN. Top ranking candidate disease genes can be used to guide the design of new genetic association studies. Conversely, in the future, results from genetic association studies can be further integrated into our framework for better disease gene predictions.
We also show that the integrated FLN can be used to identify disease-disease associations, even among diseases that share no known disease genes or have dissimilar phenotypes. Thus, we show that by considering functional linkages between genes involved in different diseases, relationships between diseases that are based on underlying molecular mechanisms can be revealed. Such associations can potentially be used to generate novel hypotheses on the molecular mechanisms of human diseases, and can in turn guide the development of relevant therapy as illustrated in the case of Alzheimer's disease and hypercholesterolemia.
Additional data files
The following additional data are available with the online version of this paper: a text file listing edges in the integrated human functional linkage network (Additional data file 1); a table listing known (seed) disease genes associated with each of the 110 diseases (Additional data file 2); a list of the top 100 predicted candidate disease genes for each of the 110 diseases (Additional data file 3); a plot of precision versus rank cutoff for the top 100 predicted candidate disease genes for each of the 110 diseases (Additional data file 4); supplementary text and figures (Additional data file 5); a list of recently identified disease genes and landmark references dated after January 2007 (Additional data file 6); a list of the 22 predicted obesity genes among the top 100 predicted gene list that overlap with the obesity genes collected from literature by Hanock et al. [58] (Additional data file 7); a list of mutual predictability scores for all the possible disease pairs between the 110 diseases (Additional data file 8); a list of the top 100 disease pairs with the highest mutual predictability scores and the supporting evidence for the association (Additional data file 9); a list of the disease clusters, their disease members, and evidence supporting the associations in Figure S9 of Additional data file 5 and Figure 8a (Additional data file 10); a list of the 53 informative GO terms used to define the gold standard sets for the naïve Bayes integration (Additional data file 11); a list of Pearson correlation coefficients between the 16 features used for the naïve Bayes integration (Additional data file 12).
Abbreviations
AUC:

area under receiver operating characteristic curve
CC:

cellular component
DDI:

domain-domain interaction
DS:

protein domain sharing
FLN:

functional linkage network
GO:

Gene Ontology
GS:

gold standard
GSP:

gold standard positive
GSN:

gold standard negative
GN:

gene neighbour
HPRD:

Human Protein Reference Database
KEGG:

Kyoto Encyclopaedia of Genes and Genomes
LR:

likelihood ratio
LLR:

log likelihood ratio
Masspec:

Mass Spectrometry
MF:

molecular function
MIPs:

The Munich Information Center for Protein Sequences
OMIM:

Online Mendelian Inheritance in Man Database
PG:

phylogenetic profiles
PPI:

protein-protein interaction
RefSeq:

Reference Sequence Database
ROC:

receiver operating characteristic
TexM:

text mining
Y2H:

yeast two hybrid experiments.
Declarations
Acknowledgements
CD acknowledges funding from the NIH R01 RR022971. YX is supported by a Research Starter Grant in Informatics from the PhRMA Foundation.
Authors' Affiliations
(1)
Bioinformatics Program, Boston University, Boston, USA
(2)
Department of Chemistry, Boston University, Boston, USA
Copyright
© Linghu et al.; licensee BioMed Central Ltd. 2009
This article is published under license to BioMed Central Ltd. This is an open access article distributed under the terms of the Creative Commons Attribution License (http://creativecommons.org/licenses/by/2.0), which permits unrestricted use, distribution, and reproduction in any medium, provided the original work is properly cited.