Cytoplasmic dynein could be key to understanding neurodegeneration
Eukaryotic cells transport molecules, complexes and organelles around the cell by means of energy-dependent motor proteins. The main motor responsible for movement of cargos to the minus end of microtubules is cytoplasmic dynein. This is a huge multisubunit protein complex that interacts with many intracellular pathways and whose multifarious roles in the cell are far from being completely understood. In neurons, dynein is the major retrograde motor, moving cargoes from the synapse along the axon and back to the cell body. Previous mutations in the core of this motor - the dynein heavy chain - are known to ameliorate neurodegeneration in mouse models of amyotrophic lateral sclerosis (ALS). A recent paper by Chen, Popko and colleagues [1] reporting a new mouse mutant for the dynein heavy chain extends our knowledge of the effects of dynein mutations on the nervous system, but the mystery of dynein's relation to neurodegenerative disease thickens.
Cytoplasmic dynein is a large complex of proteins whose constituent members are the heavy chain (encoded by a single gene), the intermediate chains (two genes), the light-intermediate chains (two genes), and the light chains (three genes) [
2
]. The precise stoichiometry of the intact complex is not known, but at its core lies a homodimer of heavy chains. This dimer binds to microtubules and enables dynein to move in an ATP-dependent manner [
3
]. The other dynein subunits are thought to maintain the stability of the complex, to modulate its activity and to interact with accessory and cargo proteins (Figure
1a
) [
4
–
10
]. Cytoplasmic dynein may also perform tasks other than transporting cargos; for example, endosomes depend on dynein not just for their motility, but also for their maturation, morphology and receptor sorting [
11
].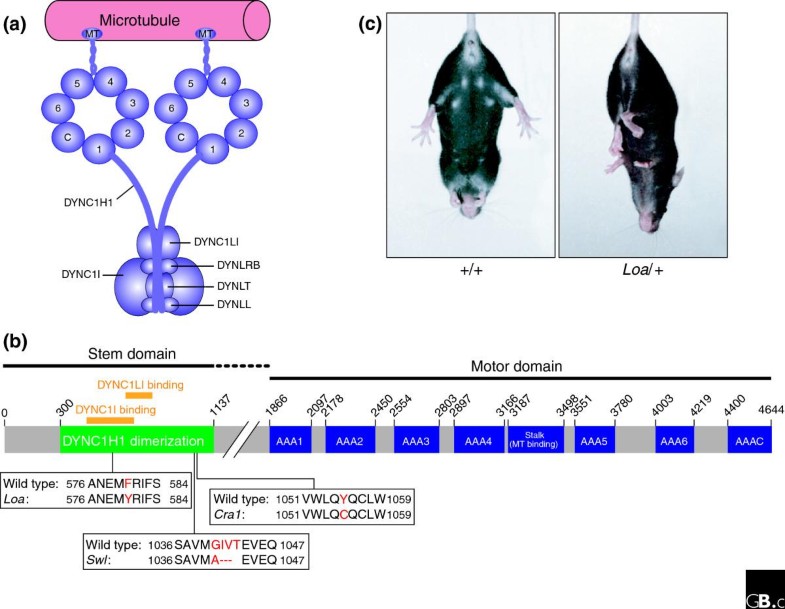 The cytoplasmic dynein heavy-chain protein has a mass of 532 kDa and is encoded by a 78-exon gene, DYNC1H1; no splice isoforms are known (Figure 1b). A Dync1h1 mouse knockout results in no detectable phenotype in heterozygotes and early embryonic lethality in null animals [12]. Two mouse mutants - Legs at odd angles (Loa) and Cramping 1 (Cra1) - have been described previously, both of which are due to point mutations in Dync1h1 (Figure 1b) [13]. These single amino-acid substitutions result in similar phenotypes: heterozygous animals show clenching of the hindlimbs when held by the tail (Figure 1c) and an obvious gait disorder, and homozygotes die at or before birth. Histological studies of the spinal cord of heterozygotes reveal a progressive loss of motor neurons. Retrograde axonal transport as measured by the movements of a fluorescent tetanus toxin fragment is normal in heterozygous Loa embryonic motor neurons but is slowed down in homozygotes [13, 14].
(1)
Department of Neurodegenerative Disease, Institute of Neurology, Queen Square, London, WC1N 3BG, UK
© BioMed Central Ltd 2008