Ancora: a web resource for exploring highly conserved noncoding elements and their association with developmental regulatory genes
Received: 12 October 2007
Accepted: 15 February 2008
Published: 15 February 2008
Abstract
Metazoan genomes contain arrays of highly conserved noncoding elements (HCNEs) that span developmental regulatory genes and define regulatory domains. We describe Ancora http://ancora.genereg.net, a web resource that provides data and tools for exploring genomic organization of HCNEs for multiple genomes. Ancora includes a genome browser that shows HCNE locations and features novel HCNE density plots as a powerful tool to discover developmental regulatory genes and distinguish their regulatory elements and domains.
Keywords
Additional Data FileGenome BrowserFuguUCSC Genome BrowserSynteny Block
Rationale
Comparisons of metazoan genome sequences have revealed an abundance of genomic segments that are highly conserved across large evolutionary distances even though they do not encode proteins and do not tend to be near transcription start sites. For example, 256 non-exonic segments longer than 200 bp were found to be perfectly conserved between human, mouse and rat genomes; 140 of these were more than 10 kb away from any known gene [1]. Using less stringent criteria for length and sequence similarity, other investigators have found thousands of non-exonic segments in the human genome that are conserved in organisms as distant as fugu [2, 3] and shark [4].
Several lines of evidence indicate that these highly conserved noncoding elements (HCNEs) play a fundamental role in regulating animal development and constraining genome evolution. In vertebrates, insects and worms, HCNEs tend to cluster in the vicinity of developmental regulatory genes [1–7]. Through experiments in transgenic animals in which cloned HCNEs are tested for the ability to drive transcription of a reporter gene, many HCNE sequences have shown the ability to induce part of the embryonic expression pattern of a developmental regulatory gene located in the genomic neighborhood of the endogenous HCNE [3, 8–11]. These experiments have associated HCNEs and developmental genes separated by considerable genomic distances, up to 800 kb in human [8], suggesting that many HCNEs act as long-range regulatory elements. Hundreds of HCNEs have now been characterized as developmental enhancers in transgenic mice, frogs or zebrafish, and the list is growing rapidly [10, 12–14].
The emerging model for explaining these observations is that an array of HCNEs defines a region of regulatory inputs of its target gene(s), and that the full complement of those inputs results in the expression pattern of the gene [3, 8–11]. If this notion that HCNE arrays constitute regulatory domains is correct, chromosomal rearrangements within HCNE arrays should be selected against in evolution [15–17]. Accordingly, large HCNE arrays have been found to correspond to the largest and most deeply conserved blocks of synteny across vertebrates [18] and across insects [6]. In addition to HCNE arrays and their target genes, many of these synteny blocks contain unrelated (bystander) genes that do not appear to be regulated by the HCNEs, although they can be situated between HCNEs and target genes, as well as contain HCNEs in their introns. Kikuta et al. [18] termed these synteny blocks 'genomic regulatory blocks' (GRBs) and demonstrated that, for some GRBs, it is possible to distinguish bystander from target genes by comparing mammalian genome sequences with those of teleost fish (such as fugu and zebrafish). This is facilitated by a whole-genome duplication event that occurred in the teleost lineage [19] and caused each GRB to be present in two copies, thereby allowing some bystander genes to be disentangled from HCNE arrays during the subsequent rediploidization [18].
Despite a rising interest in HCNEs in the genomics and evo-devo community, there has been a lack of resources that provide information about HCNEs and allow researchers to explore the distribution of HCNEs along chromosomes. Here, we describe Ancora [20], a web resource consisting of: a genome browser where HCNE locations and HCNE density plots can be viewed over different genomes, with a number of adjustable parameters; data files that allow users to easily view HCNE locations and densities in the UCSC Genome Browser [21]; and a service that allows users to view HCNE data in the Ensembl browser [22] through the distributed annotation system (DAS) protocol for sharing sequence annotations [23]. We demonstrate how Ancora can be used to discover developmental regulatory genes and distinguish their chromosomal regulatory domains that correspond to the GRBs described above. The visualization of these regulatory domains is the most powerful and novel function of Ancora. We anticipate that Ancora will be particularly useful for assigning distal regulatory elements to their target genes, and for the discovery of hitherto unknown developmental regulatory genes, including noncoding RNAs.
A comprehensive HCNE database
Ancora rests on a database of HCNEs conserved between various metazoan genomes (Figure
1
). Building on our previously described strategies for detecting HCNEs [
2
,
6
,
18
] we have created a refined procedure that is not biased against a chosen base genome and better captures HCNEs duplicated in genome evolution. We identify HCNEs by scanning pairwise BLASTZ net whole-genome alignments (nets) [
24
] downloaded from the UCSC Genome Browser database [
21
] for regions with at least
I
identities over
C
alignment columns. Because different similarity criteria may be appropriate for different loci and investigations, we scan for conserved elements using at least two different window sizes (
C
= 30 and
C
= 50) and several different similarity thresholds (
I
/
C
) in the range 70-100% for each species pair. The algorithm that creates net alignments is designed to retain only the best alignment for each position in one of the genomes [
24
]. For each pairwise comparison, we therefore scan two sets of nets (one from the perspective of each genome) in order not to miss elements duplicated in either lineage. This is particularly important for comparisons between teleost fish and other vertebrates, because of the whole-genome duplication that occurred in the teleost lineage [
19
]. We subsequently merge highly conserved elements that overlap on both genomes, but not elements that coincide on only one of the genomes, so that duplicated elements remain distinct. After discarding elements whose genome coordinates overlap by one or more base-pairs with annotated exons, we remove repetitive sequences by considering overlap with known repeats and the number of high-identity alignments obtained by realignment of each sequence against the two respective genomes. We consider remaining elements as HCNEs. The exon and repeat annotations we use, and the realignment parameters we employ, are listed on the Ancora web site, where an up-to-date description of our HCNE detection procedure is maintained. To illustrate the effect of parameter changes on the number of HCNEs detected, Table
1
lists HCNE counts for some selected settings and genomes.
Table 1
Counts for selected HCNE sets
Criteria for HCNE detection

Number of HCNEs detected in indicated comparison

Minimum identity

Minimum size (bp)

Human vs mouse

Human vs chicken

Human vs zebrafish

Zebrafish vs Tetraodon

80% over 30 columns

30

NC

125,174

19,596

57,681

90% over 30 columns

30

NC

78,831

8,260

26,157

96% over 30 columns

30

305,015

50,478

3,656

10,205

100%

30

150,487

35,338

1,721

4,737

70% over 50 columns

50

NC

93,162

16,725

45,828

80% over 50 columns

50

NC

63,304

7,169

25,997

90% over 50 columns

50

265,537

36,794

3,127

8,610

95% over 50 columns

50

107,860

22,530

1,228

3,078

98% over 50 columns

50

68,600

17,579

763

1,782

100%

50

34,785

11,934

330

754

90% over 50 columns

100

81,065

15,339

733

1,695

95% over 50 columns

100

25,801

7,901

188

450

100%

100

4,919

2,475

20

61

100%

200

494

365

0

2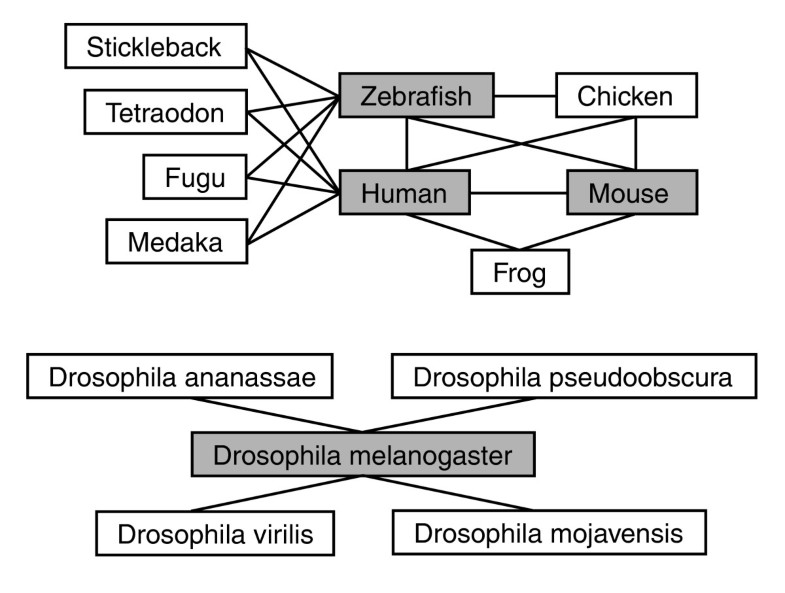 Exploring HCNEs and GRBs with the Ancora genome browser
Ancora contains a genome browser designed to explore the distribution of HCNEs on metazoan chromosomes (Figure
2a
). The browser is currently set up to show the genomes of human, mouse, zebrafish and
Drosophila melanogaster
; we aim to expand this list in the future.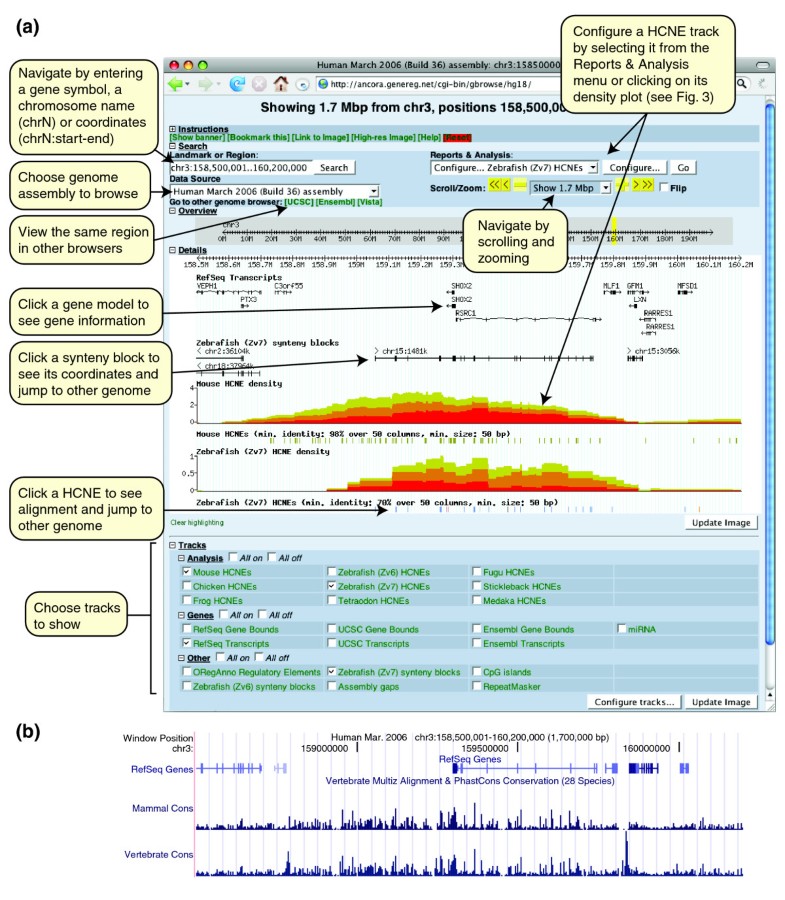 Viewing HCNEs and density plots in other genome browsers
The Ancora genome browser provides the most flexible way to explore the HCNE data in Ancora. However, it is often useful to view these data in other browsers where it can be compared to other types of annotation. We aimed to make it as straightforward as possible to view HCNE data in the UCSC Genome Browser [
21
] and Ensembl [
22
] (Figure
7
).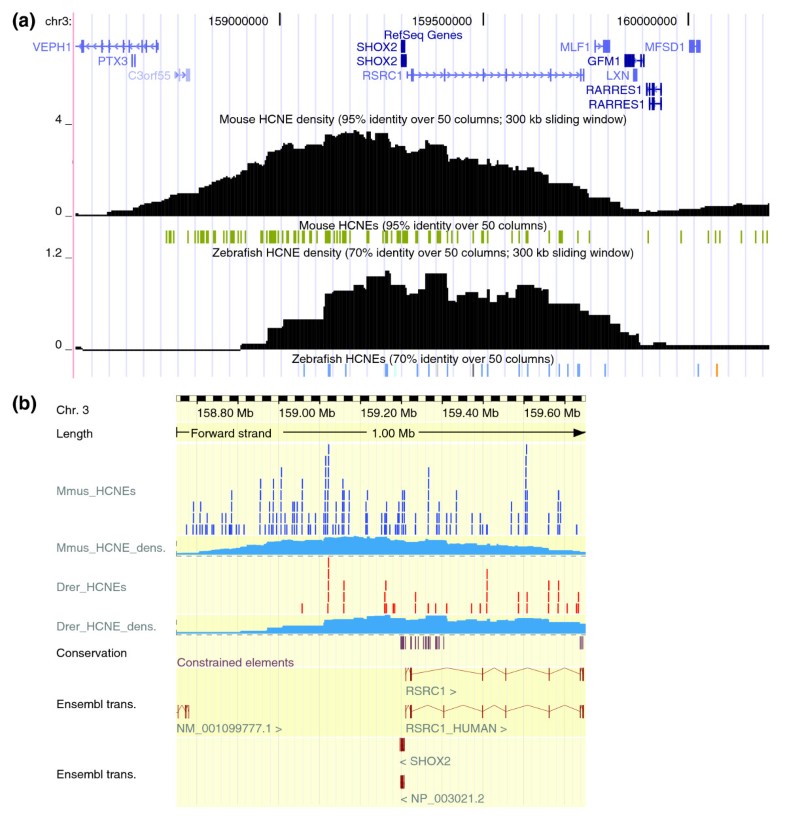 HCNE locations and precomputed density curves are available for download in the 'bed' and 'wig' formats used for UCSC Genome Browser custom tracks [39]. It is not necessary to download the .bed and .wig files to use them as custom tracks in the UCSC Genome Browser: the user can simply copy the URLs for track files of interest from the Ancora downloads section and paste them into the 'add custom tracks' form on the UCSC Genome Browser web site.
The Ensembl browser can display sequence annotations provided over the web through DAS, a method for data exchange [23]. Much of the Ancora data are available through DAS. Ancora provides an interface where the user can add HCNE tracks to Ensembl ContigView. Tracks added in this way are stored as part of the user's Ensembl preferences. Users who are familiar with DAS can also retrieve data directly from the DAS server. For example, the URL given in reference [40] provides a list of available tracks.
Comparison to other tools
While the genome browsers at UCSC and Ensembl provide rich and diverse annotation sets including information about sequence conservation, they do not distinguish coding from noncoding conserved elements. To our knowledge, the Ancora genome browser is the first tool that makes it easy to visualize HCNE distributions on large genomic regions, up to whole chromosomes, and the browser is tailored to show data in a flexible manner at this level.
The ECR Browser [34] and VISTA Browser [30] allow detailed inspection of sequence conservation profiles across many genomes, highlight conserved elements in a user-customizable manner and distinguish noncoding from coding conservation. In the ECR Browser, one drawback is that thresholds for detection of conserved elements are uniform across all comparisons shown, irrespective of evolutionary distance. In contrast, Ancora and VISTA browsers can show results for multiple different thresholds simultaneously. A limitation of both the ECR and VISTA browsers is that they are not designed for visualizing the distribution of conserved elements on segments larger than a few megabases. The VISTA Browser can only display regions up to 5 Mb in size and the ECR Browser's display of large regions is difficult to interpret because conserved elements are drawn close together. In contrast, the HCNE density plots in Ancora make it possible to view and intuitively interpret HCNE content at any scale. Ancora is therefore better suited for exploring conservation genome-wide and discovering regulatory domains at loci not known beforehand, while the ECR and VISTA browsers provide more functionality for close examination of sequence-level conservation profiles.
The CONDOR database [14] holds information on about 6,800 HCNEs from about 120 blocks of conserved synteny between human and fugu and provides a graphical interface to view the distribution of HCNEs in those regions. While there are several similarities between Ancora and CONDOR, Ancora has the advantage of providing HCNE data for entire genomes. Another difference between the two resources is that the Ancora HCNE sets are not as stringently defined in terms of conservation as those in CONDOR, where HCNEs are required to be conserved among four diverged vertebrates. In Ancora, we have chosen to provide a range of HCNE data sets from different pairwise comparisons and with different similarity thresholds (Figure 1 and Table 1), so that users can choose to look at the data appropriate for their questions. A valuable section of CONDOR provides developmental expression patterns for about 100 HCNEs that have been investigated by reporter assays in zebrafish. We are preparing to link similar data to Ancora.
Summary
Ancora is a new web resource that provides data and tools for exploring HCNEs and their association with developmental regulatory genes. Built upon a database of HCNEs conserved between various metazoan genomes, Ancora provides a genome browser for visualizing the distribution of those elements on chromosomes in the context of other types of annotation integrated from different sources. One of the novel features of Ancora is the possibility to display highly customizable plots of HCNE density along chromosomes. HCNE density plots are qualitatively different from conservation profiles available in other genome browsers [21, 22, 30, 34]: they clearly reveal regions of extensive noncoding conservation and highlight larger chromosomal regulatory domains (GRBs) that have been maintained in evolution. The GRBs typically coincide with loci of developmental regulatory genes, for which HCNEs appear to act as enhancers [3, 8–12]. Consequently, we anticipate that Ancora will be highly useful for discovering developmental regulatory genes and their distal cis-regulatory elements. We have illustrated how Ancora can be used to define the chromosomal regulatory domains of those genes and distinguish genes that appear to be functionally associated with HCNEs from unrelated 'bystander' genes within the same GRB. The HCNE data in Ancora are also available for download and can easily be displayed in the popular general-purpose genome browsers at UCSC [21] and Ensembl [22].
Additional data files
The following additional data are available with the online version of this paper. Human genomic regions in which the density (in a 300 kb sliding window) of human-zebrafish HCNEs (70% identity over 50 columns) surpassed 0.5% and putative target genes in 120 of these regions.
Abbreviations
DAS:

distributed annotation system
GRB:

genomic regulatory block
HCNE:

highly conserved noncoding element.
Declarations
Acknowledgements
This work was supported by the Functional Genomics Programme (FUGE) of the Research Council of Norway, Bergen Research Foundation (Bergen Forskningsstiftelse, BFS), and a core grant from the Sars Centre. We thank Ying Sheng, Xianjun Dong and Altuna Akalin for comments on the genome browser.
Authors' Affiliations
(1)
Computational Biology Unit, Bergen Center for Computational Science, University of Bergen, Bergen, Norway
(2)
Sars Centre for Marine Molecular Biology, University of Bergen, Bergen, Norway
(3)
Programme for Genomics and Bioinformatics, Department of Cell and Molecular Biology, Karolinska Institutet, Stockholm, Sweden
Copyright
© Engström et al.; licensee BioMed Central Ltd. 2008
This article is published under license to BioMed Central Ltd. This is an open access article distributed under the terms of the Creative Commons Attribution License (http://creativecommons.org/licenses/by/2.0), which permits unrestricted use, distribution, and reproduction in any medium, provided the original work is properly cited.