Molecular basis of telaprevir resistance due to V36 and T54 mutations in the NS3-4A protease of the hepatitis C virus
Received: 17 July 2007
Accepted: 23 January 2008
Published: 23 January 2008
Abstract
Background
The inhibitor telaprevir (VX-950) of the hepatitis C virus (HCV) protease NS3-4A has been tested in a recent phase 1b clinical trial in patients infected with HCV genotype 1. This trial revealed residue mutations that confer varying degrees of drug resistance. In particular, two protease positions with the mutations V36A/G/L/M and T54A/S were associated with low to medium levels of drug resistance during viral breakthrough, together with only an intermediate reduction of viral replication fitness. These mutations are located in the protein interior and far away from the ligand binding pocket.
Results
Based on the available experimental structures of NS3-4A, we analyze the binding mode of different ligands. We also investigate the binding mode of VX-950 by protein-ligand docking. A network of non-covalent interactions between amino acids of the protease structure and the interacting ligands is analyzed to discover possible mechanisms of drug resistance. We describe the potential impact of V36 and T54 mutants on the side chain and backbone conformations and on the non-covalent residue interactions. We propose possible explanations for their effects on the antiviral efficacy of drugs and viral fitness. Molecular dynamics simulations of T54A/S mutants and rotamer analysis of V36A/G/L/M side chains support our interpretations. Experimental data using an HCV V36G replicon assay corroborate our findings.
Conclusion
T54 mutants are expected to interfere with the catalytic triad and with the ligand binding site of the protease. Thus, the T54 mutants are assumed to affect the viral replication efficacy to a larger degree than V36 mutants. Mutations at V36 and/or T54 result in impaired interaction of the protease residues with the VX-950 cyclopropyl group, which explains the development of viral breakthrough variants.
Keywords
Additional Data File
Telaprevir
Mutant Structure
Ligand Binding Pocket
Protein Data Bank Entry
Background
More than 170 million people worldwide are chronically infected with the hepatitis C virus (HCV). Combination therapy with pegylated interferon-α plus ribavirin shows sustained virologic response rates of approximately 50% in HCV genotype 1 infected patients [1–3], which emphasizes the need for new antiviral drugs. The serine protease NS3-4A is a promising drug target for specific antiviral treatment. HCV genotypes exhibit about 80% sequence identity in NS3-4A, with highly conserved key residues [4]. NS3-4A is bifunctional, possessing a protease as well as a helicase domain. Especially the protease domain is a target for rational drug design [5–8]. The serine protease has a chymotrypsin fold, which consists of the amino-terminal 181 amino acids of NS3. The three catalytic residues H57, D81 and S139 are located in a crevice between the two protease β-barrels [9–11]. The numbering used in the following is according to the structure 1DY8[12] taken from the Protein Data Bank (PDB) [13, 14]. The central region of NS4A is buried almost completely inside NS3 and serves as a cofactor for proper folding of NS3 [9].
The binding pocket of the protease is shallow, non-polar, and rather difficult to target. Therefore, the development of potent protease inhibitors has been a challenging task in the past. This is reflected by the variety of rational drug design approaches and drug candidates tested so far, for example, protease substrate or product analogs, serine-trap inhibitors, tripeptide inhibitors and de-novo peptidomimetics [6, 15]. Data for drug resistance and antiviral efficacy have been published for the protease inhibitors BILN-2061 (ciluprevir) [16, 17], VX-950 (telaprevir) [18–20], and SCH 503034 (boceprevir) [21, 22].
VX-950 is a tetrapeptidic compound with α-ketoamide as active-site binding motif, covalently bound to S139 [
23
–
25
]. Figure
1
shows the chemical structure of VX-950 in comparison with other ligands. Strong antiviral efficacy for VX-950 was demonstrated
in vivo
during a phase 1b clinical trial, with an HCV RNA decline above 3 log after treatment duration of only 24 hours [
18
]. As observed with other specific antiviral agents, the treatment efficacy diminished over time, due to the selection of drug-resistant viral variants. Mutations that confer drug resistance to VX-950 were detected independently in different patients within two weeks of treatment. They have been found at four different sites: V36, T54, R155 and A156 [
18
,
19
,
26
].
In vitro
drug resistance was quantified by enzymatic, inhibitory concentration 50% (IC
50
) values [
19
,
26
–
28
]. Viral fitness and corresponding replication efficacies were measured by HCV RNA levels [
19
,
26
–
28
].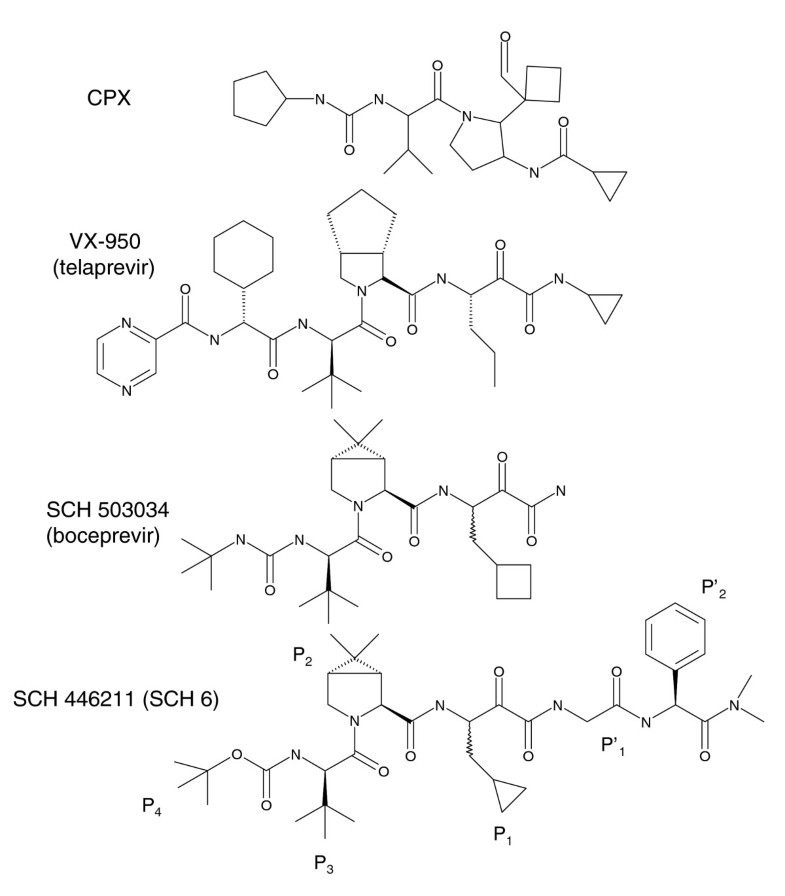 R155 and A156 are localized in the binding pocket of the protease NS3-4A. A156 interferes directly with protease inhibitor binding and leads to high-level drug resistance [
19
]. An extensive analysis of HCV quasispecies revealed single mutants at positions V36, T54 and R155, and double-mutants at V36/R155 in all breakthrough patients investigated [
19
]. V36, T54 and R155 mutants confer low- to medium-level drug resistance, and an inverse relationship between
in vivo
viral fitness and drug resistance was observed [
19
]. The mutations are associated with an intermediate reduction in viral replication efficacy. Mutations at position V36 conferred low-level resistance to VX-950 with a mean IC
50
value of 226 nM and an IC
50
range of 110 nM to 444 nM, compared with the HCV reference strain, genotype 1a. Interestingly, the T54S mutant was associated with low-level resistance and a mean IC
50
value of 120 nM, while the T54A mutant showed a higher level of resistance with a mean IC
50
value of 749 nM.
In vitro
IC
50
data and corresponding IC
50
fold changes in resistance over the HCV genotype 1a reference strain are summarized for VX-950 in Table
1
[
19
,
26
,
28
]. Molecular mechanisms leading to drug resistance at R155 and A156 have been investigated [
19
,
20
], whereas the reason for drug resistance mutants at V36 and T54 is still unknown. The present work investigates the molecular basis for VX-950 resistance at V36 and T54.
Table 1
Enzymatic in vitro drug resistance data for telaprevir (VX-950)
| | IC50 mean (nM) | IC50 range (nM) | IC50 (fold changes) |
| --- | --- | --- | --- |
| HCV genotype 1a | 70 | - | - |
| V36A/G/L/M | 226 | 110-444 | 1.7-6.9 |
| T54S | 120 | - | 1.9 |
| T54A | 749 | - | 11.7 |
| R155G/I/K/L/M/S/T | 538 | 275-1,050 | 4.3-16.4 |
| A156I/T/V | 29,800 | 12,500-50,000 | 195-781 |
| A156S | 1,400 | - | 21.9 |
Results
The following sections describe the results of the analysis of the HCV protease structure of NS3-4A and the different ligand interaction modes using alternative experimental structure models. The ligand binding mode of the inhibitor VX-950 was investigated by computational protein-ligand docking. Structural changes in the binding pocket and the catalytic triad of the protease were characterized by molecular dynamics simulations of T54A/S mutants and rotamer analysis of V36A/G/L/M side chain conformations. A residue-based network of non-covalent interactions was constructed to investigate molecular mechanisms of drug resistance. Experimental data are provided for the V36G mutant to corroborate our findings. The last section comprises a sequence analysis of HCV genotypes and their polymorphisms with respect to the mutational sites discussed in this study.
Discussion
Our results indicate that the cyclopropyl group of VX-950 is oriented towards a hydrophobic cavity in the binding pocket of the HCV protease NS3-4A. The cyclopropyl binding mode and the geometry of the cavity appear to play an essential role in the development of drug resistance by mutants at positions V36 and T54. The residue T54 lies in an anti-parallel β-sheet, which is followed by a loop structure involved in shaping the hydrophobic cavity. We expect a larger impact of T54A than T54S on the β-sheet conformation due to the affected H-bond formation.
Molecular dynamics simulations of T54A/S mutant structures support our interpretation. We observed more pronounced structural changes in the case of T54A compared to T54S, which impact the binding pocket, particularly at the hydrophobic cavity that accommodates the cyclopropyl group. We also observed a reduced depth of the cyclopropyl binding cavity for the T54A mutant structure. In vitro data for T54A revealed an 11.7-fold increase of IC50, whereas T54S showed only a minimal level of drug resistance, with a 1.9-fold increase in IC50 (Table 1) [19, 26–28]. We suppose that the minor impact on the protease structure and the less compromised VX-950 binding in the case of T54S results in low-level drug resistance, in contrast to T54A with higher drug resistance levels. Furthermore, we analyzed potential molecular mechanisms affecting catalytic residues of the NS3-4A protease and the implications for viral replication efficacy. A network of non-covalent residue interactions demonstrated possible effects of T54 mutants not only on the ligand binding site, but also on the catalytic residues. This is in agreement with results of molecular dynamics simulations upon T54A/S mutation and underlines the considerable negative influence of T54 mutants on the protease catalytic activity.
We found V36 to be located farther away from the hydrophobic cavity than T54, both in the three-dimensional structure and in the residue interaction network derived from the NS3 protease structure. We observed non-covalent interactions of the wild-type V36 with a residue that shapes the hydrophobic cavity. The mutations V36A/G/L/M allow a displacement of the side chain of this residue, thereby changing the shape of the cavity. Thus, the V36 mutants affect only the shape of the cyclopropyl binding cavity, which is in agreement with the corresponding low-level drug resistance and weak IC50 fold changes of only 1.7 to 6.9 (Table 1) for V36A/L/M single mutations [19, 26–28]. We conjecture that the binding affinities of the VX-950 compound are modified only marginally, which is consistent with the low-level drug resistance. The residue V36 and its mutants are only of minor relevance for the protease catalytic activity. In comparison with T54, we observed lower network connectivity and larger distance from catalytic triad residues in the network for the V36 node. This may explain why V36 mutants have been observed in all breakthrough patients and more frequently in follow-up sequencing data than T54 mutants, which indicates greater protease enzymatic activities and better viral replication efficacies [18, 19, 26–28]. After withdrawal of VX-950, V36 mutants remained at a fairly steady frequency in HCV quasispecies populations, most probably due to an only slightly decreased viral replication rate and a low-level drug resistance [18, 19, 26–28].
Moreover, we performed a comprehensive comparison of NS3 protease sequences for all HCV genotypes. We found only minor variability at the mutational sites and residue positions investigated in this study. The clinically most relevant HCV genotypes 1, 2 and 3 are particularly similar in contrast to other genotypes. Altogether, we assume closely related molecular resistance mechanisms for all HCV genotypes when treated with VX-950 or compounds with a similar scaffold.
Conclusion
We identified a narrow hydrophobic cavity in the binding pocket of the protease NS3-4A accommodating the cyclopropyl group of VX-950 (telaprevir). Mutations at V36 and T54 are expected to affect local conformation and the geometry of this cavity, which explains the observed drug resistance. We used a structural network of non-covalent interactions between NS3 protease residues to investigate molecular effects underlying drug resistance. Notably, this novel methodological approach is of general applicability for many studies of protein structure and function. In our work, the residue interaction network allowed the identification of key mechanisms responsible for conformational changes in the ligand binding pocket and hydrophobic cavity as well as for functional effects on the protease catalytic residues. Molecular dynamics simulations and rotamer analysis support our findings well. Additionally, we performed experimental inhibitor studies with VX-950 and SCH 503034 in a mutant HCV replicon assay, which corroborated our results.
Based on the present work, we conclude that add-on or switch to complementary protease inhibitors, possessing no cyclopropyl or similar group in an equivalent position as in VX-950, might help to avoid cross-resistance during viral breakthrough and follow-up. Therefore, we suggest further experiments to examine our observations. NS3 protease mutants could be tested for their antiviral efficacy and compromised viral replication. Based upon our findings, it would be of interest to compare the efficacy of VX-950 against that of SCH 503034 for other V36 and T54 mutants. Apart from that, crystal structure information would be desirable for mutant structures with co-complexed drugs like VX-950 to confirm our computational analysis.
Additional data files
The following additional data are available with the online version of this paper. Additional data file 1 includes supplementary figures and table. Figure S1 illustrates NS3-4A protease-ligand interactions. Figure S2 shows the complete network of non-covalent, H-bond and van der Waals interactions of the NS3-4A protease for the PDB entry 1RTL. Figure S3 gives results of SCH 503034 and VX-950 inhibitor studies using an HCV V36G mutant replicon assay. Table S1 lists HCV genotypes included into the multiple sequence alignment of Figure 9.
Abbreviations
DMEM:

Dulbecco's modified Eagle's medium
FBS:

fetal bovine serum
H-bond:

hydrogen bond
HCV:

hepatitis C virus
IC50:

inhibitory concentration 50%
MD:

molecular dynamics
PDB:

Protein Data Bank
RT-PCR:

reverse transcription-PCR.
Declarations
Acknowledgements
We are grateful to Dr Ann D Kwong for helpful discussion. We thank Dr Johan Neyts and Dr Piet Herdewijn (Katholieke Universiteit Leuven, Netherlands) and the viRgil Drugpharm for generously providing VX-950. The present study was supported by a DFG grant to CW, CS, MA, SZ and TL (Klinische Forschergruppe, KFO 129/1-1, TP2, TP3, TP6) and two European 6th framework Networks of Excellence, viRgil (LSHM-CT-2004-503359) and BioSapiens (LSHG-CT-2003-503265), funded by the European Commission.
Authors' Affiliations
(1)
Department of Computational Biology and Applied Algorithmics, Max Planck Institute for Informatics, Saarbrücken, Germany
(2)
Department of Internal Medicine I, Johann Wolfgang Goethe University Hospital, Frankfurt/Main, Germany
(3)
Department of Internal Medicine II, Saarland University Hospital, Homburg/Saar, Germany
Copyright
© Welsch et al.; licensee BioMed Central Ltd. 2008
This article is published under license to BioMed Central Ltd. This is an open access article distributed under the terms of the Creative Commons Attribution License (http://creativecommons.org/licenses/by/2.0), which permits unrestricted use, distribution, and reproduction in any medium, provided the original work is properly cited.