Pigs taking wing with transposons and recombinases
Genome Biology
2007
8(Suppl 1):S13
Published: 31 October 2007
Abstract
Swine production has been an important part of our lives since the late Mesolithic or early Neolithic periods, and ranks number one in world meat production. Pig production also contributes to high-value-added medical markets in the form of pharmaceuticals, heart valves, and surgical materials. Genetic engineering, including the addition of exogenous genetic material or manipulation of the endogenous genome, holds great promise for changing pig phenotypes for agricultural and medical applications. Although the first transgenic pigs were described in 1985, poor survival of manipulated embryos; inefficiencies in the integration, transmission, and expression of transgenes; and expensive husbandry costs have impeded the widespread application of pig genetic engineering. Sequencing of the pig genome and advances in reproductive technologies have rejuvenated efforts to apply transgenesis to swine. Pigs provide a compelling new resource for the directed production of pharmaceutical proteins and the provision of cells, vascular grafts, and organs for xenotransplantation. Additionally, given remarkable similarities in the physiology and size of people and pigs, swine will increasingly provide large animal models of human disease where rodent models are insufficient. We review the challenges facing pig transgenesis and discuss the utility of transposases and recombinases for enhancing the success and sophistication of pig genetic engineering. 'The paradise of my fancy is one where pigs have wings.' (GK Chesterton).
Keywords
Somatic Cell Nuclear TransferCystic Fibrosis Transmembrane RegulatorInfectious Hematopoietic Necrosis VirusGene Expression CassetteNuclear Donor
Introduction
Pigs are ungulates native to Eurasia collectively grouped under the genus Sus within the Suidae family. Phylogeographic analysis reveals that pigs were domesticated independently at least seven times around the globe, first at least 9,000 years ago [1, 2]. Our longstanding affinity for pigs stems from their omnivorous ability to convert even our scraps into healthy and nutritious pork. Since their domestication, pigs have also captured our cultural imagination. Their intelligence and almost human behavior finds pigs intertwined with us in mythology, language, and art. The meat pig represents a significant commodity worldwide, in 2004 producing more than 89 million tons of meat [3] and contributing more than $50 billion to the US economy alone [4]. Co-products from hogs play a vital although less visible role in maintaining and improving the quality of human life, being the primary source of more than 20 drugs and pharmaceuticals [5]. Pig insulin, which differs from the human protein by a single amino acid, had saved the lives of innumerable type 1 diabetic patients before the development of recombinant human insulin. Pig heart valves are used to repair damaged or diseased human hearts, and pig skin is used to treat severe burn victims and to produce collagen scaffolds, gels, and other surgical materials.
The anthropomorphism of pigs in our culture seems almost prescient, given what we now know to be extensive similarities between human and pig molecular, cellular, and systems physiology [6, 7]. Pigs were Galen's preferred models in his quest for truth about human anatomy during an era that forbade human dissection [8]. Christian Barnard, who performed the worlds first heart transplant in 1967, once remarked that, 'Strange as it may seem, in several anatomic aspects the pig is closer to the human being than any other animal' [9], a view that motivated the development of the Minnesota minipig at the Hormel Institute in Austin, Minnesota [9, 10]. Improvements in our ability to manipulate the pig genome will increase the importance of pigs in biomedicine, both as models of human disease and as donors of cells, tissues, and organs for xenotransplantation.
Goals and applications of pig genome modification
Since their domestication, producers have striven to improve the performance of pigs by the selection and improvement of pig genetics, and by engineering of systems for their production. Significant contemporary efforts are focused on genetic improvement using genetic marker assisted selection [11, 12] and genetical genomics [13, 14]. With the emergence of technologies for animal transgenesis and genetic engineering, scientists have also sought to improve the performance or change the phenotype of pigs based on directed genetic modification. Agricultural objectives include enhancing growth and nutrient partitioning [15–17], changing pork composition [18, 19], supplementing milk composition for piglet consumption [20, 21], improving pig resistance to pathogens [22], and even reducing the environmental impact of pig waste [23]. Efforts to expand the utility of pigs as bioreactors for pharmaceutical production have targeted the expression of therapeutic proteins in their milk [24–26], blood [27, 28], urine [29], and potentially semen [30, 31].
A survey of the US National Institutes of Health CRISP (Computer Retrieval of Information on Scientific Projects) database reveals that pigs are currently the subjects of more than 450 active research projects. Among these, a handful aim to alter pigs genetically and so develop large animal models of human disease. Nearly a decade ago, a pig model of retinitis pigmentosa was created by germline transgenesis with a dominant mutant rhodopsin gene (Pro347Leu) [32]. This model provided important data regarding the earliest stages in photoreceptor degeneration in this condition. Contemporary targets include models of arteriosclerosis and cystic fibrosis [33, 34], diseases in which animal size and physiology diminish the utility of mouse models.
Xenotransplantation - the transplantation of cells, tissue, and organs from one species to another - may be the most important application of pig genetic engineering. According to the United Network for Organ Sharing, nearly 94,000 people are currently on the waiting list for organ transplants in the USA alone, with only 20% likely to receive this life saving procedure (Table
1
) because of a shortage of suitable organs or tissues. Targets for the genetic modification of pigs for xenotransplantation have thus far emphasized reducing the immunogenicity of pig cells and tissues, and preventing the hyperacute rejection (HAR) and acute vascular rejection responses that are observed within minutes and days, respectively, after transplantation of pig organs to non-human primates (NHPs).
Table 1
United Nations Organ Sharing Network US transplantation data on 22 October 2006 (11:00 hours)
| Organ | Waiting patients |
| --- | --- |
| Kidney | 68,343 |
| Pancreas | 1,734 |
| Kidney/pancreas | 2,415 |
| Liver | 17,098 |
| Intestine | 238 |
| Heart | 2,842 |
| Lung | 2,888 |
| Heart/lung | 146 |
| Total | 95,708 |
HAR of porcine organs by old world primate recipients is mediated through preformed antibodies against galactosyl-α-1,3-galactose epitopes expressed on the surface of pig cells. Antigen recognition leads to complement activation and assembly of membrane attack complexes on the surface of donor tissue endothelium, causing cell lysis, hemorrhage, and clotting that occludes the donor tissue blood supply. Transgenic pigs have been developed that express regulators of the complement cascade, including CD55 (decay accelerating factor), CD59, and CD46 (membrane co-factor protein), which are intended to suppress the assembly of membrane attack complexes on donor tissues [35–37]. Xenogenic transplants of organs from these pigs into NHPs have indeed exhibited significant improvement in terms of controlling HAR. A complementary approach has focused on eliminating the galactosyl-α-1,3-galactose antigen from the surface of donor cells. Several groups achieved this feat by generating pigs without the gene encoding α-1,3-galactosyltransferase, which is the enzyme that is required for this sugar modification [38]. This was accomplished by the serial 'knockout' of the gene in cultured pig fibroblasts, followed by somatic cell nuclear transfer (SCNT) to generate pigs. This revolutionary accomplishment marks the beginning of a new era in pig genetic engineering, providing a path to the generation of pigs based on both gene supplementation and ablation.
Pig cells are also a promising resource to counter the limited supply of human tissues for cell-based therapy, particularly neurologic disorders and diabetes. Recent clinical and pre-clinical trials of islet cell transplantation and xenotransplantation, respectively, suggest that xenogeneic cellular therapy may indeed provide a viable option for the treatment of diabetes. Serendipitously, adult pig islets do not express the galactosyl-α-1,3-galactose epitope. Instead, rejection [39] of xenogeneic islets in NHPs results from direct or indirect activation of T cells by donor pig xenopeptides. Targeted prevention of T cell co-stimulation has led to great strides in pig islet xenotransplantation to NHPs [40, 41]. However, maintenance of immunosuppression puts patients at risk for opportunistic infections, and can cause significant cardiovascular, renal, hematologic, gastrointestinal, and (in female patients) reproductive toxicity [42, 43]. Pig transgenesis could provide an alternative approach to systemic T-cell co-stimulation blockade, instead relying on the local provision of immunotherapeutic proteins by the xenograft [44, 45].
Prevention of zoonotic transmission of pathogens from donor pigs to patients is also crucial for clinical application of porcine xenotransplantation. Although husbandry in a biosecure environment can eliminate most risk, endogenous agents such as porcine endogenous retroviruses (PERVs) require special attention. Indeed, upon co-cultivation of pig and human cells, PERVs inefficiently traverse the species barrier [46–48]. Although no evidence of pig to human transfer has ever been observed in vivo [49–51], it is prudent to develop pigs with a reduced genetic potential for PERV transmission [52–56].
Casting pearls unto swine (porcine transgenesis)
Generation of transgenic pigs, like that of other mammals, has traditionally relied on the introduction of exogenous DNA expression constructs into the pig genome by pronuclear injection (PNI) [
57
]. Although PNI remains the primary method of mouse transgenesis, low rates of germline transmission and expensive husbandry costs have interfered with the widespread application of this technology to livestock. SCNT has emerged as an excellent alternative to PNI, boasting transgenesis rates of 100% depending on selection of donor nuclei. Despite the success of both PNI and SCNT in pig transgenesis, both methods suffer from an extremely low transgenesis rate per embryo/ova processed. Recent successes in the application of lentiviral transduction to pig transgenesis have demonstrated it to be quite efficient, and improvements in embryo survival result in transgenesis efficiencies of about 80% of live-born animals with a concomitant increase in the rate of transgenesis per embryo processed [
58
,
59
]. Recent results in mice suggest that coupling PNI with transposon systems also provides a viable alternative to transgenic pig production. We discuss the strengths and weaknesses of each of these approaches, and present an analysis of the value of transposons as tools for mammalian transgenesis, with an emphasis on pigs (also see Table
2
).
Table 2
Evaluation of methods for swine transgenesis
| | Pronuclear (naked DNA) | Pronuclear (transposon)a | SCNT (PFF) | Lentiviral |
| --- | --- | --- | --- | --- |
| Live-born/embryo manipulated | 10% to 15% | ND | 0.05% to 1.2% | 18% to 27% |
| Transgenic per live-born | + | ++ | +++ | ++ |
| Integration preference | Random | Random/class specific | Random or targeted | Gene coding regions |
| Null/hypomorph | RNAi/DN | RNAi/DN | Gene targeting/RNAi/DN | RNAi/DN |
| Cargo size limitationsb | ND | ND | ND | About 8 kilobases |
| Integrations per live-born | Typically 1 | 1 to 10 | Typically 1 | 1 to 20 |
| Mosaicism | Often | Often | Seldom | often |
| Ease of vector production | ++ | ++ | ++/(± HR constructs) | + |
| Concatemer instability | Yes | No | Yesc | No |
| Precision (to the base pair) | No | Yes | Noc | Yes |
| Homologous recombination | No | No | Yes | No |
| Genome aberrations | Yes | No | No | No |
| Heritable expression | ++ | +++ | ++d | ++ |
| Preimplantation screen | ± | ± | ++e | ± |
| Selection required | No | No | Yes | No |
Application of transposons and recombinases for genetic engineering of pigs
Transposons and recombinases for mobilizing transgenes in pig cells
We recently reported, for the first time, transpositional transgenesis in pig cells using
Sleeping Beauty
,
Passport
,
Tol2
, and
piggyBac
transposon systems [
166
]. Initial assessment of these transposons relied primarily on a porcine endometrial glandular epithelial (PEGE) cell line [
167
], which is one of very few immortalized cellular resources available for pigs. In PEGE cells, transposons increased cellular transgenesis from 5-fold to 28-fold above background, depending on which transposon system was used. In addition to the baseline enhancement of transgenesis measured by clone formation, transposons differed in their robustness of integration, as indicated by the number of integrations per clone, which ranged from 1 to 15. Southern analysis of cellular clones revealed that the vast majority of transgene insertions resulted from transposition, a fact borne out by analysis of the junctions between transgene and the genome for each class of transposon. Without optimization in PEGE cells,
piggyBac
and
Tol2
transposon systems were more active than
Sleeping Beauty
, which was more active than
Passport
. The
Passport
transposon system relies on wild-type sequences isolated from the
Pleuronectes plattesa
genome, representing the only vertebrate
Tc1
-type transposon thus far found to be active in its native form (Clark and coworkers, unpublished data). Its activity could probably be improved by engineering of its inverted terminal repeats or transposase, analogous to improvements made to the
Sleeping Beauty
system [
168
]. Additional hyperactive mutants of
Sleeping Beauty
might also be more active in pig cells [
169
–
171
]. However, although it may be possible to further improve transposon systems for application to PEGE cells, transposon efficiency varies depending on the cell type [
125
,
129
,
130
]. Therefore, the relative activity of any transposon system in different pig cells, including pig embryos, requires further investigation. It is likely that, depending on the application, there will be distinct and overlapping roles for a variety of transposon systems in swine genetics (Figure
1
). It is therefore quite promising that four unique transposon systems result in enhanced transgenesis as well as precise integration of expression cassettes into one or more genomic locus in swine.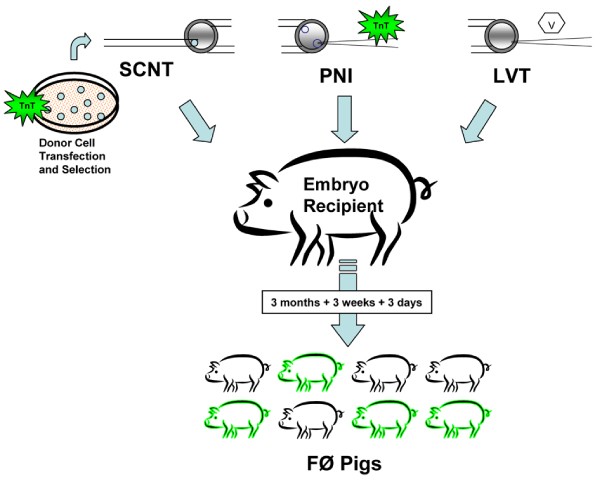 In addition to characterizing the activity of four vertebrate transposons in porcine cells, Clark and coworkers [166] also demonstrated for the first time the ability of Cre and Flp recombinases to mediate site-specific recombination of the pig genome. Both Cre and Flp recombinase were functional in pig cells, as indicated by their ability to remove a positive-negative selection cassette from episomal and numerous genomic locations. In addition, a Cre-dependent genetic switch was demonstrated to be effective in mediating conditional gene expression from episomal and genome-resident transposons. This study provides the basis for developing transposon and recombinase based tools for genetic engineering of the swine genome.
Transposition and recombination for porcine somatic cell nuclear transfer
The first step in creating transgenic pigs by SCNT involves the transgenesis of cells that will serve as nuclear donors. This generally involves transfecting or electroporating PFFs or another suitable cell type with DNA expression constructs. Most if not all transgenesis by SCNT involves the co-delivery (in cis or trans) of a selectable marker for enrichment of transgenic cells destined to serve as nuclear donors. Certainly, this in not the limiting step in producing transgenic pigs by SCNT. However, the routine use of transposons would increase the efficiency of cellular transgenesis while avoiding concatemerization and integration of CpG-rich vector sequences. Since the production of transgenic swine can be quite expensive, any advantage with regard to stable transgene expression should be exploited. In addition, the introduction of multiple, unlinked transgenes by transposition could increase the value of founder pigs, although breeding would be required to segregate these loci.
The most compelling application of recombinases in porcine SCNT relates to selection cassette recycling. Elimination of selectable marker genes from prospective donor cells simplifies genotype-phenotype correlations and eliminates the potential for selection cassette interference [
172
] on transgene expression. It would of course be important to minimize the presence of extraneous DNA (especially antibiotic resistance genes) from genetically modified pigs were they ever to be considered for entry into the food chain. The use of a positive/negative selectable transgene such as PuroΔTK or HygroCodA [
173
,
174
] flanked with recombinase recognition site (RRS) provides a facile substrate for marker removal using site-specific recombinases before SCNT (Figure
2
). Unfortunately, because their tendency toward senescence, the most commonly used cellular resource for SCNT (PFFs) are not amenable to the extended culture required for multiple rounds of drug selection. Recently developed mesenchymal and multipotent stem cells from pigs may provide a solution to this dilemma, because they appear to be amenable to extended culture [
89
–
91
,
175
,
176
], genetic manipulation [
88
,
92
,
177
], and use as nuclear donors for SCNT [
92
–
94
]. Elimination of RRS flanked selection cassettes could also await breeding of cloned transgenic pigs to a line of pigs that express Cre or Flp recombinase in their germline (Figure
2
).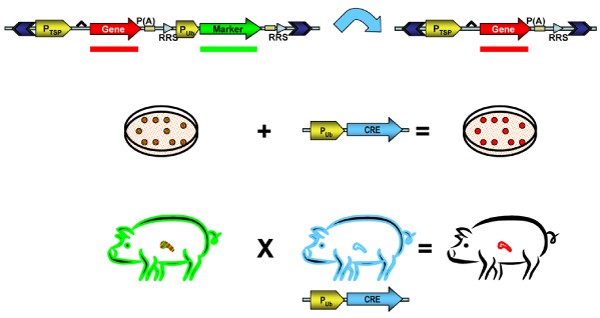 Similar strategies for selection cassette recycling can be used after homologous recombination if gene targeting vectors are designed with RRS flanking positive/negative selectable markers (Figure
3
). A simple case of selection cassette recycling requires flanking a positive/negative selectable marker, such as PuroΔTK or HygroCodA [
173
,
174
], with RRS sites (Figure
3b
). In addition to RRS sites, the gene targeting vector must contain a unique negative marker (not part of the positive/negative marker) for counter-selection against random integration; this could be CodA, TK, or diphtheria toxin [
178
]. After selection of homologous recombinants, the cells can be transfected with Cre and selected for loss of the positive/negative marker (gancyclovir for PuroΔTK). Cells that lose the selection cassette will grow and can be used for nuclear donors before SCNT. Alternatively, the selection cassette can be removed after SCNT by crossing transgene carriers to pigs expressing Cre recombinase or by delivering recombinase transiently in carrier embryos by micro-injection of Cre mRNA or protein.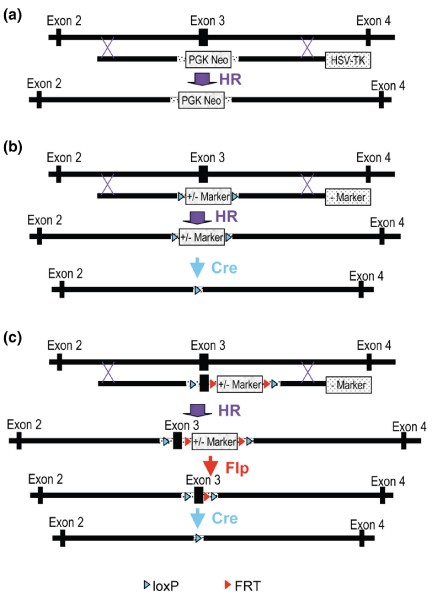 In addition to selection cassette recycling, recombinases can be used to create conditional nulls following gene targeting (Figure 3c). In this case two sets of RRSs are used. The first set flanks the positive/negative selectable marker for selection cassette recycling to ensure that there is no impairment of gene function at the locus. Ideally, the selection cassette would be removed in vitro before SCNT, but this could also be done in pig, as described above. The second set of RRS flanks a critical element of the locus, for example an exon within the coding region. The conditional knockdown of the locus can then be achieved by crossing the conditional null carrier to pigs expressing Cre in a desired manner.
Transposition and recombination for porcine pronuclear injection
The combination of transposons and recombinases may also greatly increase the efficiency and complexity of transgenic pig production by PNI. Sleeping Beauty, Tol2, and piggyBac transposons have all been used for germline transformation of multiple species by PNI and cytoplasmic microinjection, at a rate far superior to unfacilitated DNA injection. In particular Sleeping Beauty and piggyBac transposons have been used for the generation of transgenic mice by PNI. Dupuy and coworkers [136] saw the rate of transgenic live-born pups increase from 29% up to 45% using the Sleeping Beauty transposon system. Ding and colleagues [145] saw increases in mouse embryo transgenesis rates from 10% to 35%, from 18% to 66%, and from 5% to 46% after PNI with three transposons when piggyBac transposase was included.
In addition, with reports of increased transposition using methylated Sleeping Beauty transposons that were methylated in vitro before transfection [179], Geurts and coworkers (unpublished data) tested the influence of this treatment on the efficiency of mouse transgenesis by PNI. This preliminary experiment yielded an unprecedented live-born transgenesis rate of 90%, with integrations that were later transmitted to F1 mice and shown to express in a locus-dependent manner. The fact that four transposon systems were recently demonstrated to be active in pig cells bodes well for their application to porcine transgenesis by PNI. A modest improvement in the rate of swine embryo transgenesis using transposons could have a significant impact on the efficiency of swine engineering for agricultural and medical applications. The observation of multiple transposed integrations in pig cells (1 to 15) and in transgenic mouse embryos and pups (1 to 10) also suggests that it will be possible to create pigs with multiple stable, unlinked, and reliably expressed transgenes using one or more transposon system [145] (Clark and coworkers, unpublished data).
There are a number of reasons to include RRS in transposons to be used for PNI. Selection cassette recycling is mentioned above. In addition, to circumvent unsuspected deleterious effects of ubiquitously expressed transgenes, it may be desirable to include conditional (recombinase-activated) gene expression cassettes (Figure
4
). For example, a transgene encoding a visibly or systemically detectable protein (for example, green fluorescent protein or secreted alkaline phosphatase) could be expressed in the default state (either ubiquitously or in specific tissues), potentially facilitating the identification of transgenic piglets. Conditional juxtaposition of the downstream transgene could be activated in later generations by crossing to a pig that expresses Cre recombinase ubiquitously or in a tissue-specific manner.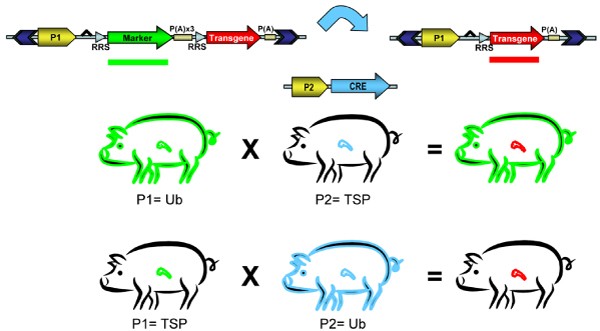 A role for transposons in somatic cell therapies
Porcine models of gene therapy
In addition to the germline transformation, transposon systems can increase the stable integration of transgenes into somatic cells. In fact, the Sleeping Beauty transposon system is actively being developed for several gene therapy applications. Currently, much of this work is being done in rodent models with successful long-term expression of therapeutic transgenes [180–188]. However, the methodology of gene delivery, clinical dosage, and efficacy of treatments in the mouse may not be directly applicable to treatment of human patients. It is therefore likely that large animal models will be important in advancing clinically relevant gene therapy protocols. Pigs have been used to improve surgical techniques for years because of their similarity in size and physiology to humans, as well as their widespread availability as an accepted part of the human food chain. It is therefore quite reasonable to test gene therapy protocols in pigs. For example, hydrodynamic delivery of DNA by the injection of a large volume of DNA solution into the tail-vein of mice results in significant DNA uptake into the liver [180]; however, this technique is unlikely to be directly scalable to large animals or humans. DNA has successfully been delivered by local hydrodynamic injection into pig arterial vessels [189] and muscle [190], although - as expected for naked DNA - the expression was short lived. Perhaps similar local hydrodynamic delivery coupled with transposons could allow selective uptake and maintained expression by these tissues or other targets, such as liver, without the need for systemic injection of large volumes of fluid. Pigs may also provide an ideal large animal model for testing the efficacy of reagents being developed for systemic delivery of therapeutic genes to specific tissues or organs.
The potential tractability of pigs for development of large animal models of human disease makes them an attractive system not only for developing gene delivery protocols but also for testing the efficacy of these regimens in curing disease. For example, the National Swine Research and Resource Center is currently developing pig models of cystic fibrosis based on gene knockout and transposon-based RNAi [33]. These pigs not only may provide the first animal model of the cystic fibrosis pulmonary phenotype, but they may also be ideal for the development of gene therapy protocols to treat this devastating disease.
DNA vaccination
The evolutionary speed of viruses and bacteria challenges our ability to develop efficacious protein-based vaccines. Molecular biology, on the other hand, provides a rapid approach to the cloning and expression of potential antigens. The promise of DNA as a pharmaceutical has been actively pursued since the observation that naked DNA injection into muscle can direct the production of protein [191]. Applications in gene therapy and vaccination have been extensively explored, stimulated by the fact that DNA can be prepared in large quantities in compliance with cGMP standards, and in a lyophilized form independent of the traditional cold chain. Although both humoral and cellular immune responses can be mobilized with DNA vaccines, problems with DNA delivery and the intercellular trafficking of antigen have limited their success [192]. To date, only two DNA vaccines have been licensed for use in animals; a DNA vaccine to protect farmed salmon and trout from infectious hematopoietic necrosis virus, and one to protect horses from West Nile virus [193, 194]. Recent findings suggest that transposons may provide for more efficient and longer lasting cellular transgenesis to increase the expression and intercellular trafficking of antigens. Indeed, in the context of developing transposon-based reagents for gene therapy, a robust immune response to the expression of genes from Sleeping Beauty transposons encoding either clotting factor VIII [186] or iduronidase [195] have been observed in mice. Given that transposons are active in pig cells, swine could serve as excellent preclinical models for human vaccine development, in addition to their obvious importance in the development of vaccines targeted against pathogens important to swine production.
High on the hog (conclusions and horizons)
The relevance of pigs to agriculture and medicine makes them unique among large animal models. With the complete sequence of their genome soon to be delivered, pigs are likely to play an increasing role in defining gene function in human disease using reverse genetic approaches. The use of enzymatic approaches such as transposition and recombination should expand the ease and complexity of genetic modifications available with which to engineer the pig to model human disease and to produce agricultural and biomedical products.
In addition, pigs may also be amenable to forward genetic screens because of reproductive fecundity (about ten piglets per litter) that rivals that of mice. With appropriate planning and coordination, and the use of clever molecular reagents, conducting a mutagenesis screen in pigs could provide important information about gene function in large animals. Some cancers and age-related disease etiologies, as well as therapies for treating them, might be better studied in pigs, which commonly live to be ten years old and, in rare exceptions, into their second decade.
Transposons are ideal for use as insertional mutagens, particularly piggyBac, which tends to land in transcription units and can later be excised for reversion analysis. Specialized 'trapping' vectors based on transposons are able to cause mutations efficiently upon insertion into a transcription unit, and make identification of the interrupted gene straightforward [152, 153, 156, 158, 196, 197]. Transposon-based mutagenesis screens in mice have generally relied first on the generation of two mouse strains: one transgenic for a mutagenic transposon vector (usually in the form of a concatemer) and another strain transgenic for the corresponding transposase expression construct [149, 150, 158]. Breeding these lines together provides doubly transgenic 'seed' mice, in which germline mobilization of the transposon provides for the recovery of mutated loci in an out-crossed generation. However, with a 4-month gestation period and 6 months to sexual maturity, mutagenesis in pigs using this strategy would require a minimum of 4 years before mutations could be bred to homozygosity and a screen initiated.
More immediate would be to use a strategy recently applied in zebrafish [157, 197], which treats the injected generation as seed stock by supplying both transposon and transposase. Given a reasonable rate of transgenesis by transposon-based PNI of pig embryos, mutant alleles could be bred to homozygosity and a screen initiated within 2 years. Each F0 could be a source of 1 to 15 transposon insertions, with about 12% to 25% of the integrations 'trapping' a transcription unit [145, 153, 164]. The direct injection method will provide proof of principle in the shortest amount of time. However, the longer initial investment required for the production of double-transgenic 'seed' boars would be rewarded by a nearly constant supply of novel gene traps due to re-mobilization of transposons in the male germline. Additionally, improvement in the efficiency of cloning and the availability of porcine stem cells allows another attractive approach. Development of a library of 'trapped', characterized, and catalogued pig stem cell clones could provide an on-demand resource for the generation of pigs by SCNT, analogous to strategies used for generating mice from 'trapped' embryonic stem cell clones [198]. Using this approach, transposon-trapped alleles could be bred to homozygosity and a phenotypic analysis begun in pigs in less than 1 year. In the woven words of Charlotte the spider, the unique contributions of such pigs would surely reveal dear Wilbur to represent 'Some Pig' [199].
Declarations
Acknowledgements
This article has been published as part of Genome Biology Volume 8, Supplement 1, 2007: Transposons in vertebrate functional genomics. The full contents of the supplement are available online at http://genomebiology.com/supplements/8/S1.
Authors' Affiliations
(1)
Department of Animal Science at the University of Minnesota, St. Paul, USA
(2)
The Arnold and Mabel Beckman Center for Transposon Research at the University of Minnesota, Minneapolis, USA
(3)
The Animal Biotechnology Center at the University of Minnesota, St. Paul, USA
Copyright
© BioMed Central Ltd 2007