Cross-species cluster co-conservation: a new method for generating protein interaction networks
Received: 5 July 2007
Accepted: 5 September 2007
Published: 05 September 2007
Abstract
Co-conservation (phylogenetic profiles) is a well-established method for predicting functional relationships between proteins. Several publicly available databases use this method and additional clustering strategies to develop networks of protein interactions (cluster co-conservation (CCC)). CCC has previously been limited to interactions within a single target species. We have extended CCC to develop protein interaction networks based on co-conservation between protein pairs across multiple species, cross-species cluster co-conservation.
Keywords
Additional Data FileProtein Interaction NetworkProtein PairPhylogenetic ProfileChemotaxis Protein
Background
The exponential increase in sequence information has widened the gap between the number of predicted and experimentally characterized proteins. At present, about 400 microbial genomes are fully sequenced. The prediction of protein function from sequence is a critical issue in genome annotation efforts. Currently, the best established method for function prediction is based on sequence similarity to proteins of known function. Unfortunately, homoogy-based prediction is of limited use due to the large number of homologous protein families with no known function for any member. An alternative method for predicting protein function is the phylogenetic profiles approach, also known as the co-conservation (CC) method first introduced by Pellegrini et al. [1]. Co-conservation predicts interactions between pairs of proteins by determining whether both proteins are consistently present or absent across diverse genomes [2–8]. CC methods have been shown to be more powerful than sequence similarity alone at predicting protein function.
Even though all CC methods rely on the premise that functionally related proteins are gained or lost together over the course of evolution, several different strategies for performing CC studies have been reported. For example, Date et al. [7] used real BLASTP best hit E-values normalized across 11 bins instead of binary classification for conservation, while Zheng and coworkers [9] constructed phylogenetic profiles using presence/absence of neighboring gene pairs. Alternatively, Pagel et al. [10] constructed phylogenetic profiles between domains, instead of genes, and then created domain interaction maps. Barker et al. [11] applied maximum likelihood statistical modeling for predicting functional gene linkages based on phylogenetic profiling. Their method detected independent instances of protein pair correlated gain or loss on phylogenetic trees, reducing the high rates of false positives observed in conventional across-species methods that do not explicitly incorporate a phylogeny [11].
Currently, several web-based databases that compile predictions of protein-protein interactions are available, for example, PLEX [
7
], String [
8
], Prolinks [
6
], and Predictome [
5
]. These databases use various methods, including CC, to organize groups of proteins within individual species into clusters (cluster co-conservation (CCC)) that represent predicted protein interaction networks. Here, we have investigated the degree to which these within-species clusters are conserved across different species, using an automated method for comparing phylogenetic profiling based CCC across multiple species (CS-CCC; Figure
1
). CS-CCC is essentially a meta-analysis of CCC that automates the identification of interactions that are uniquely present or absent across different species, which cannot be easily accomplished using existing methods. We have shown that this method increased groupings among proteins that function in distinct but coordinate processes and decreased groupings among proteins with unknown functions. This suggests that CS-CCC, in comparison to CCC, allows one to extend the network to better understand pathways involving proteins with multiple functions. Our intention for CS-CCC was that the identity of proteins present or absent in co-conserved clusters when evaluated across multiple species would facilitate the assignment of protein function, enable the development of novel and testable biological hypotheses, and provide experimentalists with the scientific justification required to test these hypotheses. We show these features through a number of different examples involving complex biological phenomena (that is, flagellum, chemotaxis, and biofilm proteins).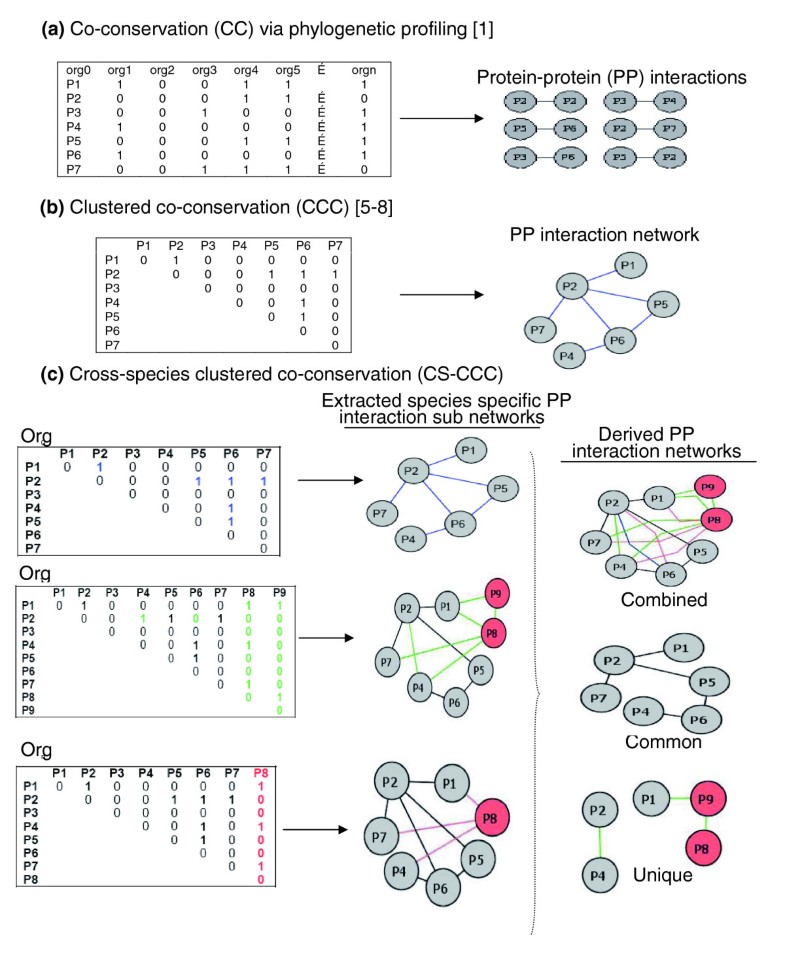 Discussion
Large volumes of data make computational methods feasible, exciting, and preferable to gene-by-gene homology searches. We have shown that use of CS-CCC expands protein interaction networks to include proteins with distinct functions that are involved in coherent biological processes, offers insight into the function of uncharacterized proteins, reveals unique information about each genome examined, and gives insight into the process of evolution.
Protein co-conservation can be a result of many factors, including vertical inheritance or functional selection. Thus, we have examined patterns of CCC within and across several bacteria using CS-CCC. Our analysis showed that this computational approach provides us with more information than the traditional homology approaches or CCC. Homology approaches to protein function are based on similarity to other proteins with known functions and are limited by the fact that many proteins have unknown functions. While homology-based methods can be effective for predicting the functions of remote homologs, these methods perform poorly as the evolutionary distance between homologous proteins increases. Even a sophisticated homology-based method fails to successfully assign functions to most of the proteins for a particular organism. CCC, on the other hand, is not strictly based on homology but is limited by its ability to analyze only a single species at a time. In contrast, CS-CCC examines each cluster across multiple species and reveals interactions that both homology-based methods and CCC fail to identify. Use of CS-CCC allows researchers to extend the protein interaction network to better understand pathways involving multiple proteins with multiple functions. Therefore, the CS-CCC method is a significant advance and will be useful for researches in many different fields of biology.
Prediction by CS-CCC provided us with global views of six complete bacterial genomes. Identification by CS-CCC of proteins that cluster together enabled more accurate predictions of the biological roles that proteins with previously unstudied functions may play. For instance, proteins that function in distinct but coordinated processes can be co-conserved across species even though not all processes occur in all bacteria (Figure 4c). In addition, in large, highly interconnected clusters in which most of the proteins have unknown functions, it is likely that they all function together in a common phenomenon. The GGDEF/EAL cluster is an example of this, as many of the previously unknown proteins in this cluster play roles in biofilm formation (Figure 5a). Even small protein clusters identified by CS-CCC are likely to consist of proteins that function in the same process, as shown by COG/TIGR analysis and experimentally (Figure 5b). These analyses provide evidence that the CS-CCC method is a reliable predictor of functional relationships.
For any given method, there are advantages and disadvantages. The number of false positives and false negatives is a key measurement of accuracy. In our case, the number of false negatives is not possible to estimate without performing many additional laboratory experiments. However, our evaluation of CS-CCC showed that the number of false positives was low. Since this method was evaluated based on our selected bacteria, there may be some bias toward overestimation of accuracy when applied to other organisms, and this remains to be tested. In addition, we have shown that our results can be sensitive to the number of bacteria included in our analysis. Finally, there may be some aspects of the bacteria we chose that are not representative of other bacteria, further reducing the generality of these results. Thus, while the report here represents a compelling demonstration of the value of performing CCC across multiple species, future efforts should be focused on developing better understanding of which and how many organisms to include in CS-CCC studies.
Materials and methods
Bacteria used to create CS-CCC graphs
We chose to focus on the Gamma subgroup of proteobacteria because members of this subgroup are among the best characterized, including whole genome sequences and curated datasets of protein functions and interactions. The genomes of five closely related Gamma Gram-negative and one low G+C bacteria (B. subtilis) were used to evaluate the CCC method. Substantial experimental data exist for all six bacteria. The gammaproteobacteria included E. coli (K12 and O157-O157:H7 EDL933), S. flexneri (2a str. 2457T), S. typhimurium (LT2), and P. aeruginosa (PAO1). E. coli (K12) is the most intensively studied Gram-negative bacteria and is the closest studied relative of P. aeruginosa, and S. typhimurimum LT2. E. coli (O157-O157:H7 EDL933) is a clinical isolate from raw hamburger meat implicated in hemorrhagic colitis outbreak, and S. typhimurium LT2 causes enteritis in humans. P. aeruginosa is an opportunistic pathogen and is the major cause of morbidity and mortality in patients with cystic fibrosis; P. aeruginosa PAO1 was isolated from a wound [32]. P. aeruginosa is a versatile Gram-negative bacterium that also thrives in soil, marshes and coastal marine habitats, and on plant tissues [32]. E. coli K12 diverged 4.5 million years ago (MYA) from O157, an estimated 100 MYA from Salmonella, 200 MYA from Pseudomonas, and 1,200 MYA from Bacillus. Thus, we examined a combination of pathogenic and non-pathogenic organisms that range from closely to distantly related.
Construction of CS-CCC graphs
We began construction of CS-CCC graphs (Figure
1
) using predictions of pairwise protein-protein interactions based on phylogenetic profiles (CC methods; Figure
1a
). Currently, several databases that compile predictions are available, including Prolinks [
6
], String [
8
], and Predictome [
5
]. We used the Prolinks Database 2.0, which contains a total of 168 microbial genomes, including 10 eukaryotes, 16 Archaea, and 142 Bacteria [
6
]. Even though ProLinks provides predicted interactions based on a number of different methods (that is, Rosetta stone, gene neighbors, and so on), we have used only interactions prediction by the phylogenetic profiling method in this study. We chose not to use the STRING database as a source of predictions because it conflates co-conservation with orthology information from the COG database [
8
]; we used COG functional category and TIGR functional role category data to evaluate purely co-conservation inferences. Predictome [
5
] was not used because it does not provide statistical measures to evaluate the accuracy of each prediction. For each pair assignment (CC), we required a confidence scheme using phylogenetic profiling of at least 60% according to the Prolinks scoring scheme [
6
]. An E-value of less than 10
-10
was used as the threshold for BLASTP in Prolinks to define a homolog of a query protein to be present in a secondary genome. For each bacterial genome analyzed, the number of assigned pairs is shown in Table
2
. For each bacterial species, we mapped accession IDs from Prolinks predicted protein pairs to NCBI [
33
] and then to EcoCyc [
23
] for
E. coli
K12,
P. aeruginosa
[
34
] for
P. aeruginosa
and
B. subtilis
[
35
] for
B. subtilis
. We matched corresponding proteins between species by protein name or synonym. We then constructed CCC graphs using the pairwise links for each species (Figures
1b
and
6
) using a binary adjacency matrix where 1 indicates the corresponding pair was co-conserved, and 0 otherwise. Networks were represented by graphs in which each node represents a protein and each edge represents an interaction that links two proteins. Network graphs were visualized using Cytoscape [
36
], an open-source, platform-independent environment software. The lengths of the lines connecting proteins hold no meaning and vary to facilitate viewing of the network. Each network is color-coded based on protein function categories, as described in the corresponding figure legends. The assignment of putative functions was based on EcoCyc, Pseudomonas.com, NCBI and SubtiList, as given in the links above. For separation of connected components of the network and building clusters of proteins, we used breadth-first search (BFS) graph algorithms.
Table 2
Comparison of genomes examined in this study
| Species name | Genome size | No. of annotated genes | No. (%) of co-conserved genes | No. of co-conserved protein pairs |
| --- | --- | --- | --- | --- |
| E. coli (K12) | 4,639,675 | 4,242 | 1,156 (27%) | 2,926 |
| E. coli (O157-O157:H7 EDL933) | 5,528,445 | 5,324 | 1,174 (22%) | 3,216 |
| Shigella flexneri 2a str. 2457T | 4,599,354 | 4,068 | 977 (24%) | 4,490 |
| Salmonella typhimurium LT2 + pSLT plasmid | 4,857,432 + 93,939 | 4,425 + 102 | 1,103 (24%) | 2,751 |
| P. aeruginosa (PAO1) | 6,264,403 | 5,567 | 1,428 (26%) | 5,794 |
| Bacillus subtilis | 4,214,630 | 4,105 | 869 (21%) | 1,972 |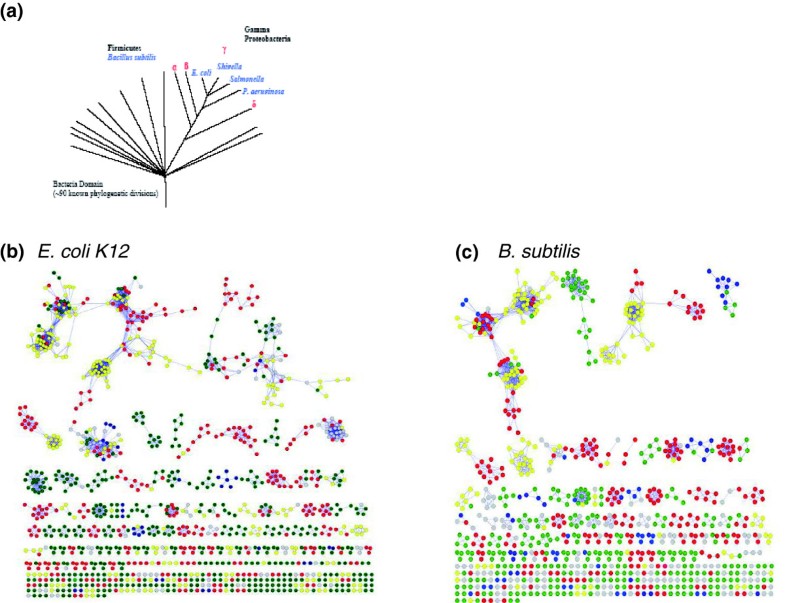 Finally, for comparison of each cluster across different species (CS-CCC), we used BFS to build a network (source network) for a set of target proteins from the source genome. We then built networks for each additional organism that contained proteins with the same name as at least one of the proteins from the source networks. This process identifies proteins and protein interactions that are consistently identified across multiple species (colored gray in Figure 1c) or that are unique to individual species (colored red in Figure 1c). This same method can be used to further parse such networks to identify combined, common and unique networks present for specific proteins across a collection of organisms (Figure 1c). In this way, CS-CCC builds on information generated by CCC (Figure 1b) to provide more accurate and genome-specific protein function assignment. We used protein name to map links across conserved species (thus, links are not explicitly based on orthology) [37–39]. Like all methods, the use of protein names has both advantages and disadvantages. Here, protein name was chosen in order to validate that CS-CCC provides new and biologically informative data not accessible by CCC alone. For this purpose, we chose to validate this method using named proteins where functional information was available. While this is appropriate for method validation, the disadvantage is that there are problems with annotation due in part to a lack of standardization, which would limit the number of proteins for which this analysis can be reliably performed. In light of this limitation, we considered using reciprocal homology as an alternative to protein name. We found that this introduces unacceptable levels of cross-talk, much of which is likely noise. Addressing this limitation is an important area for continued effort.
Data availability
Data are available upon request.
Additional data files
The following additional data are available with the online version of this paper. Additional data file 1 is a figure that shows the reliability of predicted protein interaction pairs using TIGR role categories at three different confidence levels.
Abbreviations
BFS:

breadth-first search
CC:

co-conservation
CCC:

cluster co-conservation
COG:

Clusters of Orthologous Groups
CS-CCC:

cross-species clustered co-conservation
MCP:

methyl-accepting chemotaxis protein
MYA:

million years ago
TIGR:

The Institute for Genomic Research
T3SS:

type III secretion systems.
Declarations
Acknowledgements
We thank Norman Pace for excellent discussions, Daniel Barker and Sonia M Leach for reading the manuscript and helpful comments. We also thank Kevin B Cohen for helpful comments. This study was supported by NSF grant BES0228584, and NIH grants K25_AI064338, R01-AI-072492A, and R01-LM-008111.
Authors' Affiliations
(1)
Center for Computational Pharmacology, University of Colorado School of Medicine, Aurora, USA
(2)
MCD-Biology, University of Colorado, Boulder, USA
(3)
Department of Chemical and Biological Engineering, University of Colorado, Boulder, USA
Copyright
© Karimpour-Fard et al.; licensee BioMed Central Ltd. 2007
This article is published under license to BioMed Central Ltd. This is an open access article distributed under the terms of the Creative Commons Attribution License (http://creativecommons.org/licenses/by/2.0), which permits unrestricted use, distribution, and reproduction in any medium, provided the original work is properly cited.