Complexity, connectivity, and duplicability as barriers to lateral gene transfer
Received: 16 April 2007
Accepted: 2 August 2007
Published: 02 August 2007
Abstract
Background
Lateral gene transfer is a major force in microbial evolution and a great source of genetic innovation in prokaryotes. Protein complexity has been claimed to be a barrier for gene transfer, due to either the inability of a new gene's encoded protein to become a subunit of an existing complex (lack of positive selection), or from a harmful effect exerted by the newcomer on native protein assemblages (negative selection).
Results
We tested these scenarios using data from the model prokaryote Escherichia coli. Surprisingly, the data did not support an inverse link between membership in protein complexes and gene transfer. As the complexity hypothesis, in its strictest sense, seemed valid only to essential complexes, we broadened its scope to include connectivity in general. Transferred genes are found to be less involved in protein-protein interactions, outside stable complexes, and this is especially true for genes recently transferred to the E. coli genome. Thus, subsequent to transfer, new genes probably integrate slowly into existing protein-interaction networks. We show that a low duplicability of a gene is linked to a lower chance of being horizontally transferred. Notably, many essential genes in E. coli are conserved as singletons across multiple related genomes, have high connectivity and a highly vertical phylogenetic signal.
Conclusion
High complexity and connectivity generally do not impede gene transfer. However, essential genes that exhibit low duplicability and high connectivity do exhibit mostly vertical descent.
Keywords
Additional Data FileEssential GeneLateral Gene TransferProkaryotic GenomeProtein Interaction Data
Background
Lateral gene transfer (LGT) is a major force in microbial evolution, driving bacterial genetic innovation and speciation [
1
,
2
]. The common intuitive notion of a lateral transfer event is an acquisition of a locus or allele with a new and potentially useful function. Indeed, it has been claimed that laterally acquired genes may only be fixed in a population if they are under strong positive selection [
3
]. The scarcity of transfer of genes involved in informational processes ('informational genes') such as transcription and translation was, therefore, attributed to lack of positive selection due to the inability of newly acquired proteins to interact with their pre-existing native counterparts [
4
]. According to this concept, designated 'the complexity hypothesis' [
4
], the chances of a gene to be beneficial to a new host are greatly influenced by the number of its interactions with its new neighbors - implying a direct link between complexity and LGT (Figure
1a
, solid arrow).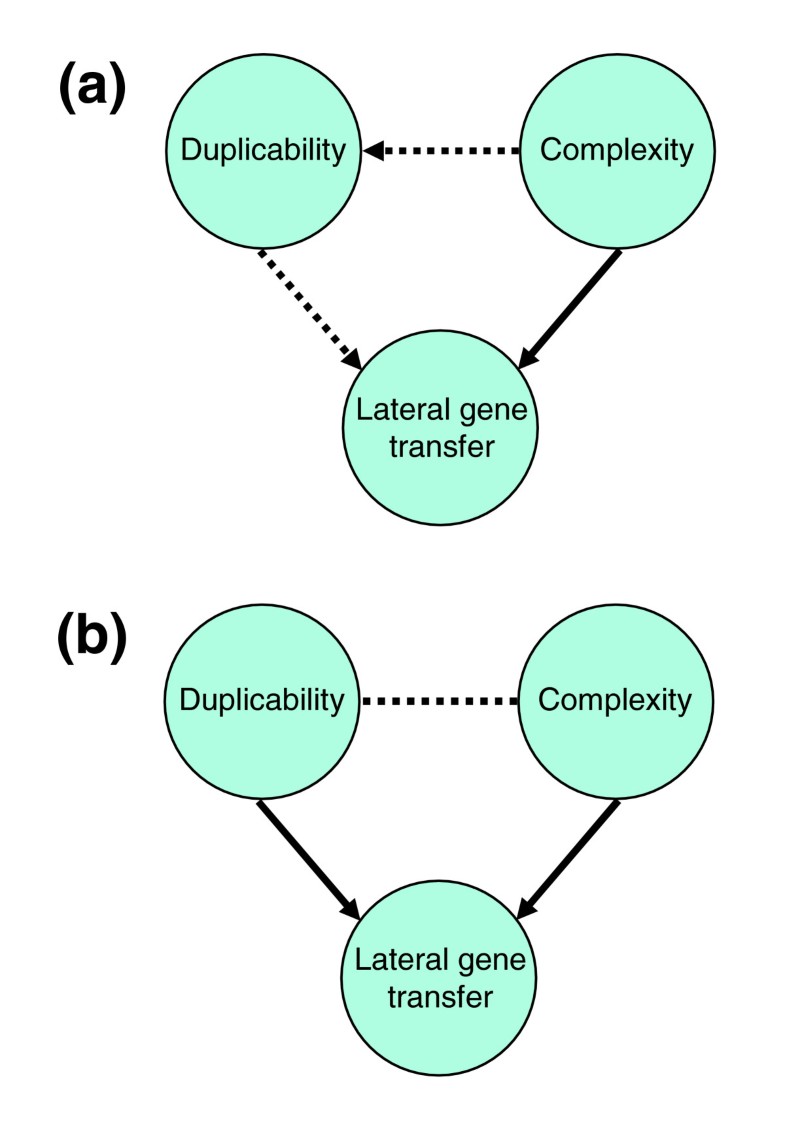 An alternative explanation for the paucity of transfer of informational genes may be negative (purifying) selection operating against gene acquisition. For many major cellular functions, in particular essential ones, there is likely to be a homologous ancestral gene already present when a foreign ortholog is acquired. In these cases, the laterally acquired gene will have to coexist alongside its native homolog before orthologous replacement (also called xenologous gene displacement) can occur. If the foreign gene is expressed, the chances that this coexistence will be deleterious to the host is especially high when the gene's encoded protein is involved in protein-protein interactions, and even more so when it is a subunit of a protein complex. This is because the increase in concentration of one component (that is, the effect of gene dosage resulting from a single gene duplication) can either inhibit complex assembly, or form undesirable toxic interactions, as described in 'the balance hypothesis' [5]. The authors showed that genes encoding protein complex subunits have lower duplicability, that is, are less likely to have multiple paralogs in a genome. We propose that a horizontally acquired homolog can exert an even more profound negative influence, compared with a duplication product, even at low expression levels. This is because it could be similar enough to interact with a native protein and yet sufficiently different so that an aberrant interaction is formed, destabilizing a native complex in what is often called a 'dominant negative' effect. This situation will result in an indirect effect of complexity on LGT mediated through gene duplicability (Figure 1a, dotted arrows).
Here we perform several analyses aimed at testing the compatibility of the complexity hypothesis and the balance hypothesis with existing protein interaction data, using Escherichia coli as a model for prokaryotic evolution.
Conclusion
Our findings shed new light on current paradigms on transferability and duplicability of genes in prokaryotes. We propose that duplicability and, to a lesser degree, connectivity, can directly affect the fixation of laterally transferred genes in prokaryotic genomes (Figure 1b). We expand the complexity hypothesis to include general connectivity and show that, in its strictest sense, it applies mostly to essential complexes.
Many phylogenetic studies base their analysis on single copy genes to avoid problems in discerning orthology. Based on the findings presented here it is likely that this practice in fact filters out many laterally transferred genes. While this may be desirable when reconstructing organismal phylogenies ('trees of life') based on a non-transferred core [23], it is highly inappropriate when assessing the impact of LGT on different genomes.
Materials and methods
Identification of singletons and gene families
A dataset of all 4,302 E. coli K12 MG 1655 proteins was retrieved from the EMU web service [24]. We identified 480 gene families using the 'Genome query for gene families' query with a BLAST threshold of e-10; 1,920 genes were obtained that belonged to gene families. Subtraction of these genes from the dataset of all protein-coding genes resulted in 2,382 singletons.
Identification of subunits of protein complexes and external interactions
Protein complex and protein interaction data were automatically retrieved from SwissProt/TrEMBL and manually sorted. Complex subunit information (SwissProt field 'Subunit') was obtained for 1,003 genes, out of which 137 genes could unequivocally be classified as monomers, 459 as homo-oligomers and 407 as hetero-oligomers. In addition, all homo-oligomers that formed a homotrimer or more complex structure were grouped as mid-to-large complexes. External protein interaction data (SwissProt field 'Interaction') were similarly retrieved from SwissProt. High-throughput interaction data were retrieved from a recent E. coli pull-down study [9].
Identification of essential genes
We obtained 232 protein-coding essential genes for E. coli K-12 from the PEC (profiling of the E. coli chromosome) website [25].
Phylogenetically discordant sequences determination
The PDS metric for E. coli proteins [15] was determined using the 'Sorted lists of ORF characteristics' query of the EMU web service. PDS values are based on the data from 352 microbial genomes available in EMU in September 2006 (Additional data file 1).
Statistical analysis
The SPSS statistics package version 12 (SPSS Inc., Chicago, IL, USA) was used. Significance scores for comparisons of fractions of singletons were determined using the chi-square test. Significance for comparisons of PDS values and interaction partner numbers were determined using the Mann-Whitney-Wilcoxon U test.
Additional data files
The following additional data are available with the online version of this paper. Additional data file 1 lists the genomes used for phylogenetic discordance analysis.
Abbreviations
LGT:

lateral gene transfer
PDS:

phylogenetically discordant sequence.
Declarations
Acknowledgements
The authors thank Robert G Beiko and Mark A Ragan for providing their datasets of transferred genes in E. coli, Robert L Charlebois for his help with the PDS metric, and W Ford Doolittle, Martin Kupiec, Tal Pupko and Eliora Z Ron for critical reading of the manuscript. We also thank Eyal Privman and Adi Stern for their expert help with PERL scripts. This work was supported by the Research Networks Program in Bioinformatics of the Ministry of Science and Technology of the State of Israel, the Ministry of Foreign Affairs and the Ministry of National Education and Research of France.
Authors' Affiliations
(1)
Department of Molecular Microbiology and Biotechnology, George S Wise Faculty of Life Sciences, Tel Aviv University, Tel Aviv, Israel69978
Copyright
© Wellner et al.; licensee BioMed Central Ltd. 2007
This article is published under license to BioMed Central Ltd. This is an open access article distributed under the terms of the Creative Commons Attribution License (http://creativecommons.org/licenses/by/2.0), which permits unrestricted use, distribution, and reproduction in any medium, provided the original work is properly cited.