cis-Decoder discovers constellations of conserved DNA sequences shared among tissue-specific enhancers
Received: 29 September 2006
Accepted: 9 May 2007
Published: 09 May 2007
Abstract
A systematic approach is described for analysis of evolutionarily conserved cis-regulatory DNA using cis-Decoder, a tool for discovery of conserved sequence elements that are shared between similarly regulated enhancers. Analysis of 2,086 conserved sequence blocks (CSBs), identified from 135 characterized enhancers, reveals most CSBs consist of shorter overlapping/adjacent elements that are either enhancer type-specific or common to enhancers with divergent regulatory behaviors. Our findings suggest that enhancers employ overlapping repertoires of highly conserved core elements.
Keywords
Additional Data FileSequence ElementConserve Sequence BlockCoordinate Gene ExpressionConserve Sequence Element
Background
Tissue-specific coordinate gene expression requires multiple inputs that involve dynamic interactions between sequence specific DNA-binding transcription factors and their target DNAs. The enhancer or cis-regulatory module is the focal point of integration for many of these regulatory events. Enhancers, which usually span 0.5 to 1.0 kb, contain clusters of transcription factor DNA-binding sites (reviewed by [1–3]). DNA sequence comparisons of different co-regulating enhancers suggest that many may rely on different combinations of transcription factors to achieve coordinate gene regulation. For example, the Drosophila pan-neural genes deadpan, scratch and snail all have distinct central nervous system (CNS) enhancers that drive expression in the same embryonic neuroblasts, yet comparisons of these enhancers reveal that they have few sequences in common [4, 5].
Comparative genomic analysis of orthologous cis-regulatory regions reveals that many contain multi-species conserved sequences (MCSs; reviewed by [6–8]). Close inspection of enhancer MCSs reveals that these sequences are made up of smaller blocks of conserved sequences, designated here as 'conserved sequence blocks' (CSBs). EvoPrint analysis of enhancer CSBs reveals that many have remained unchanged for over 160 million years (My) of collective divergence [9] (and see below). CSBs that are over 10 base-pairs (bp) long are likely to be made up of adjacent or overlapping sequence-specific transcription factor DNA-binding sites. For example, DNA-binding sites for transcription factors that play essential roles in the regulation of the previously characterized Drosophila Krüppel central domain enhancer [10–12] are found adjacent to or overlapping one another within enhancer CSBs [9]. Although transcription factor consensus DNA-binding sites are detected within CSBs, searches of 2,086 CSBs (27,996 total bp) curated from 35 mammalian and 99 Drosophila characterized enhancers reveal that well over half of the sequences do not correspond to known DNA-binding sites and, as yet, have no assigned function(s) (this paper).
In order to initiate the functional dissection of novel CSBs and to gain a better understanding of their substructure, we have developed a multi-step protocol and accompanying computer algorithms (collectively known as
cis
-Decoder; see Figure
1
) that allow for the rapid identification of short 6 to 14 bp DNA sequence elements, called
cis
-Decoder tags (
c
DTs), within enhancer CSBs that are also present in CSBs from other enhancers with either related or divergent functions. There is no limit to the number of enhancer CSBs examined by this approach, which allows one to build large
cDT-libr
aries. Due to their different copy numbers, positions and/or orientations within the different enhancers, the conserved short sequence elements may otherwise go unnoticed by more conventional DNA alignment programs. Because this approach does not rely on any previously described transcription factor consensus DNA-binding site information or any other predicted motif or the presence of overrepresented sequences,
cis
-Decoder analysis affords an unbiased 'evo-centric' view of shared single or multiple sequence homologies between different enhancers. The
cDT-libr
aries and
cis-
Decoder alignment tools enable one to differentiate between functionally different enhancers before any experimental expression data have been collected.
cis
-Decoder analysis reveals that most CSBs have a modular structure made up of two classes of interlocking sequence elements: those that are conserved only in other enhancers that regulate overlapping expression patterns; and more common conserved sequence elements that are part of divergently regulated enhancers.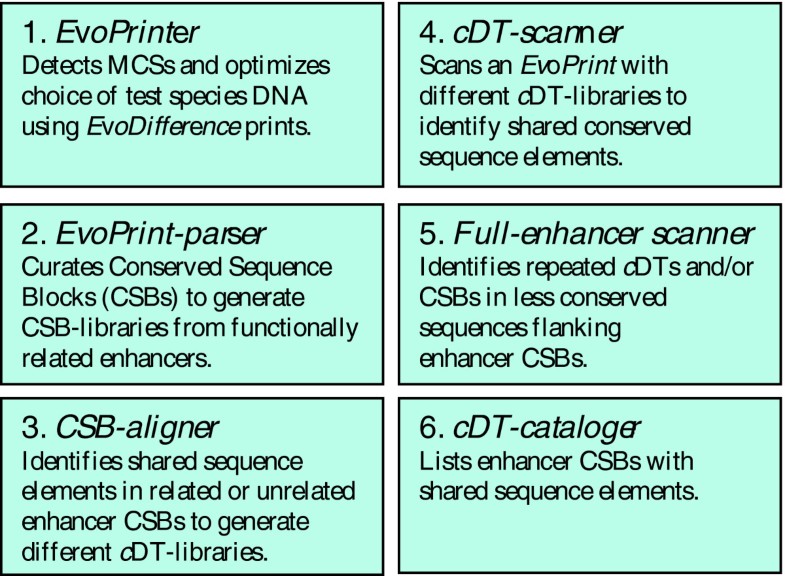 To demonstrate the efficacy of cis-Decoder analysis in identifying shared enhancer sequence elements, we show how cDT-library scans of different EvoPrinted mammalian and Drosophila enhancers accurately identify shared sequences within enhancers involved in similar regulatory behaviors. The cis-regulatory regions of the mammalian Delta-like 1 (Dll1) and Drosophila snail genes, which contain closely associated neural and mesodermal enhancers, were selected to highlight cis-Decoder's ability to differentiate between enhancers with different regulatory functions. We show how a cDT-library generated from both mammalian and Drosophila enhancer CSBs can be used to identify enhancer type-specific elements that have been conserved during the evolutionary diversification of metazoans. Finally, we show how cis-Decoder analysis can be used to examine novel putative enhancer regions.
Conclusion
This study describes a systematic approach for the identification and comparative analysis of highly conserved DNA sequences within enhancers. Because our approach focuses solely on conserved sequences, the probability that cis-Decoder analysis dissects functionally important DNA is greatly enhanced. Most of the 2,086 CSBs identified in this study have undergone negative selection during more than 160 My of collective evolutionary divergence. Alignment of hundreds of CSBs from both similarly regulating enhancers and functionally different enhancers assures that conserved cis-regulatory elements shared by as few as two enhancers are identified and included in the analyses. Our cDT-scans show that most CSBs have a modular organization made up of smaller overlapping/interlocking sequence elements that align with CSBs of other enhancers. A typical CSB is made up of both enhancer type-specific sequence elements and common elements that are found in enhancers with different regulatory functions and, surprisingly, more than half of all of the shared CSB sequence elements do not correspond to know transcription factor DNA-binding sites and, as of yet, are functionally novel.
cDT-library scans of EvoPrinted cis-regulatory DNA reveal that it is possible to differentiate between functionally different enhancer types before any experimental/expression data are known. For example, cDT-library scans of the mammalian Dll1 or Drosophila snail cis-regulatory DNA sequences accurately differentiate between neural and mesodermal enhancers (Figures 3 and 7). cDT-library scans of co-regulating enhancers, using multiple libraries, reveal the combinatorial complexity of the cis-regulatory sequence elements involved in coordinate gene expression. Our studies indicate that many co-regulating enhancers rely on different combinations of the tissue-specific cis-regulatory elements to achieve synchronous regulatory behaviors. Although not highlighted in this paper, information gleaned from the cDT-scans and subsequent cDT-cataloger analysis of multiple co-regulating enhancers can be used to construct 'higher resolution' cDT-libraries that harbor many, or most, of the sequence elements that direct coordinate gene expression.
For example, sub-libraries of the Drosophila neural specific library can be generated to identify neuroblast- and PNS-specific tags. Enhancer CSB analysis using cDT-libraries generated from the combined alignments of both mammalian and fly CSBs also suggests that many of the sequence elements represented by the different cDTs have been conserved across taxonomic divisions and may represent core elements used by many metazoans to direct tissue-specific gene expression patterns.
Although we have initially generated cDT-libraries from general classes of different enhancer types, this approach should be applicable to the analysis of gene co-regulation in any cell type involved in any biological event. As the variety and depth of the different cDT-libraries increase, we believe that cDT-library scans of EvoPrinted putative enhancer regions will have great utility for the identification and initial characterization of cis-regulatory sequences. Future efforts that address the role of individual enhancer CSBs and the dissection of their modular elements will undoubtedly yield new insights into the function of these 'evolutionarily hardened' sequences and ultimately produce a better understanding of the regulatory code underlying coordinate gene expression.
Materials and methods
cis-Decoder [26] is a six-step integrated series of protocols and web-based algorithms that can be used to identify evolutionarily conserved DNA sequences that are shared among different enhancers (Figure 1). The following sections provide a detailed description of each step of the cis-Decoder procedure: EvoPrint analysis [58], for the discovery of MCSs; EvoPrint-parser, for CSB extraction and annotation; CSB-aligner, for the identification of shared elements between CSBs; cDT-scanner, to reveal cDT positions and their relations to other cDTs within CSBs; Full-enhancer scanner, for the discovery of less-conserved repeated cDTs or CSBs within enhancers; and cDT-cataloger for the identification of enhancers with shared sequence elements. A more detailed description of these steps is given at the cis-Decoder website. The Java applets CSB-aligner, cDT-scanner, Full-enhancer scanner and cDT-cataloger are available on-line at the cis-Decoder website and can be downloaded to the users computer to avoid Java-web browser incompatibilities. In our experience, a current version of the Mozilla browser avoids many potential incompatibilities.
EvoPrinter
The first step in the cis-Decoder analysis of an enhancer is preparing CSB-libraries from enhancers with related and/or divergent expression patterns. Enhancer CSBs were identified by the phylogenetic footprinting algorithm EvoPrinter [9]. Unlike other multi-species alignment programs that identify CSBs by outputting multiple aligned sequences interrupted by sequence gaps to optimize alignments, EvoPrinter outputs a single uninterrupted sequence to reveal CSBs as they exist in a species of interest. In Drosophila, when 9 or more species are used to generate an EvoPrint, the combined mutagenic histories of all of the orthologous DNAs represent an excess of 160 My of collective evolutionary divergence, thus affording near base-pair resolution of the functionally important DNA within the species of interest (discussed in [9]). Likewise, EvoPrint analysis of orthologous DNAs that include placental mammals (human, chimpanzee, rhesus monkey, cow, dog, rat and mouse), and, optionally, the opossum, detects CSBs that have been maintained for over 200 My of collective divergence. The EvoPrinter and EvoDifference print analysis algorithms and companion protocols are described [9], and are found online at the EvoPrinter tutorial website.
EvoPrint-parser
The EvoPrint-parser is a JavaScript program that automatically extracts and generates reverse-complement sequence and then annotates and lists in their 5' to 3' order CSBs that are 6 bp or longer from a known or putative enhancer region. Tissue-specific enhancer CSB-libraries can then be generated by assembling CSBs from enhancers of known function (for example, neural or mesodermal enhancers).
CSB-aligner
CSB-aligner is a Java applet that allows one to identify short sequence elements shared between different CSBs. To generate a CSB-alignment, parsed CSBs from multiple enhancer regions are placed in the upper window of the CSB-aligner applet. Then, forward direction CSBs from one or more enhancers are placed in the lower window of the CSB-aligner. A box associated with the lower window of the CSB-aligner allows for the naming of the CSBs introduced into the lower box and selection of the minimum aligned length (6, 7 or 8 base windows have been routinely used). Output length of the alignments produced by CSB-aligner can be selected (default value 100 bases).
Output of the CSB-aligner consists of the CSBs that were input into the lower window aligned with the CSBs that were introduced into the upper window. The CSB-aligner does not record CSB self-alignments. A second output window, the results table, is a list of the aligned matches along with their positions. Each of the output columns of the results table can be sorted by selecting the column header of the column to be sorted. Contents of results tables can be copy-pasted into Microsoft Word.
The CSB-alignment can be saved as an HTML file. Saving the HTML file allows copy pasting from the saved file into Microsoft Word and, once in Word, the file can be reformatted and saved or printed as the original readout. The CSB-alignment program has functioned successfully with the introduction of thousands of CSBs in both windows. The following CSB-libraries were created from EvoPrints of enhancers listed in Table 1: mammalian neural, mammalian mesodermal, Drosophila neural, Drosophila mesodermal and Drosophila segmental.
Interpreting the CSB-aligner readout and generation of cDT-libraries
A cDT is a short sequence element of 6 bp or greater that is a perfect match to sequences within CSBs that are present in two or more enhancers. A cDT-library represents a collection of cDTs that are shared by the various enhancers examined. Two types of cDT-libraries have been generated in this study. First, a 'tissue-specific library' contains cDTs that are shared by a group of enhancers that regulate similar expression patterns but are absent from a second set of enhancers that direct expression in tissues outside of the first group. Second, a 'common cDT-library' contains cDTs that were shared between sets of enhancers of divergently regulated genes. A subset of common libraries included 'enriched' libraries that had a three-fold greater representation from one enhancer type (for example, neural) than from a second type (for example, mesodermal).
All libraries were generated from readouts of the CSB-aligner. Making enhancer-type specific libraries requires two different CSB-libraries generated from functionally different enhancers, a library from the tissue of interest (for example, neural), and a second library that serves as an 'out-group' (for example, mesodermal). For the generation of a neural cDT-library, neural CSBs in both forward and reverse directions were copy-pasted into both upper and lower windows of CSB-aligner. The resulting cDTs from this alignment are listed in the 'Result of CSB alignment table' of the CSB-aligner output, in the column titled 'Motif.' Since this cDT list contains multiple copies of different cDTs, the extra copies are removed using the Java applet Puzzamatic 1.0 [59], a freeware created by Ron Surratt. The cDT list that contains all unique cDTs is then alphabetized and sorted by size also using Puzzamatic 1.0. The cDTs, constituting a raw neural cDT-library, were then copy/pasted into a Microsoft Word document. A second CSB-alignment is then performed with the neural CSBs in the top window of CSB-aligner, and mesodermal CSBs in the lower window. The cDTs from this alignment were freed of extra copies as above. These cDTs constituted an unedited common neural/mesodermal cDT-library. The unedited neural and common cDT-libraries are combined and cDTs common to the two libraries (present in the first and second alignments) are removed using the JavaScript program cDT-cleaner [60], thus leaving only the neural-specific sequences. Neural enriched and common cDTs were curated from the unedited shared cDT-library.
For Drosophila, segmental, neural (treating CNS and PNS specific enhancers together), and mesodermal specific cDT-libraries were generated. The out-group for neural and segmental cDT-libraries was the mesodermal CSB-library, and the out-group for the mesodermal cDT-library was neural CSBs. For mammals, neural and mesodermal cDT-libraries were generated. All cDT-libraries are listed in Table 2 and full libraries are available online [26].
Identification of shared elements within enhancers with the cDT-scanner
The function of cDT-scanner is to determine the relationship between any enhancer and any other group of MCSs used to generate the CSB libraries. cDT-scanner aligns the cDTs contained within various cDT-libraries with CSBs within an EvoPrint. cDT-scanner is a Java applet that uses a variant of the cis-Decoder aligner; it looks for only perfect matches between cDTs and CSB sequences. Alignment of cDTs using cDT-scanner is accomplished by first pasting a cDT-library in the upper window of cDT-scanner and then pasting the EvoPrint or CSBs to which they are to be aligned in the lower window. The output of cDT-scanner consists of perfect matches of cDTs aligned under the input CSBs. Since each library consists of cDTs shared by different enhancers, cDT-scanner portrays the shared elements within each CSB. A cDT-scanner alignment should be saved; information from saved files can be copy-pasted into Microsoft Word without loss of formatting features. For details on how to format cDT-alignments, see the website. A second output window for the cDT-scanner, a results table, is a list of the aligned matches along with their positions. Selecting the output column header sorts the results under that header. Contents of results tables can then be copy-pasted into Microsoft Word.
Finding less-conserved sequence elements
The 'Full-enhancer scanner' is a Java applet that identifies additional repeated cDT or CSB sequences within less conserved sequences flanking CSBs of enhancers. For this alignment, cDTs or CSBs present within an enhancer can be curated from the output of cDT-scanner termed 'Results from cDT-scan.' Curate both forward and reverse/complement sequences and paste into the upper window of Full-enhancer scanner. The EvoPrinted enhancer should be copy-pasted into the lower window. The program aligns to both conserved and non-conserved sequences of the EvoPrint.
Identification of enhancers that share conserved elements using cDT-cataloger
cDT-cataloger uses a variant of the CSB-aligner; it records only perfect matches between CSBs and cDTs of a specified size. The output lists those CSBs containing perfect sequence matches to the cDTs, and can be used to identify enhancers and count the number of times each cDT aligns with any CSB-library. Cataloguing is accomplished by copy-pasting the CSB-libraries (both forward and reverse directions) into the upper window of the cDT-cataloger and the selected cDTs of a single uniform size in the lower window. The size of the cDT(s) must be entered into the window provided.
Additional data files
The following additional data are available with the online version of this paper. Additional data file 1 contains the cDT-cataloger analysis of the murine Delta-like 1 Homology-II and msd-II enhancers supplemental to Figure 4. Additional data file 2 contains the cis-Decoder analysis of the Drosophila hairy stripe 1 enhancer. Additional data file 3 is a figure that contains cis-Decoder analysis of the human TIP39 5' proximal promoter. Additional data file 4 is a table that documents the contribution of each Drosophila and mammalian enhancer to the specific cDT-libraries generated in this study.
Declarations
Acknowledgements
We thank Laura Elnitski and Brian Mozer for critically reading the manuscript and Anthonois Ekatomatis for technical assistance. We are also indebted to Judy Brody for help with the cis-Decoder website construction and editorial assistance. This research was supported by the Intramural Research Program of the NIH, NINDS and NIMH.
Authors' Affiliations
(1)
Neural Cell-Fate Determinants Section, NINDS, NIH, Bethesda, USA
(2)
Office of Scientific Director, IRP, NIMH, NIH, Bethesda, USA
Copyright
© Brody et al.; licensee BioMed Central Ltd. 2007
This article is published under license to BioMed Central Ltd. This is an open access article distributed under the terms of the Creative Commons Attribution License (http://creativecommons.org/licenses/by/2.0), which permits unrestricted use, distribution, and reproduction in any medium, provided the original work is properly cited.