Global analyses of mRNA translational control during early Drosophila embryogenesis
Received: 2 August 2006
Accepted: 22 April 2007
Published: 22 April 2007
Abstract
Background
In many animals, the first few hours of life proceed with little or no transcription, and developmental regulation at these early stages is dependent on maternal cytoplasm rather than the zygotic nucleus. Translational control is critical for early Drosophila embryogenesis and is exerted mainly at the gene level. To understand post-transcriptional regulation during Drosophila early embryonic development, we used sucrose polysomal gradient analyses and GeneChip analysis to illustrate the translation profile of individual mRNAs.
Results
We determined ribosomal density and ribosomal occupancy of over 10,000 transcripts during the first ten hours after egg laying.
Conclusion
We report the extent and general nature of gene regulation at the translational level during early Drosophila embryogenesis on a genome-wide basis. The diversity of the translation profiles indicates multiple mechanisms modulating transcript-specific translation. Cluster analyses suggest that the genes involved in some biological processes are co-regulated at the translational level at certain developmental stages.
Keywords
Gene Ontology
Additional Data File
High Molecular Weight Fraction
Individual Transcript
Maternal Transcript
Background
In many animal species, the first few hours of life proceed with little or no transcription, and regulation of developmental events at these early stages is conferred by maternal cytoplasm rather than transcriptional activity in the zygotic nucleus. During the first two hours after fertilization, Drosophila embryos undergo 13 zygotic division cycles (Bownes' stages 1-4) and are syncytial in that the nuclei divide in a common cytoplasm without cytokenesis, except that pole cells, precursors to germline, are segregated in cycle 10. Synthesis of rRNA, tRNAs, 5S RNAs, snRNAs, poly(A)+ RNAs, and histone mRNAs is not detectable until cycle 11 or 12. Both spatial control and temporal control of mRNA translation are implemented in the early patterning of the Drosophila embryo. The basic embryonic body plan, defined by both anterior-posterior and dorso-ventral axes, as well as precursors for terminal structures, relies on the regulation of mRNA localization and coupled regulation of mRNA translation. Complete inhibition of protein synthesis with translation inhibitors, for example, cycloheximide, puromycin or pactamycin, quickly and entirely blocks mitotic cycles and arrests development [1, 2]. After zygotic transcription begins at mitotic cycle 13 (about 1.5-2 hours after fertilization), the efficient use of zygotic transcripts depends on the degradation of maternal mRNA after fertilization [3].
The modulation of translation can be exerted by both general mechanisms that influence the mRNA population as a whole and selective mechanisms that influence individual mRNAs or small groups of mRNAs. In Drosophila, multiple mechanisms of translational control have been previously reported, such as control by RNA degradation, transcript localization and polyadenylation. Cis-regulatory RNA elements are generally found within the 5' or 3' untranslated regions of mRNAs (5' UTRs and 3' UTRs). For example, specific sequence elements in the 3' UTRs of Drosophila bicoid and nanos mRNAs guide these mRNAs to the anterior and posterior poles of the developing embryo, respectively. Unlocalized bicoid or nanos mRNAs are bound to translational repressor molecules, and proper localization of both mRNAs relieves the repression and permits their translation [4–8].
The sedimentation of a given mRNA when a cell extract is applied to a sucrose density gradient is determined by the number of its associated ribosomes. Changes in the size (the number of ribosomes per mRNA) and the amount (amplitude) of a specific polysome-associated transcript in a gradient can indicate regulation of protein synthesis [9]. Comparison of polysomal associated mRNA between developmental stages using microarray analysis provides an approach to a genomic-wide investigation of translation dynamics during development. This method has been successful in identifying cellular internal ribosomal entry sites (IRES) that are translated in mitotic HeLa cells and to describe the global translation profile of Saccharomyces cerevisiae [10–12].
We have taken a similar approach to a genome-level investigation of translational regulation during early embryogenesis in Drosophila. In this study, we have fractionated embryo extracts from a series of early stages by sedimentation on sucrose density gradients and analyzed the RNA components of these fractions using the Drosophila GeneChip Genome 2.0 array (Affymetrix, Santa Clara). Our analysis has focused on analyzing ribosomal density, generally and for individual transcripts, global translational activity during the first 10 hours after egg laying and coordination between transcription and translation regulation.
Results and discussion
We analyzed the translational status of transcripts during early embryogenesis in a genome-wide approach (Figure
1
). We chose the three time windows 0-2 hours, 4-6 hours and 8-10 hours after the eggs were laid, to represent the major developmental stages of early
Drosophila
embryogenesis. During the first two hours embryos undergo fertilization, form the preblastoderm and then the syncytial blastoderm. The transition from maternal to zygotic control occurs at about 2 hours post-fertilization. Germ band elongation occurs during 4-6 hours post-egg deposition. Germ band retraction and early organogenesis occur during the 8-10 hours period. We sedimented soluble embryonic extracts through sucrose density gradients to fractionate mRNAs according to their translational status at each developmental period. We analyzed two key indicators of mRNA translation, the density of associated polysomes and the proportion of a given transcript species that is polysomal associated. Measurement of the distributions of mRNAs encoding α-catenin and ribosomal protein L36 (RpL36) in polysomes by microarray hybridization indicated similar profiles to those obtained by quantitative RT-PCR measurements with gene-specific probes (Figure
2a, b
). As expected, α-catenin mRNA with a 2,751 nucleotide open reading frame (ORF) sedimented in the high molecular weight fractions 11 or 12, while RpL36 mRNA with a 345 nucleotide ORF peaked in low molecular weight fractions 6 and 7. The rapidly sedimenting complexes containing these mRNAs can be completely abolished by depletion of magnesium with 15 mM EDTA, consistent with the association of these mRNAs with polysomes (data not shown). A predominant amount of RpL36 mRNA in the non-polysomal fraction (fractions 1-5) indicates that a high proportion of RpL36 mRNA was translationally silenced in mRNA-protein (mRNP) complexes.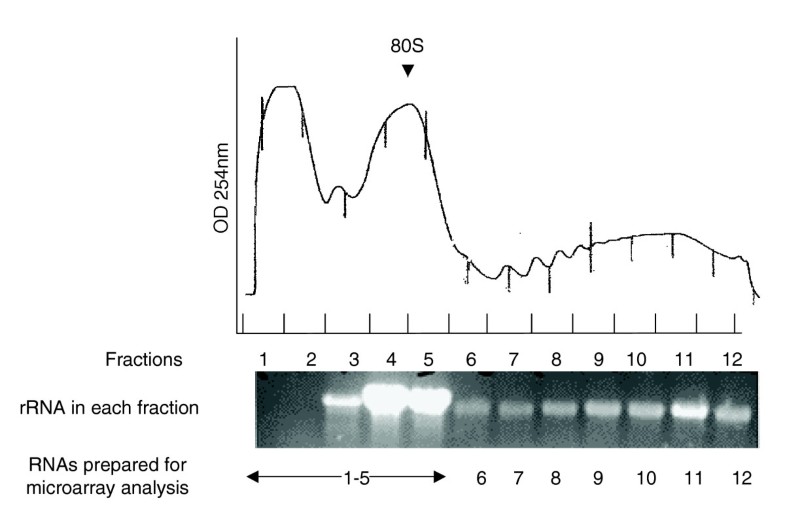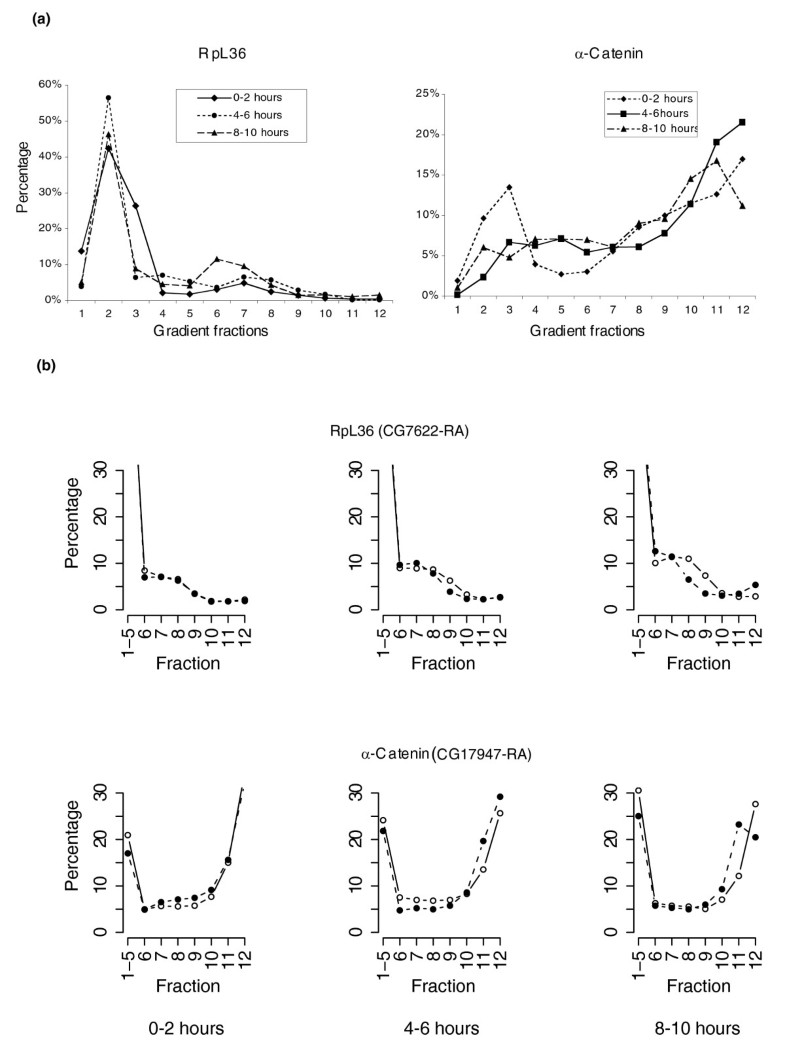 Conclusion
Translational control is critical for early Drosophila embryogenesis and we used a genomic approach to illustrate the translation profile of transcripts during this developmental period. The raw microarray data analysis tables and polysomal profiles of individual transcripts are available online at the Berkeley Drosophila Genome Project (BDGP) homepage [28]. The diversity of the polysomal profiles of maternal transcripts (0-2 hour old embryos) and later zygotic transcripts indicates multiple complex mechanisms that modulate individual gene expression, but also co-regulate the genes involved in same biological processes. The identification of consensus regulatory elements within such co-regulated mRNAs, as well as trans-acting factors that recognize them will be a fruitful area of future study.
Materials and methods
Synchronization of embryo collections
Canton S embryos were collected in 2-hour intervals and aged to generate animals 0-2, 4-6 and 8-10 hours old. To confirm that the embryos were collected at the desired developmental stages, we examined the morphology of a small aliquot of the synchronized embryos as described previously [23]. In addition, we also validated the synchronization by comparing the variation of RNA abundance of representative mRNAs over the three time periods with the previous microarray measurements performed by Tomancak et al. [23] (data not shown). The embryos were then dechorionated and transferred to Eppendorf tubes.
Preparation of RNA samples
Unfractionated RNA was prepared by homogenization of dechorionated embryos with a motorized plastic pestle in RNAwiz solution (Ambion, Austin, TX 78744-1832), followed by chloroform extraction and ethanol precipitation. To prepare the polysome-associated RNAs, the dechorionated embryos were first incubated with 0.1 mg/ml cycloheximide in PBS for 10 minutes on ice, then homogenized with a motorized plastic pellet pestle in a lysis buffer (20 mM Tris-HCl, pH 7.4, 140 mM KCl, 5 mM MgCl2, 0.5 mM DTT, 1% Triton X-100, 0.1 mg/ml cycloheximide, 1 mg/ml heparin, 50 unit/ml RNasin) and incubated for 10 minutes on ice. The debris were removed by centrifugation at 12,000 × g for 10 minutes at 4°C, and supernatants were loaded onto 20% to 50% sucrose gradients with the same extraction buffer without Triton X-100. The extracts were sedimented at 35 k rpm for 160 minutes in a SW41 rotor at 4°C. Twelve fractions were collected from the tops of the gradients using an ISCO fraction collection system. RNAs were precipitated from each fraction with guanidine hydrochloride and ethanol followed by a second precipitation in 1.5 M LiCl at -20°C overnight. The RNA precipitate was washed with 70% ethanol and resuspended in an equal volume of Tris-HCl buffer (1 mM Tris-HCl, pH 8.0). Purified RNAs from individual fractions were quantified with a spectrophotometer and visualized on formaldehyde agarose gels [27, 29].
EDTA-treated embryos were lysed in an EDTA extraction buffer (20 mM Tris, pH 7.4, 140 mM KCl, 15 mM EDTA, 0.5 mM DTT, 1% Triton X-100, 0.1 mg/ml cycloheximide, 1 mg/ml heparin, 50 unit/ml RNasin) and sedimented through 20% to 50% gradients prepared with the same EDTA lysis buffer, but without Triton X-100.
Although most cytoskeleton-associated and endoplasmic reticulum-associated RNAs as well as ribosomes are released into the soluble extract under this buffer condition (X Qin, unpublished data), it is possible that some mRNAs are sequestered in insoluble complexes and excluded from polysomal gradient analysis. RNAs potentially in the insoluble debris were not characterized in this study.
Quantitative PCR analysis
Either unfractionated total RNA or equal proportions of RNA from each polysomal fraction were reverse transcribed into cDNAs with a High Capacity cDNA Archive kit (Applied Biosystems, Inc. Foster City, CA 94404). Gene-specific TaqMan® probes were designed and manufactured through Assay-by-design (Applied Biosystems). Equal proportions of cDNA samples mixed with TaqMan® Universal PCR Master Mix and gene-specific TaqMan® probes were quantified in a 96-well plate on ABI PRISM® 7000 Sequence Detection Systems as described by Applied Biosystems.
Microarray hybridization and data analysis
RNAs from the first five gradient fractions were pooled. An equal volume of the pooled RNAs and RNAs from the remaining seven fractions was used for cRNA labeling. Thus, the pooled RNA sample used for array labeling was the average amount of RNA from the first five fractions and each RNA sample contained at least 10 μg of RNAs. cRNA was hybridized to a GeneChip Drosophila Genome 2.0 Array using standard protocols. Thus, we collected eight GeneChip array scans of each polysomal gradient and the success of the experiments was determined by the reproducibility of the two independent replicates. Similarly, we prepared four pools of RNA from the first five fractions, from fractions 6 and 7, from fractions 8 and 9 and from fractions 10, 11 and 12. These four RNA samples were used for microarray analysis of the EDTA treated samples. Total RNA (20 μg) from unfractionated cell lysates at each time point was used for one-step labeling and GeneChip hybridization. Gene expression measures were normalized and computed using the robust multichip average (RMA) method described in [30] and implemented in the Bioconductor R package. Statistical analyses were all performed with the open-source software R, version 2.2.0 and Bioconductor 1.7 packages [31]. The following R packages were used mainly; Affy (version 1.8.1), limma (version 2.2.0) and Drosophila 2 (version 1.10.0) [32].
Moderated t-statistics were used to determine whether a transcript is released from polysomes by EDTA filtering [33]. If the amount of a particular gene's mRNA in the first fraction of EDTA-treated profiles is higher than that in the first fraction of non-EDTA-treated profiles, this transcript is releasable by EDTA since the materials dissociated by EDTA are expected to sediment at the pooled non-polysomal fraction. The false discovery rate (FDR) was controlled at p = 0.05. All data for such genes were removed for further analyses. Among all the 18,952 probes on the Drosophila Genome 2.0 GeneChips, 16,513 genes at 0-2 hours, 16,519 genes at 4-6 hours and 14,593 genes at 8-10 hours were left for further data analysis. In addition, we excluded mRNAs with low signal intensity to exclude the background noise as well as possible signal saturation of those mRNAs with extremely high intensity as described in individual analyses.
Peak selection and ribosomal association assignment
To determine the peak fraction of each mRNA for ribosomal density estimation, we used m as the measure for selecting genes with a sharp peak in their polysomal profiles. We first averaged the two normalized replicates of polysomal gradients on the logarithmic scale. Next, we removed the genes whose transcripts were not releasable by EDTA and whose intensities were below the median of all the probe sets. Then, we calculated m as the following:
m = % [peak fraction] - average% [adjacent two fractions], if peak fraction is not 6 or 12
m = % [peak fraction] - % [fraction 7] if peak = 6
m = % [peak fraction] - % [fraction 11] if peak = 12
The 3,000 genes with highest m values were expected to have a distinct peak and were selected to estimate the ribosomal density at each time interval.
The number of ribosomes per transcript in fractions 6-10 was obtained directly from the peaks in the average of multiple OD254 profiles (Figure 3a). For fractions 11 and 12, which lacked single ribosome resolution, the number of ribosomes per transcript was estimated by a logarithmic extrapolation from the clearly defined peaks as described by Arava et al. [11]. The assigned number of associated ribosomes for fractions 6-12 is in the order of 2, 3, 5, 7.5, 11, 17 and 26, respectively. The R2 value of the logarithmic curve over the defined region is 0.9983 (data not shown).
Cluster transcripts with their translational activity
We used two parameters to describe the polysomal profiles: the logarithmic ratio of the polysomal fractions to non-polysomal fractions (Logit):
Logit = log [percent(fraction 6-12)/percent(fraction 1-5)]
and the standard deviation (SD) of the expression levels among all the gradient fractions.
The preferentially translated mRNAs are expected to have a high Logit and a high SD, while unpreferentially translated mRNAs have low Logit and low SD. We examined the distribution of Logit and SD of each time point (data not shown) and decided to use a cutoff of Logit > 1.5 and SD > 0.5 to define actively translated genes, while those with log ratio < -0.15 and SD < 1 are defined to be translationally inactive genes. Any other genes not included in these two clusters were defined to be in the general translation group.
Gene Ontology analyses
Clustered genes were analyzed using the NetAffx Gene Ontology Mining Tool provided by Affymetrix [34]. The goal of GO analysis was to find statistically overrepresented GO terms within a group of genes [35]. Also of interest is comparison of the distribution of a statistic such as the Logit among genes associated with a certain GO term. The GOstats package of R was used to get GO-filtered data. The distributions of Logit for a set of genes such as those associated with a given GO term can be compared across time points. For this purpose, a two-sample Kolmogorov-Smirnov test of the null hypothesis of equal distribution was performed.
Additional data files
The following additional data are available with the online version of this paper. Additional data file 1 lists the genes that were classified by Logit into the preferentially translated group and the preferentially untranslated group at each development stage. Additional data file 2 includes the MB statistic ranking lists of the top 500 genes, showing the most significant changes of their ribosomal occupancy between the development periods.
Declarations
Acknowledgements
We thank Adina Bailey and Li Kuo Kong for critical reading of the manuscript, Pavel Tomancak for valuable advice on GO clustering of microarray data, Cyrus Harmon for helpful discussions on data analysis and Yu-Chuan Tai for the MB analysis program. Garson Tsang performed the microarray hybridization experiments. This work was supported by the Howard Hughes Medical Institute (GMR) and NIH grant LM07609 (TPS). SA is supported by PMMB and XQ is a research associate of the Howard Hughes Medical Institute.
Authors' Affiliations
(1)
Howard Hughes Medical Institute, Department of Molecular & Cellular Biology, University of California, Berkeley, Berkeley, USA
(2)
InterMune, Inc., Brisbane, USA
(3)
Department of Statistics, University of California, Berkeley, Berkeley, USA
(4)
Janelia Farm Research Campus, Howard Hughes Medical Institutes, Ashburn, USA
Copyright
© Qin et al.; licensee BioMed Central Ltd. 2007
This article is published under license to BioMed Central Ltd. This is an open access article distributed under the terms of the Creative Commons Attribution License (http://creativecommons.org/licenses/by/2.0), which permits unrestricted use, distribution, and reproduction in any medium, provided the original work is properly cited.