Evolution of protein complexes by duplication of homomeric interactions
Received: 3 October 2006
Accepted: 5 April 2007
Published: 05 April 2007
Abstract
Background
Cellular functions are accomplished by the concerted actions of functional modules. The mechanisms driving the emergence and evolution of these modules are still unclear. Here we investigate the evolutionary origins of protein complexes, modules in physical protein-protein interaction networks.
Results
We studied protein complexes in Saccharomyces cerevisiae, complexes of known three-dimensional structure in the Protein Data Bank and clusters of pairwise protein interactions in the networks of several organisms. We found that duplication of homomeric interactions, a large class of protein interactions, frequently results in the formation of complexes of paralogous proteins. This route is a common mechanism for the evolution of complexes and clusters of protein interactions. Our conclusions are further confirmed by theoretical modelling of network evolution. We propose reasons for why this is favourable in terms of structure and function of protein complexes.
Conclusion
Our study provides the first insight into the evolution of functional modularity in protein-protein interaction networks, and the origins of a large class of protein complexes.
Keywords
Protein Complex
Additional Data File
Cluster Coefficient
Protein Interaction Network
Domain Architecture
Background
The success of genome sequencing projects has resulted in the accumulation of catalogues of genes for hundreds of genomes. Within each genome, the genes and their proteins interact to form complex networks with properties that transcend those of individual genes. One such network is formed by the totality of physical protein-protein interactions in the cell: the protein interaction network (PIN). These networks, like many other naturally occurring networks, such as the transcriptional [1, 2] and metabolic networks [3], have a modular organization [4–6]. They are organized into a number of functional modules, which are sets of interacting proteins accomplishing discrete biological functions in relative spatial, temporal or chemical isolation from other modules in the network [6]. Protein complexes are functional modules in the sense that the protein subunits of the complex are sufficient for its function, even when isolated from the system, as has been demonstrated by in vitro reconstitution of active protein complexes in a variety of studies (for example, [7]).
The mechanisms that drive the emergence and subsequent evolution of modularity in cellular networks are unclear. This is in part due to the fuzzy nature of the concept and the difficulty in identifying functional modules in cellular networks. Here, we focus on the evolution of one specific type of functional module, protein complexes, and propose an evolutionary route that accounts for the origin and evolution of a proportion of these modules. We hypothesize that duplication of self-interacting proteins (homomers) is critical for the establishment and evolution of a proportion of protein complexes, and hence of functional modularity in protein interaction networks (Figure
1
). Our hypothesis was based on the following considerations.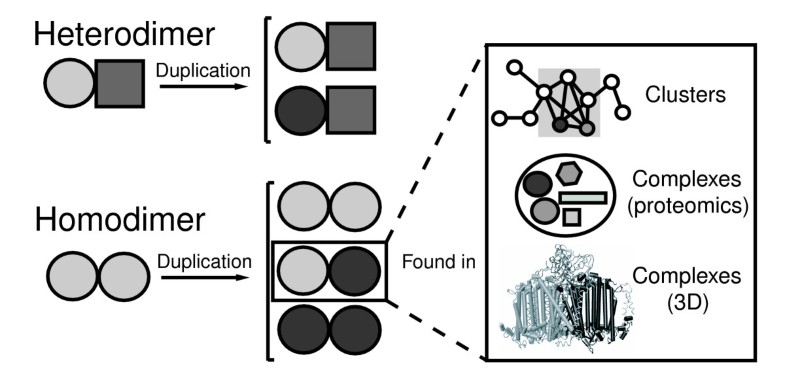 First, gene duplication and divergence is the most important force driving the expansion of eukaryotic proteomes (for example, [8]). Conservation of protein interactions is frequent after duplication and paralogous genes thus frequently share interaction partners [9]. Mathematical models of network evolution based on this principle of duplication and divergence result in networks that display topological properties comparable to those of biological protein interaction networks, in particular high clustering coefficients [10, 11]. Clusters in protein networks are frequently part of protein complexes [4, 12, 13]. The clustering coefficient of a network (C) is a measure that quantifies how interconnected the proteins are [14], partly reflecting modularity of the network. So duplication followed by conservation of protein interactions is linked with modularity in theoretical simulations of network evolution.
A second piece of evidence is that the oligomerization of multiple, identical subunits is a simple way of forming large, functional structures in a genetically economical manner. Smaller component subunits will fold more readily than a single large protein and are less prone to translational errors [
15
,
16
]. Multiple copies of the same protein will tend to be co-localized in the cell as they can be synthesized from the same mRNA. This may promote oligomerization, for example, by domain swapping [
17
] or other mechanisms. Furthermore, evolution of a homomeric interface by incremental mutation is aided by the fact that the effect of one advantageous mutation will apply to all subunits of a homo-oligomer, and is thus,
a priori
, the most likely type of interface to occur [
18
]. In protein interaction networks, homomeric interactions are indeed over-represented [
19
]. They are also very abundant in complexes of known three-dimensional structure, present in 85% of all complexes in the Protein Quaternary Structure (PQS) database (Table
1
).
Table 1
Data sets investigated in this study
Pairwise interactions (%)

Dataset

PPIs/Complexes

No. of proteins

HD

PD

F(HD)

F(PD)

F(HI)

F(PI)

Description

Pairwise interactions

Yeast [36]

1,011

753

1.9

13.4

Manual curation of small scale data (does not include yeast two hybrid data)

Yeast-large [37]

15,393

4,741

1.8

6.2

Compilation of small- and large-scale data

Worm [39]

2,422

1,726

1.6

3.3

High-throughput (yeast two-hybrid)

Fly [38]

3,384

2,877

2.9

9.1

High-throughput (yeast two-hybrid)

Complexes

MIPS [36]

216

1,185

32

27

Manual curation

TAP [40]

589

1,474

31

30

High-throughput tagging and mass spectometry

HMS-PCI [41]

741

1,758

33

27

High-throughput tagging and mass spectometry

PQS [29]

2509

3,124

85

11

Three-dimensional structures of protein complexes
The third consideration is that when genes coding for proteins that form homodimers duplicate, conservation of interactions will generate dimers of paralogous proteins. In these, the stability associated with the homodimer is maintained, while at the same time asymmetry is introduced into the interaction. This asymmetry provides more degrees of evolutionary freedom and represents a source of functional novelty (discussed in [20]). This is illustrated by the anecdotal examples like the photosystem I (Figure 1), in which there is asymmetry in terms of the subunits bound to PsaA and PsaB, the two paralogous proteins at its core [21, 22].
These considerations suggest the following evolutionary scenario (see Figure 1), which we test in the work presented here. An initial interaction is established between two (or more) copies of the same protein (homomeric interactions; Figure 1, left). This is the stable 'seed' of a new complex, and functional and structural factors will contribute to this interaction being selected for conservation. Gene duplication and divergence with conservation of the interactions will then follow. This initially results in multiple homomeric and heteromeric complexes with different numbers of the two duplicates (Figure 1, middle), permitting functional and structural diversification. Over time, sequence divergence will produce distinct complexes with distinct functionalities. The complexes containing paralogous proteins will frequently be selected in evolution due to the advantages of asymmetry, and accretion of new interactions may follow. This evolutionary process is illustrated by the related complexes of the RecA recombinase homohexamer and the F1 ATP synthase α3:β3 hexamer (discussed below). These two functionally distinct complexes are likely to have evolved from a common homomeric ancestor [23].
Results
We test the evolutionary scenario hypothesized above by investigating the following corollaries: whether duplication of genes coding for homodimers is frequently accompanied by conservation of protein interactions in protein interaction networks; whether interactions between paralogous proteins are associated with high clustering in protein interaction networks; whether these interactions are over-represented in protein complexes obtained in large-scale proteomic experiments; whether interactions between paralogous proteins are over-represented in protein complexes of known three-dimensional structure; whether these interactions are older than other interactions and, hence, paralogous dimerization precedes accretion of further interactions, as well as whether the establishment of dimers of paralogues is associated with asymmetry of protein interactions.
Discussion
We present here a genome-wide, cross-species analysis of the origins and evolution of protein complexes. At the beginning, we hypothesized that duplication of self-interacting proteins (homomers) is an evolutionary path leading to the establishment and evolution of many complexes. To substantiate this hypothesis, we tested five corollaries that arise from such an evolutionary scenario.
The first corollary is that duplication of genes coding for homodimers is frequently accompanied by conservation of protein interactions. Conservation of protein interactions after gene duplication has been shown to be frequent [9, 19]. We show here that between 4% and 13% of interactions in PINs are between paralogous proteins.
Next we tested the association between clustering of the network and interactions between paralogous proteins. Clusters in protein interaction networks frequently represent protein complexes. We have shown that removal of interactions between paralogues causes a small but highly significant decrease in the global clustering level of the network. This is consistent with our theoretical modeling results.
We then observed that about 30% of protein complexes from proteomics experiments contain duplicated subunits. In protein complexes of known three-dimensional structure, a similar proportion of complexes have duplicated subunits, and more importantly, there is preferential binding of paralogous subunits. This supports the corollary that interactions between paralogues are frequent in complexes.
We observed that proteins involved in homomeric interactions and interactions between paralogues were more conserved than other proteins: more than half of yeast proteins had orthologues in all eukaryotes and either archaea or bacteria, whereas more than half of the other yeast proteins had orthologues only in fungi and animals. Homomeric interactions and those between paralogous proteins were also three to seven times more likely to be conserved, when compared to other interactions. Thus, this supports the corollary that homomers and oligomers of paralogues represent the first steps in the evolution of new protein complexes, with other subunits added later.
Finally, we showed that amongst three-dimensional structures of complexes, 32% of dimers of paralogues establish asymmetric interactions with other proteins whereas only 3% of homodimers show such asymmetry, further substantiating that the duplication of homomeric interactions helps to create asymmetry in protein interactions, and allows the coalescence of other subunits in the complex.
Altogether, our data suggest an evolutionary route to the formation and specialization of many extant protein complexes. On this route, homomers and oligomers of paralogous subunits represent an ancestral core around which further subunits can coalesce in evolution. Sequence divergence of the paralogous subunits creates the asymmetry that permits the accretion and diversification of interactions. In addition, divergence of paralogues may be involved in functional specialization of complexes. The biases inherent in each data type make it difficult to determine the exact fraction of protein complexes that evolved via the proposed route. A higher bound is about one-third, estimated by the fraction of proteomics complexes that display duplicated subunits. A lower bound is less than one-tenth, estimated by the fraction of dimers of paralogues in one of the yeast two-hybrid data sets (Table 1).
Another issue that at this stage is difficult to ascertain is the nature of the complexes that emerged by the proposed route. If we assume that both the proteomics data and the crystallographic data represent an enrichment for stable protein complexes, then our proposed evolutionary route appears to be more prevalent in stable complexes. In fact, most examples discussed in the text are stable complexes. They also appear to be complexes that were established very early in evolution, which is illustrated by the ages of the proteins that establish homomeric interactions and interactions between duplicates.
We have shown previously that duplication of protein interactions and of entire protein complexes is accompanied by specialization of function [9]. Inspection of the effects of duplication of homo-interactions suggests a similar outcome. In other words, the main function is established when the homomer is first formed, and then duplications will serve to specialize these functions. For example, in Figure 3a the transition from homodimer to dimers of paralogous proteins of the helix-turn-helix transcription factors results in specialization of the function of the complex, that is, distinct but overlapping specificities in DNA binding [34, 35]. Other examples of functional specialization are in the ATP synthase and proteosome families, as discussed in Additional data file 1.
Conclusion
Our investigations of protein interactions and protein complexes, as well as theoretical modeling, reveal that many protein complexes evolved by the initial establishment of self-interactions followed by duplication of these self-interacting proteins. Our study provides the first insight into the evolution of functional modularity in protein-protein interaction networks, and the origins of a large class of protein complexes.
Declarations
Acknowledgements
We are grateful for the hospitality and scientific discussions on networks that CK experienced with the members of the physics department at Imperial College, London, and the University of Oslo. We wish to thank Joel Janin, Daniela Stock, Kiyoshi Nagai, Tony Crowther, Cyrus Chothia, Benjamin Audit and the members of the Theoretical and Computational Biology group at the MRC-LMB for useful discussions. We are grateful to Nick Luscombe, Madan Babu, Christine Vogel, Valerie Hindie, Siarhei Maslau and Patrick Aloy for critical reading of the manuscript. We thank the MRC, EMBO, and the postdoctoral program of the German Academic Exchange Service (DAAD) for funding.
Authors' Affiliations
(1)
Instituto Gulbenkian de Ciência, Oeiras, Portugal
(2)
MRC Laboratory of Molecular Biology, Cambridge, UK
(3)
Paul-Ehrlich-Institut, Federal Agency for Sera and Vaccines, Langen, Germany
Copyright
© Pereira-Leal et al.; licensee BioMed Central Ltd. 2007
This article is published under license to BioMed Central Ltd. This is an open access article distributed under the terms of the Creative Commons Attribution License (http://creativecommons.org/licenses/by/2.0), which permits unrestricted use, distribution, and reproduction in any medium, provided the original work is properly cited.