Conservation and divergence of gene families encoding components of innate immune response systems in zebrafish
Received: 20 April 2007
Accepted: 27 November 2007
Published: 27 November 2007
Abstract
Background
The zebrafish has become a widely used model to study disease resistance and immunity. Although the genes encoding many components of immune signaling pathways have been found in teleost fish, it is not clear whether all components are present or whether the complexity of the signaling mechanisms employed by mammals is similar in fish.
Results
We searched the genomes of the zebrafish Danio rerio and two pufferfish for genes encoding components of the Toll-like receptor and interferon signaling pathways, the NLR (NACHT-domain and leucine rich repeat containing) protein family, and related proteins. We find that most of the components known in mammals are also present in fish, with clearly recognizable orthologous relationships. The class II cytokines and their receptors have diverged extensively, obscuring orthologies, but the number of receptors is similar in all species analyzed. In the family of the NLR proteins, the canonical members are conserved. We also found a conserved NACHT-domain protein with WD40 repeats that had previously not been described in mammals. Additionally, we have identified in each of the three fish a large species-specific subgroup of NLR proteins that contain a novel amino-terminal domain that is not found in mammalian genomes.
Conclusion
The main innate immune signaling pathways are conserved in mammals and teleost fish. Whereas the components that act downstream of the receptors are highly conserved, with orthologous sets of genes in mammals and teleosts, components that are known or assumed to interact with pathogens are more divergent and have undergone lineage-specific expansions.
Keywords
Additional Data FileCytokine ReceptorFASTA FormatOrthologous RelationshipZebrafish Genome
Background
With the sequence of the zebrafish genome as well as the sequences of two pufferfish genomes nearly completed, and in view of the widespread use of the zebrafish as a model to study immunity [1], it is both pertinent and feasible to determine which of the genes that encode components of the mammalian immune system are also found in fish. In addition to being a prerequisite for using the zebrafish as a model system for the genetic analysis of human immunity, knowledge of components of immune defense systems in the zebrafish would also aid our understanding of the evolution of immunity.
Zebrafish are a member of the large group of teleost fish that, together with a small nonteleost sister group, constitute the ray-finned fishes. The ray-finned fishes diverged from the common ancestor of other bony vertebrates, which include tetrapods as well as lungfishes and coelacanths, 450 million years ago. They appear to have undergone a massive radiation about 235 million years ago, resulting in as many teleost species as there are species represented by all other vertebrates together (approximately 24,000 species in each case). One genetic event that has been regarded to be associated with the radiation of the teleosts in particular is a whole genome duplication event early in the teleost lineage. Although some genes or regions of the genome, most notably the Hox gene clusters, have been maintained in multiple copies, others have undergone re-diploidization. The availability of additional gene copies has been proposed to have facilitated the evolution of the high level of diversity in morphology and behavior in the teleost fish [2, 3].
Components of the adaptive immune system have been studied intensively in many fish species and have been analyzed molecularly and genetically (for review [4]). Unlike the adaptive immune system, some of the systems that contribute to innate immunity are conserved throughout the animal kingdom. The presence of genes encoding components of these systems in the zebrafish and other fish was therefore not unexpected. In addition to the well studied adaptive immune genes, protein and gene families involved in innate immune mechanisms that have been analyzed in detail include the complement gene family (for review [5]), the Toll-like receptors (TLRs) [6, 7], and two sets of receptor genes that encode proteins structurally similar to the immunoglobulin-type and C-type lectin domain-type of mammalian NK (natural killer cell) receptors [8–11]. Similarly, genes encoding tumor necrosis factors (TNF), ILs, IFNs, and their respective receptors have been identified in various fish species [12–18]. Together with studies on subsets of intracellular signaling molecules [19–23], these findings indicate that many components of innate immune signaling pathways known from mammals are conserved in the teleost fish. However, it is not clear whether all components are present or whether, in general, the complexity of the signaling mechanisms employed by mammals is similar in fish. For example, whereas some members of the TLR family exhibit orthologous relationships between zebrafish and mammals, there are also expansions within the TLR gene family that are specific for the zebrafish or the mammals [6, 7]. Similarly, the novel immune-type receptors, which share several common features with mammalian immunoglobulin-type natural killer cell receptors, exhibit species-specific expansions and diversifications [8, 10].
This report concentrates on identifying those molecules known from mammalian innate immune signaling systems that are conserved between teleost fish and mammals. The study is restricted to the pathways that have not been extensively studied by others previously. It is likely that there are also nonconserved defense systems associated with the characteristic physiologies of fish and mammals (for example, skin defense peptides), and future genetic research may well reveal additional fish-specific molecules and mechanisms.
To be able to judge orthologous relationships properly, we also included protein family members that have not been shown to have immune signaling functions, in particular because it cannot be excluded that these may have as yet unidentified roles in immune signaling, as has recently been discovered for TNF-receptor associated factor (Traf)3 [22]. We find that the families of intracellular signaling adaptors and enzymes are largely conserved. By contrast, the class II cytokines and their receptors have diverged significantly, and the NLR (NACHT-domain and leucine rich repeat containing) proteins exhibit extensive, species-specific gene amplification and diversification.
Results and discussion
As the basis for our search, we first assembled a set of sequences of mammalian genes that encode components of the TNF, IFN, and TLR pathways, and the NLR proteins in mice and humans (Figure
1
). We then identified homologs of these genes in the zebrafish genome. We first checked whether Ensembl [
24
] or ZFIN [
25
] listed potential homologs and added these to our list. In cases in which putative homologs were not found in Ensembl or ZFIN, we used TBLASTN [
26
] to screen unfinished clones from the genome sequencing project and trace sequences from the whole genome shotgun project. If matching sequences were found, they were analyzed in detail in their genomic context and were manually annotated to generate a gene prediction, using the available mammalian sequences and any existing expressed sequence tags (ESTs) as evidence. Where gene predictions were available from the
Tetraodon nigroviridis
or
Takifugu rubripes
genomes, we also included these in our analyses, but we did not make any assemblies or annotations ourselves. A complete list of all sequences used in this study is provided in Additional data files 1-9.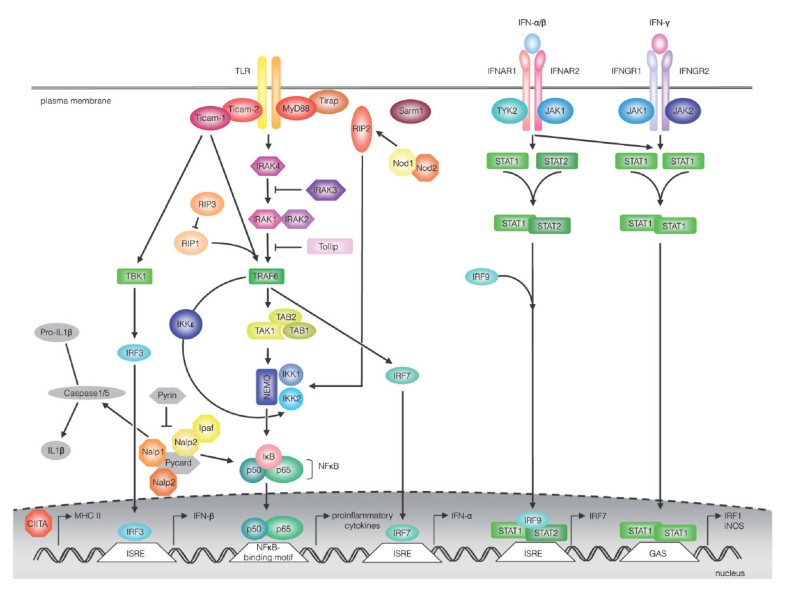 We used MEGA software [27] to compare the encoded fish proteins with their mammalian counterparts. For some proteins, the annotated sequences were not complete and could not be completed because the available DNA sequence was not sufficiently reliable or had gaps. We therefore point out that the phylogenetic trees we present show relationships, but are not intended to show precise evolutionary distances.
For most of the core signal transduction components of each pathway we found clear orthologous relationships between the mammalian and the zebrafish genes (see Gene families with largely orthologous relationships between teleosts and mammals, below), as illustrated for example by the branches for Tollip (Toll-interacting protein) or Tab (Tak1-binding protein)3 in Figure
2
. These branches reflect the known evolutionary relationships between the five species. Mouse and human exhibit the highest level of similarity, the two pufferfish are closely related to each other, and the zebrafish is more closely related to the pufferfish than to mammals and therefore shares a branch with the pufferfish on the phylogenetic tree. In several cases, for example Tab1 and Tab2, the
Tetraodon
sequences do not group with their counterparts from
Takifugu
. In most of these cases this is due to internal deletions or insertions, or terminal deletions or extensions in the
Tetraodon
genes, which are most easily explained by unreliable predictions for these genes based on faulty assembly of the genome (see below for specific cases). We have not investigated these cases further.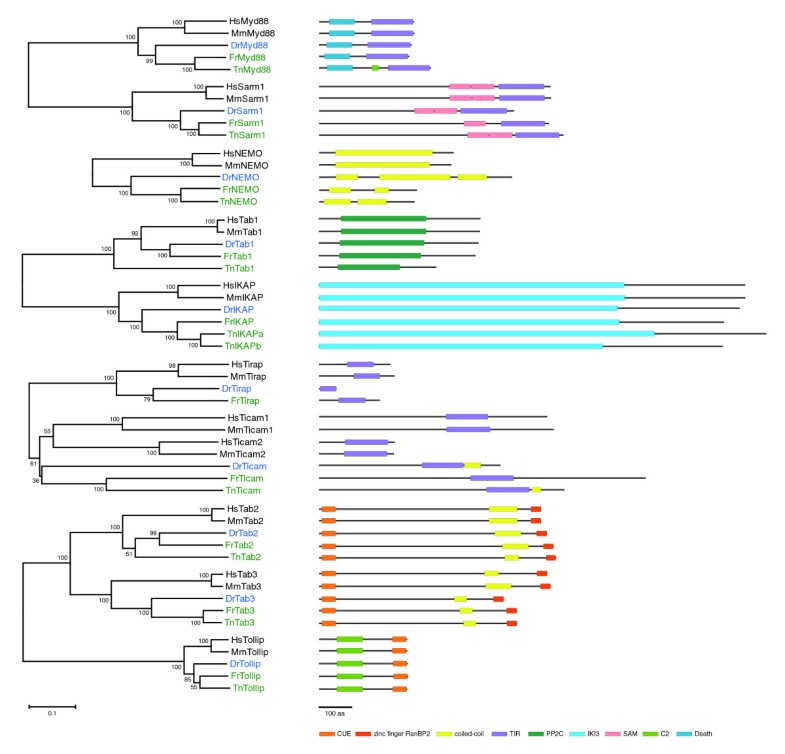 For the class II cytokine receptor family the orthology was less clear (see Class II cytokines and their receptors, below) or nonexistent, as has previously been noted [17]. For one group of proteins, those containing NLRs, our comparison reveals extensive, species-specific expansion of subfamilies (see Intracellular pathogen sensors: the NACHT-domain family, below).
Each of these groups of proteins is discussed individually below.
Conclusion
Our findings show that the components of the TLR and class II cytokine signaling systems known from mammals are also found in teleosts. Although all of the main constituents are present, there are differences in the degree to which the various functional groups are conserved. This is the case both for the divergence in sequence as well as for the creation of new genes by duplications.
The most highly conserved group of proteins are those involved in intracellular signal transduction downstream of the transmembrane receptors: the kinases, adaptors, Stats, Trafs and transcriptional regulators. They exhibit high sequence conservation and largely orthologous relationships, such that for each gene there is one copy in each species, and these genes are more closely related to each other than to other genes of the family. We see only a few cases of duplications. In some cases (Ticam-1, Ticam-2, and IRAK2) there appear to have been gene duplications only in mammals, but more often we find additional genes in the fish genomes. Additional copies of genes in the teleosts need not necessarily be generated by lineage-specific individual gene duplications, but may instead be remnants of the third whole genome duplication postulated for the teleost lineage [3]. We do not see as a general rule that for each mammalian gene there is more than one copy in the zebrafish genome. However, in the highly conserved gene groups we do in fact see more duplications of fish genes than of mammalian genes (additional copies for 12 genes in the case of teleosts, although not always in all three species, and only three duplicates in the two mammals). This suggests that at least some of these may indeed be remnants of the third whole genome duplication in teleosts, as is supported by the syntenic organization of the duplicated genes and the flanking genes in the case of the Stat genes.
The family of the class II cytokine receptors is neither highly conserved, nor does it exhibit species-specific expansions. The five species we compared have approximately the same number of receptor chain genes, but the divergence is so great that no reliable orthologies can be established. A similar lack of orthology is seen for the ligands. Apart from the lineage specific expansions of the type I IFNs, there are similar numbers of class II cytokine genes in the five species, but they cannot be assigned into orthologous groups (with the exception of IL-10 and IFN-γ). The strong divergence also prohibits speculations on which ligand might bind to which receptor in the zebrafish. For one pair this has recently been established experimentally; CRFB1 and CRFB5 are the receptor chains for INF-ϕ1 and are involved in defense against viruses [18]. Similar studies will be necessary to determine the functions of the remaining ligands and receptors. The rapid evolution of the gene families for the class II cytokines and their receptors probably reflects the fact that the IFN system is frequently subverted by pathogens, resulting in the need for compensatory mutations to escape inactivation. Significantly, the receptor family member that is not primarily associated with pathogen defense, TF, does not exhibit this high level of divergence.
The greatest divergence is found in the NLR protein family, with lineage-specific expansions in each organism, as has also been found for this type of protein in echinoderms [47, 48]. Similar, if less extreme, situations are found for the TLRs [6, 7] and the novel immune-type receptors [8–10], gene families that also have sets of orthologous receptors in fish and mammals as well as fish-specific expansions. Thus, the elements of the systems that are directly involved in interactions with pathogen components are those that are most likely to diversify by undergoing lineage-specific expansions. Indeed, a study that specifically tested the role of lineage-specific gene families in five eukaryotic species found that the genes that were particularly prone to such expansions included those involved in responses to pathogens [50]. Furthermore, our results are in concordance with recent findings from a comparison of three insect genomes that showed the following [51]: first, the genes associated with immune functions are on average more divergent than the rest of the genome; and second, that the divergence occurs primarily in those genes whose products interact with the pathogen. This study found that in addition to pathogen recognition proteins, this was also the case for the effectors, a set of proteins we have not analyzed in the zebrafish.
The expansion of gene families involved in pathogen recognition is likely to reflect adaptations of the species to new pathogen environments. We have not yet tested whether there is a particularly high level of sequence variability associated with particular parts of the NLR proteins. The number of LRRs varies greatly, but it will be necessary to validate the gene models for each gene before any reliable conclusions can be drawn. It will also be interesting to see whether the genes are more polymorphic than other genes in the genome. The fact that the few ESTs that are available, which are derived from a different strain of zebrafish, do not correspond 100% to any of the gene models is a hint that this might be the case. The function of the NLR genes and the significance of their species-specific expansion will be an exciting topic for experimental analysis.
Materials and methods
Software
Standard web-based programs were used for sequence comparisons, alignments, and phylogenies. The phylogenetic trees in the figures were generated using the MEGA software package [27].
In all phylogenetic trees presented in this study complete sequences were used rather than only the conserved domains.
The alignments for generating the phylogenetic trees were performed with ClustalW using the Blosum matrix with standard parameters. For the phylogenetic reconstruction the neighbor-joining method [52] was used with a bootstrap test of 1,000 replicates. Gaps and missing data were treated as pair-wise deletions.
Manual annotations of genes were carried out by the Havana group at the Sanger Institute, in accordance with human annotation workshop guidelines [53].
Search for class II cytokine receptor genes
To identify class II cytokine receptor genes we searched the zebrafish genome and all available zebrafish ESTs for the subdomains SD100A and SD100B running the Prosite protein annotation [54] with the hidden Markov model matrices with accession numbers PS50299 (SD100A) and PS50300 (SD100B).
The screen of genomic sequences encoding SD100A or SD100B domains identified 12 genes, of which two encoded titins, one encoded thrombopoeitin, eight encoded cytokine class II receptor genes that previously were found to belong to the Interpro IPR000282 family, and one (GENSCAN0000036149) encoded a previously unidentified gene of this class.
To screen the ESTs, we first translated every EST sequence in the six possible frames and then searched for the subdomains. We followed a similar procedure with all the ab initio predictions (Genscan and Fgenesh) obtained in the analysis of the zebrafish Zv6 assembly [24].
From the EST analysis we obtained 69 different sequences, of which 14 encoded both subdomains. Comparison of the 69 sequences showed that they represented 20 different genes, for which we analyzed the known or predicted full-length sequences in more detail. One of the ESTs (accession CK692344) was not represented in the zebrafish genome (neither assembly Zv6 nor trace sequences) and turned out to correspond to a mouse gene. Three sequences had only spurious resemblances to SD100A or SD100B encoding sequences, often over very short stretches, and encoded known proteins with other functions. This left 16 potential candidates for cytokine class II receptor encoding genes, which we named zf1 to zf16. Six of these had also been identified by the genomic screen. Two candidates from the genomic screen were not in this group, because no ESTs exist for them. We named these candidates zf17 and zf18. We then assessed the annotations of zf1 to zf18, and annotated or re-annotated the sequences manually, if no annotations existed (zf1, zf2, zf6, and zf14) or the previous annotations appeared incomplete or incorrect. This analysis showed that twelve of the genes encoded proteins with the characteristics of class II cytokine receptors.
Search for new NLR proteins
For the manual annotation of NLR genes in the zebrafish genome, we initially used the ESTs with the accession numbers CF347458.1, CD284951.1, CO915312.1, CF266152.1, BM534859.1, and DT055906.1 as guides. The ESTs were not 100% identical to any of the genomic sequences we identified, which may be due to polymorphisms between the strains from which the genome sequence and the ESTs were derived. The NLR proteins were identified as follows. A TBLASTN search of the Ensembl zebrafish genome assembly Zv4 with the mammalian Nalp3 gene identified more than 200 sites in the genome encoding complete or partial NACHT domains. A collection of 170 NACHT-domain encoding zebrafish genes from the NCBI database, which only partly overlapped the set identified by TBLASTN, were also mapped onto the genome. The merged list of the two nonoverlapping sets of sites in the genome were sorted by chromosomal location, each site was given a number (chromosome number plus numerical ordering). The regions containing the potential genes were then further refined using available ESTs and gene predictions as guides. The resulting sequences were blasted against the finished and unfinished clone sequences and the hits on finished clones were finally manually annotated. For further refinement of annotations we also used the motifs identified in Figure 15 in particular to improve the predictions for the full amino-terminal extensions of the genes.
Additional data files
The following additional data are available with the online version of this paper. Additional file 1 lists the kinase protein sequences in FASTA format. Additional file 2 lists the adaptor protein sequences in FASTA format. Additional file 3 lists the IRF protein sequences in FASTA format. Additional file 4 lists the Stat protein sequences in FASTA format. Additional file 5 lists the Traf protein sequences in FASTA format. Additional file 6 lists the class II cytokine receptor protein sequences in FASTA format. Additional file 7 lists the class II cytokine protein sequences in FASTA format. Additional data file 8 lists the NLR protein sequences in FASTA format, except for the zebrafish-specific NLRs. Additional data file 9 lists the zebrafish-specific NLR protein sequences in FASTA format. Additional data file 10 is a high resolution of the large phylogram of 277 NLRs presented in Figure 12.
Abbreviations
Apaf1:

apoptotic protease activating factor 1
CRFB:

cytokine receptor family B
EST:

expressed sequence tag
Fisna:

fish-specific NACHT associated
IL:

interleukin
IFN:

interferon
IFNAR:

interferon-α receptor
IFNGR:

interferon-γ receptor
IL10R:

interleukin-10 receptor
IL22BP:

interleukin-22 binding protein
IRAK:

interleukin-1 receptor associated kinase
IRF:

interferon response factor
LRR:

leucine-rich repeat
NF-κB:

nuclear factor-κB
NLR:

NACHT-domain and leucine rich repeat containing
Nalp:

NACHT, leucine rich repeat and PYD containing protein
Nod:

nucleotide oligomerization domain containing protein
Stat:

signal transducer and activator of transcription
Tab:

Tak1-binding protein
TF:

tissue factor
Ticam:

Toll-interleukin 1 receptor domain (TIR) containing adaptor molecule
TLR:

Toll-like receptor
TNF:

tumor necrosis factor
Traf:

TNF-receptor associated factor.
Declarations
Acknowledgements
This work was supported by the Wellcome Trust and the European Molecular Biology Organization. ML thanks Richard Durbin, Kerstin Jekosch, and staff at the Sanger Center for providing space and a stimulating sabbatical environment. We thank our colleagues, in particular Jonathan Howard, for discussions and suggestions, Dale Richardson for assembling the set of NCBI NACHT-domain predictions, and Jane Parker and Jeff Dangl for comments on the manuscript. Jonathan Rast very kindly provided a file with the sequences of the sea urchin NACHT domain proteins. We are especially thankful to Georges Lutfalla and Dina Aggad for sharing ideas and information, and for generously providing the sequences of DrCRFB14 and IFN-ϕ4.
Authors' Affiliations
(1)
Institute for Genetics, University of Cologne, Cologne, Germany
(2)
The Wellcome Trust Sanger Institute, Hinxton, Cambridge, UK
Copyright
© Stein et al.; licensee BioMed Central Ltd. 2007
This article is published under license to BioMed Central Ltd. This is an Open Access article: verbatim copying and redistribution of this article are permitted in all media for any purpose, provided this notice is preserved along with the article's original URL.