Vertebrate gene finding from multiple-species alignments using a two-level strategy
Genome Biology
2006
7(Suppl 1):S6
Abstract
Background
One way in which the accuracy of gene structure prediction in vertebrate DNA sequences can be improved is by analyzing alignments with multiple related species, since functional regions of genes tend to be more conserved.
Results
We describe DOGFISH, a vertebrate gene finder consisting of a cleanly separated site classifier and structure predictor. The classifier scores potential splice sites and other features, using sequence alignments between multiple vertebrate species, while the structure predictor hypothesizes coding transcripts by combining these scores using a simple model of gene structure. This also identifies and assigns confidence scores to possible additional exons. Performance is assessed on the ENCODE regions. We predict transcripts and exons across the whole human genome, and identify over 10,000 high confidence new coding exons not in the Ensembl gene set.
Conclusion
We present a practical multiple species gene prediction method. Accuracy improves as additional species, up to at least eight, are introduced. The novel predictions of the whole-genome scan should support efficient experimental verification.
Keywords
Splice SiteVertical ComponentSite TypeRelevance Vector MachineEncode Region
Background
Gene finding can usefully be viewed as a two-level task. At the lower or local level there is a classification task: one of assigning probability estimates to potential features such as splice sites and coding start and stop sites on the basis of sequence information associated with each potential feature. At the higher or global level, on the other hand, we have a structure-building task: finding the most probable way(s) to combine potential features into exons, transcripts and genes. Classification and structure building are very different tasks, and although a gene finder can be based on a single formalism, such as hidden Markov models (HMMs) [1, 2], there is no reason to assume that the same technique will be optimal for both tasks. Although HMMs seem to offer a good basis for structure building, they impose independence assumptions that are not particularly well suited to feature classification; formalisms such as neural networks [3, 4], maximum entropy modeling [5], Bayesian networks [6–8], support vector machines [9–11] and relevance vector machines (RVMs) [12–14] provide alternative approaches with potential benefits.
Gene finders have conventionally analyzed a single sequence [2, 15–17] or, more recently, alignments between sequences for two species [18–25]. In the past year or two, gene finders processing alignments of more than two species have begun to appear [26–31]. In principle at least, the additional information provided by extra species should lead to improved predictions, but it is far from trivial to extend existing formalisms to make the best use of it.
In parallel with systems processing only genomic data, gene finders have been developed to use expressed sequence tag (EST), cDNA and protein sequences [32–36]; these can achieve better overall accuracy than systems using multiple-species alignments, but they are effective only where the sequences in question have been detected.
The gene finder described in this paper, DOGFISH (for 'detection of genomic features in sequence homologies'), is based on the above observations. It predicts gene structures in the sequence for a target species based on alignments with one or more informant species. At the global, structure-building level it employs a fairly conventional HMM. Its two main novelties lie at the local, classification level. At this level, it analyses multiple-species alignments (of eight species in the work reported here), passing the results up to the HMM for structure building. In this way, it avoids having to deal with the complexities of multiple-species alignments and the HMM formalism in the same tightly coupled framework. To do the classification, it uses a cascade of relevance vector machines to derive a single probability estimate from many thousands of individual scores based on particular aspects of the aligned sequences around a feature of interest. The HMM sees only the predictions of the classifier, not the genomic sequences or alignments, resulting in some useful simplifications.
Results and discussion
In this section, we present results first for classification of individual splice sites and start and stop codons, and then for HMM-based gene finding on the ENCODE test regions using the outputs of the classifier.
Classifier results
As explained in more detail in the Materials and methods section, DOGFISH's classifier consists of two main components, which adopt respectively a 'vertical' and a 'horizontal' view of alignments of multiple species around each feature of interest (see Figure
1
for an example alignment). The vertical component applies a separate evolutionary model to each column in an alignment, explicitly modeling mutations but taking only very limited account of the context in which the column occurs. The horizontal model is complementary: it uses Markov models and nucleotide tuple frequencies to assess the aligned sequence for each species as a possible instance of the feature under consideration without reference to the other species, and then combines the results to produce a single estimate. Thus, in contrast to the vertical model, it analyses context as thoroughly as possible but ignores mutations. Since both kinds of information are important, one might expect each component to perform well on its own, and a combination of the two to do better still.

We trained DOGFISH to detect genes in the human genomic sequence on the basis of the University of California, Santa Cruz (UCSC) MultiZ alignments [37] with seven other species. We used the multi-way alignments with mouse, rat, dog, chicken, zebrafish and fugu, discarding chimp from the original set because it did not improve results, and adding in the separately available human-frog pairwise alignments. All sequences were soft repeat masked using RepeatMasker [38]. The classifier was trained and evaluated using all the Vega annotations for human (nine chromosomes, downloaded August 2005), excluding those for all 44 ENCODE regions and for positions 100 M to 110 M of chromosome 9, a region with typical gene density that we used for various tuning purposes. We did not use the 18-species ENCODE comparative sequences [39], which were only available for the ENCODE regions, covering 1% of the human genome, for two reasons. Firstly, this quantity of sequence would not be enough to train fully the thousands of parameters in the classifier. Secondly, we wanted to run the system on the whole human genome, for which the UCSC alignments were the most comprehensive available.
At the local level, DOGFISH assigns a probability estimate to every potential splice site, start codon and stop codon in a genomic region to be analyzed and, for splice sites only, a probability distribution over the possible coding phases. A potential splice site is defined here as any AG or GT dinucleotide; GC splice donors and U12 splice sites are too rare to be accurately detected. In what follows, by a 'true' acceptor site we mean any AG splice site, while a 'decoy' is an AG that is not a splice site. True and decoy donor splice sites and start and stop codons are defined similarly.
We evaluated a number of variants of the classifier on a specially constructed 'challenging' set of candidate sites. The probability of including a site in this set, irrespective of whether true or decoy, was a strongly increasing function of the score assigned to it by a first version of the classifier that was itself trained on randomly selected sites. Such a challenging set is necessary to achieve clearly distinct performance figures; if sites are randomly selected from the genome, the classification task is too easy, at least for splice sites, and many versions of the classifier score close to 100%.
Gene finder results
We combined the classification results into gene structures using an HMM as described in Materials and methods. In the evaluation here, we focus on exon performance as the primary indicator.
Table
5
gives sensitivity and specificity results at the nucleotide, exon and transcript level on the 31 ENCODE testing regions, for DOGFISH-1, the version available at the time of the ENCODE competitive evaluation in May 2005, and for DOGFISH-2, the current version. Although the latter version was developed after the detailed annotations of the testing regions were released, no nucleotide sequences, alignments or annotations for any of these regions were used in any way in developing any version of DOGFISH.
Table 5
Exon and transcript accuracies
| | DOGFISH-1 | DOGFISH-2 |
| --- | --- | --- |
| Exon sensitivity | 53.11 | 63.68 |
| Exon specificity | 77.34 | 84.90 |
| Transcript sensitivity | 5.08 | 8.94 |
| Transcript specificity | 14.61 | 33.12 |
DOGFISH-2, the current version of the system, is described throughout this paper. The most important differences between DOGFISH-1 and DOGFISH-2 are as follows. Firstly, although DOGFISH-1 constructed coding-phase-specific models within the horizontal and vertical components, the RVM cascade did not maintain separate per-phase hypotheses during its later data reduction. This both decreased the accuracy of its estimates and meant it was unable to pass phase information on to the HMM. Secondly, DOGFISH-1's HMM component was less sophisticated than that of DOGFISH-2, and in particular did not use N-best lists [2] (see Materials and methods) to mitigate the negative effects of using exon and intron length penalties. Thirdly, the training set used for DOGFISH-1's classifier was not constructed systematically to include difficult decoys and, therefore, the classifier was less well-matched to the needs of the gene finder.
Error analysis
The gene-finding results for both DOGFISH-1 and DOGFISH-2 are derived from the single best-scoring HMM path; thus only one transcript per gene is predicted, a bias that is reflected in sensitivity scores being rather lower than specificity. In fact, the excess of false-negative over false-positive exon detection errors made by DOGFISH-2 on the ENCODE test set is almost exactly equal to the number of alternative exons in the reference annotation; these account for half of all exon errors.
The next most important source of errors is the classifier's poorer performance on start and stop codons than on splice sites. The overall exon sensitivity of 63.68% in fact breaks down to around 73% for internal exons and only 37% for external (initial and terminal) ones, while specificity (84.90% overall) is 87% for internal exons and 73% for external. This difference directly accounts for about a quarter of all the exon errors, and has an additional knock-on effect in the form of increased numbers of errors in internal exons adjacent to external ones, accounting for a further 20% of the errors. Most of the final 5% of errors can be traced to imperfect classifier estimates on splice sites.
This analysis suggests a number of ways in which DOGFISH could be improved. Firstly, by explictly modeling splicing signals not currently handled, such as enhancers and repressors; this could be done by applying independently derived information to train weight matrices for such signals, which can be longer than the six-nucleotide patterns processed by the current method. Secondly, by an explicit treatment of the specific characteristics of alternative exons [40]; including high-scoring exons not on the HMM's best path as suggested in [41] did not work well. Thirdly, by better modeling of untranslated regions [7, 28]. Fourthly, by using alignments with more informant species, both closely related and more distant. Fifthly, by improving accuracy on start and stop codons.
Of these, there is reason to hope for good progress from applying variants of DOGFISH's existing machinery to the first four problems; but we have already devoted substantial effort to the last issue, start and stop codons, and it is not clear to us how much better accuracy could be obtained for these features. The difficulty seems to be that despite the known consensi around these sites, interspecies conservation is not as strong as for splice sites and so a multiple-alignment based method cannot predict them as accurately.
Exon probability estimates
The gene finder HMM assigns a score to every candidate site and exon. Using these scores, we trained separate relevance vector machines (RVMs) for initial, internal and terminal exons to estimate the probability of correctness of each candidate coding exon. By setting the threshold for acceptance, we were able to trade off sensitivity against specificity. We call this version of the system DOGFISH-2E, since it predicts individual exons with no requirement that they make up correct transcripts; this could indicate additional exons incompatible with the most likely gene structure, and also allows low-scoring exons (even when on the best path) to be discarded. Figure
2a
shows the behavior on the ENCODE test regions for internal exons, external exons (initial and terminal individually show similar behavior) and all exons together. The points corresponding to DOGFISH-2 are shown there as crosses; note also that close to 50% of all exons are predicted with specificity 95% or better.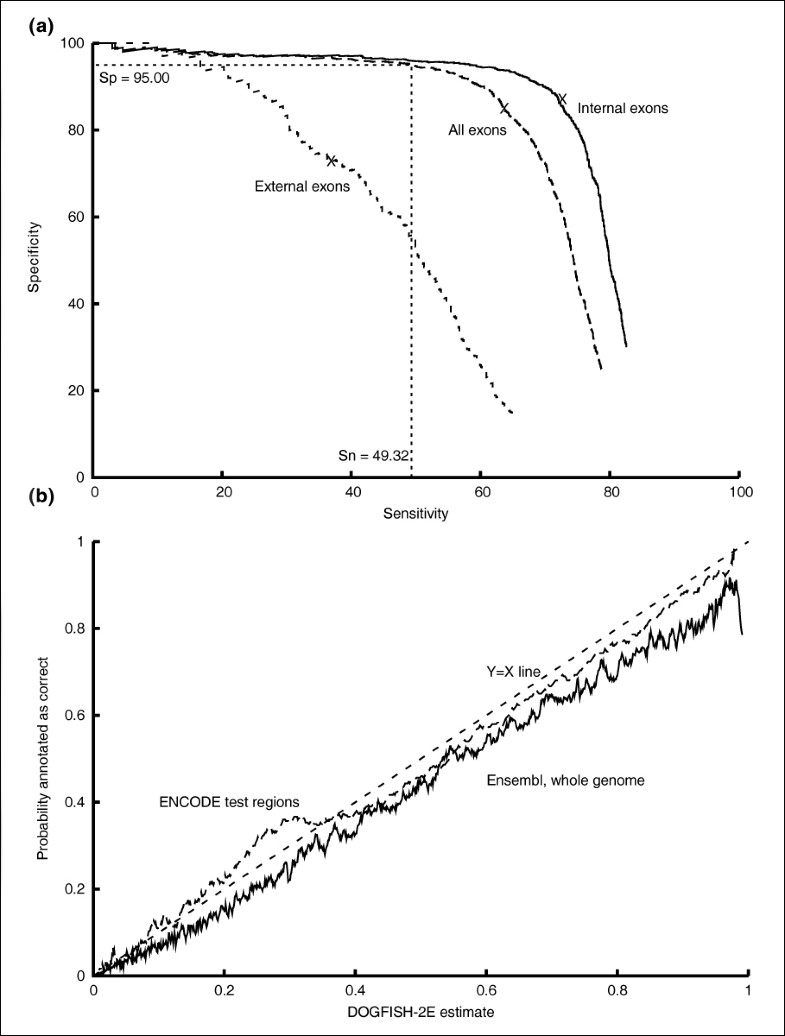 Whole-genome scan
We ran DOGFISH-2E over the whole human genome (excluding chromosome Y because of its overlap with X), estimating probabilities for over 1.3 million candidate exons, and looked at how these estimates correlated with whether each exon was among the 181,475 coding exons in the Ensembl database (downloaded 9th November 2005). We found that the probability of an exon being present in Ensembl was very well modeled by its DOGFISH-2E estimate multiplied by 0.889 (compare Ensembl's 0.775 sensitivity against the ENCODE annotations; see companion paper in this supplement). For DOGFISH-2E on the ENCODE test data, the corresponding factor was 1.001, though the relationship was less linear (Figure 2b). It seems likely from the difference between the factors that substantial numbers of exons are missing from Ensembl.
DOGFISH-2E assigns an estimate of 0.95 or greater to 99,369 exons over the whole genome. On the ENCODE test data, 95.9% of exons scoring over this threshold are annotated as correct; thus, it seems reasonable to assume that 0.959 × 99,369 = 95,295 of the whole-genome predictions are correct. Of the 99,369, only 88,385 are annotated in Ensembl as coding exons, with 10,984 either absent altogether or, in a minority (15%) of cases, annotated as non-coding. Even if we assume that all of the 88,385 are correct, we are left with an expected 95,295 - 88,385 = 6,910 correct predictions among the 10,984 additional ones, giving a specificity of 62.9%. Adding 6,910 new coding exons to Ensembl's existing total of 181,475 would increase the number by 3.8%.
These results, together with the pattern of alternation of high-scoring 'decoy' acceptor and donor splice sites in regions annotated as intergenic in Vega, lead us to conclude it would be fruitful to use high-scoring DOGFISH-2E predictions to guide experiments searching for new coding exons. It would also be interesting to investigate how far these 'missing' exons overlap with existing EST data and with so-called transfrags [42].
Conclusion
Distinguishing two levels of the task of gene finding allows separate strategies to be applied at each level, allowing us to make good use of the information present in multiple alignments without the system becoming unmanageably complex. The current accuracy of DOGFISH is comparable to that of the best published gene finders that use multiple-species alignments (see other papers in this supplement), confirming that a two-level approach can yield good results.
Perhaps surprisingly, vertical (evolutionary) models do not appear to offer much advantage over combining the results of horizontal ones when it is a matter of distinguishing true sites from decoys; however, they are useful for determining phase, a task that is important for guiding the gene finder, since a phase mismatch can help rule out an otherwise promising exon.
The strategy of using multiple species pays off: we have demonstrated that the more species are used, the more accurately splice sites can be detected. It remains to be verified whether this effect will continue to apply if more than eight species, or different species, are used, but Table 4 does not suggest that saturation has been reached. Furthermore, adding more closely related informants as their genomes become available should also improve performance, since 3.4% of confirmed coding splice sites in our data set have no alignments at all, and a further 3.5% only align to one other species.
Three useful resources arise from this work. The first is the challenging data set used to train Classifier Two, which we offer for use for training and testing both single- and multiple-species feature classifiers. The second is the single-species subpart of the horizontal component, which is a strong single-sequence classifier in itself. The third is a set of predictions of splice sites, exons and genes obtained by running DOGFISH over the whole human genome, which will enable experimental effort to be concentrated on predictions that are not part of known genes; we estimate that if the highest-scoring 50% of these extra predictions are selected, over 60% of them will be correct.
Materials and methods
In this section, we devote most attention to DOGFISH's classifier, which contains most of the novel aspects of the system. We finish with a description of the structure-building HMM, focusing on the way it uses classifier outputs and the respects in which it differs from conventional HMM technology.
Declarations
Acknowledgements
We are grateful to the UCSC Genome Bioinformatics Group, who created the multiz8way annotation [52], and to the providers of the original sequence data listed at [53]; to the teams involved in the VEGA project [54]; to Alexei Drummond and Korbinian Strimmer for making the PAL code available; to Thomas Down for providing RVM training code [55] and accompanying insightful discussions; to Paul Flicek and Evan Keibler for their gene-prediction evaluation code; to Avril Coghlan and Jean-Karim Hériché for detailed comments on a draft of this paper; to two anonymous referees for their comments; to the organizers of the ENCODE gene prediction workshop; to the Sanger Institute's computer systems group; and to the Wellcome Trust for funding.
This article has been published as part of Genome Biology Volume 7, Supplement 1, 2006: EGASP '05. The full contents of the supplement are available online at http://genomebiology.com/supplements/7/S1.
Authors' Affiliations
(1)
Wellcome Trust Sanger Institute, Wellcome Trust Genome Campus, HinxtonCambridge, UK
Copyright
© Carter and Durbin; licensee BioMed Central Ltd. 2006
This article is published under license to BioMed Central Ltd. This is an open access article distributed under the terms of the Creative Commons Attribution License (http://creativecommons.org/licenses/by/2.0), which permits unrestricted use, distribution, and reproduction in any medium, provided the original work is properly cited.