Genetic control of hippocampal neurogenesis
Neurogenesis - the production of new neurons - is an ongoing process that persists in the adult brain of several species, including humans. It has been most intensively studied in the mouse in two discrete brain regions: the subventricular zone (SVZ) lining the lateral wall of the lateral ventricles; and the subgranular zone (SGZ) of the dentate gyrus of the hippocampus [
1
] (Figure
1
). These regions harbor relatively quiescent astrocyte-like stem cells, which divide and give rise to multipotential, rapidly dividing transit-amplifying cells that will eventually differentiate into neuroblasts. These later generate neuroblasts that are believed to have limited further mitotic potential [
2
,
3
]. Neuroblasts from the SVZ and SGZ migrate and eventually mature into functional neurons within the olfactory bulb and dentate gyrus, respectively. Most recent evidence suggests that the stem cells in these regions can also give rise to astrocytes and oligodendrocytes of the glial lineage, indicating that
in vivo
, as
in vitro
, these cells are multipotent [
4
]. A recent study by Kempermann
et al
. [
5
] in the
Proceedings of the National Academy of Sciences of the USA
sheds interesting new light on the genetic complexity of the regulation of neurogenesis.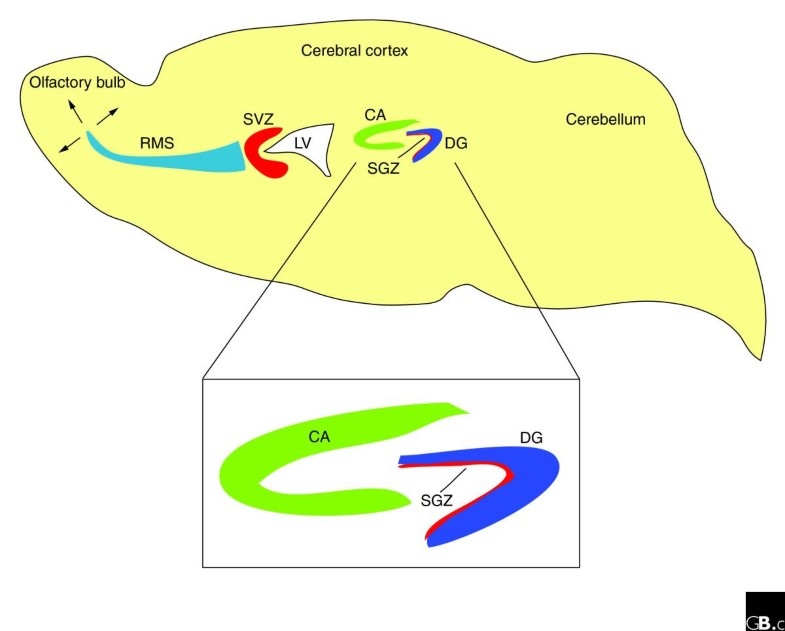 (1)
Department of Neurology, Programs in Neuroscience and Developmental Biology, University of California, San Francisco, CA, 94143, USA.
© BioMed Central Ltd 2006