Chipping away at 'stemness'
Embryonic stem (ES) cells are truly remarkable because of their ability both to renew themselves and to give rise to all the cells in the body. The ability to generate a wide range of differentiated cell types defines them as pluripotent. Human ES cells could be an incredible resource for the treatment of human disease. Differentiated cells derived from them could potentially be used to treat a wide variety of human conditions, including (but not limited to) heart disease, diabetes, stroke, Alzheimer's disease and Parkinson's disease. Several major hurdles remain to be overcome if such cells are to be used clinically, however. Stated simply, we know very little about their basic physiology or their true potential. What factors are required for their survival and proliferation? What factors can maintain them in a pluripotent state? What growth conditions affect their differentiation?
One way to address these questions is to analyze gene expression in ES cells. The goal is straightforward: if we can identify the full panoply of genes expressed in human ES cells and compare this with data from other stem-cell and non-stem-cell populations, it might be possible to define what makes ES cells unique. Such genes might be the ones that maintain ES cells in a self-renewing, pluripotent state. Knowledge of the genes expressed in ES cells could also have some very practical uses. For example, knowing that human ES cells express certain growth factor receptors could help in devising strategies to improve the growth of the cells in culture. Analyzing gene expression in human ES cells could provide critical insights into the cell-surface receptors involved in growth control, cell-substrate adhesion and cell-cell adhesion in these and other cell types, and into intracellular signaling pathways involved in their basic physiology.
Several recent papers [
1
–
5
] have now reported global gene-expression analyses of a variety of human ES-cell lines (summarized in Table
1
and Figure
1
). The datasets give important new insights into the basic physiology of these incredible cells. Several of the studies also compare the human ES-cell gene-expression datasets with published data from mouse ES cells [
2
,
4
,
5
] or with data derived from human embryonal carcinoma (EC) cells (the pluripotent stem cells derived from testicular tumors) or from seminomas (germ-cell-derived testicular tumor cells) [
1
]. Comparison of the genes that each study lists as candidates for involvement in self-renewal or pluripotency reveals both similarities and differences in gene-expression patterns among human ES-cell lines. The results include some tantalizing tidbits of information but also provide a cautionary tale for future research on ES cells.
Table 1
Comparison of different methods and approaches for the analysis of human ES-cell gene expression
| | Sperger et al. [1] | Sato et al. [2] | Richards et al. [3] | Abeyta et al. [4] | Zeng et al. [5] |
| --- | --- | --- | --- | --- | --- |
| Human ES-cell lines used | H1, H7, H9, H13, H14 | H1 | HES3, HES4 | H9, HSF-1, HSF-6 | BG01, BG02 |
| Culture conditions | MEFs | Matrigel | MEFs | MEFs | MEFs |
| Method of ES-cell isolation | Treatment with collagenase until colonies lifted off the MEFs | Treatment with dispase until cells were free of MEFs | Microdissection to free colonies of MEFs | Mechanical dissection of colonies from MEFs, then collagenase treatment | Trypsinization |
| Arrays used | Stanford microarrays | Affymetrix arrays (hU133A and mouse U74Av2) | SAGE | Affymetrix arrays (hU133A and hU133B) | Custom 16,659-spot 70-bp oligonucleotide array |
| Cells compared | hEC, hES and seminoma | hES and published mES [16] | hES and hES and additional SAGE libraries [24] | hES and hES versus published mES [16] | hES and hES versus mES [28] |
| Primary subtraction method | Somatic and cancer cell lines | Differentiated hES cells | None | None | Pooled human RNA |
| Software/analysis used | Significance analysis of microarrays (SAM) [25] | dChip and MAS 4.0 (Affymetrix) | Comparison of two SAGE resources with SAGE 2000 [26,27] | MAS 5.0 (Affymetrix) | Gene Pix (Axon Instruments) |
| Number of genes enriched in human ES cells | 1,760 | 918 | 8,341 | 7,385 | 373 |
| Candidate pluripotency genes* | 565 | 227 | 192 | 76 | 92 |
| Confirmation of gene expression using | RT-PCR | RT-PCR | RT-PCR | Quantitative RT-PCR | RT-PCR |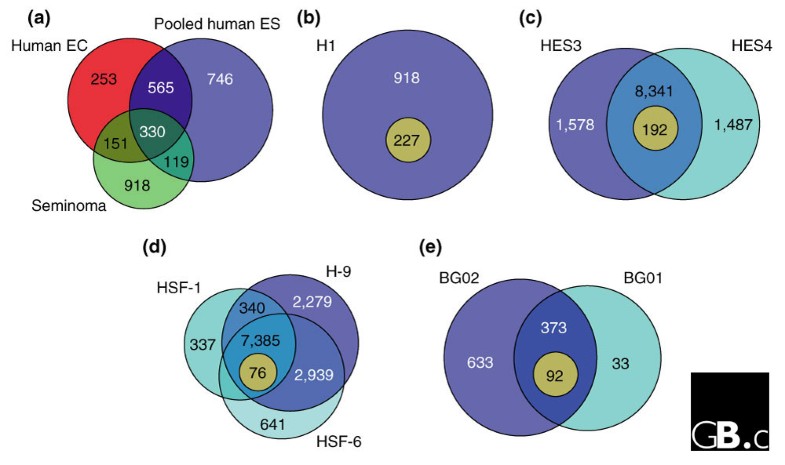 (1)
Germ Cell and Stem Cell Group, Stem Cell Program, Institute for Cell Engineering, Johns Hopkins University School of Medicine, Baltimore, MD 21205, USA
(2)
Genetic Models Group, Stem Cell Program, Institute for Cell Engineering, Johns Hopkins University School of Medicine, Baltimore, MD 21205, USA
© BioMed Central Ltd 2004