Systematic quantification of gene interactions by phenotypic array analysis
Received: 2 April 2004
Accepted: 19 May 2004
Published: 29 June 2004
Abstract
A phenotypic array method, developed for quantifying cell growth, was applied to the haploid and homozygous diploid yeast deletion strain sets. A growth index was developed to screen for non-additive interacting effects between gene deletion and induced perturbations. From a genome screen for hydroxyurea (HU) chemical-genetic interactions, 298 haploid deletion strains were selected for further analysis. The strength of interactions was quantified using a wide range of HU concentrations affecting reference strain growth. The selectivity of interaction was determined by comparison with drugs targeting other cellular processes. Bio-modules were defined as gene clusters with shared strength and selectivity of interaction profiles. The functions and connectivity of modules involved in processes such as DNA repair, protein secretion and metabolic control were inferred from their respective gene composition. The work provides an example of, and a general experimental framework for, quantitative analysis of gene interaction networks that buffer cell growth.
Keywords
Additional Data FileTBHPGrowth IndexDeletion StrainInteraction Index
Background
The contributions of genes to phenotypic traits are modified by interactions with other genes and the environment, resulting in heterogeneity of monogenic disease traits and the unpredictable penetrance of complex disease [1, 2]. Statistical genetic methods, used for detecting gene-phenotype associations in natural outbred populations, are not powerful enough to detect interacting effects due to the combinatorial complexity of genetic and environmental variations [3, 4]. In contrast, experimental genetic methods relying on inbred genetic backgrounds and controlled environments have found phenotypic enhancement and suppression to be ubiquitous [5–7]. However, the dependence of interactions upon genetic background and environmental conditions is usually de-emphasized, resulting in a bias toward biological oversimplification [5, 8, 9]. The primary aim of this work is to formalize an experimental framework for global analysis of phenotype modification through quantification of gene interactions.
Genome sequencing has enabled the study of all genes in parallel, enabling systems biology and an integrated experimental understanding of all gene functions [
10
]. It is hoped that the outcome will be more detailed knowledge about the complex genetics of natural phenotypes, such as human diseases. This vision is partially embodied by a concept - 'genetic architecture' - referring to the full range of effects that modify genetic traits [
3
]. Understanding genetic architecture will require more systematic, comprehensive and quantitative knowledge about how phenotypic stability is influenced by interacting genetic and environmental variations (Figure
1
). Experimentally derived principles of gene interaction, such as how gene-interaction networks function to buffer phenotypic changes against genetic and environmental perturbations, may guide hypotheses about natural phenotypic variation [
5
,
6
,
11
,
12
].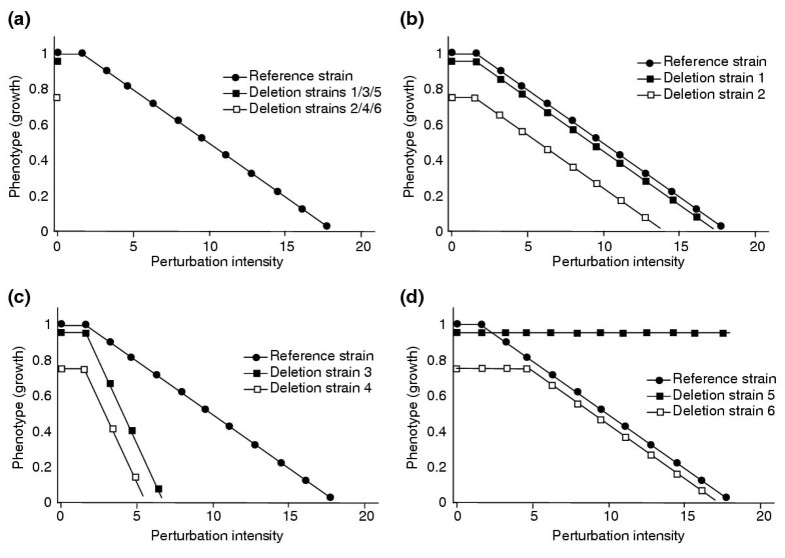 Given the respective goals and limitations of studying inbred and outbred genetic systems, molecular and population geneticists think about gene interaction differently [4, 9, 13–16]. Our work defines interaction quantitatively as 'non-additive phenotypic effects resulting from combining two discrete perturbations' (Figure 1). Biologically, non-additive phenotypic interactions provide a mechanism for the accumulation of functional genetic variation in a population, because interacting alleles, subject to phenotypic selection when present in combination, may escape selection and accumulate within a population by genetic drift in the absence of the interacting partner. In contrast, additive effects reflect genetic or environmental perturbations that elicit independent cellular responses, and thus phenotypic selection is less dependent on combinations.
Using the isogenic yeast deletion set, which provides both genetic tractability and genome wide insights, we developed a method for quantifying gene interaction globally with respect to cell growth. The phenotypic effects of experimental perturbations (for example, gene deletion and drug exposure) are measured individually and in combination for all deletion strains in parallel [17], and then quantified as additive, synergistic (greater than additive), or antagonistic (less than additive) (Figure 1). The expression 'additive interaction' implies that phenotypic effects are expressed independently, synonymous with 'no interaction' [4, 9].
Is it possible to understand gene interaction networks comprehensively and quantitatively? A simplifying principle is that biological systems appear modular (for example, pathways) [18], so that network organization may be understood by the links between sets of functionally related genes. Genes and pathways that interact with respect to phenotype are said to buffer genetic variation [5, 6]. As gene mutations typically cause loss of function, the set of yeast deletion strains provides a powerful resource for investigating the genetic basis of phenotypic buffering. With the aim of conceptualizing an experimental framework for global quantitative analysis of gene interactions, this work involves development of a platform for measuring phenotypic interactions and demonstrates how quantitative analysis aids formulation of hypotheses about how cell growth is buffered against inhibitory perturbations. The analysis focuses on hydroxyurea (HU), an inhibitor of ribonucleotide reductase (RNR). RNR is a highly regulated protein complex required for deoxynucleoside triphosphate (dNTP) synthesis, DNA replication and repair, and cell proliferation [19–27], and thus plays a central role in the molecular events of genome replication and cancer.
Discussion
Global analysis of gene interactions provides insights into the robustness of biological systems [5, 6, 12]. When alteration of a gene is phenotypically synergistic with a perturbation, it indicates that the unaltered gene can buffer the phenotype against that perturbation [5]. Most work on global functional analysis of yeast phenotypes has relied upon experimental features unique to yeast, such as barcoded deletion alleles [17], on indirect measures of growth, such as PCR or microarray hybridization [17, 65], or has recorded interactions qualitatively or subjectively [6, 8, 29, 66]. To enhance opportunities for computational modeling of gene-interaction networks, we present a systematic approach for the quantification of phenotype modification.
The yeast deletion array is now an unparalleled resource for such analysis; however, the experimental method could be applied to any genetically defined cellular array (for example, with RNA interference). Furthermore, the statistical tools deployed provide a standard method of reporting gene-interaction quantities, which may help discount the effect of experimental variations due to different perturbations, different laboratories, and even different cell types. Given the essentially infinite combinatorial complexity of gene interaction and the quantitative continuum of phenotypic effects, the need for high-throughput and quantitative phenotyping is perhaps superseded only by the need for statistically comparable data that can be easily stored, shared, mined and integrated with other genomic data [67, 68].
The phenotypic array method presented here easily accommodates parallel analysis of around 24,000 independent cultures per experiment. We used AUGC as a growth measure, incorporating rate and final yield into a single quantity (see Figure 2); the analysis could, however, be modified to examine interactions with respect to other parameters of growth. The GI sensitively and specifically screens for non-additive effects (see Additional data files 8, 12). Phenotypic slopes are used to derive an Interaction Index, which precisely quantifies interactions, thus confirming or refuting screening results (see Figures 1, 3, and Additional data file 12). Clustering of GI data was useful for identifying biomodules, as were gene annotations for interpreting their relatedness (see Figures 4, 5, 6, 7).
The experimentally derived topology of gene interactions is complex [6, 12, 29]. What is the full complement of genes required to buffer a particular perturbation, and what is the relative importance of each gene? Conversely, what is the full range of phenotypic effects that a single genetic or environmental perturbation can induce? How do the properties of gene interaction networks change as a function of time and intensity of perturbation? The complex nature of these questions calls for quantitative answers [1–5, 8, 9].
For experimentally deriving gene-interaction networks, what is the appropriate balance between qualitative breadth and quantitative depth of data acquisition and analysis? Anecdotal comparison of this work to that of Parsons et al. [29] suggests that this is an important consideration. Parsons et al. [29] analyzed a 69 (12 chemical-genetic and 57 gene-gene) × 5,000 (number of deletion strains) array of interactions compared to our analysis of a 1 (HU) × 5,000 array plus a 5 (number of other drugs) × 300 (number of strains selected from genome-wide screen) array. Thus, qualitatively, the Parsons data represents an approximately 50-fold increase in qualitative gene-interaction data. On the other hand, our analysis of HU entailed a genomic screen at three concentrations of HU (0, 50 and 150), and then further testing of 300 selected strains on 10 different HU concentrations and three different concentrations of the other four drugs, so our study represents about a fivefold increase in 'quantitative' data. Regarding gene-interaction networks and modularity, related but different observations and interpretations emerged.
First, both studies identified the vacuolar H+-ATPase as a functional module. While Parsons et al. [29] implicated this function in multidrug resistance, our data suggest such effects are additive with HU (Figures 1, 3) [4, 9, 28]. Further data from Parsons et al. [29] indicate that the vacuolar H+-ATPase interacts more strongly with cyclosporin, FK506 and tunicamycin than with HU, but more weakly with camptothecin, benomyl, fluconazole and cycloheximide, suggesting that quantitative analysis of perturbations other than HU might reveal non-additive interactions between the vacuolar H+-ATPase mutants and these other perturbations (assuming perturbations of equivalent strength were used in the analysis of Parsons et al. [29]).
Second, Parsons et al. [29] concluded from ERG2, ERG3, ERG4 and ERG6 interactions that ergosterol synthesis affects multidrug resistance. Our work suggests that ERG3 is distinct from the other ergosterol genes in the context of HU, showing much stronger synergism as well as selectivity for interaction with HU compared to cisplatin (see Figure 5, and Additional data files 7, 12). The erg deletion strain interaction phenotypes seemed more pleiotropic than modular in our work, varying according to the gene deleted and the particular perturbation [69].
Third, from our work, vacuolar protein sorting (VPS) buffers growth against multiple inhibitory perturbations (see Figures 3c, 5a, and Additional data file 11) [29]. Of the 10 vps strains (vps3, vps9, vps15, vps16, vps28, vps33, vps34, vps45, pep7, and pep12) we found, nine are related functionally by their effects on vacuolar morphology and predicted requirement for protein synthetic flux [30, 62], suggesting modularity within this class of more than 40 genes. In addition, we identified synergistic interactions between HU and 'endosome-to-vacuole trafficking' (chc1, clc1, end3 deletion strains), perhaps also required for protein secretion flux [30]. Parsons et al. [29] also reported chemical-genetic interactions involving several vacuolar protein sorting deletion strains, but not with HU or camptothecin (see Figure 5 and discussion below). Furthermore, only VPS16 was overlapping with our set in the actual VPS genes proposed by Parsons et al. [29] (VPS16, VPS25, VPS36, VPS67, VAM7, VAM6, STP22, SNF7, DID4, IES6) to be involved in multidrug resistance [29]. We did find IES6 to interact strongly, but did not classify it as a VPS gene.
Fourth, the GIM complex (prefoldin actin/tubulin chaperone) (GIM3, GIM4, GIM5, PFD1, YKE2, PAC10) provides another example of contrast between quantitative and qualitative data [64]. Each study found multiple subunits to interact; however, Parsons et al. [29] found interactions to be benomyl-specific, while we found PAC10 and YKE2 to interact with HU and cisplatin (see Additional data files 6 (part C), 9). GIM5 and PFD1 were recovered from our screen, but were weaker interactions in confirmatory tests (see Additional data file 12). Thus our data indicate that there are more pleiotropic interactions than do the data of Parsons et al. [29], possibly suggesting differential requirements for each gene in the maturation of actin and/or tubulin structural proteins [64] and probably involvement of the GIM complex in buffering cell growth against a variety of inhibitory perturbations.
Fifth, both studies found homologous recombination and DNA-damage checkpoint signaling to be modular (Figures 5, 6) [29]. Our quantitative data permit the further conclusion that homologous recombination interacts much more strongly with HU, on the basis of comparison of the interaction index of the recombination group (RAD50 (-265), RAD51(-171), RAD54(-178), RAD55(-138), RAD57(-179), MRE11(-304), and XRS2 (-242)) with those of the checkpoint group (MRC1 (-14), RAD24 (-19), RAD17 (-21), RAD9 (-7), and DDC1 (-30)) (see Additional data file 12). It may be that functional redundancy among the checkpoint genes partially compensates for loss of these genes in response to HU, while it appears there is no such redundancy (except for RAD59 (-7)) among homologous recombination genes. In this regard it was interesting that partial deletion of MRC1 (YCL060c (-42)) interacted more strongly than complete deletion (YCL061c (-14)), suggesting a dominant-negative effect of the partial gene (see Additional data file 11).
Sixth, the respective studies found overlapping sets of genes required to tolerate HU and camptothecin [29], or HU and cisplatin (Figure 4). By using a continuous scale for quantifying interactions, we are able to distinguish relative strength and specificity of interaction (Figure 4, clusters 7 and 9b, and see Additional data file 4), which should enhance capabilities for computational modeling of gene interaction networks. The Parsons analysis [29] used a binary scale of interaction for cluster analysis, so did not make quantitative distinctions. However, Parsons et al. [29] included a wealth of qualitative interaction data, allowing comparison between chemical-genetic and gene-gene interaction clusters.
Seventh, there is a set of possibly interconnected modules from our dataset, which was essentially absent from Parsons et al. [29] We found all genes of threonine synthesis (AAT2, HOM3, HOM2, HOM6, THR1, THR4), several mitochondrial genes (ATP5, RML2, TOM37, SSQ1), genes involved in tricarboxylic acid (TCA) cycle regulation via retrograde signaling (RTG1, RTG2, RTG3, MKS1), and genes involved in amino-acid permease trafficking (LST4, LST7). A model connecting these modules is presented in Figure 7 and discussed below.
Understanding quantitative differences adds another dimension to interpreting the biological significance of gene interaction. Considering the cell as a highly interconnected and buffered genetic system, whenever a gene alteration occurs which predisposes a cell to cancer, for example, it also reduces the same cell's resistance to perturbations that the altered gene normally buffers against. In this example, the strength and specificity of synergism between gene loss and drug perturbation essentially determines therapeutic efficacy and toxicity. This principle of gene interaction has been proposed for drug discovery [70].
What is the biological basis for the interaction between vacuolar trafficking and DNA replication/repair? A possible clue comes from work on VID31/DEF1, initially identified by its requirement for targeting fructose bisphosphatase (FBPase) to the vacuole for degradation upon exposure to glucose ([71] and Randy Brown, personal communication), but recently renamed DEF1 on the basis of its association with RAD26 and its suspected role in coordinating transcription-coupled repair of DNA damage and ubiquitin-mediated degradation of RNA polymerase II [72]. Our work shows that VID31 deletion interacts synergistically with a broad range of perturbations, but like other vacuolar-trafficking deletion strains has relative specificity for HU and cisplatin (Figure 6a). Recent work shows that FBPase is degraded via both the ubiquitin-proteasome-dependent cytosolic route and the vacuolar route [73], and that some genes are common to both pathways [73, 74]. Thus, VID31/DEF1 appears to have multiple functions, and further investigation of the gene interactions in this module may shed new light on the potential links between vacuolar and ubiquitin-mediated degradation pathways as well as the organization of these pathways in coordinating transcriptional control, protein degradation and DNA repair.
How might threonine synthesis buffer cell growth against the effects of HU? Almaas et al. [60] used flux balance analysis [75] to discover that overall metabolic activity is dominated by a small number of reactions, forming a high-flux backbone, over which metabolism is reprogrammed to optimize growth as nutrient conditions change. Threonine synthesis was found to be a major connection on this backbone, which linked respiration and the TCA cycle (which produces the threonine substrate aspartate) to purine metabolism (via catabolism to glycine with formation of one-carbon reducing equivalents) and membrane lipid synthesis. Our data support the existence of a high-flux backbone in eukaryotes (see Figure 7 and discussion above).
We propose the following speculative working hypothesis. The effect of reducing cellular nucleotide causes mitochondrial stress, either by perturbing mitochondrial replication or by other, undefined, means [21]. Retrograde signaling through RTG1, RTG2, RTG3 and MKS1 then acts to transcriptionally upregulate the TCA cycle [54, 55], providing increased aspartate for threonine synthesis along the pathway of HU-interacting genes AAT2, HOM3, HOM2, HOM6, THR1 and THR4. Threonine is then catabolized to glycine which, along a high-flux backbone [60], is used to increase purine synthesis and thus augment dNTP production by RNR. To utilize external sources of threonine for the same purpose, LST4 and LST7 regulate amino-acid uptake ([58] and Figure 7). Finally, RTG2, through its interaction with LST8 (an essential gene that functions with LST4 and LST7) [59], coordinates retrograde signaling and permease transport in regulating threonine catabolic flux, which we propose contributes to buffering of dNTP pools (Figure 7).
Conclusions
Unraveling biological complexity and understanding cells as systems will ultimately depend on the transition from identifying modules to understanding protocols [76]. This study provides a scalable methodology for identifying genetic modules, defined by their correlated strength and selectivity of phenotype modification. The work shows that modular networks of gene interaction can be deduced from quantitative phenotypic interaction data, using even a limited number of perturbations. We have presented an experimental design that is conceptually adaptable for analysis of other interaction networks, using other perturbations. The formal methods of quantifying interactions incorporate time and perturbation intensity, providing continuous measures of interaction. Our hope is to facilitate the compilation of data, from investigators studying different areas of biology and different cell types, which is suitable for computational modeling of global gene interaction and phenotype modification. Specifically, the GI and interaction index should be applicable to quantifying the effects of systematic perturbations to other genetically defined cellular arrays, providing a resource for understanding the complexity of phenotypic modification [5, 8, 68, 77].
Materials and methods
Strains, media, reagents and equipment
The MATa haploid deletion set was from Research Genetics (Huntsville, AL), release date 1/23/01. The reference strain, BY4741, is MATa, containing auxotrophic deletions of his3 leu2 met17 ura3 [41]. YM-1 liquid media was used for pre-growth of the yeast deletion set in 96-well plates and Hartwell synthetic complete agar medium was used for the growth arrays [78]. HU, miconazole, cisplatin, TBHP, and cycloheximide came from Sigma. The Beckman Multimek 96, an automated 96-channel pipettor was used to inoculate, dilute and spot cultures. An Epson Expression 1640 XL scanner with A3 transparency unit was used to collect transmitted light images. For deletion strain confirmations, deletion cassettes were PCR-amplified, using the uptag1/downtag1 primer pair [41]. PCR products were purified using the Qiagen PCR purification kit, and DNA sequencing was performed (dye terminator method) using KanB1 and KanC3 primers to identify the unique molecular barcodes [41].
Phenotypic array data collection
All strains were inoculated (1:100) from thawed, glycerol stocks into new 96-well plates containing fresh YM-1 media + 2% glucose using the Multimek 96, and pre-grown at 30°C for 36-48 h. For spotting, pre-grown cultures were resuspended by orbital shaking before diluting 1:3025 (serial 55-fold dilutions) into water using the Multimek 96. Four microliters of the 1:3,025 diluted cultures were spotted (manually, using the Multimek) to synthetic complete agar medium containing 2% glucose, 2% agar, with or without perturbing agent (poured in omni-trays, Nunc). Agar plates were typically poured at least one day before use and 'dried' (incubated with the top off) for 30-60 min at 37°C before spotting cultures. Dilution of 1:3,025 yields approximately 250-500 cells per 4 μl with the reference strain, limiting the effect of growth measurement noise due to uneven initial distribution of cells, while increasing the number of generation times for detecting growth differences (data not shown). Multiple replicates of the reference strain were used to define experimental noise due to intra- and inter-experimental variations such as dilution, suspension, and spotting of cultures. The plates were scanned at designated times (see Image analysis).
Image analysis and hierarchical clustering
Image analysis was performed on a Macintosh computer using the public-domain NIH Image program version 1.62, available on the Internet. Images were saved as 140 dpi black and white TIFF files. Up to 10 agar plates were included in a single scanned image. Scans were 'sliced' and 'stacked' to facilitate viewing and sorting data from each plate as needed for analysis. The images were then trimmed and modified to adjust for shadows, bubbles, and/or other artifacts containing pixels above the background intensity of agar. Each array (96 cultures) image contains a 600 × 400 pixel area, thus each culture in the 12 × 8 array is contained in a 50 × 50 pixel square. The average image density for each pixel of a culture, bounded by its square, is calculated using a 256-gray scale (0 = white), where values less than 90 are considered background and set to zero. The maximum pixel value within a 5-day reference strain culture spot was approximately 220; thus, maximum culture yield does not saturate the 256 grayscale. Growth curves were created for each strain by plotting image density vs time. The TrapZ function of MATLAB version 6 was used to calculate AUGC values for each growth curve, which were in turn used to calculate the GI. Microsoft Excel was used to manipulate and analyze data further. For hierarchical clustering of GI data, we used J-Express version 2.1 (with Euclidean distance measure and complete linkage) [79].
Phenotypic slope and interaction index calculations
Phenotypic slope was determined by linear regression of AUGC vs HU concentration (mM) (see Figure 3 and Additional data file 12). For regression analysis, the first AUGC value less than 600 was the final value included; R2 was greater than 0.95 (see Additional data file 12) for most strains. The interaction index was calculated like the GI (Figure 2i), substituting the corresponding phenotypic slope for each growth ratio (see Additional data file 12).
Additional data files
The following additional data files are included with the online version of this article: figures showing determination of three concentrations of four different perturbing agents with growth inhibition equivalent to that of 50, 100, and 150 mM HU (Additional data file 1); intrinsic growth of all deletion strains and example growth curves for synergistic and antagonistic interactions (Additional data file 2); reproducibility of GI values from independent experiments (Additional data file 3); a comparison between drug dilution and cell dilution with respect to the GI (Additional data file 4); correlation of GI values resulting from perturbation with HU and different drug inhibitors (Additional data file 5); clustering sub-analysis (based on gene classifications) of GI data from HU-interacting deletion strains, under growth inhibition with other drugs (Additional data file 6); tables showing AUGC and GI data from the genome wide screen for HU interactions (Additional data file 7); comparison of HU interactions found in different genome-wide screens (Additional data file 8); AUGC and GI data from the retest of HU-interacting strains for growth on HU, cisplatin, miconazole, cycloheximide, and t-butyl hydrogen peroxide (Additional data file 9); identity and annotation of genes depicted in Figure 4 (Additional data file 10); detailed classification of HU-selected strains (Additional data file 11); interaction index values for all HU-selected deletion strains (Additional data file 12); AUGC and GI data from the genome wide HU screen in the homozygous diploid deletion set (Additional data file 13); a comparison of the MATa haploid and homozygous diploid HU 150 screens (Additional data file 14). Legends to the figures and tables are contained in Additional data file 15.
Declarations
Acknowledgements
We thank Xie L. Xu and Lue Ping Zhao for suggesting the use of AUGC and for help with the GI formulation, and David and Jacob Appelbaum for assistance with hierarchical clustering. We thank Lee Hartwell, Maynard Olson, Suzanne Rutherford, Dan Gottschling, Steve Tapscott, Jerry Radich, Leonid Kruglyak and members of their labs for helpful discussions, and Randy Brown for discussions about unpublished data (VID31). This work was supported by a grant awarded to Leland Hartwell from the National Institutes of Health, GM 17709, and by grants to J.H. from the Howard Hughes Medical Institute (Physician-Scientist Postdoctoral Fellowship) and from the NIH-NCI, CA 90637.
Authors' Affiliations
(1)
Fred Hutchinson Cancer Research Center, Seattle, USA
Copyright
© Hartman and Tippery; licensee BioMed Central Ltd. 2004
This article is published under license to BioMed Central Ltd. This is an Open Access article: verbatim copying and redistribution of this article are permitted in all media for any purpose, provided this notice is preserved along with the article's original URL.