Horizontally transferred genes in plant-parasitic nematodes: a high-throughput genomic approach
Received: 31 January 2003
Accepted: 22 April 2003
Published: 19 May 2003
Abstract
Background
Published accounts of horizontally acquired genes in plant-parasitic nematodes have not been the result of a specific search for gene transfer per se, but rather have emerged from characterization of individual genes. We present a method for a high-throughput genome screen for horizontally acquired genes, illustrated using expressed sequence tag (EST) data from three species of root-knot nematode, Meloidogyne species.
Results
Our approach identified the previously postulated horizontally transferred genes and revealed six new candidates. Screening was partially dependent on sequence quality, with more candidates identified from clustered sequences than from raw EST data. Computational and experimental methods verified the horizontal gene transfer candidates as bona fide nematode genes. Phylogenetic analysis implicated rhizobial ancestors as donors of horizontally acquired genes in Meloidogyne.
Conclusions
High-throughput genomic screening is an effective way to identify horizontal gene transfer candidates. Transferred genes that have undergone amelioration of nucleotide composition and codon bias have been identified using this approach. Analysis of these horizontally transferred gene candidates suggests a link between horizontally transferred genes in Meloidogyne and parasitism.
Keywords
Codon Usage
Glutamine Synthetase
Nematode Gene
Codon Adaptation Index
Chorismate Mutase
Background
Nematodes are the most abundant and speciose metazoans, and account for up to 80% of the kingdom's members [1]. Not surprisingly, nematodes have evolved to occupy diverse ecological niches. Like the well-studied Caenorhabditis elegans, most are free-living and graze on microbes or detritus, and as such, have no obvious direct impact on humans. Others, however, are adapted as parasites and are responsible for such widespread problems as human disease, debilitation of livestock and crop damage. Plant-parasitic forms are responsible for an estimated $100 billion in annual crop damage worldwide [2]. The most damaging family (the Heteroderidae) includes the root-knot (Meloidogyne spp.) and the cyst (Globodera and Heterodera spp.) nematodes. Root-knot nematodes penetrate plant hosts and migrate between the cells in roots, where they induce formation of large multinucleate cells called 'giant cells'. Galls form around the giant cells, and the roots become distorted, often leading to compromised root function and retardation of plant growth [3].
It is not clear which genetic differences between the plant parasitic and non-parasitic forms may be responsible for conferring parasitic ability. On the basis of phylogenetic analysis [4] it appears that plant parasitism arose independently at least three times over the course of nematode evolution. Consequently, one cannot be assured that any gene or set of genes that aid in the parasitic lifestyle in one nematode species will also exist in another. Conceptually, several mechanisms affecting evolution to parasitism can be envisioned. These include adaptation of pre-existing genes to encode new functions; changes in genes regulating metabolic or developmental pathways; gene duplication; gene loss; and acquisition of genes from other species (horizontal gene transfer, HGT). HGT has become a widely accepted mechanism of rapid evolution and diversification in prokaryotic populations [5–7]. Recent genome analyses of primitive eukaryotes, such as the sea squirt (Ciona intestinalis) [8] and single-celled parasitic diplomonads [9], implicate HGT events in early eukaryotic evolution. In contrast, the extent of horizontal transfer involving higher eukaryotes has been controversial, with many cases of hypothesized horizontally transferred genes [10–14] having been refuted by later studies [15, 16].
On the basis of biochemical and immunological criteria, genes have been identified in Globodera rostochiensis and Heterodera glycines that allow these nematodes to endogenously produce enzymes that can degrade cellulose and pectin, the two major components of plant cell walls. A possible ancient bacterial origin of these genes has been theorized [17–19]. A bacterial origin for a number of root-knot nematode (RKN) genes also has been proposed, although their possible role in parasitism is less clear. Some, such as a gene encoding chorismate mutase [20], were likewise identified on the basis of biochemical properties, whereas others, including a polygalacturonase gene [21], were identified from expressed sequence tag (EST) datasets, the latter from our data [22] using a keyword search. Veronico et al. [23] isolated a presumed polyglutamate synthetase gene with bacterial homology by sequencing neighboring regions of the M. artiellia chitin synthetase locus. We wished to determine whether other RKN genes might have been acquired by horizontal gene transfer, particularly as such genes might potentially be related to parasitism.
Claims of HGT have frequently pivoted on incongruencies between a particular gene tree and the assumed underlying species tree. Acquisition of new sequence data has often revealed that genes believed to be absent in a species were merely missing in the database rather than missing from the genome [16]. Obviously, because full genomes are not available for all plant and animal species, we are not able to make definitive statements about the presence or absence of a particular gene in every organism. However, with the completed C. elegans genome available as a reference 'model' nematode, it is now possible to examine the emerging genetic resources for Meloidogyne comprehensively, to begin to address the question of evolution of parasitism and, in particular, a possible role for HGT.
A similarity to a bacterial protein sequence is the simplest criterion for considering a nematode protein, and thus the gene that encodes it, as a possible HGT candidate. For that candidate truly to define an HGT event, its presence must be incongruent with nematode phylogeny (Figure
1
). Nevertheless, the presence of a gene in one nematode species (such as
Meloidogyne
) but its absence in another (such as
C. elegans
) might merely reflect a gene loss in the latter lineage. In addition to
C. elegans
, several other invertebrate genomes have been completely sequenced, and at the time of this study, the best characterized of those was
Drosophila melanogaster
. Consequently, we chose this resource as a tool to identify genes which may be present in nematodes, but which are absent in
C. elegans
. A bacteria-like gene present in
Meloidogyne
and
Drosophila
, but absent in
C. elegans
, is unlikely to have experienced HGT, but may rather reflect a gene loss in the
C. elegans
lineage. We therefore developed a 'phylogenetic filter' based on these relationships to rapidly reveal
Meloidogyne
HGT candidates identified by sequence similarity to bacterial proteins. The intent of this filter is to efficiently eliminate spurious HGT candidates.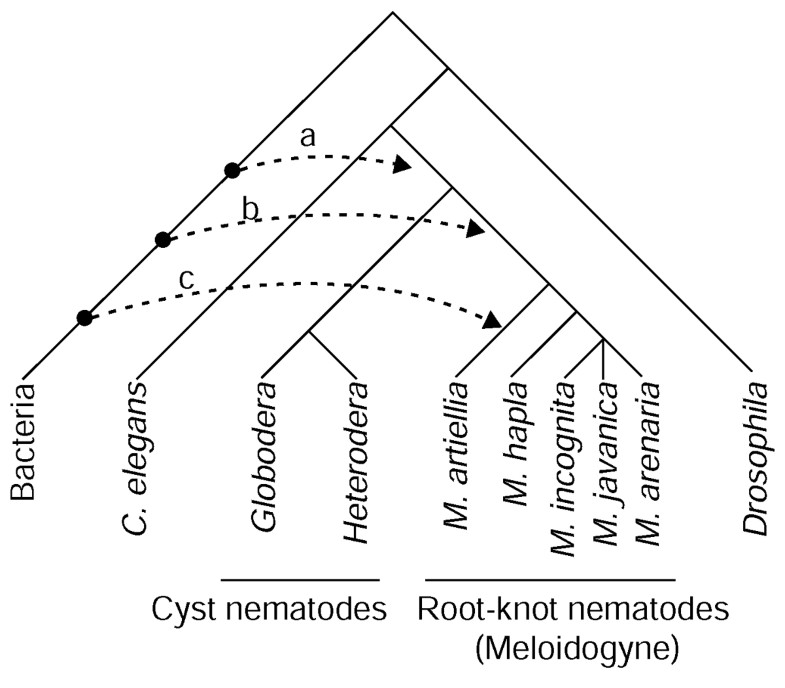 Surprisingly, the relationship between the invertebrate phyla Nematoda and Arthropoda (which includes Drosophila) is controversial. The traditional view is that arthropods are more closely related to annelids than to nematodes, but some recent molecular phylogenies place nematodes and arthropods together in a high-level taxon named Ecdysozoa, which does not include annelids [24, 25]. Other molecular studies give conflicting results [26, 27]. Regardless of the evolutionary relationship between Nematoda and Arthropoda, C. elegans and Drosophila remain useful and valid models for our analyses, and the relationships shown in Figure 1 are consistent with both hypotheses.
Genes that were transferred from bacteria to nematodes would pass through our phylogenetic filter if the transfer event occurred subsequent to the divergence of the C. elegans and Meloidogyne lineages (Figure 1). Should a gene appear to be present in other closely related plant parasites, such as the cyst nematodes, the transfer event probably affected a common ancestor of the two families of parasitic nematodes (event 'a' in Figure 1). Alternatively, the transfer event may be more recent, such as to the progenitor of the Meloidogyne lineage since its divergence from the cyst nematodes (event 'b' in Figure 1), or in a lineage leading to a single Meloidogyne species (event 'c').
Although bacteria-like Meloidogyne genes that are not present in C. elegans and Drosophila comprise a preliminary pool of candidates, multiple gene loss may be responsible for the presence/absence pattern revealed by the filter. To test this more thoroughly, we established a screen to compare the now small pool of preliminary candidates with all other sequences in the public databases. The most parsimonious explanation to be drawn from candidates with no significant matches to any metazoan genes is that they arose by horizontal gene transfer from a non-metazoan pool, as opposed to multiple independent gene losses in the metazoan lineages. Candidates thus identified were subsequently validated through phylogenetic analysis of relationships between the most similar matches from our screening processes
We describe here a comprehensive two-step search for HGT candidates in M. incognita, M. javanica and M. hapla using EST data [22, 28, 29]. Genome-to-genome comparisons were made to discover patterns of presence and absence that would indicate horizontally acquired genes. Second, kingdom-wide comparisons further reduced the candidate pool; these genes were then examined from an evolutionary standpoint. Twelve Meloidogyne candidates were discovered and their potential role in plant pathogenicity is discussed.
Conclusions
We have demonstrated that a high-throughput bioinformatics approach based on EST sequences is an efficient and effective way to identify possible HGT candidates in plant-parasitic nematodes. Previous reports of horizontally acquired genes have been based mainly on biochemical or immunological criteria. Using an informatics approach, we rediscovered previously identified candidates (thus validating our method), and were able to identify new candidates for HGT. Strikingly, a common theme underpinning the HGT candidates is their apparent direct relationship to the parasitic lifestyle of Meloidogyne [3]. Also striking was our finding that phylogenetically, rhizobia appear to be the predominant group of 'donor' bacteria. This is significant for two reasons. First, root-knot nematodes and rhizobia occupy similar niches in the soil and in roots, and thus the opportunity for HGT may be omnipresent. Second, both organisms establish intimate developmental interactions with host plants, and mounting evidence suggests that the mechanisms for these interactions are also shared [31]. It seems a reasonable hypothesis that the origin of parasitism in Meloidogyne may have been facilitated by acquisition of genetic material from soil bacteria through horizontal transfer. Indeed, such events may have represented key steps in speciation of plant-parasitic nematodes
Additional data files
The following files are available with the online version of this article: the e-values of the best matches for the initial BLASTX searches against bacteria, C. elegans and Drosophila for the WMi dataset (Additional data file 1), together with a mapping file (Additional data file 2) that gives the MI contig number associated with each filename; the best match and e-value for the BLASTX search of the WMj dataset against bacteria (Additional data file 3), C. elegans (Additional data file 4) and Drosophila (Additional data file 5); the e-value for the best match to bacteria, C. elegans and Drosophila resulting from a TBLASTX search for the NMi dataset (Additional data file 6), the NMj dataset (Additional data file 7), the NMh dataset (Additional data file 8), where a value of 100 indicates no match found; a text file with details of the data given in each of these dataset files (Additional data file 9); the alignment in Phylip format used to calculate the NodL tree (Additional data file 10); the alignment in Phylip format of the original sequences, before any manual adjustments were made (Additional data file 11); and a key giving the gi number listed in the alignment for each species (Additional data file 12).
Declarations
Acknowledgements
We thank M. Burke for his technological support and advice, H. Kishino for his helpful comments and insights, and M. Dante and J. Martin for NemaGene clusters. This research was supported by NSF grant DBI-0077503 to D.B. J.P.M. was supported by a Helen Hay Whitney/Merck Postdoctoral Fellowship. E.H.S. and J.L.T. were supported by NSF grant INT-990934, and J.L.T. was further supported by BIRD of Japan Science and Technology Corporation. D.B. and J.M. are equity holders of Divergence Inc.; none of this research was funded by Divergence Inc.
Authors' Affiliations
(1)
Center for the Biology of Nematode Parasitism, North Carolina State University, Raleigh, USA
(2)
Bioinformatics Research Center, North Carolina State University, Raleigh, USA
(3)
Genome Sequencing Center, Department of Genetics, Washington University School of Medicine, St. Louis, USA
(4)
Divergence Inc., St. Louis, USA
Copyright
© Scholl et al.; licensee BioMed Central Ltd. 2003
This article is published under license to BioMed Central Ltd. This is an Open Access article: verbatim copying and redistribution of this article are permitted in all media for any purpose, provided this notice is preserved along with the article's original URL.