New methods for finding disease-susceptibility genes: impact and potential
Published: 19 September 2003
Identifying the genes underlying susceptibility to human disease represents a major objective of current biomedical research. Increasingly, the focus of such gene-discovery efforts has shifted from rare, monogenic conditions towards the common conditions (such as diabetes, asthma, neuropsychiatric disorders and cancers) that account for the majority of human illness and mortality. These common conditions are termed 'multifactorial' because, in each case, susceptibility is attributed to the effects of genetic variation at a number of different genes and their interaction with relevant environmental exposures. The expectation is that identification and characterization of the genes that provide the inherited component of susceptibility will lead to substantial advances in our understanding of disease and, in turn, to improvements in diagnostic accuracy, prognostic precision, and the range and targeting of available therapeutic options.
The 'traditional' route to gene discovery - for the rarer, monogenic, Mendelian diseases at least - has been positional cloning. Typically, the gene responsible for a trait is first localized by linkage analysis to a small interval (ideally less than 1 centiMorgan, cM) by successive rounds of linkage mapping within families. Next, each of the handful of genes mapping to the interval so defined is assessed for their potential functional relevance to the disease and screened for etiological mutations. Well over 1,000 Mendelian diseases have been mapped using modifications of this procedure [1].
To date, the application of similar strategies to the identification of susceptibility genes underlying common, complex multifactorial traits has brought only limited success. The explanation for this pedestrian progress stems from the weak relationship between genotype - at any given locus - and phenotype that characterizes multifactorial traits. Not only does this mean that the correlation signals that we seek to detect by linkage analysis or population-based association studies are that much weaker in the first place, it also limits the capacity of these tools to provide precise estimates of disease-gene localization. The regions of interest defined through complex-trait linkage studies - even when analysis has involved thousands of families segregating the trait of interest - regularly exceed 30 cM in size, and contain many hundreds of genes. Large genomic intervals of interest can also be defined through the analysis of major chromosomal rearrangements, duplications and deletions, implicated in the development of cancers and certain multisystem syndromes.
Difficulties with the positional cloning approach have led many investigators to favor a strategy based primarily on identifying susceptibility variants through direct examination of biological candidates ('the candidate gene approach'). This strategy, too, has proven something of a disappointment [2], precisely because ignorance about the biology of complex diseases has typically frustrated efforts to define biological candidacy with any confidence.
The key to accelerating the discovery of susceptibility genes for multifactorial conditions clearly lies in developing improved strategies for refining both disease-gene location and assessments of biological candidacy (see Figure
1
). This article describes some recent developments, with an emphasis on their impact on susceptibility-gene identification in man.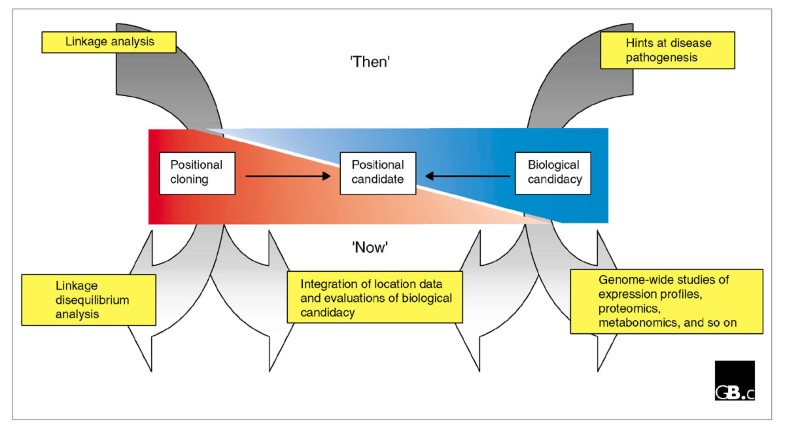 (1)
Oxford Centre for Diabetes, Endocrinology and Metabolism, and Wellcome Trust Centre for Human Genetics, Headington, Oxford, 0X3 7LJ, UK
(2)
European Bioinformatics Institute, Wellcome Trust Genome Campus, Hinxton, Cambridge, CB10 1SD, UK
(3)
South African National Bioinformatics Institute (SANBI), University of Western Cape, Cape Town, South Africa
© BioMed Central Ltd 2003