A database for the provisional identification of species using only genotypes: web-based genome profiling
Genome Biology
2002
3:research0010.1
Received: 28 August 2001
Accepted: 5 December 2001
Published: 28 January 2002
Abstract
Background
For a long time one could not imagine being able to identify species on the basis of genotype only as there were no technological means to do so. But conventional phenotype-based identification requires much effort and a high level of skill, making it almost impossible to analyze a huge number of organisms, as, for example, in microbe-related biological disciplines. Comparative analysis of 16S rRNA has been changing the situation, however. We report here an approach that will allow rapid and accurate phylogenetic comparison of any unknown strain to all known type strains, enabling tentative assignments of strains to species. The approach is based on two main technologies: genome profiling and Internet-based databases.
Results
A complete procedure for provisional identification of species using only their genomes is presented, using random polymerase chain reaction, temperature-gradient gel electrophoresis, image processing to generate 'species-identification dots' (spiddos) and data processing. A database website for this purpose was also constructed and operated successfully. The protocol was standardized to make the system reproducible and reliable. The overall methodology thus established has remarkable aspects in that it enables non-experts to obtain an initial species identification without a lot of effort and is self-developing; that is, species can be determined more definitively as the database is used more and accumulates more genome profiles.
Conclusions
We have devised a methodology that enables provisional identification of species on the basis of their genotypes only. It is most useful for microbe-related disciplines as they face the most serious difficulties in species identification.
Keywords
Species IdentificationGenome ProfileGenome DistanceProvisional IdentificationQuery Species
Background
A biological species is usually defined in principle as a set of actually or potentially interbreeding organisms, but as interbreeding is very difficult to measure, species have in practice been identified by their phenotypic traits. Until recently, progress in most microbe-related disciplines has been hampered by the enormous effort needed to identify less prominent traits. We are now in an age when we can identify species based on the genome (genotype) [1], although this does not change the principle that taxonomy is defined by phenotypes [2]: according to the generally accepted rules of taxonomy, a strain belongs to a species if it falls within the range of phenotypes that define that species. This situation has been brought about by the success of the ribosomal RNA approach to phylogenetics [3,4,5]. Well-conserved molecules, such as 16S rRNA in particular, have been used to give a species a molecular identifier and to draw phylogenetic relationships. The 16S rRNA-based approach has been widely accepted and has proved successful in phylogenetic tree-making and even in identifying species. In this context, the Ribosomal Database Project has been established [6]. There are other similar approaches, such as one based on the gyrase gene [7] and multilocus sequence typing [8]. Nonetheless, it has been impossible in practice to analyze all the constituents of a microbial population, not only because of the huge size of such populations (more than 108 cells per ml) but also because of lack of suitable methodology. Although there are methods other than gene and genome sequencing for analyzing genomes, such as restriction-fragment length polymorphism (RFLP), amplified fragment-length polymorphism (AFLP), Octamer-based genome scanning (OBGS), random polymerase chain reaction (PCR) and others [9,10,11,12], most cannot be used to identify species without a knowledge of phenotypic traits. In reality, there is no general methodology that enables us to identify species by genotype only, although many approaches use genotypic information (DNA sequences) to complement phenotypic information.
We have recently demonstrated the possibility of species identification by genotype using genome profiling [13], which is a temperature-gradient gel electrophoresis (TGGE) analysis of random PCR products [14]. In particular, the use of 'species-identification dots' (spiddos), which are feature points in genome profiles, is very useful for objective and reproducible data processing [15,16]. We present here a universal method for provisional genotype-based species identification based on these technological advances and using the Internet environment, which enables us to identify species in general. This paper also presents the important concepts of genome distance and genome sequence space, which are essential for species identification based on genotype.
Results and discussion
Figure
1
shows one of the results obtained using the protocols described in the Materials and methods. For the query species, the closest species as judged by spiddos and a list of genome profiles within the tolerance (τ), together with the annotation attached to it, is given (Figure
1
). If there is a genome profile among the list annotated with species, then it means that the query species is identified with the confidence defined by the pattern similarity score (PaSS; see Materials and methods). If the value of PaSS is very high (that is, close to unity), then it is highly probable that it is indeed an exact match. In contrast, if the value is not sufficiently close to unity, then it may be only a related species (not the exact species), belonging to the same genus or family or any of the higher taxonomical categories, depending on the value of PaSS. Although we do not yet have enough data to determine the PaSS value at which it is safe to identify a species, we have a preliminary idea, based on experience, that 0.95 (
Z
score ≈ 4) may be a critical value [
15
]. The important challenge of how to reconcile the difference between identification of species by phenotype, which conventional taxonomy has adopted, with that based on genotype, is discussed later. An important aspect of this system is that one does not need to be a specialist in the relevant biological field to obtain an initial identification of an unknown organism. All that is required is to register the genome profile of the unknown species on the database. Therefore, an incomplete set of phenotypic data, which do not reach the criteria for species identification (say, peculiar behaviors or unusual properties), can also be registered and later used without having to undertake further laborious phenotypic identification (Figure
2
). All the information regarding a given species (in other words, all the entries within a certain PaSS value) will be connected automatically, generating a volume of data on a particular species. Scientists can work cooperatively to identify species and collect their phenotypic traits (Figure
2
). In conventional approaches to identification, most of which have been phenotype-based, those data that failed to meet the required criteria for identification were left unconnected, and could not be used later because there was no convenient way of correlating them with a given species without knowing the species name (Figure
2
). Thus, our approach of genotype-based species identification, utilizing genome profile and the Internet, will be of great help to the field of taxonomy.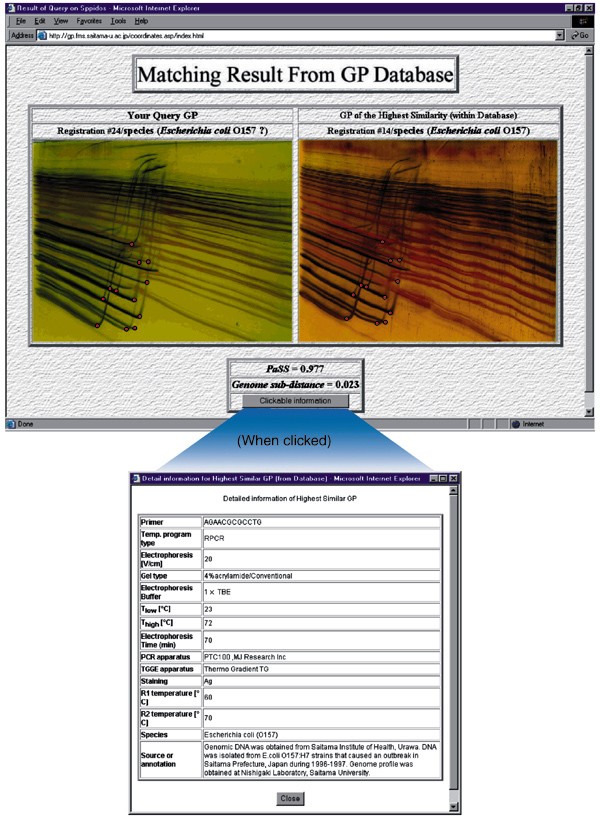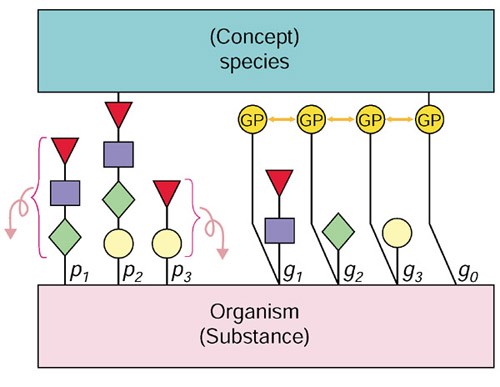 Key concepts of the on-web genome profiling
In evaluating the effectiveness of this methodology, the nature of PaSS must first be considered, as it plays the most important part in the method. As PaSS is calculated on the basis of the coordinates of spiddos (see Equation
1
in Materials and methods), the nature of spiddos must be thoroughly investigated. If two genomic DNAs contain common sequence regions that can be amplified by random PCR using the same primer, the resultant DNAs will usually generate similar spiddos (by definition, the spiddos obtained by TGGE represent the crucial points of a genome profile, points at which the temperature corresponds to the beginning of a prominent structural transition in DNA [
15
]). As shown schematically in Figure
3
, two corresponding spiddos derived from two closely related species can be connected by a displacement vector, which consists of two independent elements of mobility (μ) and temperature (θ). The differences in each element (Δμ and Δθ) can be related to the differences between two sequences as shown in Figure
3
. The displacement in the ordinate is caused by the difference in length between the two DNAs and is caused by deletion or insertion, whereas that in the abscissa is mainly caused by point mutation (although insertion/deletion can also contribute).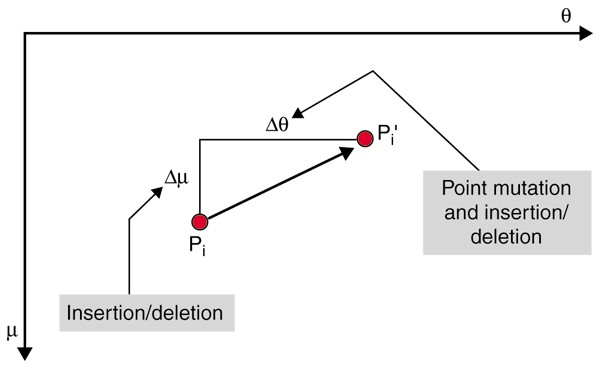 As the extent of these changes is roughly proportional to the evolutionary time since the species diverged, we can expect that the summation of the displacement of each spiddo is approximately proportional to the time since divergence, and thus to the genome-to-genome distance. By using a sufficient number of spiddos, we can obtain statistically reliable results. Empirically, we know that 8-10 spiddos, which can be obtained from a single genome profile, can be significant. However, since the more spiddos the better the result, we tentatively made it a rule to adopt four genome profiles (≈ 32-40 spiddos) - that is, four random-PCR products - as a current standard of initial species identification. Therefore, PaSS has the theoretical and empirical basis to be used as a measure of similarity between genomes, although the extent of its effectiveness remains to be shown experimentally as data accumulates. We have introduced a measure of distance, d', obtained from PaSS as formulated in Equation 2 (see Materials and methods), for the sake of convenience [15].
We call d' a genome sub-distance because it is based not on the whole but a part of the genome sequence. Thus, we introduce (true) genome distance, d, as in Equation 3 (see Materials and methods). Genome distance must have a close relationship with genetic distance, as defined by Nei and others [17,18,19], although there is a difference in the definition. The genetic distance based on sequences is basically the Hamming distance (the number of different letters at each corresponding position of two sequences of letters that are optimally aligned) between two nucleotide (or amino-acid) sequences. In aligning sequences arbitrariness is introduced, depending on the algorithm and parameters used [20]. Another constraint on genetic distance is that it is usually obtained from a limited number of genes, although that is also the case for genome distance. As genome distance is easier to obtain in practice using our method, it should be easier to obtain a lot of data on it compared with genetic distance. On the basis of d (in practice d'), we can construct phylogenetic trees and genome sequence space (an imaginary spherical space in which all the genomes (individuals) can be uniquely located in a finite manner based on the distance between genomes, providing clusters of species (K.N., unpublished observations)).
Although the applicability and effectiveness of genome distance for such purposes needs to be further investigated, it is obvious that an organism that has near-zero genome distance from a certain standard species, as an average over four or more genome sub-distances obtained from as many genome profiles, can be easily assigned to that same species with a high level of confidence. We are not claiming, however, to be able to give the correct taxonomical name to any species using this method. The greater the number of strains registered in the database, the more easily will a species be assigned. Basically, no special efforts, except expanding the database and using sophisticated algorithms, are necessary to raise the proportion of correct assignments. This is the self-developing nature of the database. Therefore, this methodology has two potential great advantages for tentative species identification: first, expertise is not always necessary; and second, database building can be carried out in a self-developing manner (that is, by acquiring more and more accurate data on species) with no waste of information.
Materials and methods
The principle that a species can be identified on the basis of its similarity to a standard species remains unchanged in the shift from phenotype-based to genotype-based methodology. Therefore, the essence of our methodology resides in finding a sufficiently closely related species by way of a measure of similarity - a pattern similarity score (PaSS). Note that this genotype-based methodology cannot define species under the current taxonomy regime, in which phenotype is used as the defining characteristic of species [2].
Declarations
Acknowledgements
This study was supported in part by a Grant-in-Aid (09272203) from the Ministry of Education, Science, Sports and Culture of Japan. M.N. was supported by the Japan Society for Promotion of Science (13001147).
Authors' Affiliations
(1)
Department of Functional Materials Science, Saitama University, Saitama, Japan
Copyright
© Watanabe et al., licensee BioMed Central Ltd 2002