New clues to the puzzle of mammalian sex determination
Genome Biology
2001
2:reviews1025.1
Published: 29 August 2001
In mammals, testis determination is normally initiated in males by expression of the Y-chromosomal HMG-box transcription factor gene
SRY
in the bipotential gonad common to males and females. A handful of other genes, including those encoding the SRY-related transcription factor SOX9, the zinc-finger transcription factor WT1, the orphan nuclear receptors DAX1 and SF1, and the TGFβ-like signaling molecule AMH, are also known to play roles in sex determination and subsequent gonadal development (for reviews see [
1
,
2
]). Although the number of genes known to be involved in sex determination and gonadal development is not large, protein-protein interactions and regulatory relationships among their protein products are complex (see below and Figure
1
) and are the subject of intense study. Two recent reports from the laboratory of Andreas Schedl [
3
,
4
] shed some light on the roles played by WT1 and SOX9. Hammes
et al.
[
3
] addressed the individual molecular functions of two splice-generated isoforms of WT1 (designated WT1
+KTS
and WT1
-KTS
) by creating isoform-specific deletions in mice. In a separate but related study [
4
], the
Wt1
promoter was used to drive the overexpression of
Sox9
in XX genital ridges, in order to test the hypothesis that SOX9 is sufficient to induce the full spectrum of male sexual development in mammals.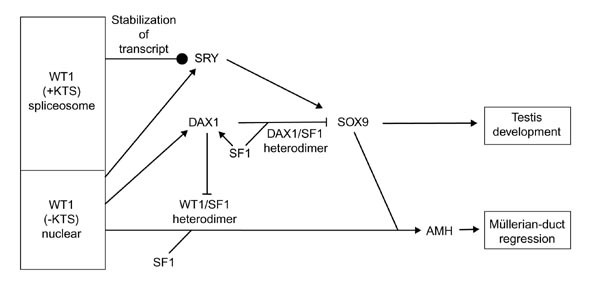 (1)
Institute for Molecular Bioscience, The University of Queensland, Brisbane, Queensland, 4072, Australia
© BioMed Central Ltd 2001