Protein family review
Open Access
Granzymes: a family of lymphocyte granule serine proteases
Genome Biology
2001
2:reviews3014.1
Published: 23 November 2001
Summary
Granzymes, a family of serine proteases, are expressed exclusively by cytotoxic T lymphocytes and natural killer (NK) cells, components of the immune system that protect higher organisms against viral infection and cellular transformation. Following receptor-mediated conjugate formation between a granzyme-containing cell and an infected or transformed target cell, granzymes enter the target cell via endocytosis and induce apoptosis. Granzyme B is the most powerful pro-apoptotic member of the granzyme family. Like caspases, cysteine proteases that play an important role in apoptosis, it can cleave proteins after acidic residues, especially aspartic acid. Other granzymes may serve additional functions, and some may not induce apoptosis. Granzymes have been well characterized only in human and rodents, and can be grouped into three subfamilies according to substrate specificity: members of the granzyme family that have enzymatic activity similar to the serine protease chymotrypsin are encoded by a gene cluster termed the 'chymase locus'; granzymes with trypsin-like specificities are encoded by the 'tryptase locus'; and a third subfamily cleaves after unbranched hydrophobic residues, especially methionine, and is encoded by the 'Met-ase locus'. All granzymes are synthesized as zymogens and, after clipping of the leader peptide, maximal enzymatic activity is achieved by removal of an amino-terminal dipeptide. They can all be blocked by serine protease inhibitors, and a new group of inhibitors has recently been identified - serpins, some of which are specific for granzymes. Future studies of serpins may bring insights into how cells that synthesize granzymes are protected from inadvertent cell suicide.
Keywords
Natural Killer CellSerine ProteaseChymotrypsinTryptaseNeutrophil Elastase
Gene organization and evolutionary history
'Granule enzymes' or 'granzymes' [
1
] comprise about 90% of the mass of cytolytic granules, specialized 'secretory' lysosomes, of both cytotoxic T lymphocytes (CTLs) and natural killer (NK) cells. The granzymes are closely related structurally to chymotrypsin, with a triad of key residues - histidine, aspartic acid and serine - conserved at the catalytic site, and they are genetically linked to other leukocyte serine proteases, especially those of mast cells and monocytes. A total of eight granzymes (A-G and M) have been identified in the mouse, but only five are known in humans (A, B, H, M and tryptase-2, which is also known as granzyme 3). No human equivalents of mouse granzymes C-G are known, and granzyme H appears to be specifically human (Table
1
).
Table 1
Properties of granzymes in humans and rodents
| Granzyme | Species | Activity | Predicted cleavage | Mr (× 103) | Cellular expression |
| --- | --- | --- | --- | --- | --- |
| A | Mouse, human, rat | Tryptase | Lysine, arginine | 65* | CTLs, NK cells, γδ T cells and thymocytes |
| B | Mouse, human, rat | Asp-ase | Aspartic acid > glutamic acid | 32 | CTLs, NK cells, γδ T cells and thymocytes |
| C | Mouse, rat | Unknown | Asparagine or serine | 27 | CTLs |
| D | Mouse | Unknown | Hydrophobic | 35-50 | CTLs |
| E | Mouse | Unknown | Hydrophobic | 35-45 | CTLs |
| F | Mouse, rat | Unknown | Hydrophobic | 35-50 | CTLs |
| G | Mouse | Unknown | Hydrophobic | 30 | CTLs |
| H | Human | Chymase | Phenylalanine > tyrosine | 32 | CTLs and NK cells |
| J | Rat | Unknown | Unknown | 30 | Unknown |
| M | Mouse, human, rat | Met-ase | Methionine > leucine | 30 | NK cells |
All granzyme genes are similarly organized, and their transcripts are made up from five exons, with the first encoding the leader sequence while exons 2, 3 and 5 encode individual amino acids of the catalytic triad (Figure
1
). Although most other granzyme genes encode only one transcript, two granzyme A mRNAs arise from alternative splicing of different exons 1.

Gene-mapping studies indicate that the three human and mouse granzyme subfamilies map to three corresponding loci, with each subfamily seeming to have a single, broad substrate specificity (Table
2
). Mapping of the rat genes has not been reported. The genes encoding human granzymes A (
HFSP
) and tryptase-2 (
TRYP2
) map to chromosome 5q11-q12 [
2
]. Granzymes B and H map to a cluster of serine protease genes at 14q11, which includes the gene for the protease cathepsin G, which is specific for myeloid cells [
3
]. The granzyme M gene is located with the genes encoding azurocidin (
AZU
), neutrophil elastase (
NE
) and proteinase-3 (
PR3
) on chromosome 19p13.3 [
2
,
4
]. In the mouse, the corresponding loci are chromosomes 10 for granzyme A and other tryptases, 14D (for granzymes B-F) and 10C (for granzyme M,
AZU
and
NE
).
Table 2
Mouse and human granzymes grouped according to their chromosomal localization
| Chromosomal localization | Species | Granzyme(s) |
| --- | --- | --- |
| The 'tryptase' locus | | |
|    5q11-q12 | Human | A and tryptase-2 |
|    13D | Mouse | A |
| The 'chymase' locus | | |
|    14q11-q12 | Human | B and H |
|    14D | Mouse | B,C,D*,E,F and G* |
| The 'Met-ase' locus | | |
|    19p13.3 | Human | M |
|    10q21.2 | Mouse | M |
Overall, the granzyme subfamilies have trypsin-like, chymotrypsin-like and elastase-like specificities, and their genes are grouped in the 'tryptase' locus, the 'chymase' locus and the 'Met-ase' locus, respectively (Table 2) [4]. These clusters of genes have their own peculiarities. For example, in mouse and human the granzyme M gene, AZU and PR3 each have intron 1 located between residues -7 and -6 of the leader sequence, indicating a close evolutionary relationship. In human, the genes encoding granzymes B and H and cathepsin G are very closely linked, mapping to within 50 kb of each other. The granzyme H gene is located between the other two genes, and appears to have arisen as a 'hybrid' made up of the first three exons and intervening introns of the granzyme B gene and the remainder of another serine protease gene. Generation of the hybrid might have been followed by the accumulation of point mutations.
Mouse, rat and human granzymes B are about 70% identical at the amino acid level, while granzymes within any one subfamily (for example, granzymes B and C in the mouse) are 55-70% identical. By contrast, amino-acid sequence identity drops to approximately 30-40% when one compares granzymes from different subfamilies, such as granzymes A and B (37%), even within the same species. Although granzymes probably occur in other species that have complex immune systems (for example, in birds), unfortunately to date granzyme sequences have only been reported in mammals.
Characteristic structural features
As with other serine proteases, the catalytic activity of granzymes depends on a serine residue at the active site, one of a triad of residues corresponding to His57, Asp102 and Ser195 in chymotrypsin [
4
]. Other features include an oxyanion hole to stabilize transition states of the enzyme-substrate complex and a substrate-binding pocket, the shape of which determines the protease's specificity. The crystallographic structure of rat granzyme B was recently determined [
5
]. The crystal structure held few surprises. It was demonstrated that the substrate cleft of granzyme B is quite capacious, and as many as eight substrate residues can be accommodated. The key residue for contact with the P1 substrate residue (that is, the amino acid that is amino-terminal to the cleaved bond, usually aspartic acid) is Arg226 (Figure
2
).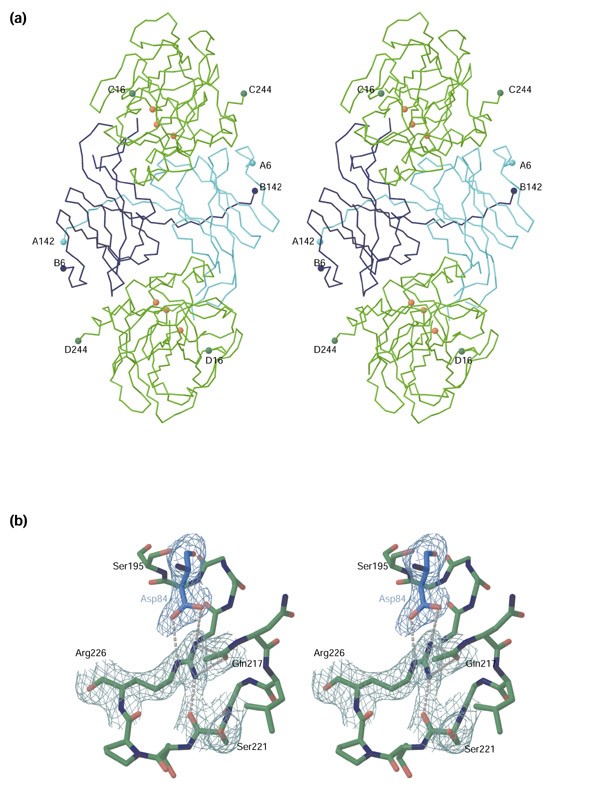 Granzymes are synthesized as zymogens that are processed at the time of packaging into cytolytic granules. Cleavage of the leader peptide leaves two amino acids attached at the mature amino terminus, which are then clipped off by dipeptidyl peptidase I (DPPI, also called cathepsin C), a peptidase constitutively expressed in lysosomes [6]. Granzymes become enzymatically active once the amino-terminal dipeptide is cleaved; the pH optimum of granzymes is approximately 7.5, so they are maximally active following release from the secretory granules into the cytoplasm (pH around 7). DPPI is a key regulator of granzyme function, and DPPI-deficient mice have little or no granzyme activity. Expression of wild-type granzymes in cells lacking DPPI results in the production of inactive granzyme protein. Granzymes can be expressed in such cells, however, if the activation dipeptide is deleted.
Granzymes A and B are adorned with mannose-6-phosphate moieties for packaging through the mannose-6-phosphate receptor pathway [7], shown to be the case for both human and rodent granzymes. A minority of the granzyme protein is packaged by a mannose-6-phosphate-independent process, however. Granzymes also undergo variable N-linked glycosylation. Mouse granzyme C has few glycosylated residues, whereas, at the other extreme, half of the molecular mass of granzyme D is made up of carbohydrates added to five sites.
Granzymes are similar to other chymotrypsin-like enzymes but also have several defining characteristics. The residues at positions 1-4 (typically Ile-Ile-Gly-Gly) and 9-16 are highly conserved in all granzymes of both human and rodents. Their propeptide sequence is generally Gly-Glu or Glu-Glu. They generally have three conserved disulfide bridges, although granzymes A and M and tryptase-2 have four. Granzyme A is the only granzyme that is found as a dimer, as a result of interchain disulfide bonding.
Localization and function
The expression of granzymes is restricted to activated T lymphocytes, immature T cells in the thymus (thymocytes), γδ T cells (a small population of specialized T cells mainly found in the gut) and NK cells. Of these, NK cells and γδ T cells constitutively express and store granzymes, whereas in T lymphocytes the production of granzyme mRNA and proteins must be induced following exposure to antigen or following other types of stimulation. Granzymes are expressed by most CD8+ and a smaller proportion of CD4+ T cells sensitized in vitro by antigen or lectin [8]. The gene for granzyme M is only expressed in NK cells, whereas other members of the subfamily encoded by the Met-ase locus have a much wider expression.
Granzymes undergo their final processing by DPP1 at the time of packaging into cytotoxic granules, and they are therefore stored as active enzymes, ready for exocytic release upon contact with a target cell. The granules have two zones, which can be seen at the ultrastructural level. Each has a dense central core, which contains granzymes, the granule toxin perforin and the acidic proteoglycan chondroitin sulphate (CS). The net negative charge of CS enables it to complex granzymes, which are basic and positively charged at granule pH. The outer zone of each granule has a composition more typical of an ordinary lysosome. Granules appear to be distributed randomly in the cytoplasm, but they rapidly move to the site of target-cell contact when conjugation occurs, in a process known as polarization.
Frontiers
Despite their biological importance, granzymes are still relatively poorly studied and many important questions remain to be answered. The nature of the synergy between perforin and granzyme - that is, the mechanism by which granzymes are released from the target cell's endosomes - remains poorly understood. Caspase-independent cell-death pathways are very important, because they allow CTLs to kill cells in which caspases have been blocked by viral inhibitors, such as the cytokine response modifier A (crmA) expressed by poxviruses. Again, the nature of these pathways has not been elucidated. Granzymes other than A and B doubtless have many functions other than in apoptosis, and the generation of further gene knockout mice should help to cast light on this area of research. It will also be fascinating to learn more about the regulation of granzyme function mediated by novel serpins. These studies could have major implications for our understanding of immune homeostasis (for example. the regulation of CTL numbers following an infection), and of effector responses to viral disease and cancer.
Declarations
Acknowledgements
The author is a Principal Research Fellow of the National Health and Medical Research Council of Australia, and is supported by project grants from NHMRC and the Anti-Cancer Council of Victoria.
Authors' Affiliations
(1)
Cancer Immunology Division, Trescowthick Laboratories, Peter MacCallum Cancer Institute, Melbourne, Australia
Copyright
© BioMed Central Ltd 2001