Horizontal transfer of BovB and L1 retrotransposons in eukaryotes
Received: 10 November 2017
Accepted: 23 May 2018
Published: 9 July 2018
Abstract
Background
Transposable elements (TEs) are mobile DNA sequences, colloquially known as jumping genes because of their ability to replicate to new genomic locations. TEs can jump between organisms or species when given a vector of transfer, such as a tick or virus, in a process known as horizontal transfer. Here, we propose that LINE-1 (L1) and Bovine-B (BovB), the two most abundant TE families in mammals, were initially introduced as foreign DNA via ancient horizontal transfer events.
Results
Using analyses of 759 plant, fungal and animal genomes, we identify multiple possible L1 horizontal transfer events in eukaryotic species, primarily involving Tx-like L1s in marine eukaryotes. We also extend the BovB paradigm by increasing the number of estimated transfer events compared to previous studies, finding new parasite vectors of transfer such as bed bug, leech and locust, and BovB occurrences in new lineages such as bat and frog. Given that these transposable elements have colonised more than half of the genome sequence in today's mammals, our results support a role for horizontal transfer in causing long-term genomic change in new host organisms.
Conclusions
We describe extensive horizontal transfer of BovB retrotransposons and provide the first evidence that L1 elements can also undergo horizontal transfer. With the advancement of genome sequencing technologies and bioinformatics tools, we anticipate our study to be a valuable resource for inferring horizontal transfer from large-scale genomic data.
Keywords
Genome evolutionHorizontal transferTransposonEukaryoteMammal
Background
Transposable elements (TEs) are mobile segments of DNA which occupy large portions of eukaryotic genomes, including more than half of the human genome [1]. Long interspersed element (LINE) retrotransposons are TEs which move from site to site using a 'copy and paste' mechanism, facilitating their amplification throughout the genome [2, 3]. The insertion of retrotransposons can interrupt existing genetic structures, resulting in gene disruptions, chromosomal breaks and rearrangements, and numerous diseases such as cancer [4–6]. Two of the most abundant retrotransposon families in eukaryotes are LINE-1 (L1) and Bovine-B (BovB) [7, 8].
Horizontal transfer (HT) is the transmission of genetic material by means other than parent-to-offspring. Given a vector of transfer (e.g. virus, parasite), retrotransposons have the innate ability to jump between species as they do within genomes [2, 9–11]. Studies investigating the possibility of retrotransposon HT are limited, mainly including CR1s and RTEs [8, 12–15]. Using over 700 publicly available genomes from plants, fungi and animals, we tested the hypothesis that HT is a ubiquitous process not restricted to certain species or retrotransposons. We used L1 and BovB elements as exemplars because of their contrasting dynamics and predominance in mammalian genomes. BovB retrotransposons provide an excellent example of HT: divergent species contain highly similar BovB sequences and the analysis of various insect species has revealed plausible vectors of transfer [8, 11]. In contrast, L1 elements are believed to be only vertically inherited [16]. We hypothesise that the very presence of L1s in today's mammals is due to an ancient HT event. In this study, we use BovBs as a comparison to identify common characteristics of horizontally transferred elements in contemporary eukaryotic species.
Three criteria are typically used to detect HT candidates: (1) a patchy distribution of the TE across the tree of life; (2) unusually high TE sequence similarity between divergent taxa; and (3) phylogenetic inconsistencies between TE tree topology and species relationships [17]. To comprehensively test these criteria, we performed large-scale phylogenomic analyses over 700 eukaryotic genomes (plants, fungi and animals) using iterative protein and nucleotide similarity searches of BovB and L1 sequences.
Results
Distribution and abundance of TEs across species
Our findings show that there are two phases in HT: effective insertion of the TE, followed by expansion throughout the genome. Figure
1
shows that both BovB and L1 elements are present in a diverse array of species including mammals, reptiles, fish, amphibians, arthropods and primitive species such as sea urchins and sea squirts. Both retrotransposons also have a patchy distribution across our sampled eukaryotes. The main difference between BovB and L1 lies in the number of colonised species. BovBs are only present in 72 of the 759 species analysed, strictly within animals, so it is easy to trace their HT between the distinct clades (e.g. squamates, ruminants). In contrast, L1s encompass a total of 559 species, including plants, animals and several fungal species, and they are ubiquitous across the well-studied therian mammals. The only species which appear to have BovBs yet lack L1s are the two monotremes, platypus and echidna.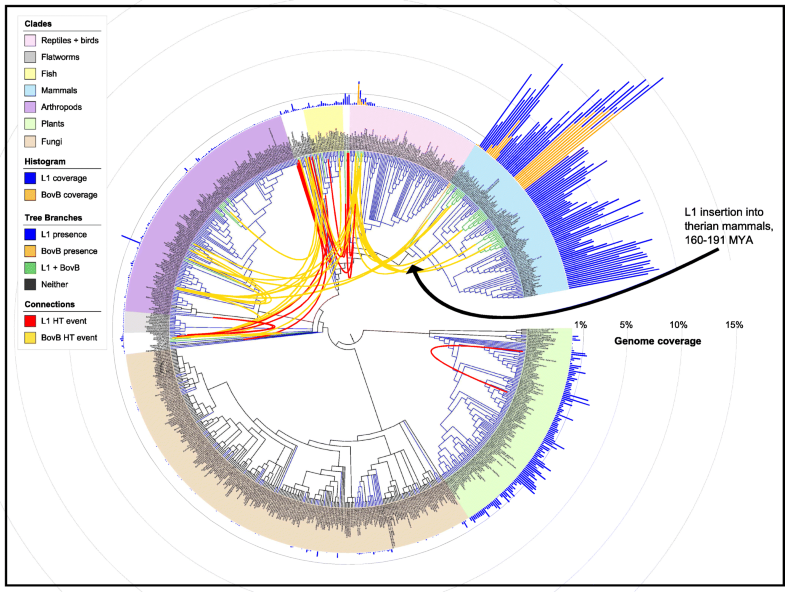 The abundance of TEs differs greatly between species. As shown in Fig. 1, mammalian genomes are incredibly susceptible to BovB and L1 expansion. More than 17% of the cow genome comprises these TEs (12% BovB, 5% L1; see Additional file 1: Table S4). This is without considering the contribution of TE fragments [18] or derived short interspersed elements (SINEs), boosting retrotransposon coverage to > 50% in some mammals [1]. Even within mammals, there are noticeable differences in copy number; for example, bats and equids have a very low number of full-length BovBs (< 50 per genome) compared to the thousands found in ruminants and Afrotherian mammals. The low copy number here is TE-specific rather than species-specific; there are many L1s in bats and equids. Hence, the rate of TE propagation is determined both by the genome environment (e.g. mammal versus non-mammal) and the type of retrotransposon (e.g. BovB vs L1).
Widespread HT of BovB in animals
To develop a method for identifying HT events, we used BovB, a TE known to undergo HT. First, we generated a representative BovB phylogeny using consensus and centroid approaches (see 'Methods' for details). Figure
2a
shows the centroid BovB tree, where the centroid for each species was the longest intact BovB sequence. The phylogeny supports previous results [
8
]—with the topology noticeably different from the tree of life (Fig.
1
)— although we were able to refine our estimates for the times of insertion. For example, the cluster of equids includes the white rhinoceros,
Ceratotherium simum
, suggesting that BovBs were introduced into the most recent common ancestor before these species diverged. The low copy number in equids and rhinoceros, observed in Fig.
1
, is not because of a recent insertion event; the most likely explanation is that the donor BovB inserted into an ancestral genome, was briefly active, but lost its ability to retrotranspose and was subsequently vertically transmitted.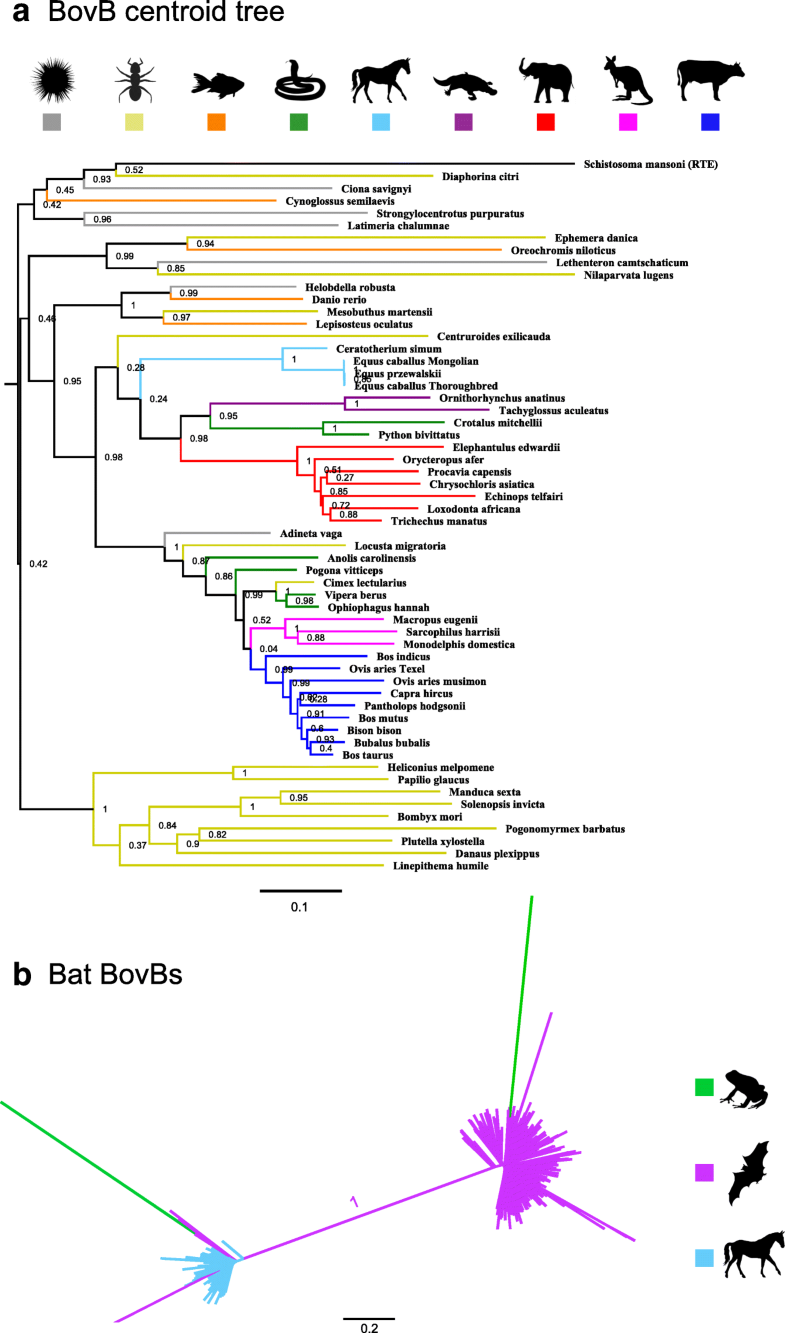 The placement of arthropods in the BovB tree is intriguing, revealing potential HT vectors and the origin of BovB retrotransposons. For example, the RTE-like BovBs from butterflies, moths and ants appear as sister groups to the main BovB clade. This suggests that BovB TEs may have arisen as a subclass of ancient RTEs, countering the belief that they originated in squamates [14]. Within the central clade, we see a scattering of possible vector species including a leech (Helobdella robusta), two scorpion species (Mesobuthus martensii and Centruroides exilicauda) and a locust (Locusta migratoria). But the most interesting arthropod species is Cimex lectularius, the common bed bug, known to feed on animal blood. The full-length BovB sequence from Cimex shares > 80% identity to viper and cobra BovBs; their reverse transcriptase domains share > 90% identity at the amino acid level. Together, the bed bug and leech support the idea [8, 19] that blood-sucking parasites can transfer retrotransposons between the animals they feed on.
Our mining of BovB sequences further revealed two concurrent BovB subgroups in bats and frogs. Two frog species (Xenopus laevis and Xenopus tropicalis) each contain a single intact BovB sequence > 2 kb in length (and numerous fragments), but these two sequences are very different and correlate with the two distinct BovB subgroups observed in bats (Fig. 2b). This seems to indicate at least two independent insertion events, somehow connecting Xenopus laevis with the 'horse-like' BovB group, and Xenopus tropicalis with the bat-specific BovB group (most similar to the BovBa-1_EF consensus from RepBase [20]). Without intermediary species, it is difficult to infer the chain of events that led to these patterns.
Finally, to exhaustively search for all cases of BovB HT, we tested several all-against-all clustering approaches to detect individual HT candidate sequences. We first replicated the method described in El Baidouri et al. [21], which uses BLAST [22] to compare all sequences within a database, and SiLiX [23] to extract discordant clusters. This worked well for recent BovB transfers (e.g. Cimex lectularius—snakes) but failed to identify ancient transfer events and required considerable computational time and power. Next, we tested VSEARCH [24], which is orders of magnitude faster than BLAST [22]. A total of 174,510 BovB sequences were clustered in < 15 min on a high-performance computing cluster with 16 cores. We clustered full-length nucleotide sequences, nucleotide sequences from just the open reading frames (ORFs) and amino acid sequences from extracted reverse-transcriptase (RT) domains (see 'Methods').
Many of the resulting clusters contained BovBs from closely related species, e.g. cow and yak. To find the most compelling HT events, we imposed the restriction that clusters had to contain BovBs from species that belonged to different eukaryotic Classes (e.g. Mammalia and Insecta). We performed a machina validation for each candidate HT cluster: pairwise alignments of the flanking regions to rule out possible contamination or orthologous regions; phylogenetic reconstructions to confirm discordant relationships; and reciprocal best hit checks to confirm correct clustering (see 'Methods'). Combining both nucleotide and amino acid results, a total of 67 HT clusters were detected (visualised as connections in Fig. 1, described in detail in Additional file 1: Table S5). This includes recent transfers between ruminants and reptiles, often grouped with bed bug or locust BovBs (as shown in Fig. 2a), and older transfers between scorpions and fish, mayfly and a Myotis bat, rotifer and leech. The Pogona vitticeps lizard appears in numerous different animal groupings, suggesting a high level of active retrotransposition (Additional file 2: Figure S38) and subsequent HT.
Altogether, our results demonstrate that the HT of BovB elements is even more widespread than previously reported, providing one of the most compelling examples of non-LTR HT across animals.
Possible L1 HT in aquatic species and plants
We carried out the same exhaustive search in L1s, which presented a challenge because of greater divergence and the sheer number of vertically inherited copies. Producing a consensus for each species was impractical as most species contained a mixture of old degraded L1s and young intact L1s. Instead, we used the all-against-all clustering methods on the collated dataset of L1 nucleotide sequences > 3 kb in length (> 1 million sequences total). Once again, VSEARCH [24] was substantially faster and identified more potential HT candidates than the BLAST+SiLiX method [21–23]. This is likely due to a crucial difference in clustering algorithms; SiLiX uses single linkage to draw connections between sequences, which is effective for recent HT events but clusters all 'degraded' elements into a single group. In contrast, VSEARCH relies on centroid/average linkage, and is thus more appropriate for ancient HT events (where the centroid is ideally the transferred TE).
Over 9000 clusters contained L1s from at least two different species: these were our HT candidates. The vast majority of these clusters contained L1s from closely related species. As before, to improve recognition of HT vs vertical inheritance, we looked for families displaying cross-Class or cross-Phylum transfer. We clustered full-length nucleotide sequences (Fig.
3a
), nucleotide ORFs (Fig.
3b
) and amino acid RT domains (Fig.
3c
). We checked for discordance compared to orthologs (Fig.
3d
), absence in neighbouring species and elevated sequence identity compared to flanking regions. To confirm the ortholog trees (particularly for species with no known ortholog data), we used TimeTree [
25
] to estimate species divergence times and infer species relationships from previous studies and fossil records (Fig.
4
). By using the procedure we had established for BovB elements (see 'Methods'), we were able to retain 18 L1 clusters as potential HT events that span different eukaryotic Classes or Phyla (Additional file
1
: Table S6). Additional clusters which looked promising but could not be confirmed due to short scaffolds in the draft assembly or lack of functional domains in the ORFs are also listed in Additional file
1
: Table S6 (marked as likely contamination or likely artefacts, respectively).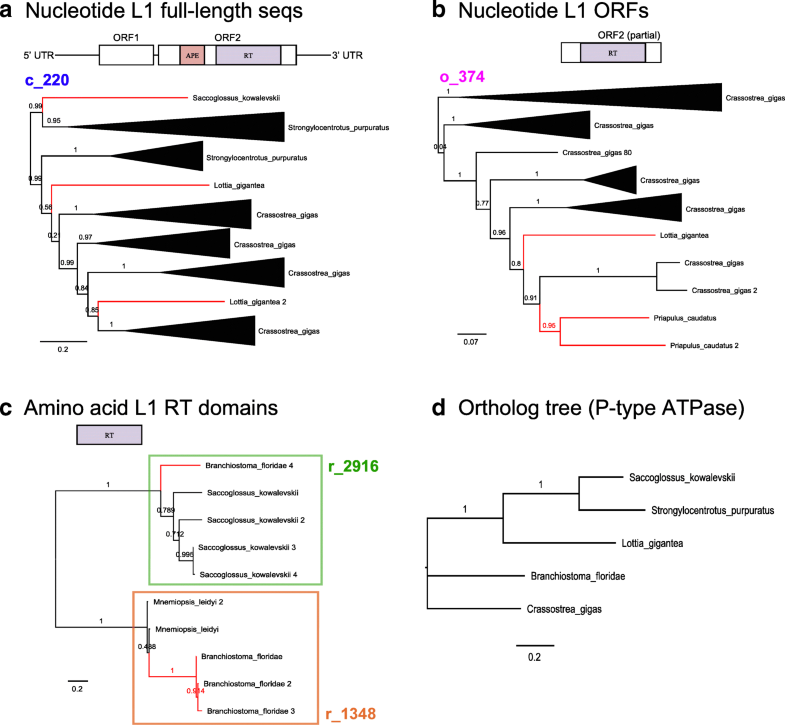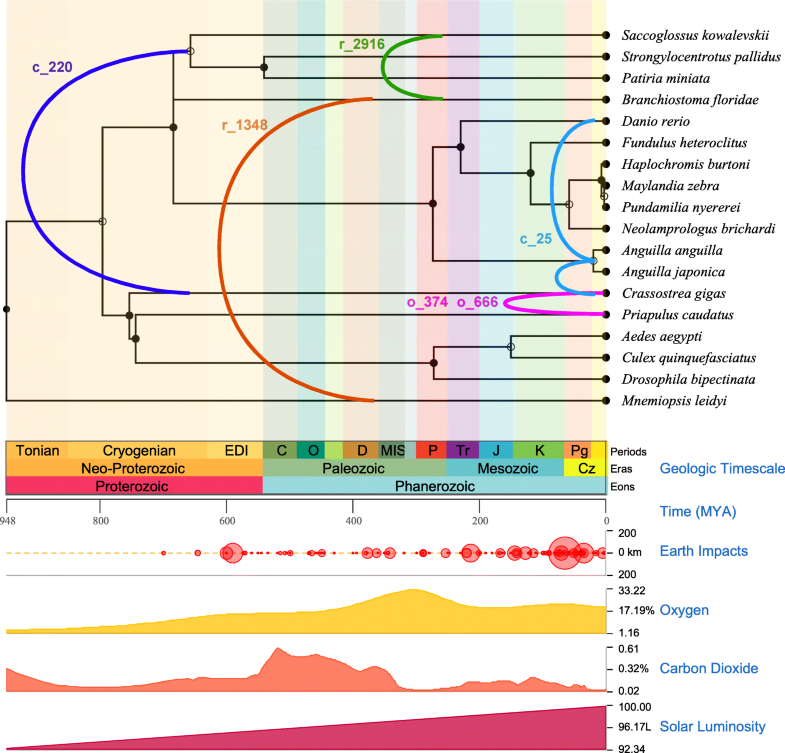 All of the cross-Phylum clusters involve marine eukaryotes, with potential vector species such as the Pacific oyster (Crassostrea gigas), the catus worm (Priapulus catus) and a sea worm usually found in coastal mud or sand (Saccoglossus kowalevskii) (Fig. 4). Notably, all of the cross-Phylum clusters contain the diverse Tx-like L1s originally discovered in Xenopus frogs [26, 27]. Likewise with the cross-Class clusters, with the exception of one plant cluster based on RT domains (r_1111 in Additional file 1: Table S6). In contrast to BovBs, there is no strong evidence to suggest ongoing L1 HT in mammals. Relaxing our clustering criteria (e.g. to include cross-Order or cross-species HT candidates) resulted in sporadic groupings of different mammals – most likely clustered together because they all contained 'dead', inactive L1s.
Finally, our mining of L1 HT candidates led to the serendipitous discovery of a chimeric L1-BovB element present in cattle genomes (
Bos taurus
and
Bos indicus
), shown in Fig.
5a
. This rearranged copy likely arose from a recently active L1 element (98% identical to the canonical
Bos
L1-BT [
20
]) inserting into an active BovB (97% identical to
Bos
BovB [
20
]). Ruminants are the only mammals that currently have active lineages of both BovB and L1 elements (Fig.
5b
), creating the ideal genomic environment for the genesis of chimeric repetitive elements. The hybrid element contains two RT domains and high similarity to active L1/BovB elements, although there is little evidence to suggest transcription (Additional file
2
: Figure S55). Nonetheless, it raises an important question: can L1 elements to be transferred throughout mammals by being transduced in other, more prolific TEs, such as BovBs?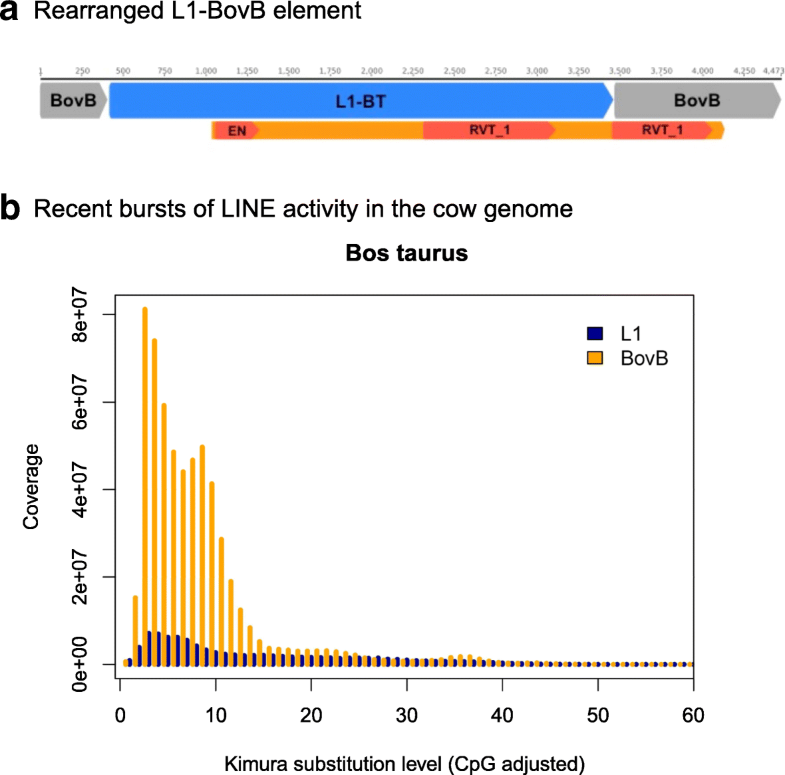 Conclusions
Our analyses indicate that both BovB and L1 retrotransposons, particularly Tx-like L1s, have undergone HT events in the past. We extracted millions of retrotransposon sequences from a 759-genome dataset, demonstrating the similarly patchy distributions of these two LINE classes across the eukaryotic tree of life. We further extended the analysis of BovBs to include blood-sucking and migratory arthropods capable of parasitising mammals and squamates, as well as two distinct clades of bat/frog BovBs. Contrary to the belief of exclusive vertical inheritance, our results with L1s suggest multiple ancient HT events in eukaryotes, mainly among aquatic species, and possible HT into the early therian mammal lineage. The rapid speciation following the split of theria and australosphenids (monotremes), 160–191 MYA, coincides with the invasion of L1 elements into therian genomes. We therefore speculate that the speciation of therian mammals was driven in part by the effect of L1 retrotransposition on genome structure and function, including regulatory effects on transcriptional networks. This ancient transfer event allowed expansion of L1s and associated SINEs, transformation of genome structure and regulation in mammals [45], and potentially catalysed the therian radiation.
Declarations
Acknowledgements
The authors wish to acknowledge Olivier Panaud and Steve Turner for their helpful discussions; Reuben Buckley and Lu Zeng for their ideas and moral support; Brittany Howell for proofreading and providing a much-needed sanity check; Tahlia Perry and Frank Grutzner for providing a PacBio version of the platypus assembly for additional verification; and Matt Westlake for HPC support above and beyond the call of duty.
Funding
This research was funded by the University of Adelaide.
Availability of data and materials
The dataset supporting the conclusions of this article is described in the main text (and additional files) and available on Zenodo, doi: https://doi.org/10.5281/zenodo.1246946 [46]. A total of 755 public genomes were downloaded from the National Center for Biotechnology Information GenBank [55] and the UCSC Genome Browser [56]. The source and assembly version for each genome is described in Additional file 1: Table S1.
The current version (v1.0) of the source code and workflow guide is archived on Zenodo [57], doi: https://doi.org/10.5281/zenodo.1246999, and available on GitHub:
https://github.com/AdelaideBioinfo/horizontalTransfer
The interactive and annotated tree of life figure is available on iToL [58]:
Authors' contributions
AMI performed the analysis and revisions, interpreted the results and wrote the manuscript. RDK, TB and DLA supervised the development of work and assisted in analysing the results and writing the manuscript. TB provided access to DNA samples and performed laboratory validation experiments. All authors read and approved the final manuscript.
Ethics approval and consent to participate
Not applicable.
Competing interests
The authors declare that they have no competing interests.
Publisher's Note
Springer Nature remains neutral with regard to jurisdictional claims in published maps and institutional affiliations.
Open AccessThis article is distributed under the terms of the Creative Commons Attribution 4.0 International License (http://creativecommons.org/licenses/by/4.0/), which permits unrestricted use, distribution, and reproduction in any medium, provided you give appropriate credit to the original author(s) and the source, provide a link to the Creative Commons license, and indicate if changes were made. The Creative Commons Public Domain Dedication waiver (http://creativecommons.org/publicdomain/zero/1.0/) applies to the data made available in this article, unless otherwise stated.
Authors' Affiliations
(1)
Department of Genetics and Evolution, Biological Sciences, The University of Adelaide, Adelaide, Australia
(2)
Neurogenetics Research Program, Adelaide Medical School, The University of Adelaide, Adelaide, Australia
(3)
Evolutionary Biology Unit, South Australian Museum, Adelaide, Australia