Research Highlight

Open Access
Redefining mouse transgenesis with CRISPR/Cas9 genome editing technology
Published: 28 February 2018
The Correction to this article has been published in Genome Biology 2018 19:41
To determine how a gene functions, interacts with other genes, or how its dysregulation or absence influences disease, the generation of modified alleles in model organisms, including mice, rats,
Drosophila
, zebrafish or
Caenorhabditis elegans
, is an incredibly powerful tool. Among these model organisms, the laboratory mouse plays a distinct role in biomedical research because of its genomic proximity with the human genome, its similar physiology to humans, and its ability to be genetically manipulated. However, the generation of these mutant mice requires a fastidious and demanding process that relies on a highly skilled team and expensive equipment that is only available in specialized facilities. The process of creating a knockout or knockin mouse allele was established over 30 years ago by Smithies, Evans and Capecchi [
1
]. Their method necessitates the culture and genetic modification of mouse embryonic stem cells by homologous recombination, with selection cassettes replacing a critical exon for a knockout allele, or two loxP sites flanking a critical exon in addition to the selection cassettes for a knockin allele, being a routine strategy for allelic replacement. The genetically modified embryonic stem cells are then drug selected and microinjected into mouse blastocysts. The microinjected blastocysts are finally implanted into pseudopregnant females by surgical transfer (Fig.
1a
). The time frame to generate these mice is long, on average 1–2 years, and the efficiency is relatively low due to the complexity of this procedure. Recent studies, including two papers published recently in
Genome Biology
[
2
,
3
], have used CRISPR/Cas9 genome editing technology to improve and simplify this procedure.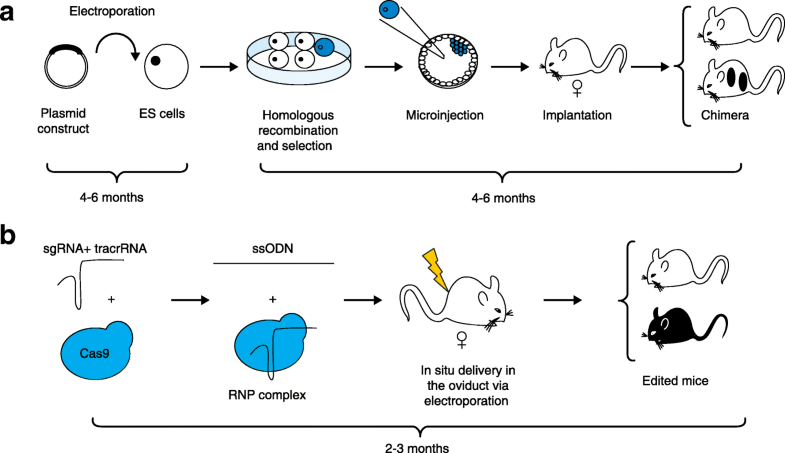 (1)
Department of Immunology and Infectious Disease, The John Curtin School of Medical Research, The Australian National University, Canberra, Australia