Developmental transcriptomics of the brittle star Amphiura filiformis reveals gene regulatory network rewiring in echinoderm larval skeleton evolution
Received: 29 September 2017
Accepted: 1 February 2018
Published: 28 February 2018
Abstract
Background
Amongst the echinoderms the class Ophiuroidea is of particular interest for its phylogenetic position, ecological importance and developmental and regenerative biology. However, compared to other echinoderms, notably echinoids (sea urchins), relatively little is known about developmental changes in gene expression in ophiuroids. To address this issue, we have generated and assembled a large RNAseq data set of four key stages of development in the brittle star Amphiura filiformis and a de novo reference transcriptome of comparable quality to that of a model echinoderm—the sea urchin Strongylocentrotus purpuratus. Furthermore, we provide access to the new data via a web interface: http://www.echinonet.eu/shiny/Amphiura_filiformis/.
Results
We have identified highly conserved genes associated with the development of a biomineralised skeleton. We also identify important class-specific characters, including the independent duplication of the msp130 class of genes in different echinoderm classes and the unique occurrence of spicule matrix (sm) genes in echinoids. Using a new quantification pipeline for our de novo transcriptome, validated with other methodologies, we find major differences between brittle stars and sea urchins in the temporal expression of many transcription factor genes. This divergence in developmental regulatory states is more evident in early stages of development when cell specification begins, rather than when cells initiate differentiation.
Conclusions
Our findings indicate that there has been a high degree of gene regulatory network rewiring and clade-specific gene duplication, supporting the hypothesis of a convergent evolution of larval skeleton development in echinoderms.
Keywords
RNA-seqEndoskeletonBiomineralizationTranscription factorsRegulatory states
Background
A fundamental question in evolutionary biology is how complex characters originate. Complex structures, such as the endoskeleton, sensory organs or central nervous system, are built during animal development and encoded by a precise program(s) that requires coordinated expression of many genes regulated by large networks. A comprehensive theory formulated a decade ago by Davidson and Erwin [1] explains both macro and micro evolutionary transitions as changes in gene regulatory networks (GRN) or rewiring. Therefore, comparative studies of gene expression during development have been used fruitfully in locating GRN rewiring that occurred during evolution [2].
The calcite endoskeleton of echinoderms provides an ideal system to study the evolution of complex characters at the level of GRNs. The phylum Echinodermata comprises five extant classes with well-supported phylogenetic relationships, with echinoids (sea urchins) and holothuroids (sea cucumbers) (Echinozoa) forming a sistergroup to asteroids (sea stars) and ophiuroids (brittle stars) (Asterozoa), and crinoids (sea lilies) as an outgroup [3–5]. While all echinoderms have calcitic skeleton as adults, only ophiuroids and echinoids develop an elaborate skeleton as larvae. In contrast, the larvae of the other three classes either develop only small ossicle primordia, called spicules (holothuroids), or do not form a skeleton at all [6, 7]. This provides an ideal evolutionary context to study the appearance and/or reduction/loss of complex morphological characters. The most comprehensive GRN model so far studied for an animal describes the development of the larval skeleton in the sea urchin Strongylocentrotus purpuratus [8–10]. It explains how in the course of development dozens of regulatory genes act together to specify a mesodermal cell population, which later form two ventro-lateral clusters on each side of the primitive gut (archenteron) and finally secrete the calcitic endoskeleton typical of the sea urchin pluteus larva (reviewed in [7]). Interestingly, whereas around 30 transcription factors (TFs) and a few signalling pathways are sufficient for the initiation, progression and maintenance of this process [10], more than 800 genes participate in the final step of cell differentiation and biomineralization of organic matrix. These differentiation genes have been identified using transcriptomic and proteomic experimental strategies [9, 11–13], although their roles and GRN linkages are largely unexplored. The extensive level of detail of the sea urchin GRN underlying skeletogenesis provides a useful framework to address questions about the evolution of development mechanisms through comparison with other echinoderms. Expression data are already available for a few orthologs of sea urchin skeletogenic transcription factor genes that have been identified in representatives of all echinoderm classes except crinoids [6, 14–16]. However, there has been relatively little comparative analysis of genes involved in skeletal differentiation in echinoderms.
Recently, biological and evolutionary studies have been transformed by immense technological improvements in sequencing technology [17]. Relevant to this study, RNA sequencing is now an established technique that provides a practical and cheap alternative to whole genome sequencing [18] because it allows rapid advancements in molecular genetic analysis of organisms for which limited or no genomic data are available but which are of great interest from an evolutionary and/or developmental perspective. Importantly, RNA sequencing enables a global quantitative analysis of gene expression at specific stages of life and/or in particular tissues/organs. In this way it is possible to reconstruct the timeline of expression of each individual gene and determine the progression of regulatory states, which is a key first step when analysing gene regulatory networks [19].
The large amount of molecular genetic information in echinoids compared to other echinoderm classes can be attributed to the fact that sea urchins have been studied extensively for over 100 years. Furthermore, the genome of the sea urchin Strongylocentrotus purpuratus was sequenced 12 years ago [20] and together with several improvements and additional mRNA sequencing data provides a very high quality resource [21, 22]. So far within the echinoderms, only the S. purpuratus genomic resources are of a high standard, although many additional species have been sequenced at lower quality [23]. Very recently the genome sequence of the Indo-Pacific sea star Acanthaster planci was published [24]. Furthermore, transcriptomic data are available for several echinoderm species, but with significant variation in sequencing depth and quality and with most datasets limited to a single life-stage or tissue [2, 25, 26].
Within the echinoderms, the brittle star class has received growing attention in recent years [27–30] due to their phylogenetic position as a sister group of sea stars, mode of development and regenerative capabilities. For instance, brittle stars develop a skeleton in the larvae similar to sea urchins [14, 31] and are thus a valuable model for addressing questions relating to differences and conservation of developmental genes involved in the formation of the larval skeleton. With this perspective, a single stage transcriptome identified many orthologs of sea urchin skeletogenic genes in a brittle star species [26], but no quantitative data on the dynamics of gene expression were provided. Furthermore, a comparison of skeletogenic regulatory states between an echinoid and an ophiuroid identified differences and similarities in the specification of the skeletogenic cell lineage [14]. Additionally, brittle stars regenerate their arms as part of their self-defence mechanism [32]. The re-development of the skeleton has been characterised in detail with respect to morphology and gene expression during various phases of regeneration [27–29, 33, 34]. Finally, brittle stars are used as important indicator species for ocean acidification studies [30].
Here we present a de novo transcriptome for the brittle star A. filiformis (Afi) obtained using four key stages of development, with the aim to provide a global quantitative assessment of developmental gene expression. We devised a computational strategy to generate a high-quality reference transcriptome, supported by several quality measures, and a reliable quantitative gene expression profile, validated on several candidates with other gene expression profile platforms, such as quantitative PCR and Nanostring. Focusing on the distinct feature of larval skeleton evolution within echinoderms, we assess the conservation of gene content by a large-scale comparison of our transcriptome with sequencing data from an asteroid, an echinoid, and a crinoid. Our results reveal a high-degree of conservation of genes associated with skeleton formation in the four species, consistent with the fact that all classes of echinoderms have a well-defined adult skeleton that originated at the base of the phylum. Contrary to previous studies, we identify major differences in the temporal expression of regulatory genes, which suggests a high degree of re-wiring for the developmental GRN. Furthermore, applying a fuzzy clustering approach, we find that most skeletogenic differentiation genes exhibit an increasing trajectory of expression during development, consistent with their hierarchical position as the final tier of a GRN. We also present an R-shiny application to allow access to all of the data presented here for future analysis.
Discussion
Here we present a de novo transcriptome of A. filiformis that samples four important stages of the embryonic development of this organism. We also present an overall strategy to effectively compare different data sets and to use RNA-seq quantitative data in the absence of a reference genome. Our data and assembly/annotation strategy are then used to obtain insights into two key evolutionary questions: how did the larval skeleton in echinoderms evolve and how conserved is the regulatory program of the pluteus larvae of sea urchins and brittle stars?
To assemble the A. filiformis RNA-seq data, we used a strategy with digital normalisation followed by application of the Trinity assembly. Our approach with digital normalisation allowed us to obtain a reference transcriptome that incorporated six independent samples within 4 weeks of computation on a server with only 64 GB of RAM, with quality comparable to assembly obtained with non-normalised data. Our comparison is in agreement with what was observed by Lowe et al. [49] for the assembly of sequence data from two closely related ascidians, for which a systematic comparison of assembly with and without digital normalisation showed no inclusion of computational artefacts, but a reduction of time and resources needed for the assembly. We show that our RefTr is of high-quality by various computational and experimental methods and we also applied the computational quality control to the other datasets to strengthen the subsequent comparative analyses. In the developmental transciptome the depth of sequencing (~ 100 million reads per sample) and the combination of samples from multiple stages were important driving factors that made such a high-quality assembly possible. Altogether our analysis shows that deep sequencing combined with a good pipeline can result in an assembly that is comparable to a genome in terms of gene capture. This is illustrated by the high number of genes that showed more than 90 % identity to genes in the Swissprot database. Thus, our transcriptome performed best when compared to other genome and transcriptome datasets (Additional file 1: Figure S4). Interestingly, our extraction of protein-coding genes reduced the total number of contigs from ~ 600,000 to ~ 90,000 (15 %), increasing the N50 value, but not affecting gene recovery, as shown in the CEGMA and BUSCO tests (Additional file 2: Tables S3 and S4). Based on our analysis only 15 % of the RefTr sequences are protein-coding, giving rise to a particular question: what are the residual 85 % of sequences? One possibility is that they are part of non-coding sequences (e.g. non-coding RNA, transcribed pseudogenes) or partially or wrongly assembled transcripts. Efforts to obtain genome sequence data for A. filiformis are underway to help obtain answers to these questions. Indeed, studies on human genomes show that more than 60 % of the genome is reproducibly represented in long RNA sequences, while only 2.9 % is represented by protein-coding sequences [50].
During the Cambrian period the rapid expansion of animal life was associated with acquisition of the capacity to form hard mineralised tissues, as testified by the first appearance of a fossil record for many phyla. Amongst others, echinoderms evolved their characteristic calcitic porous endoskeleton formed of magnesium-rich calcium carbonate and occluded proteins [51, 52]. A first step towards understanding the evolution and developmental genetics of a complex character such as a mineralised skeleton is to perform a comparative and phylogenetic analysis of gene content (Fig. 2). For this reason we compared four echinoderm classes, three of the Eleutherozoa subphylum (Echinoidea, Ophiuroidea and Asteroidea) and a crinoid outgroup, with a focus on the genes involved in skeleton formation. Studies on sea urchins have shown that several genes used during adult skeleton formation are also used in larval skeleton [12, 53], leading to the idea that an ancient regulative and differentiation module originated at the base of the phylum Echinodermata and then was secondarily co-opted to form larval skeleton. However, it is hotly debated whether this happened only once in the branch leading to the Eleutherozoa, or whether it occurred independently in both the sea urchin (Echinoidea) and brittlestar (Ophiroidea) lineages. The two transcriptomes used in this analysis correspond to stages (late gastrula, for A. filiformis) or structures (adult arm for A. mediterranea) in which the biomineralised skeleton has been deposited. Therefore, expression of genes involved in this process must be highly represented. It is important to clarify that due to the nature of this comparison, genome vs transcriptome, we can unequivocally evaluate only the gene (or protein-coding transcripts) present in at least two data set. On the other hand, the absence of genes in A. filiformis and A. mediterranea transcriptomes at stages or in structures with skeleton can be interpreted as lack of expression, suggesting that these genes are not used in building skeletal structures of these two organisms.
Our analysis revealed a gene toolkit of 494 genes conserved in all four echinoderm classes (Fig. 4), which potentially corresponds to the echinoderm core of skeletogenic genes. Indeed, our analysis of spatial expression shows that several of these genes are expressed in cells known to form the skeleton in the developing A. filiformis embryo (Fig. 4) [14] and a few of them are also known to be expressed during A. filiformis adult arm regeneration [29, 34]. Of the initial 901 gene set, only 37 are TFs and 32 signalling molecules. Of these regulatory genes, 84 % (58/69 regulatory genes) are conserved in all the echinoderm classes analysed, while only 52 % (436/832) of the other genes, which can generally be classified as differentiation genes, are conserved in all the classes, indicating a higher conservation of the skeletogenic cell regulatory program and a rapid evolution of echinoderm skeleton-forming genes. A closer look into these 436 genes using the sea urchin functional classes revealed that metalloproteases and biomineralization genes are actually the most variable class of genes (Additional file 1: Figure S9). This observation indicates that solely looking into these two categories can produce a biased picture of evolution, because only these two categories of differentiation genes showed a high level of variation and indicate low selective pressure. How can we explain the variation in the biomineralization genes? They are grouped in six categories, of which collagens, cyclophillins, carbonic anhydrases and an unnamed category [22], which include P16 [54] and other genes, are highly conserved in our selected representatives of the four classes of echinoderms. On the other hand, of these six categories, msp130 and spicule matrix (sm) genes show the highest level of variation. Indeed, of the nine sea urchin msp130 genes only two are found in all four species analysed (Spu-Msp130r6 and Spu-Msp130L). An in-depth look into the brittle star transcriptome, using a hidden Markov model, revealed also the presence of seven other msp130 contigs that show differences at the amino acid level higher than the 1.2 % of polymorphism identified in the coding region, suggesting the presence of several genes. Indication that clade-specific expansions took place is strongly supported by our phylogenetic analysis (Additional file 1: Figure S6), which shows a consistent group of sea urchin Msp130 genes with various paralogues represented in both sea urchin species analysed (S. purpuratus and L. variegatus), a different group of ophiuroid Msp130s, as well as other clade-specific expansions consistent with what has already been shown for Msp130 genes in molluscs and annelids [55]. Concerning the spicule matrix (sm) genes, out of the 14 genes identified in sea urchin only the C-lectin that does not contain a proline-rich region is conserved in all four species. Therefore, no spicule matrix genes, characterised by a C-lectin domain and a conserved proline-rich domain [56], are found in any other class of echinoderm in stages when skeleton is built, making them likely to be a sea urchin-specific set of skeletogenic matrix genes. Further support for this hypothesis is provided by the following observations: First, a proteomic study of skeletal elements in another species of brittle star, Ophiocoma wendtii, did not find orthologs of these genes [16]; however, other potential candidates of c-lectin type genes for brittle star skeletogenesis were obtained, which are also present in our transcriptome of A. filiformis and which are expressed during larval and adult skeletogenesis [14, 34]. Second, in the S. purpuratus genome the sm genes are present in mini clusters of tandem repeated genes (Additional file 2: Table S7 and Additional file 1: Figure S12), suggesting a relatively recent duplication of these genes in the sea urchin lineage. Third, no such gene has been found in the hemichordate Saccoglossus kowalevskii genome [57], an outgroup of all echinoderms. Fourth, no spicule matrix genes have been found in the adult crinoid arm transcriptome analysed in this work (Additional file 2: Table S5). Both spicule matrix genes and msp130 genes have been highly duplicated in sea urchin, as seen in the many tandem duplications, and the presence of both in the pencil urchin Eucidaris tribuloides [23], indicating that this diversity had already evolved in the common ancestor of cidaroids and euechinoids. In this context, it would be interesting in future studies to analyse holothuroids as a sister class to the echinoids to pinpoint more exactly the evolutionary origin of this category of biomineralization genes. Interestingly, similar to these findings in echinoderms, the rapid parallel evolution in different lineages of genes associated with skeleton formation has also been reported for shell genes in molluscs and brachiopods [58, 59].
The fact that
msp130
and sm genes are expressed in both adult and larval skeletal structures in sea urchin [
12
] suggests that the evolution of sm genes in echinoids and the independent expansion of
msp130
genes occurred before the evolution of the echino-pluteus, the sea urchin larva with extended skeleton (Fig.
6
). Similarly, in brittle stars
Afi-Msp130L
is expressed in the larval skeletogenic cells, supporting the argument that larval skeletogenesis evolved independently in the two lineages, potentially in both cases as a co-option of the adult skeletogenic program after clade-specific gene expansion took place. Other evidence in support of evolutionary divergence of the echinoid and ophiuroid pluteus larvae is provided by our comparative analysis of regulatory states in developing embryos (Figs.
5
and
6
), defined as the sum of transcription factors expressed in a given cell at a given developmental time. We compared the transcription factor usage in
S. purpuratus
[
21
] with usage in
A. filiformis
, taking advantage of the quantitative aspects of transcriptome data and the sequence data from four key developmental stages: cleavage stage (9 hpf), when maternal mRNAs are still present and the zygotic genome starts to become active; blastula stage (18 hpf), when territories that will give rise to multiple cell types are specified and transcription factor genes are expressed in a spatially restricted manner [
14
]; mesenchyme blastula (27 hpf), when territories are further subdivided, cells continue in their specification pathway, and morphogenetic movements commence; and finally gastrula stage (39 hpf), when cell types are specified, morphogenetic movements are almost completed and cell differentiation is underway. This comparison shows that the early regulatory states, which determine the developmental GRN, of these two species are quite different. On the contrary, when cell types are specified and terminal selector genes (LATE genes in this analysis) are expressed [
60
], they show a similar regulatory make up in these two classes of echinoderms, suggesting extensive GRN rewiring in the early stages of development. Taken together, our findings are in agreement with the hypothesis that the peripheries of the GRN (i.e. early regulatory input and differentiation gene batteries) are the least constrained and thus the most frequently changed [
1
] part of a GRN, while the phylotypic stage (identified as the gastrula stage in echinoderms) [
61
,
62
] is subject to strong evolutionary constraints. In this view our data support the idea that the regulatory states that define cell type identities, before differentiation, are the most evolutionarily stable compared to early specification regulatory states. In the case of the developmental program for echinoderm skeleton, this likely corresponds to the transcription factors conserved in all four classes analysed here and known to be expressed in skeletal cells [
10
,
14
,
29
]. Indeed the high degree of conservation in all four classes is consistent with all echinoderms forming an adult skeleton by similar ossicle units—the stereom [
51
]—and indicates that the GRN for adult skeletogenesis is a highly conserved feature. This is additionally supported by comparing expression patterns of several genes in juvenile or adult stages [
29
,
53
,
63
], which show a high degree of conservation in cells that participate in adult skeletogenesis. Additionally, in brittle star development most differentiation genes show an increasing trajectory over time, consistent with their role in the final differentiation of the biomineral structure.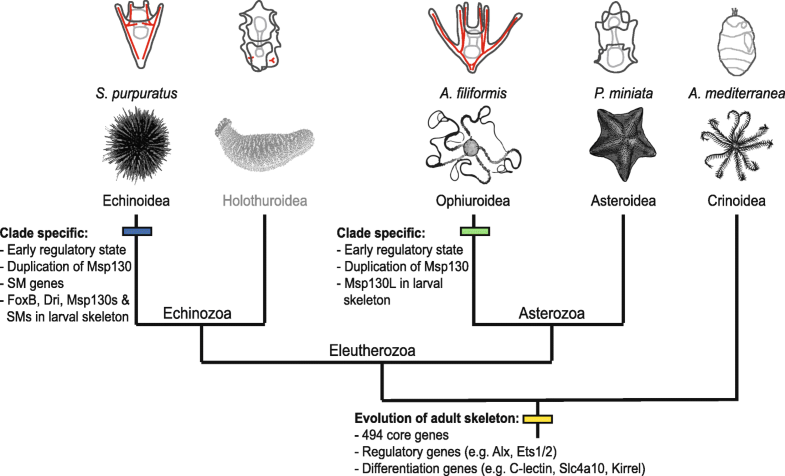 The modelling of developmental GRNs requires knowledge of spatial and temporal expression. For a GRN analysis comprising a few genes, the integration of such data is a relatively simple task. In a systems biology perspective, however, where hundreds or thousands of genes are considered simultaneously, it is easy to lose track of the important details of a few or single genes, especially when working on novel systems with little to no access to the established data. Thus, we developed a website (http://www.echinonet.eu/shiny/Amphiura_filiformis/) using R-shiny that allows users to query different types of information, similar to that implemented by Tu and collaborators in 2014 for S. purpuratus [22]. Using the statistical programming language R as the backbone, our website provides a platform to easily query and find genes of interest. It gives access to annotations, expression levels, sequence information, differential screening and spatial expression patterns. Contigs can be queried by annotation, expression cluster id, contig id and additionally by the sea urchin functional classification. Thus, for example, one can easily retrieve all transcription factors sequences and their expression temporarily and spatially (where available). Moreover, spatial expression data can be extended by simply adding a folder with the contig id and the individual pictures as JPEG files. In future work, this website will be extended with data from regenerating arms produced in our laboratory and will thus create a unique resource to establish the brittle star A. filiformis as a developmental and regenerative model system.
Conclusions
The data reported here show a large conservation of the genetic toolkit for echinoderm biomineralised tissues, and also highlight clade specific differences. By comparing gene expression profiles, we find major differences in temporal usage of TFs in early development, and clade specific gene duplication of important differentiation genes. These indicate a higher degree of rewiring at the periphery of the developmental regulatory network. Our study greatly influences the understanding of larval evolution and supports the hypothesis of convergent evolution of larval skeleton in echinoderms by independent co-option of a large GRN module underlying the development of the calcitic endoskeleton.
Methods
Experimental techniques
Embryological techniques
A. filiformis cultures were set up as previously described [14]. At the desired stage, embryos were collected for RNA extraction and/or fixed for WMISH as described in [14].
Cloning and probe synthesis
All genes used for spatial expression analysis by whole mount in situ hybridization (WMISH) were PCR amplified from A. filiformis cDNA and cloned in pGEM-T easy vector system (Promega) or Topo PCR cloning system (Invitrogen) according to the manufacturer's instructions. Antisense probes labelled with DIG (Roche) were synthesised as previously described [14]. Primers are presented in Additional file 2: Table S5.
Quantitative PCR
qPCR was performed on different biological replicates to those used for the mRNA-seq, employing the procedures described previously [14].
Whole mount in situ hybridization
Spatial expression of selected genes at mesenchyme blastula (24 and 27 hpf) were characterised using WMISH as previously described [14].
RNA extraction
For mRNA sequencing, embryo samples of a single male and single female culture were collected at 9, 18, 27 and 39 hpf. At 27 hpf three samples were collected, two of which were chemically perturbed. The RNA extraction was performed as previously described [14]. The quality of extraction and concentrations were checked using NanoDrop 2000 and Bioanalyser.
mRNA sequencing
Sequencing libraries were prepared using the TruSeq RNA library preparation protocol. The samples were sequenced with Illumina v3 chemistry using the multiplex paired-end sequencing protocol. The sequencing was performed on an Illumina HiSEQ 2500 with 100-bp paired-end reads. To reach optimal coverage we sequenced two lines multiplexing the six samples. Library preparation and sequencing were performed at the SickKids Hospital, Toronto, Canada.
Computational procedures
If not otherwise stated, all computational work was performed on an Apple Mac OS X 10.6 server with 24 cores and 64 GB of memory.
Abbreviations
Afi:

Amphiura filiformis
Ame:

Antedon mediterranea
EC:

Expression cluster
FC:

Fuzzy cluster
GRN:

Gene regulatory network
Mya:

Million years ago
OMA:

Orthology matrix algorithm
Pmi:

Patiria miniata
RefTr:

Reference transcriptome
sm:

Skeletogenic mesoderm
SNP:

Single nucleotide polymorphism
Spu:

Strongylocentrotus purpuratus
SUFCs:

Sea urchin functional classes
TF:

Transcription factor
Declarations
Acknowledgements
The authors wish to thank Pok Wai (Prudence) Liu, Alun Jones, Luisana Carballo and Wendy Hart for experimental assistance. We wish to thank also the staff at the Sven Lovén Centre for Marine Sciences for their support. We thank two anonymous reviewers for their valuable critique and comments.
Funding
This work was supported by the EU FP7 Research Infrastructure Initiative ASSEMBLE (ref. 227799), UCL System Biology, and KVA funds SL2015–0048 from the Royal Swedish Academy of Science. AC was supported by a Wellcome Trust PhD fellowship grant 099745/Z/12/Z. LMB was supported by a studentship funded by Queen Mary University of London.
Availability of data and materials
All sequence reads are available at GenBank SRR4436669–SRR4436674 [77]. Any sequence alignments used are available by the corresponding author upon request. The code for the R-shiny tool is publicly available on github https://github.com/dvdylus/Echinoderm-Web [78].
Authors' contributions
PO and DVD conceived the project, analyzed and interpreted the data and wrote the manuscript. DVD acquired data and performed bioinformatics analyses and qPCR in A. filiformis. DVD, AC and PO collected embryonic samples. DVD performed cDNA cloning and in situ hybridizations in A. filiformis. AC and PO performed Nanostring experiments. LMB and MRE contributed unpublished data from A. mediterranea and edited the manuscript. All the authors read and approved the manuscript.
Ethics approval and consent to participate
Not applicable.
Competing interests
The authors declare that they have no competing interests.
Publisher's Note
Springer Nature remains neutral with regard to jurisdictional claims in published maps and institutional affiliations.
Open AccessThis article is distributed under the terms of the Creative Commons Attribution 4.0 International License (http://creativecommons.org/licenses/by/4.0/), which permits unrestricted use, distribution, and reproduction in any medium, provided you give appropriate credit to the original author(s) and the source, provide a link to the Creative Commons license, and indicate if changes were made. The Creative Commons Public Domain Dedication waiver (http://creativecommons.org/publicdomain/zero/1.0/) applies to the data made available in this article, unless otherwise stated.
Authors' Affiliations
(1)
Research Department of Genetics, Evolution and Environment, University College London, London, UK
(2)
CoMPLEX/SysBio, UCL, London, UK
(3)
School of Biological and Chemical Sciences, Queen Mary University of London, London, UK
(4)
Centre for Life's Origins and Evolution (CLOE), UCL, London, UK
(5)
Present address: Department of Computational Biology, UNIL, Lausanne, Switzerland
(6)
Present address: Centre for Cell Biology & Cutaneous Research, Blizard Institute, Barts and the London School of Medicine and Dentistry, Queen Mary University of London, London, UK