SuperTranscripts: a data driven reference for analysis and visualisation of transcriptomes
Received: 13 April 2017
Accepted: 21 July 2017
Published: 4 August 2017
The Erratum to this article has been published in Genome Biology 2017 18:160
Abstract
Numerous methods have been developed to analyse RNA sequencing (RNA-seq) data, but most rely on the availability of a reference genome, making them unsuitable for non-model organisms. Here we present superTranscripts, a substitute for a reference genome, where each gene with multiple transcripts is represented by a single sequence. The Lace software is provided to construct superTranscripts from any set of transcripts, including de novo assemblies. We demonstrate how superTranscripts enable visualisation, variant detection and differential isoform detection in non-model organisms. We further use Lace to combine reference and assembled transcriptomes for chicken and recover hundreds of gaps in the reference genome.
Background
High throughput sequencing has revolutionised transcriptomics because it allows complementary DNA (cDNA) sequences to be read and expression levels quantified using a single, affordable assay [1, 2]. RNA sequencing (RNA-seq) can examine expression at the gene level as well as infer transcript abundances and differential isoform usage. Alternative splicing can alter gene function and contributes to the overall transcriptional diversity in eukaryotes [3, 4]. In addition, RNA-seq has the power to detect variation in expressed sequence, such as single nucleotide variants [5], post-transcriptional editing [6] and fusion genes [7]. Our knowledge of the transcriptome of model organisms has matured through projects such as ENCODE [4] and we now have robust and well established methods for RNA-seq data analysis [8]. Most of these methods use the accurate reference genomes and annotations now available for model organisms.
For non-model organisms, however, reference genomes are generally not available. Instead, an experiment specific transcriptome can be built from RNA-seq data through de novo transcriptome assembly [9], a process designed to reconstruct the full-length sequence of each expressed transcript. However downstream analysis of the data remains challenging. With the exception of a few recent methods, such as RNA quantification with Kallisto [10], Salmon [11] and RSEM [12], most analytical approaches for RNA-seq are designed to work with a reference genome rather than transcriptome. Those methods compatible with a reference transcriptome often rely on accurate gene models, which are not necessarily produced through de novo assembly of short read data. In addition, visualisation of read coverage across a gene, which is common for the exploration, curation and communication of the analysis results, is impossible using a reference transcriptome. At best, reads may be mapped and visualised against a representative transcript from each gene, such as the longest isoform, but a significant proportion of the gene sequence can be missed (Additional file 1: Table S1, Figure S1).
Here we propose an alternative representation for each gene, which we refer to as a superTranscript. SuperTranscripts contain the sequence of all exons of a gene without redundancy (Fig.
1a
). They can be constructed from any set of transcripts including de novo assemblies and we have developed a python program to build them called Lace (available from
https://github.com/Oshlack/Lace/wiki
). Lace works by building a splice graph [
13
] for each gene, then topologically sorting the graph using Kahn's algorithm [
14
] (Fig.
1b
). Building superTranscripts is a simple post-assembly step that promises to unlock numerous analytical approaches for non-model organisms (Fig.
1c
).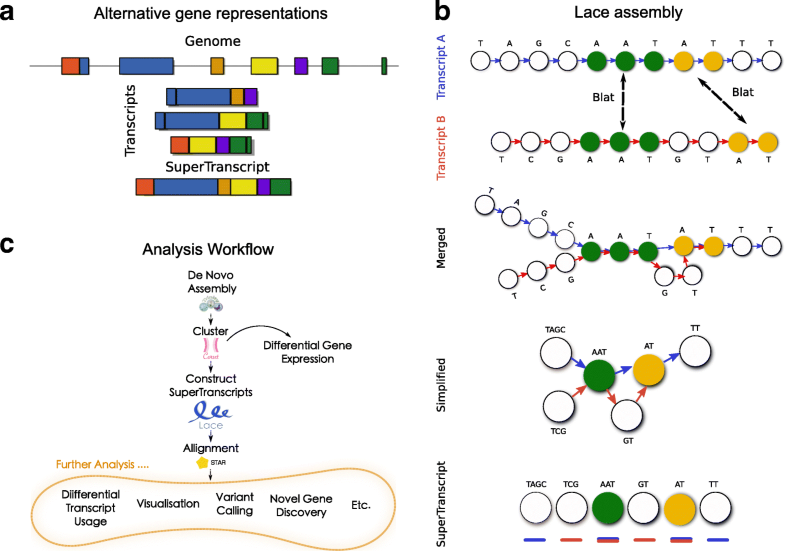 Although superTranscripts do not necessarily represent any true biological molecule, they provide a practical replacement for a reference genome. For example, reads can be aligned to the superTranscriptome using a splice aware aligner and subsequently visualised using standard tools such as IGV [15]. Quantification can also be performed with existing software by counting the reads that overlap superTranscript features. In non-model organisms, we further demonstrate using superTranscripts to call variants and we show that we can accurately detect differential isoform usage. We also demonstrate applications of superTranscripts to model organisms. Specifically, we combined a reference and de novo assembled transcriptome into a compact superTranscriptome using chicken RNA-seq data, to allow identification of novel transcribed sequence. We found conserved coding sequence in over 500 genes that was missed in the current chicken reference genome, galGal5.
Conclusions
Here we have presented the idea of superTranscripts as an alternative reference for RNA-seq. SuperTranscripts are a set of sequences, one for each expressed gene, containing all exons without redundancy. We also introduce Lace, a software program to construct superTranscripts. Lace is unique as it is capable of assembling transcripts from any source, but existing transcriptome assemblers could also be modified to produce superTranscripts as additional output during the assembly. This would simply require the assembly graph to be topologically sorted.
Lace and superTranscripts can potentially be applied in a broad range of scenarios, some of which have been presented herein. Importantly, superTranscripts allow the visualisation of transcriptome data in non-model organisms for the first time using standard tools such as IGV. Furthermore, superTranscripts allow differential isoform usage to be detected in non-model organisms by defining block (exon-like) structures in the transcripts and then using standard statistical testing methods such as DEX-seq. This is the first time differential isoform usage can be detected in non-model organisms using a count-based approach, rather than inference methods, and we find it to be more accurate. SuperTranscripts can also be used as a reference for reliably calling variants.
A powerful, new application of superTranscripts is merging transcriptomes from a variety of sources. We demonstrate this application using a chicken transcriptome that allowed us to detect hundreds of genes containing sections of coding sequence that were not contained in the reference genome. We hypothesise that superTranscripts will have many further applications. For example, they are likely to increase power to detect differential isoform usage even in model organisms (Additional file 1: Figure S7). Although the concept of superTranscripts is simple, it has the power to transform how studies of non-model organisms are performed as a multitude of the standard analytical tools and techniques can now be applied across all species.
Declarations
Acknowledgements
We would like to thank Paul Ekert and Stefanie Eggers for preparing and providing RNA-seq from the Genome in a Bottle cell line. In addition, we want to thank Ian Majewski, Jovana Maksimovic and Harriet Dashnow for feedback on the manuscript and Michael McLellan for his preliminary contribution.
Funding
AO is funded by an NHMRC Career Development Fellowship APP1051481. MCRI is supported by the Victorian Government's Operational Infrastructure Support Program
Availability of data and materials
All data used in this manuscript are available in public repositories as stated in the 'Datasets' section of 'Materials and Methods'. The new RNA-seq from the Genome in a Bottle cell line (GM12878) is found in SRA (accession SRS2267720). Analysis scripts can be found at https://github.com/Oshlack/superTranscript_paper_code. Lace is released under the software license GNU GPL version 3. Lace Version 1.0 is used in this paper DOI:10.5281/zenodo.830594.
Authors' contributions
NMD and AO conceived the idea of superTranscripts and Lace. ADKH developed Lace and performed the differential isoform usage analysis. NMD performed the SNP analysis, differential isoform usage analysis and chicken superTranscriptome analysis. All authors contributed to the writing of the manuscript.
Ethics approval
Not applicable.
Competing interests
The authors declare that they have no competing interests.
Publisher's Note
Springer Nature remains neutral with regard to jurisdictional claims in published maps and institutional affiliations.
Open AccessThis article is distributed under the terms of the Creative Commons Attribution 4.0 International License (http://creativecommons.org/licenses/by/4.0/), which permits unrestricted use, distribution, and reproduction in any medium, provided you give appropriate credit to the original author(s) and the source, provide a link to the Creative Commons license, and indicate if changes were made. The Creative Commons Public Domain Dedication waiver (http://creativecommons.org/publicdomain/zero/1.0/) applies to the data made available in this article, unless otherwise stated.
Authors' Affiliations
(1)
Murdoch Children's Research Institute, Royal Children's Hospital, Melbourne, Australia
(2)
School of BioSciences, University of Melbourne, Melbourne, Australia