Tree inference for single-cell data
Received: 11 November 2015
Accepted: 8 April 2016
Published: 5 May 2016
Abstract
Understanding the mutational heterogeneity within tumors is a keystone for the development of efficient cancer therapies. Here, we present SCITE, a stochastic search algorithm to identify the evolutionary history of a tumor from noisy and incomplete mutation profiles of single cells. SCITE comprises a flexible Markov chain Monte Carlo sampling scheme that allows the user to compute the maximum-likelihood mutation history, to sample from the posterior probability distribution, and to estimate the error rates of the underlying sequencing experiments. Evaluation on real cancer data and on simulation studies shows the scalability of SCITE to present-day single-cell sequencing data and improved reconstruction accuracy compared to existing approaches.
Keywords
Markov Chain Monte CarloTree ReconstructionMutation TreeMarkov Chain Monte Carlo ChainMutation Matrix
Background
Tumor progression can be described as a dynamic evolutionary process acting at the level of individual cells [
1
–
3
]. A tumor typically arises from a single founder cell whose distinct set of genetic (and epigenetic) lesions gives it a growth advantage over the surrounding cells and helps it to evade the patient's immune response. As a consequence, the clone arising from this cell expands and, over the course of time, the descendant cells develop further into subclones by acquiring additional somatic mutations [
4
]. The subclones compete against each other for resources in the tumor environment and the more successful ones will replace others until eventually they themselves are out-competed by new subclones [
4
,
5
]; see also Fig.
1
a
.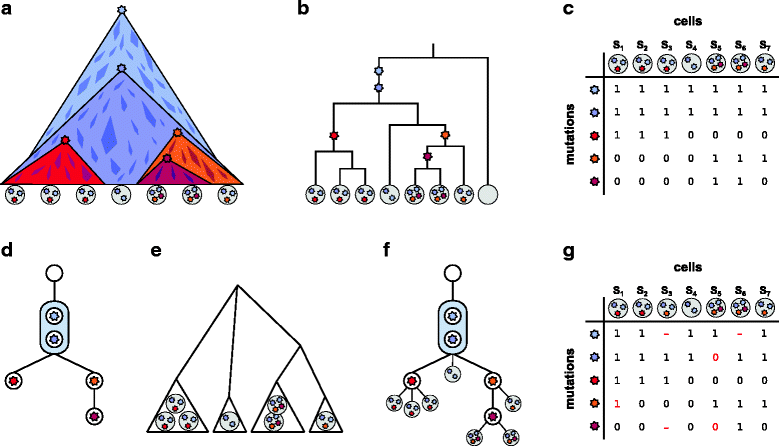 The genetic diversity arising from this process, referred to as intra-tumor heterogeneity, is believed to be a major cause of relapse after cancer treatment [6, 7]. The common explanation is that drug therapy often targets the dominant subclone at the time of diagnosis, and upon its remission, either an expansion of previously suppressed subclones, non-susceptible to the treatment, or an emergence of new resistant subclones is likely to happen [8]. For monoclonal tumor progression, the temporal order in which specific mutations have occurred has been shown to be informative for disease progression and susceptibility to drug therapy [9]. Therefore, a more comprehensive understanding of the genetic diversity of individual tumors and their evolutionary history is likely to be a key component in the design of personalized cancer therapies that are more effective [6, 10, 11].
All cells in a tumor are related via a binary genealogical tree (Fig. 1 b). To reconstruct their evolutionary history based on single-nucleotide variants (SNVs), the infinite sites assumption is typically made, which implies that the mutation profiles of the cells (Fig. 1 c) form a perfect phylogeny. A perfect phylogeny exists if for all pairs of mutations i 1, i 2, the set of cells having mutation i 1 and the set of cells having mutation i 2 are either disjoint or one is a subset of the other [12]. Most approaches to reconstructing tumor phylogenies focus on the partial (temporal) order among the mutation events (Fig. 1 d). This tree type implicitly defines the set of possible subclones via the mutation profiles that can be read from the tree by collecting the mutations on the path from the root to any other node in the tree. Not all possible subclones, in particular those at inner nodes, need to have surviving cells. Also, by chance, cells from surviving subclones may not be sampled.
The main challenge in obtaining knowledge on intra-tumor heterogeneity is that common bulk high-throughput sequencing admixes the DNA of millions of cells in a sample before sequencing. The mutation profiles obtained from the mixture constitute an average of an unknown number of unknown subclones each making up an unknown fraction of the mixture [13]. Therefore, tree reconstruction needs to be completed by a deconvolution of the mixed signal to identify the subclones, the taxa of the tree. In the past years, an abundance of tools has been developed to study subclone composition in mixed samples [14–19]. Among the approaches that additionally reconstruct the evolutionary relationships, the majority separates subclone estimation and tree reconstruction [20–24], while others combine both tasks into a single step [25–27]. The typical output of these tools would be one or several trees as in Fig. 1 d, augmented with the estimated prevalence of the different subclones in the tumor. Signals from multiple samples from different locations in the tumor increase the statistical power [24–27]. Samples taken from different time points are useful as well [28] but are usually not available for solid tumors, as biopsies are typically taken only once, at the point when the tumor is removed from the patient.
Approaches using mixed samples provide valuable insights into intra-tumor heterogeneity. However, their resolution is inherently limited and inference of both complex subclone structures and low-frequency subclones remains difficult [13, 29]. The advent of single-nucleus sequencing techniques has started to change the situation. Here, the taxa are known in the form of the individual cells sequenced from a tumor. However, the data we obtain from single-cell sequencing experiments are notoriously error-prone, in particular the false negative rate can be extremely high (≥10 %) due to the high allelic dropout rate in the DNA amplification process. The false positive rate is also elevated in comparison to bulk sequencing. Lastly, unobserved sites can be a problem. For example, 58 % of the data points are reported as missing due to low quality in an early single-nucleus sequencing data set [30] thus giving no information on whether the site is mutated or not in the respective cell. This combination of error types prohibits the application of standard perfect phylogeny reconstruction approaches. While generalizations of the perfect phylogeny problem to deal with imperfect data exist, they are typically NP-hard, and modify the input data in the binary mutation matrix, either by finding the minimum number of entries that need to be changed to remove all inconsistencies [31], or by removing the minimum number of samples (taxa) to remove all the inconsistencies [32].
Probabilistic approaches are an alternative to make use of all information contained in the (inconsistent) data. In addition, using a Bayesian scheme, the whole posterior tree distribution instead of just a single tree can be obtained and model parameters such as the error rates of the sequencing experiments can be learned. Bayesian approaches typically use polynomial-time Markov chain Monte Carlo (MCMC) sampling heuristics to explore a (super-)exponential search space.
A fully Bayesian approach is BitPhylogeny [33], which uses non-parametric clustering in combination with a tree-structured stick-breaking process to identify subclones and their evolutionary relationships. Unlike tree-based approaches for mixed samples, BitPhylogeny clusters samples into subclones and sets these in a phylogenetic relation (Fig. 1 e).
Kim and Simon [34] introduced a pairwise ordering test for mutations in an attempt to find the best fitting tree from noisy and incomplete single-cell data [30]. Their approach reconstructs a mutation history as in Fig. 1 d, also referred to as mutation tree. The restriction to pairwise tests results in an efficient polynomial-time algorithm but comes at the cost of a potential loss in reconstruction quality, as all information from more complex relations than pairwise order is discarded. Instead of using pairwise orders, one could consider testing the ordering of triplets of nodes and then higher groupings.
Here we propose a likelihood-based approach to test the entire mutation tree at once and perform a stochastic search to find the best fitting tree. We introduce SCITE (Single Cell Inference of Tumor Evolution), a flexible MCMC sampling scheme that allows us to compute the maximum likelihood (ML) tree plus attachment points of the samples, sample from their posterior, or treat mutation trees with the attachment points marginalized out. These can be combined with learning the error rates of the sequencing experiments. We evaluate SCITE on real cancer data, showing its scalability to present-day single-cell sequencing data and its improved results over BitPhylogeny [33], the approach of [34], classic perfect phylogeny reconstruction, and methods designed for bulk-sequencing data. In addition, we estimate from simulation studies the number of cells necessary for reliable mutation tree reconstruction, which could inform the design of future single-cell sequencing projects.
Conclusions
Single-cell sequencing data is giving unprecedented insights into intra-tumor heterogeneity, a major obstacle to permanent remission in cancer treatment. In this paper, we introduced SCITE, a likelihood-based reconstruction of tumor genealogies from noisy and incomplete mutation profiles of single cells. The approach provides a flexible MCMC sampling scheme that allows us to either find the best fitting tree or sample from the posterior distribution, and it can be combined with learning the error rates of the sequencing experiments. We have shown that the probability model underlying SCITE is highly adaptable. It performs well in the presence of various types of noise, including types that were not explicitly modeled, such as doublet samples (the inadvertent sequencing of two instead of a single cell). The model also lends itself to some straightforward extensions, such as the incorporation of position-specific error rates, or the introduction of further mutation and error types that would maintain the independence of genome positions. Besides its flexibility, the key advantage of SCITE is its linear scaling with the number of samples. While this feature is negligible for present data sets, it will become essential as soon as hundreds or even thousands of cells of a tumor are routinely sequenced.
Using SCITE, we reconstructed the monoclonal origin of an ET tumor and a clear-cell renal-cell carcinoma, as well as a complex subclonal structure in an ER + breast cancer. The consistency of SCITE is shown in simulation studies, which we also used to estimate the number of cells necessary to obtain reliable tree reconstructions, a piece of information that could be useful in the design of future sequencing experiments.
SCITE differs from earlier approaches, in particular BitPhylogeny [33], in its use of single cells as taxonomic units, giving it the highest possible resolution in the tree reconstruction. Because each cell provides information about all the mutations, and all this detail is used, this approach allows a more robust reconstruction of the mutation tree. This in turn aids the identification of driver mutations. The placement of the individual cells is, however, less certain. Clustering cells into clones instead, as done in BitPhylogeny [33], and placing these as the taxa means we can use the consensus of single-cell information in each clone to deduce more robustly the ancestral relationships between the clones themselves, but at the expense of reduced accuracy in the reconstruction of the mutational history.
Further improvements in tree reconstruction could be achieved by considering copy number alterations along with point mutations. For one, copy number information could be used to understand point mutations states better, e.g. a seemingly homozygous mutation may in fact be loss of heterozygosity, but more importantly it can be used as a feature in tree reconstruction itself, as has been done previously for bulk-sequencing data [24]. The main challenges here will be that for large-scale copy number events, the independence of mutation sites is no longer given, and that the infinite sites assumption would no longer hold.
The knowledge of individual mutation histories is a promising source of information for personalized cancer treatment. Once single-cell sequencing has become more prevalent, the unprecedented resolution of mutation histories reconstructed from single cells will likely be valuable in many more respects. One direction is the identification of recurrent mutation patterns by comparing high-resolution mutation trees from patients with the same and/or different tumor types. Another direction could be to combine single-cell data from different time points and different locations in the tumor to obtain a better understanding of the temporal and spatial organization of subclonal populations of tumor cells, again at a higher resolution than would be possible with bulk-sequencing data. When sampling cells from the primary tumor and metastasis, the attachment point of metastatic cells to the mutation tree could help to answer the open question of whether subclones with the potential to metastasize arise early or late in tumor development.
Availability of data and materials
Ethics approval
Ethics approval is not applicable for this study.
Declarations
Open Access This article is distributed under the terms of the Creative Commons Attribution 4.0 International License (http://creativecommons.org/licenses/by/4.0/), which permits unrestricted use, distribution, and reproduction in any medium, provided you give appropriate credit to the original author(s) and the source, provide a link to the Creative Commons license, and indicate if changes were made. The Creative Commons Public Domain Dedication waiver (http://creativecommons.org/publicdomain/zero/1.0/) applies to the data made available in this article, unless otherwise stated.
Authors' Affiliations
(1)
Department of Biosystems Science and Engineering, Basel, Switzerland
(2)
SIB, Basel, Switzerland