Research Highlight

Open Access
When (distant) relatives stay too long: implications for cancer medicine
Published: 24 February 2016
The extent of intratumor heterogeneity and how treatment affects clonal evolution of cancer is an emerging theme in the field of cancer biology. In the era of targeted therapy, the presence of pre-existing treatment-resistant subclones within the tumor is a critical barrier to achieving durable responses. Targeted drugs result in a significant clinical improvement if they are directed at the founding clonal mutations shared by all of the billions of cells in a tumor. However, growing evidence indicates that tumors also contain many subclonal mutations which are often present in only a few cancer cells [1–3]. These subclones are derived from the founding clone and are established by the additional mutations they acquire, which are not present in the bulk of the tumor. Importantly, many subclonal mutations cannot be detected because their abundance falls below the detection limit of standard genome or exome sequencing techniques [1]. In the case of solid tumors, spatial heterogeneity and tumor sampling errors can also lead to subclonalmutations being missed [1]. However, subclonal mutations can be clinically relevant [2, 4]. For example, in patients with chronic lymphocytic leukemia, the presence of subclonal populations impacts prognosis and clinical outcome [2]. Recent studies have also revealed that tumor cells corresponding to the relapse clone are often present as minor subclones within the primary tumor before the initiation of therapy, which suggests that genetic abnormalities contributing to recurrence are selected for during treatment [5–8].
In a new study, Morrissy and colleagues [
9
] study clonal evolution in relapsed medulloblastoma. By analyzing whole-genome sequencing (WGS) of 33 pairs of human diagnostic and post-therapy medulloblastoma samples, the authors show that the dominant clone in the recurrent tumor is often highly divergent from the dominant clone in the primary tumor. These results were also corroborated in a murine medulloblastoma model. The authors concluded that the dominant clone at recurrence arose through clonal selection of a pre-existing minor subclone present at diagnosis (Fig.
1
). This study represents an important advance in understanding the clonal dynamics of recurrence in medulloblastoma.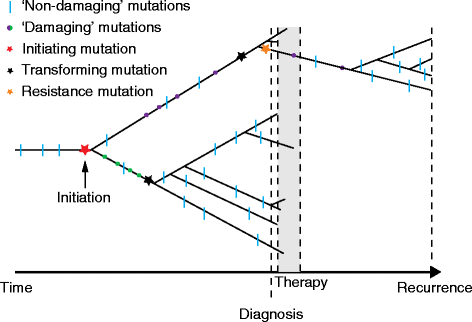 (1)
Biodesign Institute, Arizona State University, Tempe, Arizona 85281, USA
(2)
Simon A. Levin Mathematical, Computational and Modeling Sciences Center, Arizona State University, Tempe, Arizona 85281, USA
(3)
Department of Psychology, Arizona State University, Tempe, Arizona 85281, USA
(4)
Center for Evolution and Cancer, University of California San Francisco, San Francisco, California 94158, USA