Research Highlight

Open Access
Finding smORFs: getting closer
Published: 14 September 2015
DNA sequences encoding small open reading frames (smORFs) of fewer than 100 amino acids (aa) exist in each eukaryotic genome in numbers several orders of magnitude higher than the corresponding annotated protein-coding genes (Fig.
1
). Due to difficulties with bioinformatic detection and experimental analysis, along with their sheer numbers, smORFs have been ignored for a long time by mainstream genomics. Thanks to recent advances in bioinformatic and experimental techniques, however, smORFs are receiving increasing attention. Extensive use of RNA-Seq has shown that thousands of smORFs are transcribed, in many cases, in putative noncoding RNAs, and high-throughput experimental techniques have detected translation of a few hundred of these. However, the possibility remains that many more smORFs are functional, but yet uncharacterized. Bioinformatic methods followed by targeted experimental verification are needed to improve the identification of putative functional smORFs. A new paper in
Genome Biology
[
1
] provides a significant step towards such a solution.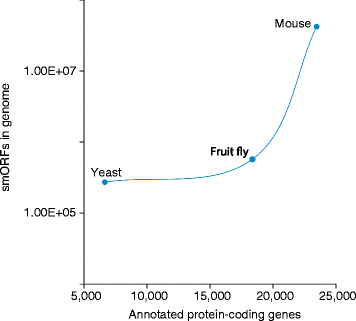 (1)
School of Life Sciences, University of Sussex, Falmer, Brighton, BN1 6PU, UK